Homeowners Insurance in Denver
Cover your home in the Mile High City.
Often considered one of the best places to live in America, Denver is known for its high quality of life and for its friendly, relaxed residents. But that doesn't mean that nothing bad ever happens in Denver.
When natural disasters, theft, or accidents happen, you'll want a solid homeowners insurance plan to protect you.
From kitchen fires to burglary to windstorm damage, your policy will have your back. It may even help if your friend twists their ankle after getting too excited while watching the Broncos in your living room.
Here's what we'll cover:
What does Denver home insurance cover?
Your home insurance in Denver helps cover losses to your house and property due to causes like certain water damage, theft, vandalism, tornadoes, wildfires, and much more.
It's worth noting that while no insurance policy can cover you from every single potential mishap, the right homeowners policy can keep you financially afloat through a myriad of typical situations.
Let's break down the basic categories of coverage that your policy includes.
Dwelling
'Dwelling coverage' helps pay for damages to the structure of your home. So, if your pipes burst next winter and damage your walls, or a windstorm blows over a tree and damages your home, you're likely covered.
Other Structures
If one of the dangers mentioned above causes damage to your driveway, fence shed, or other structures on your property, your homeowners insurance has you covered.
Loss of Use
If you can't live in your home due to covered damages, your loss of use insurance coverage can help pay for a temporary place to stay and basic living expenses such as food, laundry, parking, etc.
Personal Property
Personal property coverage protects your valuables both inside and outside your home. So, if your couch is ruined due to water damage from a burst pipe or your laptop is swiped at a coffee shop, home insurance coverage has your back. With Lemonade, if your insurance claim is approved, you'll receive the replacement cost of your personal belongings back in your pocket.
Liability coverage
If your neighbor slips and falls on an ice sheet on your Denver driveway, you could be held liable. If someone is injured on your property or anyone on your policy causes damage to someone else's property or stuff, your insurance company should have you covered.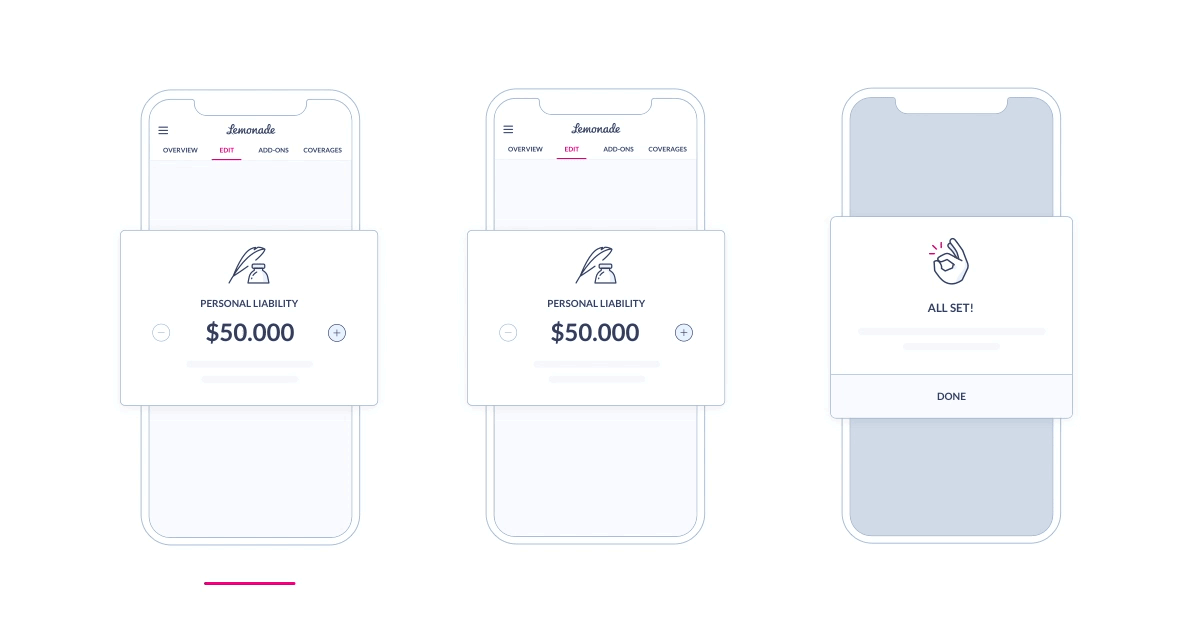 Medical Protection
If your neighbor needs to go to the hospital because of that slip and fall, your coverage will kick in to cover the medical expenses. Insurance products protect you if a guest gets injured at your place or if you accidentally cause injury to someone outside your home.
How much is Denver homeowners insurance?
According to Policygenius, as of 2023 the average price of a homeowners insurance policy in Denver (with $300,000 in dwelling coverage) is $3,021 a year.
The price of your home insurance rates will depend on your coverage limits, your credit score, your insurer, your property, and your deductible.
How can you save money on your homeowners insurance in Denver?
There are a few different ways you can lower the cost of your policy in Denver.
Bundle your homeowners insurance with other policies, unlocking discounts (and convenience). For instance, Lemonade also offers pet insurance.
Consider installing additional protective devices, like modern fire alarms or security systems, which can also lower your premium.
Set a higher deductible for your policy (but keep in mind this would mean you'd pay more out-of-pocket in the event of a future claim.
Lower your coverage limits (though this can be risky, and you don't want to find yourself underinsured in the event of a disaster).
What are the different types of homeowners insurance in Denver?
Lemonade offers two types of homeowners insurance policies: one for single-family homes in Denver (called HO3 in insurance-speak) and one for condo insurance (HO6). 
A key difference is that Denver homeowners own and are responsible for everything on their property (home, garage, fence, etc.). Condo owners with HO6 policies are only responsible for the outermost walls of their unit, inward.