Denver Homeowners Insurance Guide
Cover your home in the Mile High City.
Denver is the capital of Colorado. Often considered one of the best places to live in America, Denver is known for its high quality of life and for its friendly, relaxed residents. Nicknamed the "Mile High City", Denver's official elevation really is exactly one mile above sea level. Home to a dramatic panorama of Rocky Mountain views, there are 200 peaks visible from Denver to the city's north, west, and south.
If you think the air feels different in Denver, you're right. The city basks in warm sunshine 300 days a year. Denver residents love walking, biking, and hiking in and around the city, and skiers in Denver won't have to travel far to hit the slopes.
Denver homeowners insurance would cover you financially if something were to happen to you, your property, or your stuff. Let's say someone breaks into your home while you're on a weekend hike on the Cherry Creek Trail, or your friend twists their ankle after getting too excited while watching the Broncos in your living room. The right homeowners insurance policy could offer you financial protection if something terrible (or just plain inconvenient) were to happen.
Here's what we'll cover:
What does Denver home insurance cover?
Denver has a lot going for it. Quality education, low taxes, friendly people, some of the best produce in the country, a relatively low cost of living, great beer, fantastic food all make it clear why the Mile High City is a great place to live. The area is full of awe-inspiring natural wonders including charming creeks, picturesque parks, majestic mountain views, wonderful wildlife reserves, meandering river trails, and dramatic rock formations.
However, there are also some natural disasters that can occur despite Denver's natural beauty. In Denver, blizzards, tornadoes, floods, earthquakes, avalanches, wildfires, and snowstorms are all unfortunate possibilities.
It's worth noting that while no insurance policy can cover you from every single potential mishap, the right homeowners policy can keep you financially afloat through a myriad of typical situations.
You might know that a home insurance policy is a good (and necessary) idea, but you might not have a grasp on all the moving parts. We've got a very extensive, plain English guide here, so feel free to dive deep into the specifics—but for now, we'll break down the basics for you here, so you can get a handle on what a policy covers in general.
Dwelling
'Dwelling coverage' helps pay for damages to the structure of your home. So, if your pipes burst next winter and damage your walls, or a windstorm blows over a tree and damages your home, you're covered.
Other Structures
If one of the dangers mentioned above causes damage to your driveway, fence shed, or other structures on your property, your homeowners insurance has you covered.
Loss of Use
If you can't live in your home due to covered damages, your loss of use insurance coverage can help pay for a temporary place to stay and basic living expenses such as food, laundry, parking, etc.
Personal Property
Personal property coverage protects your valuables both inside and outside your home. So, if your couch is ruined due to water damage from a burst pipe or your laptop is swiped at a coffee shop, home insurance coverage has your back. With Lemonade, if your insurance claim is approved, you'll receive the replacement cost of your personal belongings back in your pocket.
Liability coverage
If your neighbor slips and falls on an ice sheet on your Denver driveway, you could be held liable. If someone is injured on your property or anyone on your policy causes damage to someone else's property or stuff, your insurance company should have you covered.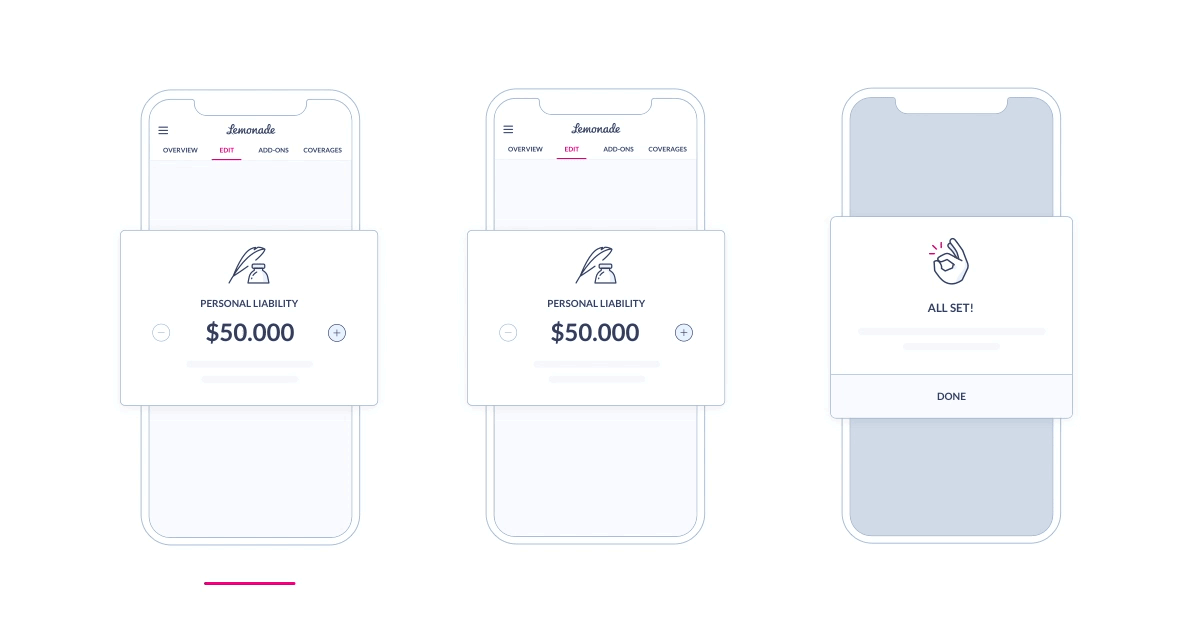 Medical Protection
If your neighbor needs to go to the hospital because of that slip and fall, your coverage will kick in to cover the medical expenses. Insurance products protect you if a guest gets injured at your place or if you accidentally cause injury to someone outside your home.
How much is Denver homeowners insurance?
According to Bankrate, Denver homeowners insurance costs $1,863 per year on average. That stacks up against a nationwide average of $1,680.
The price of your home insurance rates will depend on your coverage limits, your credit score, your insurer, your property, and your deductible.
What are the different types of homeowners insurance?
Lemonade offers two types of homeowners insurance policies: one for single-family homes (called HO3 in insurance-speak) and one for condo insurance (HO6).
There are minor differences between the two, and an insurance agent can help you choose the best home insurance policy for you depending on the type of home you're looking to insure. A key difference is that homeowners own and are responsible for everything on their property (home, garage, fence, etc.). Condo owners with HO6 policies are only responsible for the outermost walls of their unit, inward.
The best neighborhoods to be a homeowner in Denver
Capitol Hill
Cap Hill is the vibrant and artsy home to some of Denver's best culture spots. The Denver Art Museum, the Clyfford Still Museum, and the Civic Center can be found in Cap Hill, as can the Molly Brown House Museum, where you can learn about the "unsinkable" Titanic passenger. True to its name, in Cap Hill, you'll find the Colorado State Capitol building, where the 13th step marks the city's mile-high elevation.
Events, festivals, and concerts are often held in Cap Hill, including America's largest Cinco de Mayo celebration, Denver PrideFest, and the annual Westword Music Showcase that brings together the best bands from Denver and beyond.
You'll find historic mansions in Cap Hill, but most homes are more modest, with an average home price of $350,000, according to Realtor.com. Eclectic vintage homes dot the neighborhood, and condos and apartments are popular home types in Cap Hill as well.
For delicious eats in Cap Hill, locals and visitors enjoy Mizuna where you'll find farm-fresh, locally-sourced meats, fish dishes, and contemporary takes on classic French cuisine.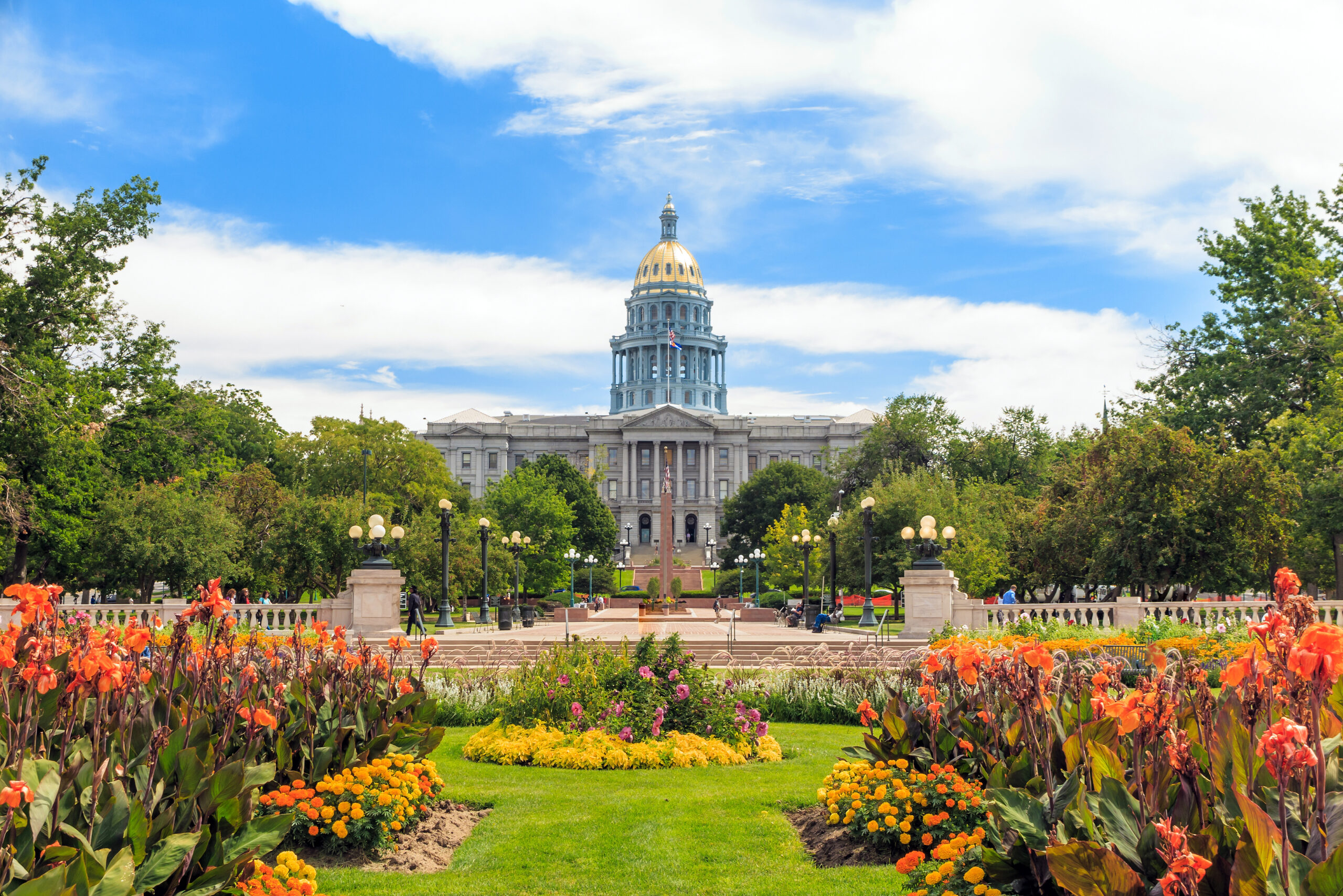 Cherry Creek
Cherry Creek is an upscale neighborhood located just a few minutes from downtown Denver. Home of the Denver Botanic Gardens, the area also hosts the Cherry Creek Arts Festival, a summer food and wine festival, and a lively sidewalk sale where neighborhood stores showcase their wares.
Cherry Creek Shopping Center is one of the area's major shopping destinations, with hundreds of stores and boutiques. Kids will enjoy the shopping center's Rocky Mountain Play Park and movie theater. The Cherry Creek Trail runs from Confluence Park in downtown Denver to Cherry Creek Reservoir.
Home prices in Cherry Creek reflect the area's desirability, with prices averaging $1.4 million according to Redfin. Townhouses, condos, and single-family homes dot the clean, quiet streets of Cherry Creek.
Dining options are plentiful in Cherry Creek. Barolo Grill has delectable Tuscan dishes, like delicate risotto, divine duck, and memorable seafood specials. For bold Mexican and Southwestern flavors, check out Machete Tequila and Tacos. Their creative tacos include several vegan options, and you'll rave about their chili, guacamole, and refreshing margaritas!
South Park Hill
South Park Hill is a family-friendly Denver neighborhood known for its suburban feel and excellent public schools. It's easy to walk or bike everywhere in South Park Hill, and City Park, the Denver Zoo, and the Denver Museum of Nature and Science are right nearby.
Charming stores like the streets of South Park Hill with character-filled shops like florists, bookstores, coffee shops, and fun knick-knacks. Residents of South Park Hill truly feel like they live in the best part of Denver.
Homes in South Park Hill sit on spacious properties with plenty of yard space. You'll find a mix of bungalows, Tudors, and classic Denver Square homes, which are two-story brick houses that are popular in the city. The average price of a home in South Park Hill is $925,000 according to Realtor.com.
Cake Crumbs Bakery and Café is a great place for fresh, custom baked goods or breakfast and lunch dining. They've also got a zero-emissions coffee roaster so you can be environmentally conscious while you get your java fix. Sit down to a meal of hearty Italian specialties at neighborhood favorite Spinelli's Market. Award-winning sandwiches like the meatball sub and the Caprese sandwich keep Denverites coming back for another helping. You can even purchase their famous line of bottled tomato sauces to get that delicious flavor at home.
Wellshire
Wellshire is a safe, upper-class south Denver neighborhood known for its excellent schools. Wellshire has wide streets with bike lanes lining three sides of the neighborhood. The High Line Canal is popular on weekends, with hiking trails and bike paths throughout. You won't have to go far to get to Mamie D. Eisenhower Park or the Observatory or grab your clubs and head to the public Wellshire Golf Course.
Wellshire residents are known for their neighborhood pride, and people love fixing up their well-maintained homes. The average cost of a home in Wellshire is $1.4 million, with a range of modern mansions, ranch houses, and condominiums. While Wellshire itself has few retail businesses, it's conveniently close to areas with a selection of stores.
Poppies Restaurant and Lounge serves fresh takes on American and Mexican comfort food favorites. Be sure to check out their daily Happy Hour with food and drink specials. If you're health-conscious yet hungry, head to Modern Market Eatery. This counter-serve café offers fresh salads, hearty sandwiches, comforting soups, and lots of vegan options.
These local Denver businesses will make your house a home
Random facts that make Denver great
Denver is a young city. In 1858, not a single person lived in the Denver metropolitan area. The Gold Rush led to a major population boom, and people liked Denver so much that they stayed.
In 1902, trains were being slowed down so much at Denver's Union Station that the Denver police had to institute a "no kissing" rule.
Denver brews more beer than any other city in America, with more than 200 different beers brewed every day.
The Colorado state capitol building has a dome on it that's plated with 24K gold leaf and large amounts of Colorado Rose Onyx in the building's interior.
Denver is home to the largest city park system in America. The city boasts 14,000 acres of mountain parks and 2,500 acres of nature.
The Denver Mint has $100 billion worth of solid gold bars, making it the second-largest gold bullion deposit in the US.