Boulder Homeowners Insurance Guide
Cover your home in The People's Republic of Boulder.
Situated at the foothills of the Rocky Mountains, Boulder, Colorado, is one of the most picturesque places to live in America. Recognizable by the striking Flatirons, triangular sandstone slabs that tilt up at the base of the mountains, Boulder offers residents a high quality of life. The city is home to 148 beer breweries and hosts one of America's biggest craft beer festivals. Boulder is a lively, outdoorsy city adored by its residents.
Homeowners insurance would cover you financially if something were to happen to you, your property, or your stuff. Let's say someone breaks into your home while you're on a weekend hike at Chautauqua Park, or your friend twists their ankle after getting too excited while watching the Colorado Buffalo's game in your living room.
The right homeowners insurance policy could offer you financial protection if something terrible (or just plain inconvenient) were to happen.
Here's what we'll cover:
What does Boulder home insurance cover?
Boulder has a lot going for it. A focus on wellbeing, quality education, outdoor activities galore, great beer, and fantastic food all make it clear why people flock to Boulder. The city boasts some awe-inspiring natural wonders, including Green Mountain, the Flatirons, Royal Arch, Boulder Creek, and Eldorado Canyon. Boulder is a veritable slice of paradise.
However, there are also some natural risks that come along with the city's natural beauty. In Boulder, floods, tornadoes, wildfires, and severe snowstorms are all unfortunate possibilities.
It's worth noting that while no insurance policy can cover you from every single potential mishap, the right homeowners policy can keep you financially afloat through a myriad of typical situations.
You might know that a home insurance policy is a good (and necessary) idea, but you might not have a grasp on all the moving parts. We've got a very extensive, plain English guide here, so feel free to dive deep into the specifics—but for now, we'll break down the basics for you here, so you can get a handle on what a policy covers in general.
Dwelling
'Dwelling coverage' helps pay for damages to the structure of your home. So, if your pipes burst next winter and damage your walls, or a windstorm blows over a tree and damages your home, you're covered.
Other Structures
If one of the dangers mentioned above causes damage to your driveway, fence shed, or other structures on your property, your homeowners insurance has you covered.
Loss of Use
If you can't live in your home due to covered damages, your loss of use coverage can help pay for a temporary place to stay and basic living expenses such as food, laundry, parking, etc.
Personal Property
Personal property coverage protects your stuff both inside and outside your home. So, if your couch is ruined due to a burst pipe or your laptop is swiped at a Pearl St. coffee shop, homeowners insurance has your back. With Lemonade, if your insurance claim is approved, you'll receive the replacement cost of your personal belongings back in your pocket.
Liability coverage
If your neighbor slips and falls on an ice sheet on your driveway, you could be held liable. If someone is injured on your property or anyone on your policy causes damage to someone else's property or stuff, your insurance company should have you covered.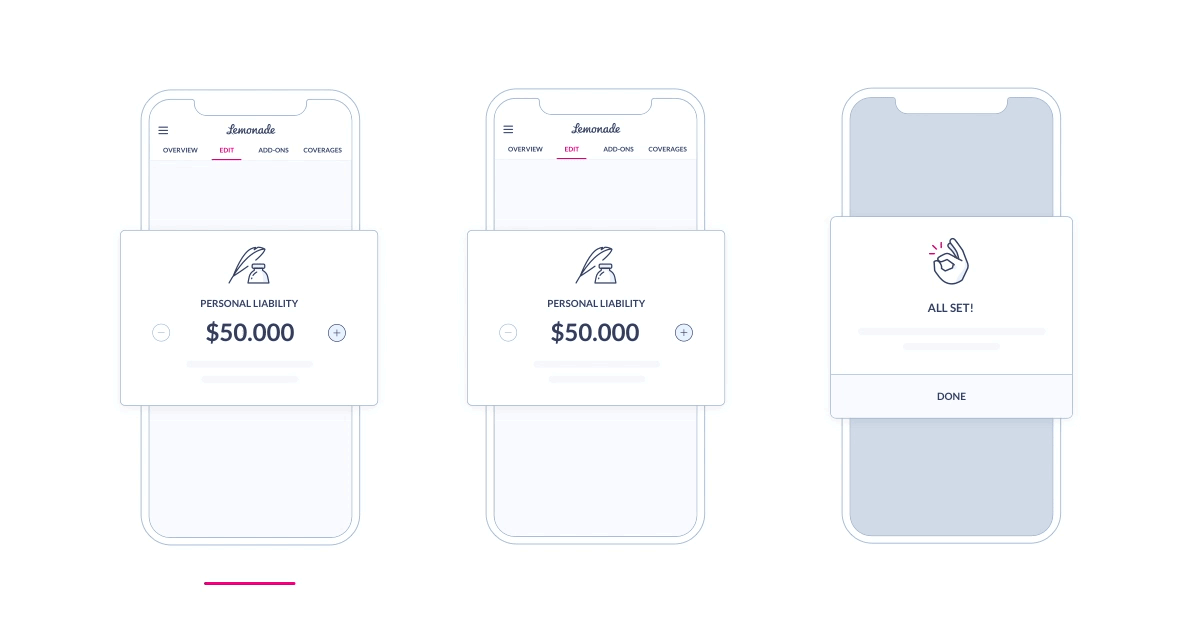 Medical Protection
If your neighbor needs to go to the hospital because of that slip and fall, your coverage will kick in to cover the medical expenses. Home insurance covers you if a guest gets injured at your place or if you accidentally cause injury to someone outside your home.
How much is home insurance coverage in Boulder?
There isn't a standard policy price for homeowner's insurance for residents of Boulder. Of course, the owner of a sprawling home in Mapleton Hill will pay a different monthly premium than a college student who owns a two-bedroom house in University Hill.
According to Bankrate, Boulder residents can get a pretty good deal when it comes to homeowners insurance rates. In Boulder, the average cost of homeowners insurance is around $1,312 per year. In comparison, the national average for homeowners insurance is $1,477. How much your homeowners insurance costs depends on your coverage limits, your insurer, your property, and your deductible.
What are the different types of homeowners insurance?
Lemonade offers two types of homeowners insurance policies: one for single-family homes (called HO3 in insurance-speak) and one for condo insurance (HO6). There are minor differences between the two, and you'll choose the right policy depending on the type of home you're looking to insure. A key difference is that homeowners own and are responsible for everything on their property (home, garage, fence, etc.). Condo owners with HO6 policies are only responsible for the outermost walls of their unit, inward.
Homeowners looking into providers who offer bundling their coverage to include auto insurance, life insurance, or pet insurance will want to look into Lemonade's options for all your coverage needs.
The best neighborhoods to be a homeowner in Boulder
Mapleton Hill Historic District
Mapleton Hill is a charming, upscale area where you'll find shady streets lined with 100-year-old silver maple trees. The neighborhood's housing options include classic Queen Anne homes and large Victorians with wrap-around porches. According to Redfin, the average price of a home in Mapleton Hill is $1.7M.
There are great schools in Mapleton Hill, from elementary all the way up to middle and high school. Part of Mapleton Hill's appeal is its proximity to Downtown Boulder and Pearl Street Mall, making it an excellent area for restaurants and shopping options.
If you're looking for good eats in Mapleton Hill, try Rosetta Hall with its delicious local and international dishes, cocktails, and a rooftop terrace. Is Japanese-Hawaiian fusion your thing? Hapa Sushi Grill and Sake Bar has a huge menu for lunch and dinner, along with many gluten-free options.
Table Mesa
Table Mesa is an attractive Boulder neighborhood just south of the University of Colorado campus. Residents of Table Mesa enjoy the conveniences and charms of a college town, with all of the amenities of Boulder close at hand, plus easy access to Denver. It offers top schools, culture, arts, shopping, and best of all, easy access to the hiking and skiing that make Boulder an outdoor lover's paradise.
Homes in Table Mesa include townhouses, condos, and single-family Craftsman homes. The average sale price of a house in the neighborhood is $1.01M according to Redfin. Outdoor shops, restaurants, and other businesses can be found at the Table Mesa Shopping Center.
Check out Murphy's if you're looking for a contemporary take on American cuisine. This neighborhood fixture offers classics with a twist, like bison meatloaf with mushroom-shallot gravy, plus a selection of the great beers Boulder is known for. Sun Pub and Brewery offers wholesome, natural pub food and 21 handcrafted ales.
Wonderland Hills
The houses in Wonderland Hills were built in the 1970s and are conveniently located between Downtown Boulder and the foothills so residents can enjoy mountain living. The neighborhood features detached, single-family homes with sprawling yards and affordable condominiums. According to realtor.com, the average home price in Wonderland Hills is $1.69M.
Wonderland Hills offers a well-developed network of bike lanes, encouraging residents to ride from place to place, which is good for their fitness and the environment. Wonderland Lake has beautiful hiking and mountain biking trails and breathtaking mountain scenery. The neighborhood features great schools, parks, and even the Boulder Philharmonic Orchestra.
Some popular Wonderland Hills restaurants include Dagabi Cucina, a Spanish tapas spot that serves pasta and wood-fired pizzas. Dagabi is known for its lively ambiance and foodie-worthy menu. If unique drinks are your style, check out BOCO Cider with over 12 varieties of house-made ciders and live music on weekends.
Whittier
Whittier is a historic neighborhood with a mix of quaint Victorian homes and student housing. Some of the homes in Whittier served as workers' homes dating back to Boulder's days as a mining supply town. It's an easy walk from Whittier to the bustling Pearl Street Mall. The average home price in Whittier is $1.31M according to Redfin.
Whittier is near all of the amenities of Downtown Boulder and features some charming smaller parks of its own. Greenleaf Park and the Spruce Pool are frequented by the families who call Whittier home.
Chez Thuy serves elegant, authentic Vietnamese dishes in Whittier and is popular among locals for lunch specials, soups, and deep-fried specialties. For an unforgettable meal, check out Bramble & Hare. You'll find a range of certified organic, farm-grown produce and rustic, creative meat dishes. Bramble & Hare's menus change daily, and everything is made in-house. You'll want to try the three-course prix fixe menu and craft cocktails.
These Boulder businesses will make your house a home
Canova Home is in the heart of Boulder, right on the Pearl Street Mall. You'll find home décor, one-of-a-kind gifts, and handmade jewelry made by local artists as well as international fair trade groups. Canova Home sells colorful pieces that are truly functional art.
HW Home is a Colorado-based home furnishings seller with curated pieces from around the world. HW Home sells unique pieces for your home that are contemporary, eclectic, and beautiful. You can choose fabrics or leathers for upholstering sofas, chairs, beds, and ottomans.
Want to light up your home in Boulder? Splashlight Studio is an "innovative lighting resource company." They offer light fixtures for every part of your home in a vast array of designs. Browse their online project portfolio to inspire your own lightbulb moment.
For unique decorative items, head to Jones + Co. Modern Mercantile. You'll find household objects and gifts that will beautify your home or that of a loved one. Check out their textiles collection for cozy blankets and dramatic rugs or their wide array of pillows. Their curated "nesting" collection will make you relish the time you spend enjoying your home.
Random facts that make Boulder great
Boulderites love bicycling! In fact, bike riding is so popular in Boulder that the Boulder Creek bike path is often plowed before the streets when it snows.
Boulder pets are masters of their own destiny. Boulder residents technically aren't allowed to own a pet. Pets own themselves, and their accompanying humans are considered their "pet guardians."
Boulder houses one of IBM's largest and greenest data centers in North America. The 115,000 square-foot facility is part of Project Big Green and was specially designed to lower energy costs.
The Third Flatiron in Boulder is 1,400 feet high, that's 150 feet taller than the Empire State Building! People love climbing this building in wacky ways, including without using their hands, on roller skates, or with lightning speed.