Lemonade's Pet Travel Safety Guide
How to indulge your fur fam's wanderlust, with their health and safety in mind.
Vacations are more fun with your furry friend—so it's no surprise that around 78% of American pet parents travel with their pets each year.
Bringing your furry companion along for an adventure means navigating not only your own travel excitement and anxieties, but your pet's as well.
Imagine a sudden rush to a vet in an unfamiliar town because your pet snuck a tempting—but dangerous—treat. That's where pet insurance could come in handy.
And unlike human health insurance, you don't have to stick to a network of pre-approved or local doctors with a Lemonade Pet policy. When you're traveling, your pet could be covered for treatment of eligible conditions when they're performed in any US state by any state-licensed veterinarian.
Let's chart a course for a memorable and safe trip with your four-legged sidekick.
Here's what we'll discuss:
Before you jet-set with your pet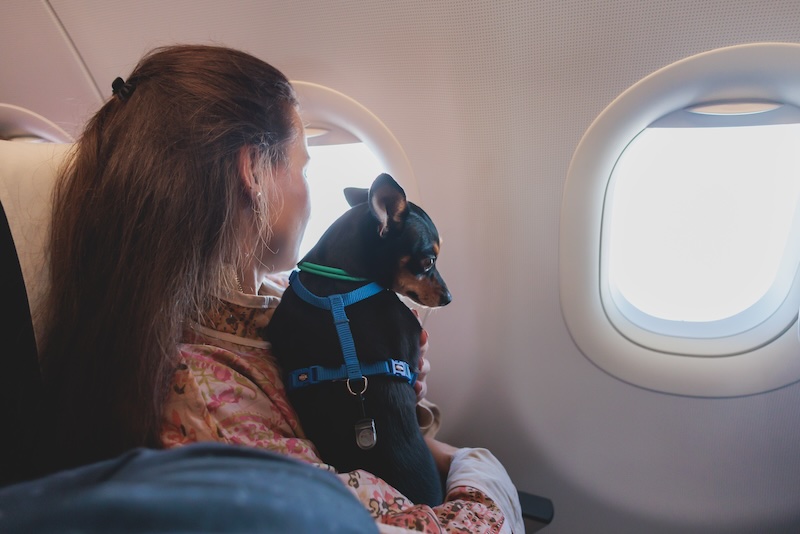 Indulging your pet's wanderlust isn't as simple as booking your plane ticket and heading to the airport with matching bathing suits and a pair of doggles in tow.
It can take several months of preparation and thoughtful consideration to ensure the safety and comfort of your furry passenger.
Click below for a checklist of general steps to follow in the months and days leading up to your flight, and a pet essentials packing list for your precious cargo—that includes things like a health certificate from your vet, and an airline-approved pet carrier.
Here's a look at what you can expect from your pet's pre-flight vet checkup, according to Lemonade's favorite vet Dr. Stephanie Liff.
"Pet parents typically bring their pet for a check-up within 10 days of their flight—but it really depends on the airline, and if you're traveling internationally. I assess the pet's fitness level to fly, confirm that they're up-to-date on vaccinations, and make sure that any past vaccines won't expire while they're traveling. If required by the travel destination, I'll also deworm the pet during this checkup.
If your pet receives their first rabies vaccine leading up to departure, keep in mind that there might be a 21 to 30 day waiting period before they can fly, depending on your travel destination. Give your vet a call way in advance to make sure your pet's vaccination timing lines up with your travel requirements.
This appointment is also a good time to discuss and address any specific risks at the travel destination, as well as potential sedation medication needs for your pet. I generally prescribe Trazodone or Xanax, or herbal remedies like Solliquin, Composure, or Zylkene, to help keep the pet calm and comfortable during their travels."
As Dr. Liff's advice makes clear, air travel with your pet can involve a fair bit of planning and stress. Consider whether flying is in the best interest of your pet's health and safety, or if other travel or care arrangements might be a better fit.
Flying with service animals and emotional support animals
Service animals are generally permitted to fly in the main cabin with their owner free of charge. Check out the US Department of Transportation's tips and restrictions for flying with a service animal.
There are different travel restrictions for emotional support animals (ESA). For example, if you plan to fly with an emotional support animal and your airline allows them in the main cabin, they typically require an ESA letter that was issued within one year of your travel date. But as of 2021, the U.S. Department of Transportation (DOT) no longer requires airlines to accommodate ESAs, so it's really up to the discretion of each airline.
Learn more about the difference between service animals and ESAs. Keep in mind: Service animals and ESAs still need to meet the health certificate and vaccine requirements of your airline.
What to know if you're considering international pet travel
Check out these resources by the USDA Animal and Plant Health Inspection Service (APHIS) on traveling with pets internationally:
Make sure your pet is up-to-date on rabies vaccinations before travel, especially for international flights heading outside of the US. (As of 2023, the CDC has a temporary suspension for dogs entering the US that have been in high-risk countries for dog rabies in the past six months, with some exceptions.)
Keep in mind: If you're flying with your fur fam outside of the US, your pet insurance likely won't cover any treatment your pet receives abroad.
But when you are traveling domestically, your pet could be covered for treatment of eligible conditions when they're performed in any US state by a state-licensed veterinarian.
Driving to your destination with your pet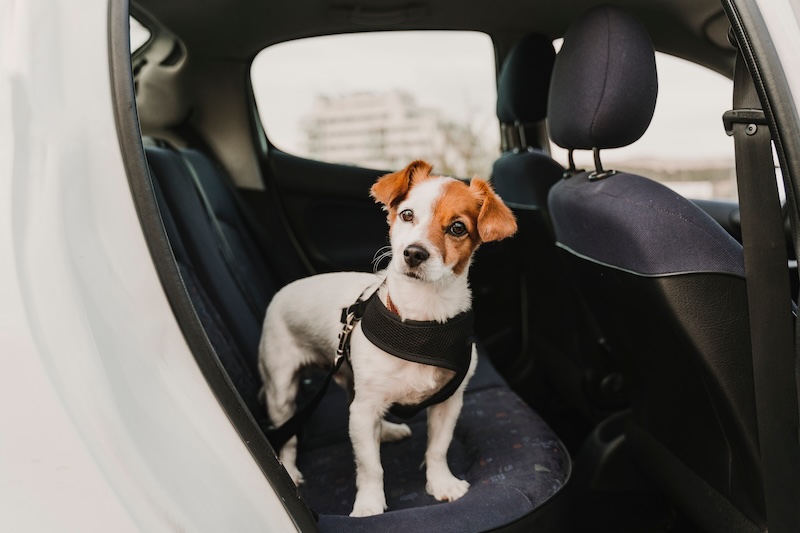 When preparing for a road trip with your pet, get your furry passenger a crash-test certified pet car safety restraint—like a dog seat belt, or a crate—and take them on shorter drives first to get them used to the experience.
You should also keep a kit with these items in your car to ensure your pet's safety and comfort during the ride:
Extra collars or harnesses with tags, plus extra leashes
Pet waste bags
Portable water and food bowls, plus enough food and treats for the whole trip
Bottled water or bottled tap water from home
Medication and a digital copy of their medical and vaccination records
Certain places might require a muzzle for your dog to enter. Plus, even the least aggressive dog might act out when in a new or stressful situation. Putting a muzzle on them can help protect them and others.
Finding pet-friendly amenities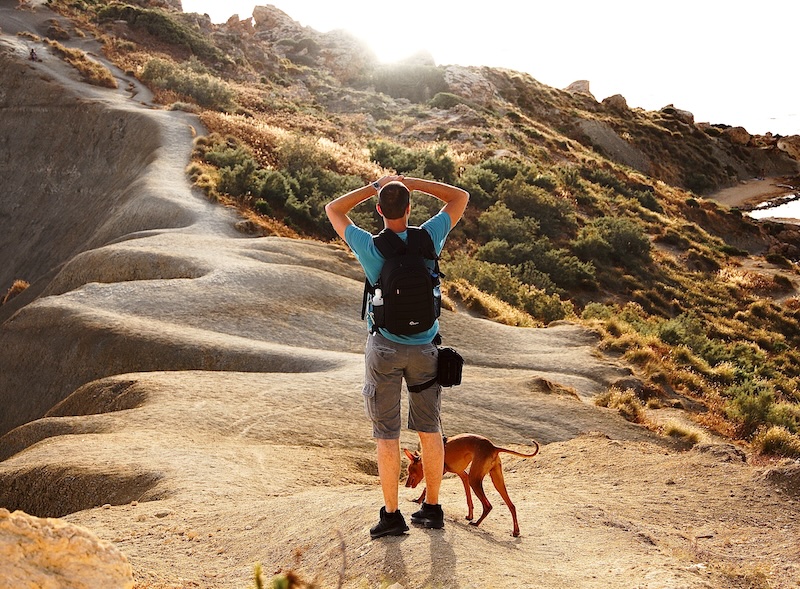 Whether you're booking a flight, a hotel room, or looking for activities at your travel destination that both you and your four-legged companion can enjoy together—make sure to research (and book if needed) the details of your travel itinerary well in advance.
Get the scoop on where your pet is permitted to join on your next adventure:
Note: It's crucial to do thorough research and contact service providers directly for the most current information before you travel with your pet. The details and availability of pet-friendly amenities can change, and each location and service may have its own pet policies, potential fees, and restrictions that could affect your plans.
Pet care options if you're traveling without your fur fam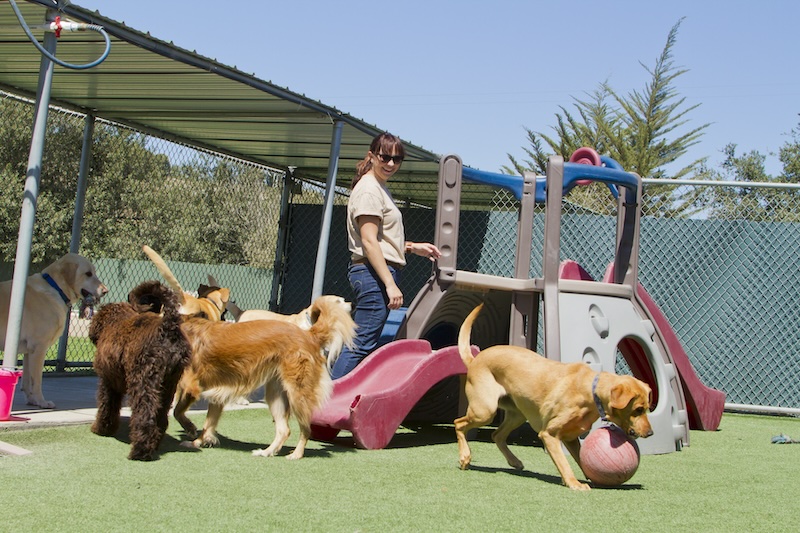 It's heartbreaking to be away from your four-legged companion (even if it's just a quick trip to the bathroom away from cuddle time on the sofa).
So when you travel several days or weeks without your fur baby, there are several factors that go into choosing the right pet care—like your pet's temperament and needs, how long you'll be away, and costs.
Here's our comparison of some common pet care options.
Boarding facility
Pros
Structured feeding schedule and exercise
Socialization with other pets
Often offer all-inclusive services like medication administration and grooming
Better for longer trips
Trained professionals available for emergencies
Cons
Schedule might not be the same as at-home
Unfamiliar setting and other pets might be stressful
Could result in bad interactions with other animals, including dog fights
Many boarding facilities aren't 24-hour, so pet might be left unattended overnight
Peak holiday times might get pricey—starting around $50 a night and going up to more than $100 per dog per night
Your pet will likely need to be up-to-date on all vaccines( including boosters and non-core vaccines, like Bordetella), and might also require a negative fecal test
Requires packing food, supplies, etc
At-home pet sitter
Pros
Familiar home environment
Can maintain usual schedule, depending on sitter's availability
Could be with a family member or friend that the pet is familiar with
Ideal for shy or anxious pets
No transport or supplies needed
Cons
Limited socialization if sitter doesn't come around often
Sitter might not be trained for emergencies
Live-in sitters can range from $50 to more than $100 per day, depending on the level of service and if the sitter is staying 24/7
Pet Staycation (aka luxury boarding facility)
Pros
Novel, potentially luxurious experience
May offer structured activities
Might include on-site vet services
Better for a short-term stay, like a weekend
Cons
Could be stressful environment for anxious pets
Premium services— like human-sized beds, webcam access for pet owners to check in, TVs, private outdoor access, gourmet food options, spa services—can cost $200 or more.
New routines might not match at-home
Your pet will likely need to be up-to-date on all vaccines (including boosters and non-core vaccines, like Bordetella), and might also require a negative fecal test
Keep in mind: Prices can vary significantly, especially during the high-demand holiday season.
Pet care costs may also depend on the quantity, type, breed, and size of your pets, as some facilities charge more for larger breeds due to the increased resources required to care for them, or offer discounts for multiple pets.
When shopping around for the best pet care option for your fur fam's needs, always confirm what is included in the base price, and what services come at an additional cost.
Before we go…
Even with the most air-tight travel itinerary for your fur fam, it's impossible to plan for every bump in the road.
With pet insurance in your travel kit, you can find solace in knowing that the unexpected—like minor scares, or emergency vet visits—won't derail your adventure with your furry friend.
A Lemonade Pet policy is the ultimate travel companion, providing a layer of protection and peace of mind.
Click below to start your free quote.
This article was approved by Lemonade's favorite vet, Dr. Stephanie Liff.
---
A few quick words, because we <3 our lawyers: This post is general in nature, and any statement in it doesn't alter the terms, conditions, exclusions, or limitations of policies issued by Lemonade, which differ according to your state of residence. You're encouraged to discuss your specific circumstances with your own professional advisors. The purpose of this post is merely to provide you with info and insights you can use to make such discussions more productive! Naturally, all comments by, or references to, third parties represent their own views, and Lemonade assumes no responsibility for them. Coverage and discounts may not be available in all states.