Chicago Renters Insurance Guide
Get your stuff covered in the City of Broad Shoulders.
The Windy City has a lot going for it. From deep dish pizza and Chicago-style hot dogs to Cubs games and the Magnificent Mile, this cosmopolitan, Midwestern city is an amazing place to call home, for the long or the short term. Whether you are not ready to purchase a home or simply prefer renting over buying, renters insurance is a worthwhile investment to cover the cost of your things in case something should happen.
We'll take you through the basics of renters insurance coverage, and also go through some of the coolest things to see and do in the City of Chicago.
Here's what we'll cover:
What does your renters insurance cover in Chicago?
Okay, so you get that a renters insurance policy is a great idea in theory… but obviously you're curious about what it can actually do for you. Let's break down the components of what your policy covers and your coverage options.
Personal Property
'Personal property' coverage makes sure your stuff, your personal belongings, is protected, whether you're relaxing at your apartment or traipsing across Europe. So if your living room furniture is ruined due to water damage from that burst pipe, or your phone is stolen while you're taking a trip to Berlin, your renters insurance policy provides peace of mind that you're covered.
Loss of Use
What about if disaster strikes? If you can't stay at your home because of covered losses (like a fire or windstorm), your 'loss of use' coverage provides reimbursements for temporary housing and additional living expenses such as food, laundry, hotel parking, and more.
Liability coverage
If someone is injured in your apartment, or anyone on your policy causes damage to someone else's property or stuff, your insurance company should have things like legal fees, property damage and water damage covered.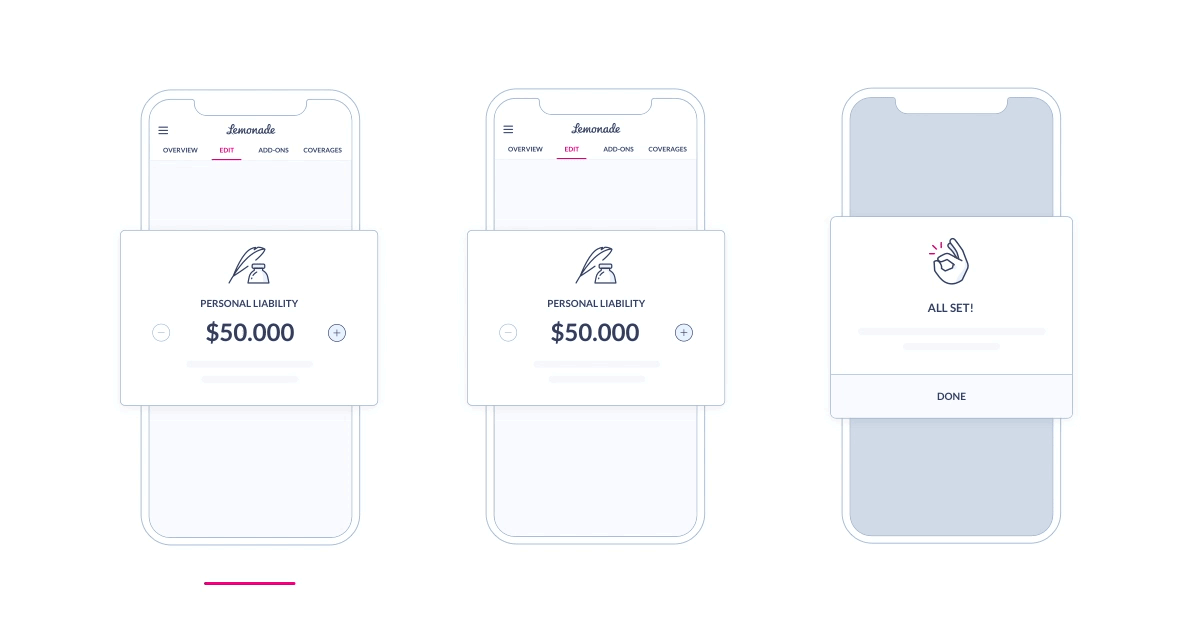 Medical Protection
Your insurer covers medical expenses if your guests get injured at your place, or if you accidentally hurt people outside of your home. Note that your renters insurance policy does not cover medical payments if you or someone residing with you are injured—your renters policy only covers non-residents and guests.
Is renters insurance required in Chicago?
While there's no law requiring that you purchase renters insurance in Chicago, your individual landlord might specifically require it. And if your lease specifies that you need renters insurance, well… that's that.
The good news is that it's easy to sign up for a renters insurance policy with Lemonade, and you'll thank yourself later if your stuff gets stolen or damaged! When signing up for Illinois renters insurance, your landlord might request they be added as an 'interested party' on your policy. This just means they'll be kept in the loop when you make any changes to your renters insurance coverage —or if you cancel your policy. It's super easy to add them using the Lemonade app.
What's the right amount of renters insurance coverage to get?
There's no easy answer to that question, and it depends on how much stuff you have to cover, and what it's worth. As we discussed above, your policy has a few main categories: Contents (your stuff); Loss of Use (temporary living expenses); and then personal liability and medical bills.
You're able to set the coverage limits for these categories when you sign up for a Lemonade policy. Lower coverage limits might save you a few bucks on your monthly premiums—but they might also leave you with insufficient coverage when you have to make a claim. You'll also need to figure out your deductible. It's a balancing act, and one that requires you to think about your property and lifestyle. Take a few minutes to apply to see your renters insurance quote to get a sense of your insurance options.
Also, if you've got valuables that are especially pricey or important—things like engagement rings, fancy cameras, musical instruments, or artworks—you can add 'scheduled personal property coverage' for those items. At Lemonade we simply call it 'Extra Coverage'—here's a bunch more info about that.
The best neighborhoods to be a renter in Chicago
Edgewater
Edgewater is at the top of our list of best places to rent in the Windy City. This northern Chicago neighborhood is extremely affordable and located right on Lake Michigan, providing beautiful scenery and outdoor spaces. The average monthly rent here is $990 and there's lots to do: go for a bike ride or take a stroll along the Lakefront Trail, check out A Taste of Heaven for a delicious meal or one of their scrumptious homemade baked goods, and get a taste of Nordic culture at the Swedish American Museum.
Lakeview
Lakeview's stellar location, affordable rent prices, and bustling vibe is one of the reasons we love this neighborhood. Home to Chicago's 'gayborhood,' Boystown sits just along Halsted St. and is full of restaurants, bars, and thrift shops, such as Out of the Closet. The average cost of rent is $1,364 and renters can find everything from high rises to townhomes.
Wrigley Field is also located in Lakeview, making this a fun, vibrant part of town. Lakeview's proximity to Lake Michigan also makes it desirable, particularly for people who love the outdoors. Here, residents can stroll along the lake or even rent a boat at Belmont Harbor.
Logan Square
Logan Square is full of art galleries, like Galerie F, theatres, and music halls, making it the ideal neighborhood for artists. However, it's also known for its happening restaurant scene, including the acclaimed Giant, serving seasonal, new-American small plates and Chicago Diner, serving 100% vegetarian diner food (with the majority being vegan). In fact, the Chicago Diner makes one of the best milkshakes in the city! You'd never know it's dairy-free.
The average rent price here is around $1,100 a month, and the large, renovated apartments draw in both older and younger people alike.
Lincoln Park
While the average rent in this neighborhood is the highest on our list, coming in around $1,650, its charm, diversity, greenery, and endless things to do make Lincoln Park one of the best neighborhoods for renters in Chicago. This area is great for both singles, families, and students, as it's home to DuPaul University.
Lincoln Park has tons of parks, shops, theatres, boutiques, and restaurants, including the acclaimed three-Michelin star restaurant, Alinea.
These Chicago businesses will make your house a home
Random facts that make Chicago great
According to Lemonade—that's us, naturally—Chicago is ranked as one of the best cities for young professionals in all of America.
The country's first open-heart surgery was performed in Chicago in 1983 at Northwestern University Hospital.
To divert sewage away from Lake Michigan, the Chicago River was engineered to flow backwards in 1900.
The tallest building in the world designed by a woman is in Chicago. Jeanne Gang designed the 82-story Aqua building in 2007.
The Home Insurance building was built in 1884 and was the world's first skyscraper.
Did you know brownies were invented in Chicago? You can thank Bertha Palmer for creating these delicious fudgy squares in 1893 at Chicago's Palmer House.
Speaking of inventions, Chicago paint salesman Ed Seymour created spray paint in a can in 1949.