Los Angeles Renters Insurance Guide
Cover your stuff in La La Land.
Whether you're in L.A. to get a higher education, to enjoy the sunshine, or to jump-start your career, you'll want to know how renters insurance coverage can help you protect your belongings.
The City of Angels is beloved by the millions of people lucky enough to call it home. While some people flock to Los Angeles hoping to catch a break in the entertainment industry, that's not even close to all it has to offer. Located between the mountains and the coast, L.A.'s climate is pleasant all year round.
Educational opportunities abound in Los Angeles. Over 100 colleges and universities are located within a 50-mile radius of the city, with several consistently top-ranking schools among them.
If you're making moves to the L.A., we've got insider tips, plus we'll tell you how renters insurance can keep you covered for what the big city throws at you.
Here's what we'll cover:
What does renters insurance cover in Los Angeles?
Okay, so you get that a renters insurance policy is a great idea in theory… but you're probably curious about what renters insurance services can actually do for you. Let's break down the components of what your renters insurance covers and your coverage options.
Personal Property
Personal property coverage makes sure your personal belongings are protected, whether you're relaxing at your apartment or off traipsing across Europe. So if your living room furniture is ruined due to water damage from that burst pipe, or your phone is stolen while you're taking a trip to Berlin, your renters insurance policy has your back to assist you with the replacement cost. How's that for priceless peace of mind?
Loss of Use
What if disaster strikes? If you can't stay at your home because of covered losses (like a wildfire or windstorm), your loss of use coverage provides reimbursements for temporary housing and additional living expenses such as food, laundry, hotel parking, and more.
Liability coverage
If someone is injured in your apartment, or anyone on your policy causes damage to someone else's property or stuff, your insurance company offers liability protection for things like legal fees and property damage.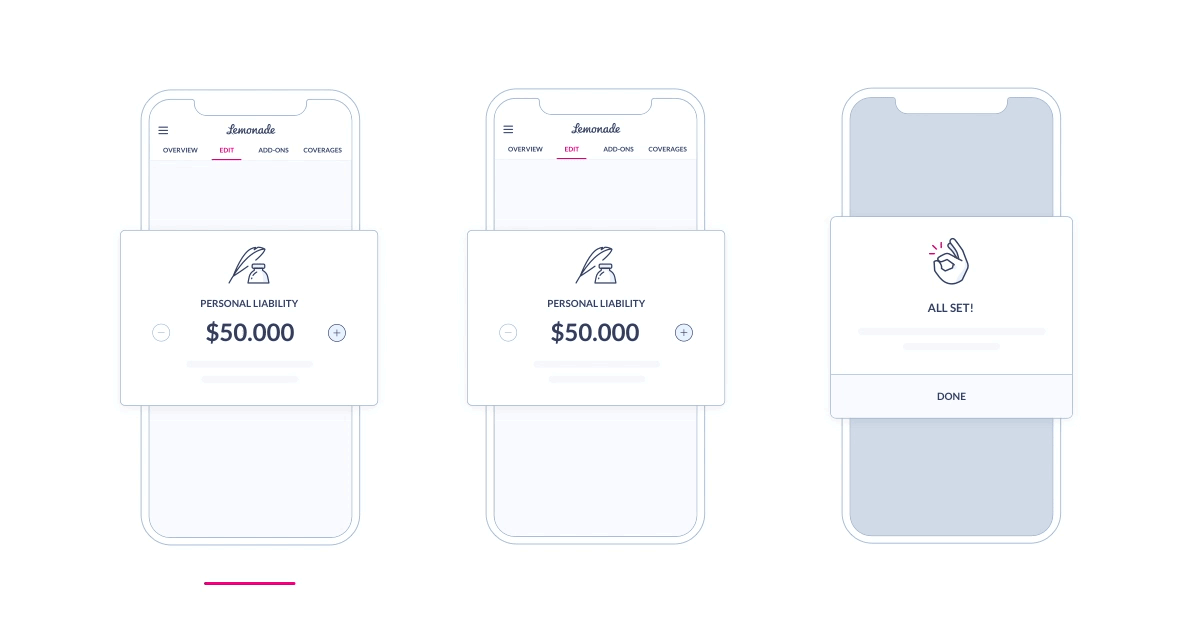 Medical Protection
Your insurance provider covers medical expenses if your guests get injured at your place, or if you accidentally hurt people outside of your home as well. Note that your renters insurance policy does not cover medical payments if you or your roommates are injured—only non-residents and guests.
Is renters insurance required in Los Angeles?
While there's no law requiring that you purchase renters insurance in California, your landlord's insurance stipulations might specifically require it. And if your lease specifies that you need renters insurance, well… that's that.
The good news is that it's easy to sign up for a renters insurance policy with Lemonade. When you get renters insurance, you'll thank yourself later if your stuff gets stolen or damaged! When signing up, your landlord might request they be added as an interested party on your policy.
This just means they'll be kept in the loop when you make any policy changes—or if you cancel your policy. It's super easy to add them using the Lemonade app.
How much does renters insurance cost in Los Angeles?
On average, renters in Los Angeles pay around $22 a month, and around $273 a year on renters insurance. Here's how it stacks up compared to other major California cities:
| City | Average monthly cost | Average annual cost |
| --- | --- | --- |
| Los Angeles | $22 | $273 |
| San Diego | $14 | $177 |
| San Jose | $17 | $200 |
| San Francisco | $18 | $211 |
| Fresno | $17 | $201 |
The exact cost of your renter's insurance will depend on your property coverage amount, your liability and medical bills coverage, your deductible, and any Extra Coverage you might want to sign up for (more on that below).
What's the right amount of coverage to get?
There's no easy answer to that question. Your renters insurance rate will depend on how much stuff you have to cover and what it's worth. As mentioned above, your policy has a few main categories: Contents (your stuff); Loss of Use (temporary living expenses); and then personal liability and medical bills.
You're able to set coverage limits for these categories when you sign up for a Lemonade renters policy. Lower coverage limits might save you a few bucks on your monthly premiums—but they might also leave you with insufficient coverage when you have to make a claim. You'll also need to figure out your deductible. It's a balancing act and one that requires you to think about your property and lifestyle. Take a few minutes to apply to see your renters insurance quote to get a sense of your insurance options.
Also, if you've got valuables that are especially pricey or important—things like engagement rings, fancy cameras, musical instruments, or artwork—you can add 'scheduled personal property coverage' for those items. At Lemonade, we just call it 'Extra Coverage'—here's some more info on that.
The best neighborhoods for renters in Los Angeles
Koreatown/ Wilshire Center
Koreatown, or K-town, is centrally located along Wilshire Boulevard. This thriving neighborhood offers residents easy access to Downtown L.A. and lots of amenities. It's easy to get anywhere on foot or using the Metro in Koreatown.
K-town used to be the center of Golden Age Hollywood, with landmarks like the Coconut Grove nightclub and the Ambassador Hotel. Today, the area's main residents are the city's Korean and Latino populations.
Many young professionals call K-town home. Families love the area for its great schools, recreational activities, and many playgrounds. Shopping malls, spas, and trendy eateries can be found throughout Koreatown. The average cost of a rental in the neighborhood is $2,172 according to RentCafe.
Fairfax District
Fairfax has a distinctive vibe. The neighborhood is home to much of the city's Jewish population as well as a large Latino population. Fairfax has a mixed urban-suburban feel, with most residents renting their homes. The average cost of rent in Fairfax is $3,158 according to RentCafe.
The Farmers Market on Fairfax Avenue is home to open-air produce stalls and lively cafes. The iconic Grove shopping center features a park and fountain at its center. Much-loved shows like The Price is Right are filmed in Fairfax's famed CBS Television City.
Diverse retail businesses and an eclectic mix of restaurants give Fairfax its casual trendy feel. Catch some culture at art exhibitions like Flutter and Artspace Warehouse, or learn the lessons of history at the Holocaust Museum.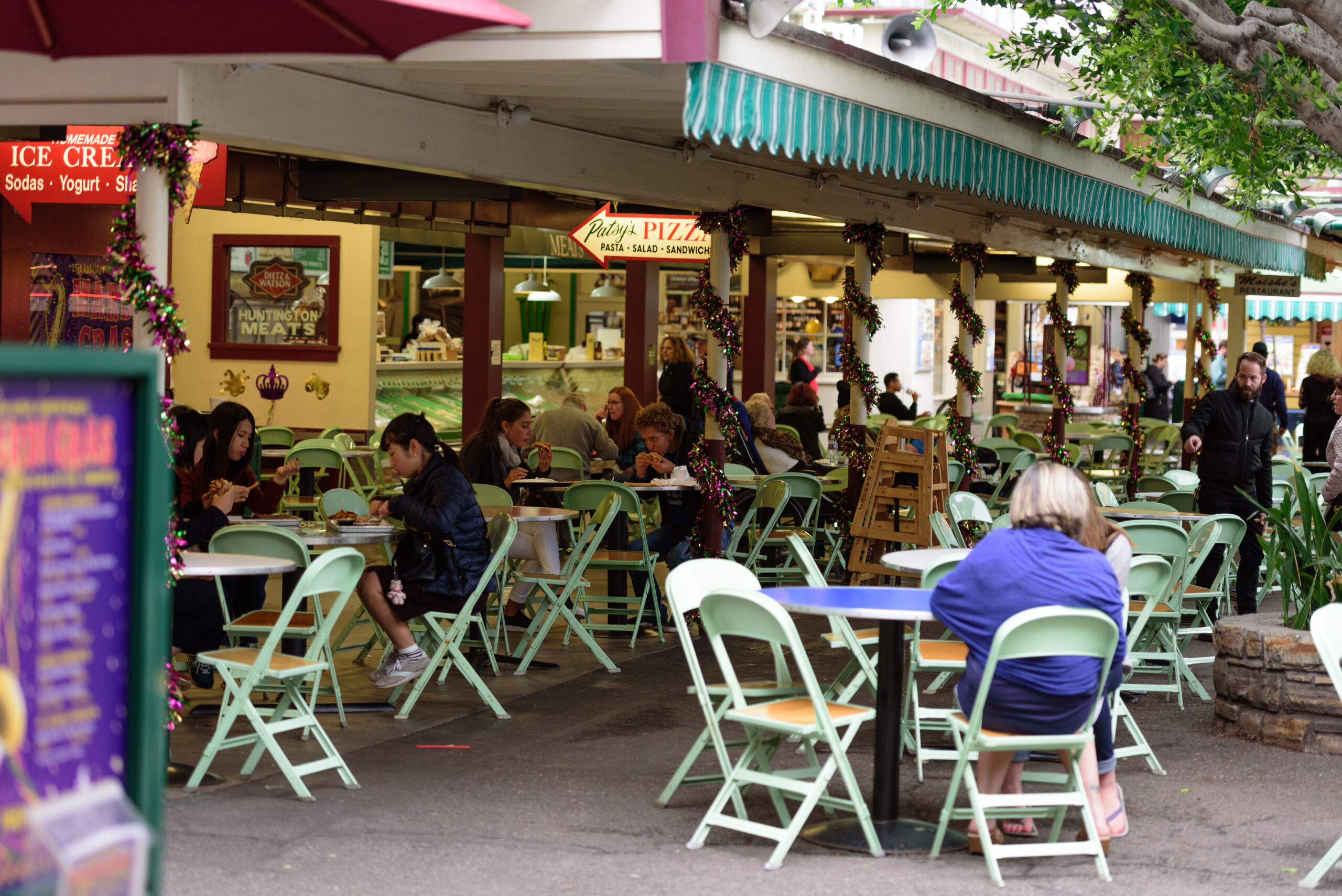 Westwood
Renters in Westwood will tell you they live in the best neighborhood in the city. Westwood offers residents lots of options for shopping, dining, and entertainment. UCLA's campus is in Westwood, as is the Hammer Museum where you can take in the latest performances, lectures, film series, and exhibitions.
Historic buildings and theaters dot the streets of Westwood. The neighborhood is also home to much of L.A.'s large Persian community. Young families love the Westwood Recreation Center which offers athletic fields, an indoor gym, and a fully accessible playground for children of all abilities.
Nature lovers aren't far from some of the best beaches in L.A. living in Westwood. It's just minutes from Malibu and Santa Monica. Westwood has a wide variety of home types, including condos, townhouses, single-family homes, and large estates. RentCafe lists the average price of a Westwood rental at $2,650.
Downtown L.A.
True to its name, Downtown L.A. is one of the most happening parts of this city. Singles and young professionals who work in DTLA often choose to live where all the action is. Apartment towers and historic lofts are some of the popular places to live in Downtown L.A. The average price of rent in the neighborhood is $2,734 according to RentCafe.
There's always something going on in DTLA. Visit the Music Center's Walt Disney Concert Hall for a free audio tour of the unique, twisted architecture. Check out modern masterpieces at The Broad Museum or the Museum of Contemporary Art (MOCA). Pick up a floral bouquet at the Original L.A. Flower Market or people watch at Grand Park. Whatever you're into, you'll find it in bustling, lively Downtown L.A.
These Los Angeles businesses will make your rental a home
Maison Bertet is a West Hollywood shop specializing in custom-made furnishings. You'll find top-quality pieces at great prices, including patio furniture, sofas, innovative lighting, and bathroom vanities. Impeccable service and quick delivery times keep customers coming back to Maison Bertet.
For custom handmade furniture made of reclaimed urban hardwood and steel, head to Parkman Woodworks. Graham and his crew will treat you right from the start, taking your ideas and turning them into reality. Whether you get a dining table, desk, bookshelves, or another custom piece, your Parkman Woodworks furniture will be treasured for years.
VK Custom Living sells high-end bedding, window treatments, and upholstery that will make your L.A. rental feel truly decadent. Work with their designers to create something totally original or choose from the existing styles you'll find on their website. There may be lots to do in L.A., but VK Custom Living may just make you want to enjoy a cozy night at home instead!
It's all about your wardrobe in this town! L.A. Closet Design will create functional, aesthetically pleasing closets, wardrobes, and storage spaces. Start and end your day with an organized closet that matches your needs.
Random facts that make Los Angeles great
L.A.'s Griffith Park is the second-largest urban park in California. You can take a hike to the Hollywood sign to snap some great selfies and take in the gorgeous view of the city below.
The only remaining wooden lighthouse in California can be found in L.A.'s San Pedro's Fermin Park.
Downtown L.A. is second only to Washington, D.C. in terms of having the largest concentration of government buildings and institutions.
Pacific Park is home to the only solar-powered Ferris wheel in the world, the Pacific Wheel.
L.A. is the only U.S. city to have hosted the Olympic games twice.
Visitors to the Natural History Museum of Los Angeles can view collections that span 4.5 billion years of the Earth's history. It's the largest natural history museum in the Western U.S.