Renters Insurance in Connecticut
From Andover to Woodstock, we've got you covered.
If you're renting a home or apartment in Connecticut, one of the easiest ways to score valuable peace of mind is by getting renters insurance.
You'll enjoy coverage against property damage, vandalism, theft, and many other curveballs that life can throw at you.

Whether you're living in a cozy cottage in Greenwich or a minimalist loft in New Haven, a renters insurance policy offers you comprehensive protection at an affordable price. Many people underestimate the value of renters insurance, so we'll hit all the main points below.
Read on to discover what your Lemonade renters insurance policy covers in Connecticut, your coverage options overall, and some info that will help as you compare quotes from other insurance companies, too.
What does renters insurance in Connecticut cover?
Personal Property coverage
Personal property coverage applies to your personal belongings both inside and outside your home from theft, fire, vandalism, and other hazards. This means that if your laptop is stolen at the Yale library or your furniture is damaged due to a burst pipe—it's likely a covered loss.
Remember, renters insurance also protects you while you're on the go, not just at home. And if you'd like, you can add additional coverage for high value items like bicycles, cameras, musical instruments, artworks, or jewelry.
FYI: What if something occurs that damages the physical structure of your rental apartment, like the walls, or appliances owned by the building? That wouldn't fall under your own renters policy—it'd be the domain of your landlord's insurance.
Loss of Use
If your rental unit becomes uninhabitable due to covered damages, your 'loss of use' coverage may help pay for a temporary place to stay and additional living expenses such as food, laundry, parking, and so on.
Personal Liability coverage
If someone is injured on your property or anyone on your policy causes damage to someone else's property or stuff, liability coverage is essential.
Liability protection is especially helpful if you have a pet that accidentally bites someone. Speaking of dogs and cats—did you know that Lemonade also offers pet health insurance in Connecticut?
Medical Protection
If your neighbor needs to go to the hospital due to an injury that happened at your place, your medical payments coverage may kick in.
Renters insurance can help cover medical expenses if your guests get injured at your place, as well as expenses incurred by people you may have accidentally hurt outside of your home as well.
What factors affect the price of my policy?
The cost of renters insurance varies depending on where you live and other factors. For instance, a two-bedroom apartment in Hartford will have a different monthly premium than a single-family home being rented in Stamford.
Other factors that help determine the cost of your renters insurance policy include:
Age of your building
If your home or apartment building is brand new, you could get a discount on your renters insurance policy! However, old buildings are more likely to have structural issues or problems with the electrical or plumbing systems, which may jack up the price of your insurance a bit.
Protective devices
If you have a fire alarm—and you should!—you could get a discount on your renters insurance.
Amount of coverage you choose
The cost to replace all of your belongings has an impact on the price of your renters insurance policy. So if you have $50,000 worth of personal property, your renters insurance policy will probably be a bit pricier than if your stuff is worth $10,000.
Deductible
The lower your deductible, the higher your renters insurance price. So choose a deductible that makes the most sense for your lifestyle.
Add-Ons
If you add Extra Coverage for expensive jewelry or fine art or tack on water backup coverage to your policy, your price will go up a bit.
Claims history
If you've never filed a claim, you'll probably have a cheaper renters insurance policy than someone who has a history of filing claims.
Your insurer
Different insurance companies and insurance providers offer different rates, so it makes sense to shop around. And even if you find the cheapest renters insurance, it might not fit your needs—there's a lot to consider.
What's the average cost of renters insurance in Connecticut?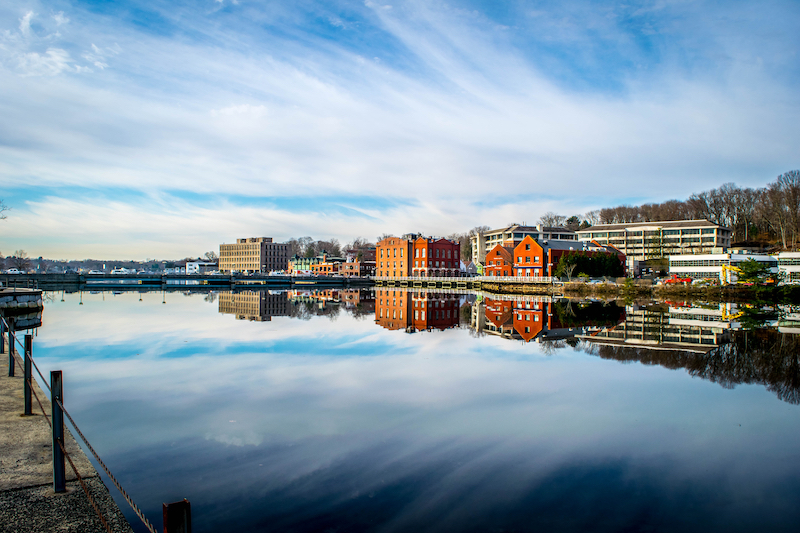 As of early 2023, the average cost of Lemonade Renters insurance in Connecticut is just $13 a month ($156/annually).
Your rate will vary depending on where in the state you live. Here are a few city-by-city averages, for comparison.
Stamford: $12.33/month
New Haven: $15/month
Greenwich: $21.08/month
Bridgeport: $12.58/month
Of course, the best way to find out your individual price is to get a personalized quote—it's easy!

How can I lower my renters insurance cost?
You have a few options here.
One way to lower your renters insurance rates is by decreasing the coverage limits you've chosen, but that may leave you underprotected if disaster strikes
You can also adjust the deductible on your policy, though you'll be responsible for more out-of-pocket in the event of a future claim
Another way to save money on your renters insurance policy is by bundling it with other Lemonade products—for instance, if you have renters insurance and pet health insurance, you'll receive a bundle discount on both policies
Is renters insurance a good idea for college students?
Whether you're studying Anthropology at Yale or Computer Science at UConn, having a policy will come in handy if bad luck strikes. Here's what you should know about renters insurance for college students.
As a student, you might find yourself living in an off-campus house with multiple roommates. People are coming and going. There might be the occasional party. You might risk a kitchen fire if you're too hungover to scramble those eggs.
It's all a recipe for potential damage and loss. But having renters insurance might help soften the blow in many instances.
If you're hoping that mom and dad foot the bill for your policy, keep in mind that you'll still have to sign up for the policy yourself, as they legally can't do it for you.
Get a customized renters insurance quote in Connecticut
Finding affordable renters insurance and the right coverage that fits your needs can be a daunting and time-consuming task. But with Lemonade, Connecticut renters can get a policy in minutes, without any paperwork or hassle.
Plus, if you ever need to file a claim, Lemonade processes many of them instantly. Check renters insurance off your to-do list and get a quote from Lemonade today.
A few quick words, because we <3 our lawyers: This post is general in nature, and any statement in it doesn't alter the terms, conditions, exclusions, or limitations of policies issued by Lemonade, which differ according to your state of residence. You're encouraged to discuss your specific circumstances with your own professional advisors. The purpose of this post is merely to provide you with info and insights you can use to make such discussions more productive! Naturally, all comments by, or references to, third parties represent their own views, and Lemonade assumes no responsibility for them. Coverage may not be available in all states.