Renters Insurance in Virginia
Get coverage in the Old Dominion State.
Whether you're in Virginia to study, work, play, or anything in between, you might want to cover your stuff with renters insurance. We'll take you through the basics of renters insurance coverage and also go through some of the coolest cities and hidden gems to explore in the Mother of States—and beyond.
Here's what we'll discuss below:
How much is renters insurance in Virginia?
The average cost for renters insurance in Virginia is $15/month as of 2023, according to ValuePenguin.com. FYI, the average national rate for Lemonade Renters in the U.S. is $14/month, as of March 31, 2023.
Since various factors can affect your personal premium, the easiest way to get your specific price is to fill out an online quote.
What does your renters insurance cover in Virginia?
Okay, so you get that a renters insurance policy is a great idea in theory… but obviously you're curious about what it can actually do for you. Let's break down the components of what your policy covers and your coverage options.
FYI: In Virginia, the top reasons for Lemonade Renters insurance claims tend to be related to water damage or theft.
Personal Property
'Personal property coverage makes sure your stuff, your personal belongings, is protected, whether you're relaxing at your apartment or traipsing across Europe. So if your living room furniture is ruined due to water damage from that burst pipe, or your phone is stolen while you're taking a trip to Berlin, your renters insurance policy has your back.
Loss of Use
What about if disaster strikes? If you can't stay at your home because of covered losses (like a fire or windstorm), your 'loss of use coverage provides reimbursements for temporary housing and additional living expenses such as food, laundry, hotel parking, and more.
Liability coverage
If someone is injured in your apartment, or anyone on your policy causes damage to someone else's property or stuff, your insurance company should have things like legal fees and property damage covered.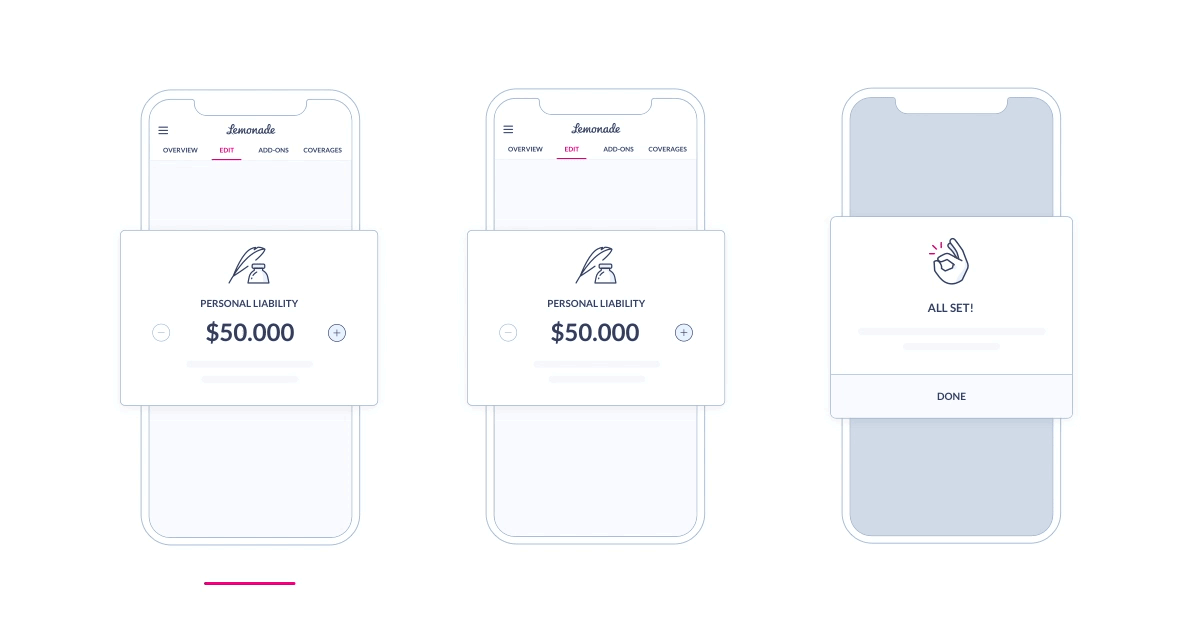 Medical Protection
Your insurer covers medical expenses if your guests get injured at your place, or if you accidentally hurt people outside of your home as well. Note that your renters insurance policy does not cover medical payments if you or someone residing with you are injured—only non-residents and guests.
Is renters insurance required in Virginia?
While there's no law requiring that you purchase renters insurance in Virginia, your individual landlord might specifically require it. And if your lease specifies that you need renters insurance, well… that's that.
The good news is that it's easy to sign up for a renters insurance policy with Lemonade, and you'll thank yourself later if your stuff gets stolen or damaged! When signing up, your landlord might request they be added as an interested party on your policy.
This just means they'll be kept in the loop when you make any policy changes—or if you cancel your policy. It's super easy to add them using the Lemonade app.
What's the right amount of coverage to get?
There's no easy answer to that question, and it depends on how much stuff you have to cover, and what it's worth. As we discussed above, your policy has a few main categories: Contents (your stuff); Loss of Use (temporary living expenses); and then personal liability and medical bills.
You're able to set the coverage limits for these categories when you sign up for a Lemonade policy, and you can also change them later.
Lower coverage limits might save you a few bucks on your monthly premiums—but they might also leave you with insufficient coverage when you have to make a claim.
You'll also need to figure out your deductible. It's a balancing act and one that requires you to think about your property and lifestyle.
Take a few minutes to apply to see your renters insurance quote to get a sense of your insurance options.
Also, if you've got valuables that are especially pricey or important—things like engagement rings, fancy cameras, musical instruments, or artworks—you can add 'scheduled personal property coverage' for those items. At Lemonade, we simply call it 'Extra Coverage'—here's a bunch more info about that.
How can you save on renters insurance in Virginia?
There are a few ways to save on your monthly premium.
As we mentioned, lowering your coverage limits or increasing your deductible can get you a lower monthly price for your renters insurance. But if catastrophe strikes, you might find yourself with insufficient coverage for your losses, and more money spent out-of-pocket.
Adding security devices (like fire or burglary alarms) can make you eligible for savings.
An even easier way to save would be to bundle policies together.
In Virginia, Lemonade also offers pet health insurance. Combining Lemonade Pet with Lemonade Renters unlocks bundle discounts—plus you'll be able to access your policies and make claims all from the same app.