Virginia Renters Insurance Guide
Get coverage in the Old Dominion State.
Looking for renters insurance in Virginia? Well, you've come to the right place!
Wherever you go in Virginia, natural beauty surrounds you. Virginia boasts deep caverns and caves, breathtaking cliff-top views, scenic rivers and lakes, mountainous landscapes, mystical swampland, waterfalls and beaches, and natural wonders of the world such as the natural bridge, natural tunnel, and the majestic "God's Thumbprint" garden.
Virginia residents enjoy all four seasons, diverse terrain, a thriving music scene, and superb cuisine. The state is conveniently nestled in the middle of the east coast, offering easy access to many other locations. The Old Dominion State has a strong economy, high-quality higher education, good schools, and provides fertile ground for entrepreneurship.
Whether you're in Virginia to study, work, play, or anything in between, you might want to cover your stuff with renters insurance. We'll take you through the basics of renters insurance coverage and also go through some of the coolest cities and hidden gems to explore in the Mother of States—and beyond.
What does your renters insurance cover in Virginia?
Okay, so you get that a renters insurance policy is a great idea in theory… but obviously you're curious about what it can actually do for you. Let's break down the components of what your policy covers and your coverage options.
Personal Property
'Personal property coverage makes sure your stuff, your personal belongings, is protected, whether you're relaxing at your apartment or traipsing across Europe. So if your living room furniture is ruined due to water damage from that burst pipe, or your phone is stolen while you're taking a trip to Berlin, your renters insurance policy has your back.
Loss of Use
What about if disaster strikes? If you can't stay at your home because of covered losses (like a fire or windstorm), your 'loss of use coverage provides reimbursements for temporary housing and additional living expenses such as food, laundry, hotel parking, and more.
Liability coverage
If someone is injured in your apartment, or anyone on your policy causes damage to someone else's property or stuff, your insurance company should have things like legal fees and property damage covered.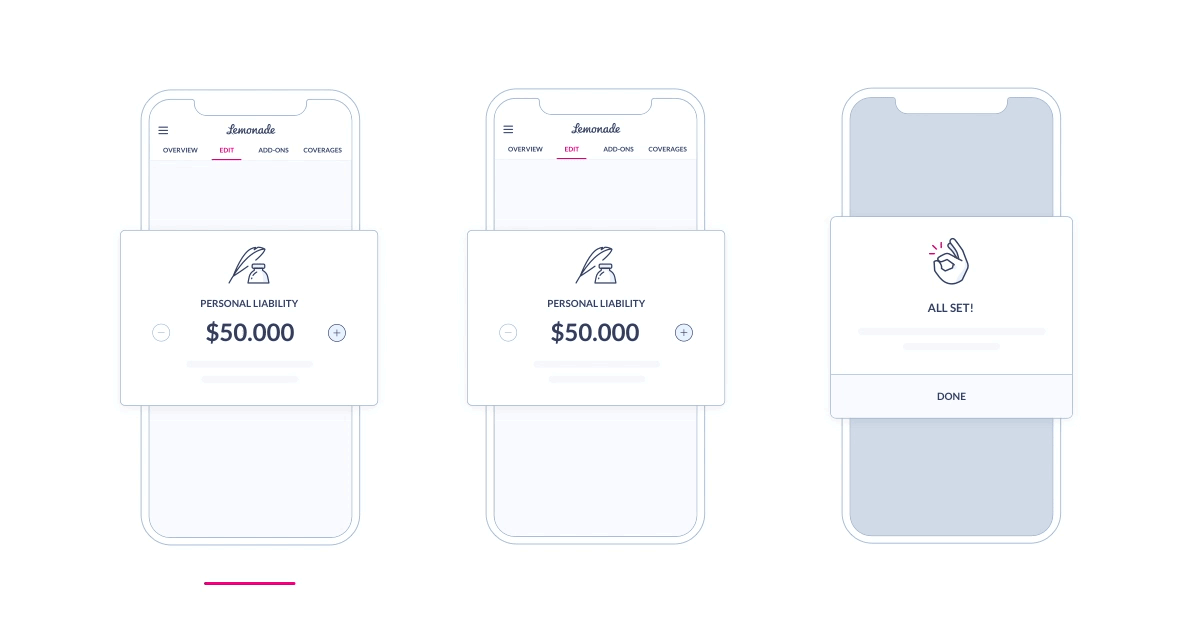 Medical Protection
Your insurer covers medical expenses if your guests get injured at your place, or if you accidentally hurt people outside of your home as well. Note that your renters insurance policy does not cover medical payments if you or someone residing with you are injured—only non-residents and guests.
Is renters insurance required in Virginia?
While there's no law requiring that you purchase renters insurance in Virginia, your individual landlord might specifically require it. And if your lease specifies that you need renters insurance, well… that's that.
The good news is that it's easy to sign up for a renters insurance policy with Lemonade, and you'll thank yourself later if your stuff gets stolen or damaged! When signing up, your landlord might request they be added as an 'interested party' on your policy. This just means they'll be kept in the loop when you make any policy changes—or if you cancel your policy. It's super easy to add them using the Lemonade app.
What's the right amount of coverage to get?
There's no easy answer to that question, and it depends on how much stuff you have to cover, and what it's worth. As we discussed above, your policy has a few main categories: Contents (your stuff); Loss of Use (temporary living expenses); and then personal liability and medical bills.
You're able to set the coverage limits for these categories when you sign up for a Lemonade policy. Lower coverage limits might save you a few bucks on your monthly premiums—but they might also leave you with insufficient coverage when you have to make a claim. You'll also need to figure out your deductible. It's a balancing act and one that requires you to think about your property and lifestyle. Take a few minutes to apply to see your renters insurance quote to get a sense of your insurance options.
Also, if you've got valuables that are especially pricey or important—things like engagement rings, fancy cameras, musical instruments, or artworks—you can add 'scheduled personal property coverage' for those items. At Lemonade, we simply call it 'Extra Coverage'—here's a bunch more info about that.
Top Virginia rental destinations
Music, sports, festivals, natural wonders, and delicious food make it easy to see why The Old Dominion State would make for an ideal place to settle down. Whether you are a native-born Virginian or part of the growing influx of new residents, it's worth finding out why Virginia should make your list.
Arlington
Arlington is not only the best place to live in Virginia, according to Niche.com, it also ranks as the number two best city to live in all of America. This city in Arlington County excels is a great place to raise a family, because of its highly rated public schools, but it also has a thriving nightlife. The top three neighborhoods in Arlington are Bluemont, Radnor/Fort Myer Heights, and Ballston/Virginia Square. The city enjoys a low crime rate, 62% lower than the national average, and just 2.6% unemployment. There are also beautiful trails, amazing food, and a "hopping" beer scene.
Since it is so close to D.C., the headquarters of many big employers, from airlines to the national government, are located nearby. Renting a home in Arlington averages out to be about $2,354.
Fun fact: In 1791, the plan was that Arlington would be a part of Washington, D.C. However, plans changed, and in 1846 Congress handed over the area (called Alexandria at the time) to the Commonwealth of Virginia. Maybe that explains why the Pentagon is in Arlington instead of in Washington, D.C.
Places to visit:
Mount Vernon Trail. If you're looking for gorgeous views of Arlington and Washington, D.C., the Mount Vernon Trail has eighteen miles of trails that extend from George Washington's Mount Vernon Estate to Theodore Roosevelt Island. The trail, perfect for biking, hiking, or walking, connects with other trails in Virginia, including the Custis, Four Mile Run, Potomac Heritage, Rock Creek, and Woodrow Wilson Bridge Trails.
The Pentagon. Considered a must-see spot, The Pentagon has nearly 106,000 visitors annually. There are walking tours that cover almost a mile and a half, during which you learn about the five Armed Services, the Office of the Secretary of Defense, and the Joint Staff. You can also pay your respects to those who lost their lives on 9/11 at the Pentagon Memorial.
Arlington National Cemetery. Always making the list for must-visit places in Arlington is the 624-acre Arlington National Cemetery. This solemn yet moving cemetery has more than 400,000 graves of soldiers dating as far back as the Civil War. Notable graves include President John F. Kennedy's and the continuously guarded Tomb of the Unknown Soldier.
Alexandria
Alexandria has a unique historical character. It's one of the best cities for young professionals in Virginia, according to Niche.com, and the second-best place to live in Virginia. The city has a bustling job market, as evidenced by becoming the new headquarters for Amazon. Old Town Alexandria is full of beautiful historic buildings and trendy gastropubs, and the entire city has a hot, evolving dining scene. There is easy access to the rest of the DMV area and local art everywhere.
Alexandria is the perfect home for history lovers, art lovers, and nature lovers. The average cost of a rental in Alexandria is around $1,906 a month.
Fun fact: Alexandria has strong Scottish roots. It was founded by Scottish merchants in 1749 and named after Scotsman John Alexander. To celebrate these roots, an annual Scottish Christmas Walk Weekend & Parade is held in the city.
Places to visit:
Huntley Meadows Park. If you're looking for some of the best wildlife watching in the Washington metropolitan area, then look no further. Huntley Meadows Park is home to vast wetlands bustling with life, majestic forests, wildflower-bedecked meadows, and a nationally significant historic house. Check out their numerous events, from birding for beginners to night sky photography!
Gadsby's Tavern Museum. Have you ever wondered what some of the forefathers' old haunts were? Notable historical patrons of Gadsby's Tavern were George Washington and Thomas Jefferson! Gadsby's Tavern Museum consists of two buildings, from 1782 and 1785, both were central to Alexandria's port-based economy. Tour the taverns to learn more about their political impact.
The Stabler-Leadbeater Apothecary Museum. This National Historic Landmark was run by the same family for nearly 100 years, until the Great Depression when the apothecary was saved and converted into a museum preserving everything from the structure to the herbal botanicals intact. The museum also boasts original hand-blown glass, medical equipment, and imaginative ingredients like dragon's blood and unicorn horns! Book a Harry Potter or Outlander themed tour for the full experience!
Virginia Beach
Virginia Beach is the number one best suburb to raise a family in the Norfolk Area, according to Niche.com, and one of the best places to live in Virginia. WalletHub also named Virginia Beach the best big city to live in. Residents of this proud military town enjoy a low unemployment rate, a booming economy, and a comfortable climate year-round. There is plenty of natural beauty, from the beaches to bike trails in "Neptune City."
Watersports, festivals, incredible seafood, the nightlife, and a thriving arts and culture scene all make Virginia Beach a great place to call home. The average cost for a rental in Virginia Beach is approximately $1,485 per month.
Fun fact: Virginia Beach is home to three and a half military bases– yes, half. The bases are FTC Dam Neck, NAB Little Creek, NAS Oceana, and the U.S. Army's Fort Story. NAB Little Creek is called a "half" base because it is mostly in Virginia Beach, but its formal address is in Norfolk.
Places to visit:
Vibe Creative District. The Vibe Creative District is an enclave nestled within the Oceanfront area. This vibrant cultural and artistic hub is a whole vibe and provides an oasis for creative businesses. Check out the area's museums, restaurants, fitness centers, artist studios, public art works, crafts, or attend one of the neighborhood's regular events, like the Old Beach Farmers Market. There is always something going on at the Vibe!
Virginia Beach Oceanfront. Lying at the meeting place between the shores of Virginia Beach and the Atlantic Ocean, you'll find this amazing three-mile resort. The Virginia Beach Oceanfront is the type of place that families return to year after year as part of their vacationing ritual. There is a wonderful small-town community and plenty to do, from biking to buggy rides to taking a stroll on the boardwalk. Don't miss the attractions, such as the Legends Walk or the King Neptune Statue!
First Landing State Park. Located on Cape Henry, First Landing State Park is 2,888 acres of outdoor adventure. There are a wide variety of activities, including swimming, fishing, boating, biking, hiking, or going on a picnic. You can also camp out at one of the campsites or stay in one of the park's cabins. From the beach to the over nineteen miles of trails to the narrows, there is something for every nature lover! You could do nothing and enjoy the natural beauty of the park, or check out their other activities, such as Talks and Walks or the Native American community life displays on the Cape Henry Trail.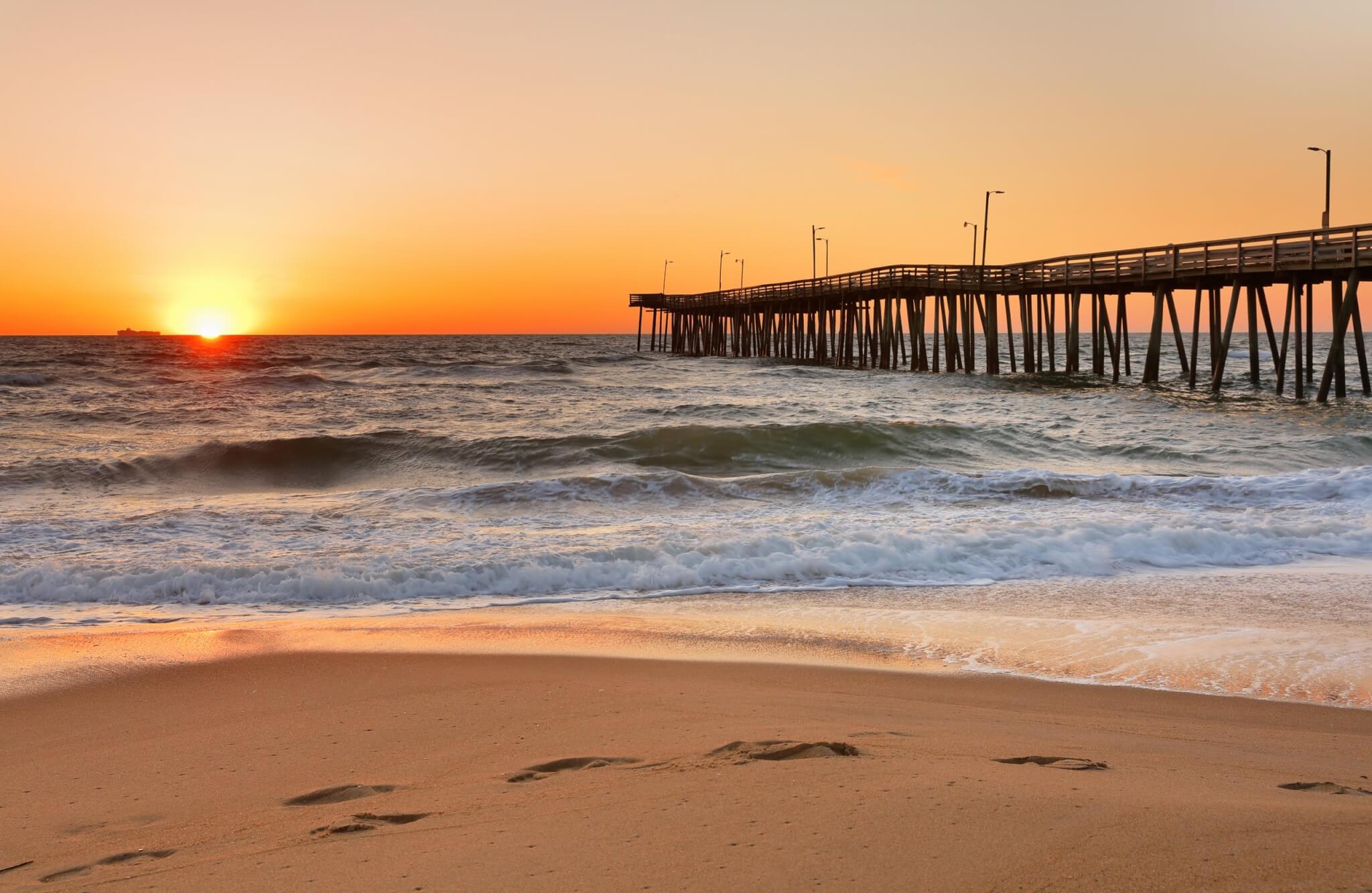 Richmond
Richmond is the fourth best city to live in Virginia, according to Niche.com. The city makes it into the top 100 lists for best cities for young professionals (#62) and the most diverse cities in the country (#94). According to the U.S. News and World Report, Richmond is the top city to live in Virginia and the fiftieth in the country. This city is full of history, attractions, museums, entertainment, as well as a vibrant food scene. The capital of Virginia is quite the outdoor playground.
Richmond is the seat of Virginia's state government and a major financial center. The cost for a rental in Richmond is $1,328 on average.
Fun fact: Richmond is the only region in the United States with whitewater rapids flowing through its downtown district. You can go whitewater rafting right in the middle of the city!
Places to visit:
The Virginia Capital Trail. Biking, boating, jogging, walking the dog, riding a Segway, skating, tours—the Virginia Capital Trail is an outdoor enthusiast's dream! Ronnie's BBQ, the historic Edgewood Bed and Breakfast, and Fort Harrison are just a few of the places worth visiting along the trail. The Virginia Capital Trail also connects with the Great Shiplock Park Trailhead, Canal Walk and Downtown, the Virginia State Capitol, and Belle Isle. Check out their video and follow the trail on Instagram to see just how beautiful it is.
James River Whitewater Rafting. Part of what makes Richmond unique are the whitewater rapids of the James River that run through the downtown area of the city. James River Whitewater Rafting offers a variety of options for rafting excursions. The Upper James is for those who would prefer to float gently, or for families with young children. Those looking for the full experience can take on the entire Falls of the James, which is 7.5 miles of river. Check out special trips like dining on a secluded island and events, such as Fireworks on the James or festivals at Brown's Island.
Richmond Beer Trail. RVA's craft beer scene has earned acclaim as an international destination. On the Richmond Beer Trail, you can sample your way through to understand why. There are nearly forty breweries, all worth checking out, including America's Best Beer Bar Mekong, Hardywood with its Gingerbread Stout, Stone Brewing, and The Veil Brewing Co. Hop on the trail and get your beer trail map stamped!
Other cities and towns to consider:
Stone Ridge: This suburb is the fifth best place to live in Virginia, according to Niche.com. Stone Ridge has highly-rated public schools and is a great place to raise a family. The suburb rates well for diversity and housing options, and has a variety of amenities, including an amphitheater, miles of trails, and a farmers market. Average rent: $1,900.
Cascades: Cascades is a suburb of Washington, D.C., and is located in Loudoun County. According to Niche.com, it's the second best suburb to live in Virginia. This planned community, which lies along the Potomac River, is rated most highly for being a good place to raise a family, since the public schools in Cascades are highly rated. Average rent: $1,991.
Franklin Farm: Franklin Farm is located in Fairfax County, and is a rural suburb of Washington, D.C. It is considered the best place to live in Fairfax Country, according to Niche.com. A special place that no one wants to leave boasts meadows, plenty of green spaces, amenities, and convenient metro access. Average rent: $1,998.