The Safest Cities For Bike Commuters
These bike-friendly places are doing things right.
At the start of the pandemic, many took up biking as a way to avoid public transportation—or just get out of the house. According to the 2021 "US Biking Trends" study, bike activity in the US was up by 10 percent in the summer of 2021 compared to 2019.
While bike commuting has its benefits—both for your wallet and the planet—there's no doubt it comes with its own risks, especially in cities with heavy traffic. And when you ask any one cyclist what makes a city safe (or not) for two-wheeled commuting, they might focus on different points—from the availability of dedicated bike lanes to the patience of drivers and the prevalence of bike thieves.
Just in time for Bike to Work Day (May 20), we took the opportunity to crunch numbers across multiple data points to find what we consider to be the safest cities for bike commuting.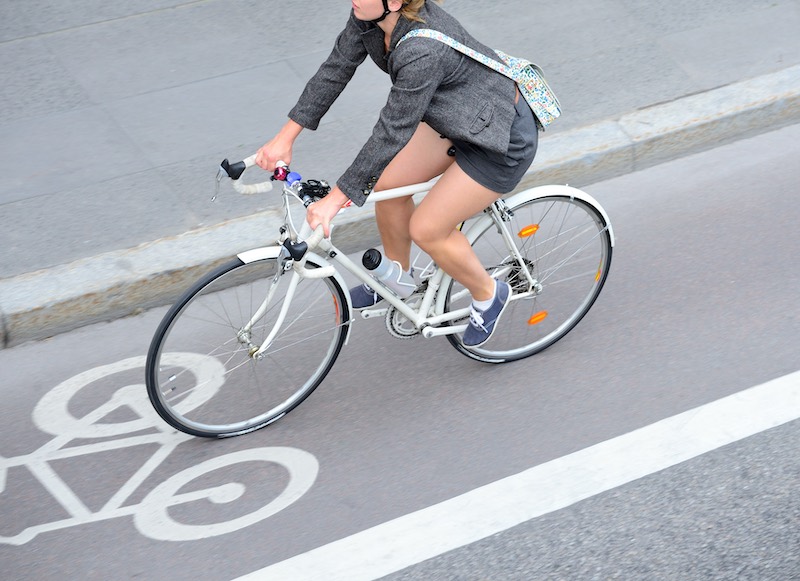 We analyzed cities based on a number of factors, including bike-related fatalities, miles of protected bike lanes, bike theft claims, state laws protecting bikers from drivers, and more. In aggregating this data we assigned each city with a Lemonade Bike Safety Score. The full methodology and how we weighed each factor is broken down here, in case you're interested. (And we've also got tips on how to stay safe while commuting, plus how to prevent your ride from being stolen.)
Without further ado, here's a close look at Lemonade's Safest Cities for Bike Commuters, with their accompanying safety scores, and a few tidbits about what makes each city appealing for bikers.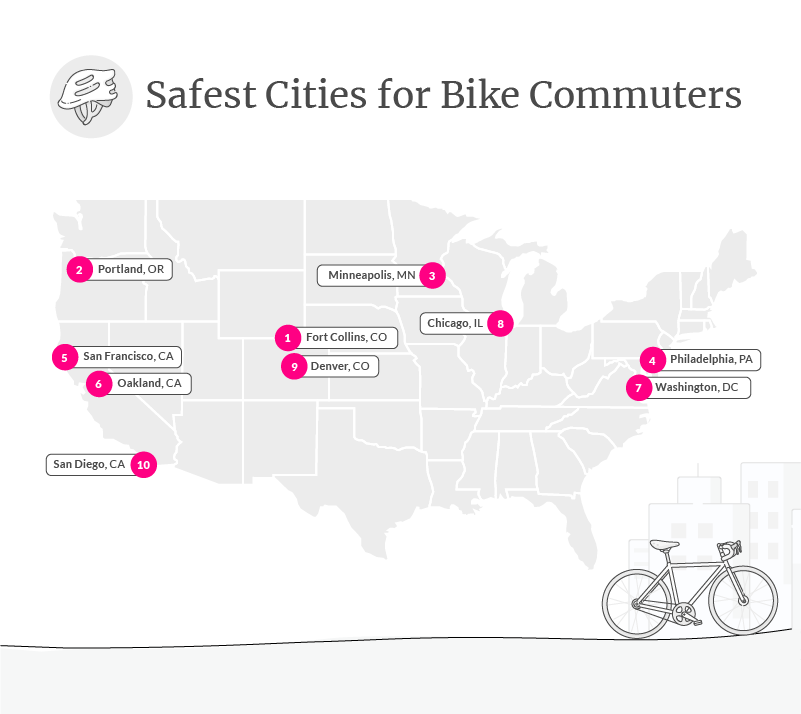 10. San Diego (75.6)
This southern California city boasts nearly 300 sunny days a year and an average summertime temperature in the high 70s—so even a summertime bike commute won't necessarily leave you scorched and sweaty.
San Diego has over 1,715 miles of bikeways, making it easy for commuters to cycle to work or public transportation stations. The San Diego Department of Transportation offers an interactive bike path map, which color codes bike paths based on type (two-way path, shared path with cars, boulevard), so commuters can plan their routes ahead of time according to their comfort level.
9. Denver, CO (76.6)
Colorado is a haven for outdoors enthusiasts, especially bikers. Denver and the surrounding areas have prioritized paths for bikers, especially those commuters within the area or into Denver with the US 36 Bikeway.
Organizations like Bicycle Colorado have created a community of both new and veteran cyclists who prefer to commute on two wheels in the Denver area. Their dedicated active bike corridors throughout the metro area bring like-minded bikers together to share the ride.
Denver cyclists who bike to the train, bus, or light rail with the RTD can easily access details on how to travel safely with their bike.
8. Chicago, IL (77.5)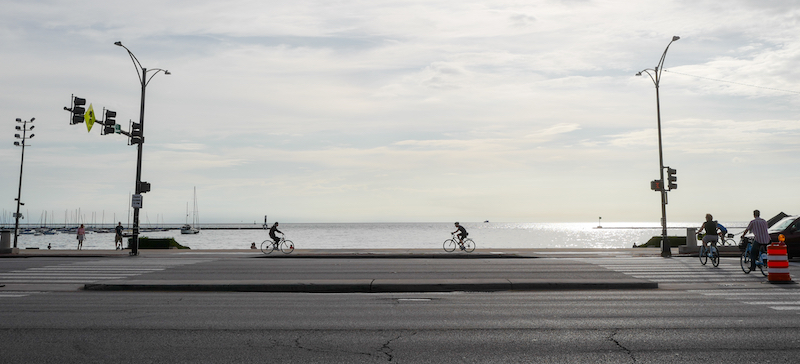 The largest city to make our list, the Second City has invested in putting Chicago on the cycling map—and it shows. Chicago has over 300-miles of on-street, protected, buffered, and shared bike lanes throughout the city, and over 13,000 bike racks to boot. Chicago's topography (flat as can be) as well as its design (a perfect grid!) makes biking a breeze, even for novice cyclists.
Big city biking got you intimidated? Don't sweat it, The Chicago Reader's John Greenfield created "The Mellow Chicago Bike Map", marking the lowest-stress bike routes in the city.
One downside to biking in Chicago? Winters piled high with snow, ice, and street salt can take its toll on your wheels. If you're a Chicago cyclist, be sure to winterize your bike before the first blizzard.
7. Washington, DC (78.9)
Despite its size (just 68 square miles), our nation's Capital boasts 150 miles of bike lanes and trails. DC's public transportation system is cyclist friendly, with 100% of DC buses equipped with bike racks, and bikes are welcome to ride along with their owners on the Metro. Thanks to this excellent infrastructure tailored to cyclists, around 5% of DC residents bike to work.
DC has been at the forefront for cycling for decades. On the first ever Earth Day in 1970, the "Environmental Bike-In Committee" organized a "bike hike" to demonstrate how bikes could be a viable option for commuters to mitigate smog and traffic. We take it for granted today, but DC was biking to work before it was cool.
6. Oakland, CA (79.9)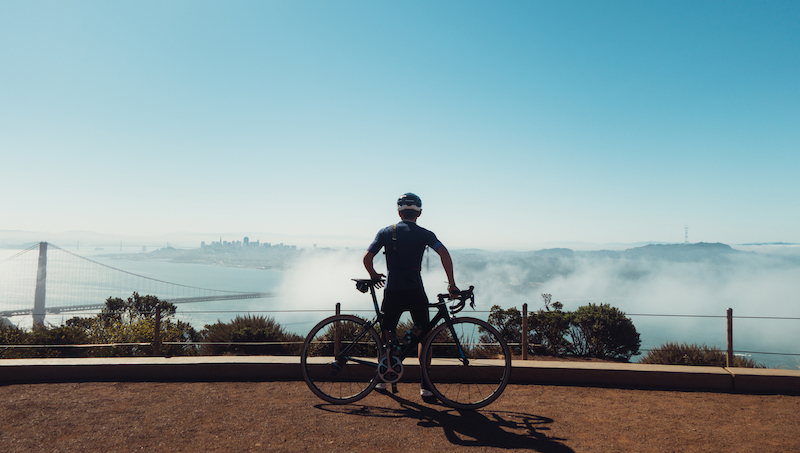 Most Oakland residents live within two miles of public transit or from downtown Oakland, meaning, chances are, if you're an Oakland commuter, you're probably no more than a 12-minute bike ride away from where you need to be. There are over 180 miles of bike-friendly paths in the city, and with more than 3% of commuters biking to work, you won't be alone.
If you commute between Oakland and San Francisco, there's a special deal for bike commuters who need to make their way to the other side of the Bay Bridge: a $1 shuttle that's been running since 1977 (it only cost $0.25 back then…) for commuters and their bikes. Consider it the Bay Area's best kept secret.
5. San Francisco, CA (82.8)
Since 2006, bike commuting has increased by over 180% in the Golden Gate City, with an average of four new bike commuters hitting the road every day. San Francisco has over 450 miles of bicycle routes throughout the city, and the local government has worked hard (and invested millions!) to create safe paths for cyclists to navigate the city's notoriously hilly topography. The city even offers resources to help new bike commuters get their bearings.
There are also several scooter and bike sharing programs in San Francisco, which offer corporate discounts to employers who want to offer membership as a workplace perk, as well as subsidies for student and low-income residents.
4. Philadelphia, PA (83.3)
Philadelphia has more bike commuters per capita than any other of America's 10 largest cities, with 2.3% of commuters choosing to travel on two wheels. Even more impressive, around 12,300 Philadelphians bike to work at least three times a week.
The Bicycle Coalition of Greater Philadelphia is a robust non-profit organization with a mission to make cycling accessible, safe, and affordable for all Philadelphia residents. The coalition has raised millions of dollars and, with the cooperation of city and state governments, have plans to build over 800 miles of walking and biking trails throughout the Philadelphia area, to bring communities together and make travel easier and more earth-loving.
3. Minneapolis, MN (90.2)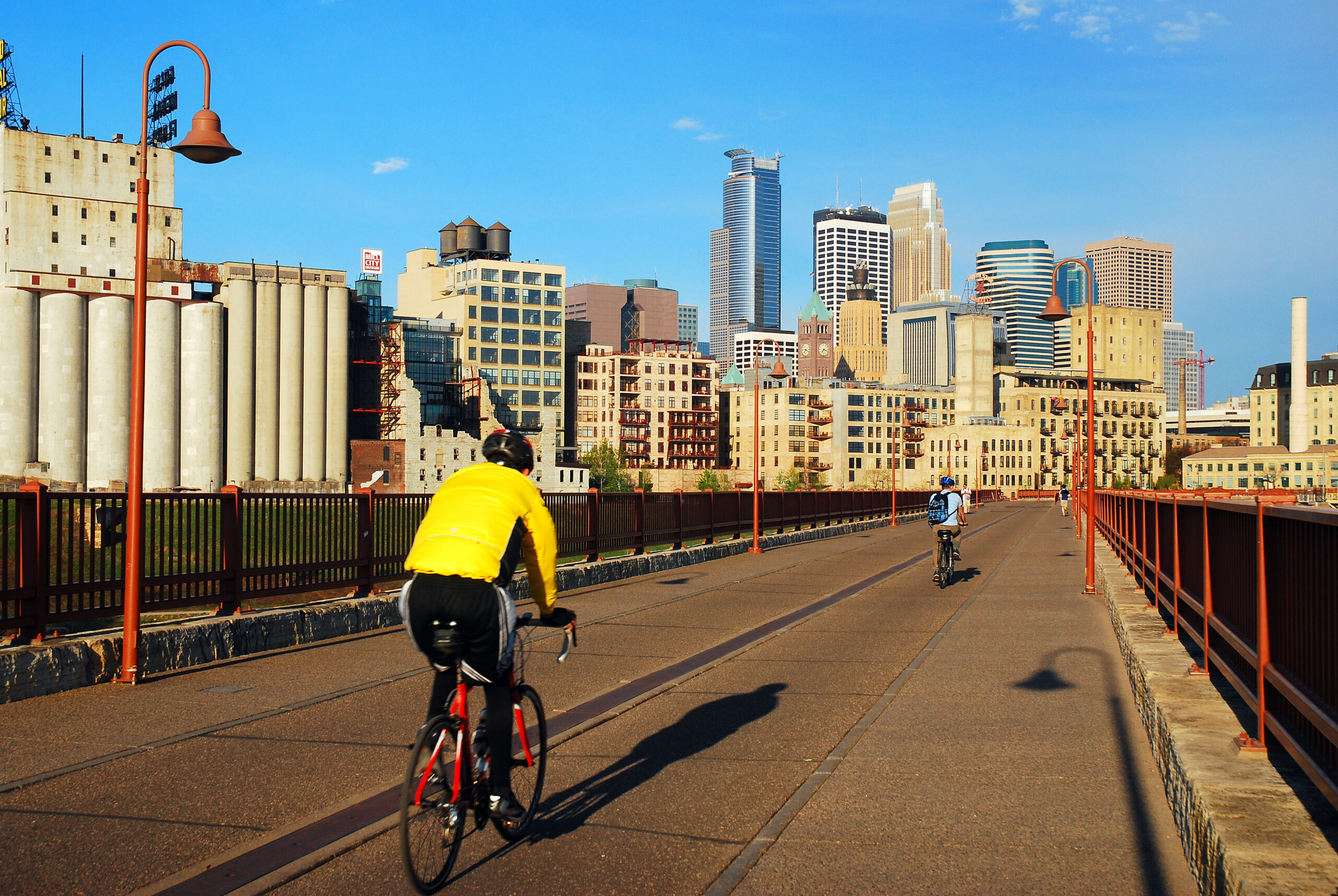 Minneapolis boasts 128 miles of all-season bike trails. And while the city might have brutal winters, hardcore Twin Cities cyclists can't get enough of the extreme conditions. Getting an average of 52 inches of snow a year, the city is usually quick to plow bike paths so commuters don't miss a beat, no matter the weather.
The city also has a bike registry, to help cyclists get reunited with their wheels in case they're lost or stolen. In addition, cyclists can plan their routes based on their experience with an interactive bikeways map.
2. Portland, OR (91.8)
A whopping 6.3% of Portland commuters get to work by bike, the highest of any large American city (to keep things in perspective, the natural average for bike commuting is 0.5%). There are 385 miles of bikeways in Portland, and 6,500 publicly installed bike racks.
The city of Portland features "bicycle boxes" at some of the city's busiest intersections, which give cyclists space to move to the front at traffic lights, keeping bike commuters safe. The city's convenient and picturesque bridges are all bike-friendly, which makes crossing over the river a breeze.
1. Fort Collins, CO (92.1)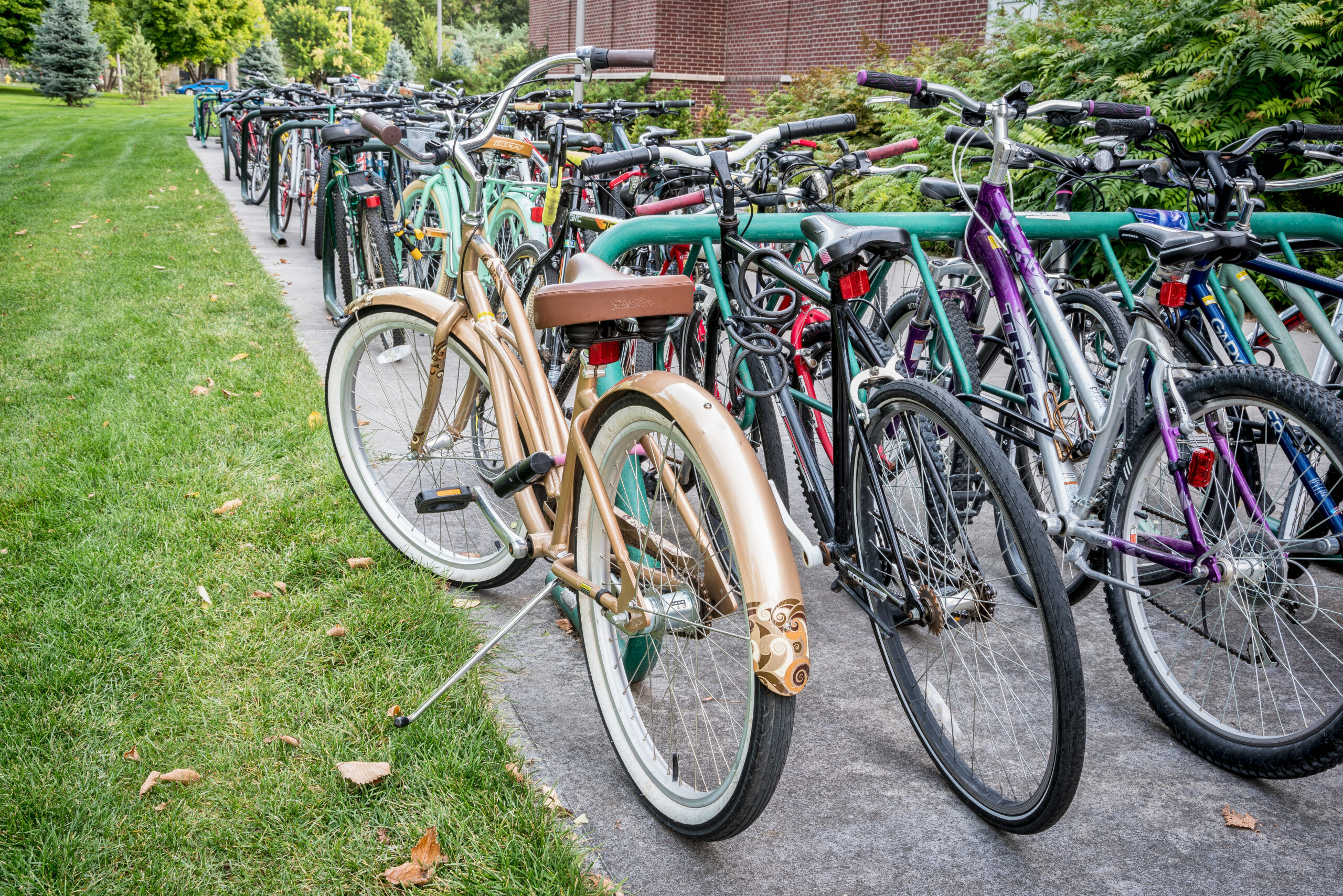 Congratulations, Fort Collins—you're the closest thing to a bike commuter's utopia we could find.
Imagine biking to work every day, surrounded by the majesty of snow-capped mountains. Most commuters live less than five miles away from their workplace, making a bike the optimum mode of transportation in and around the city. For those who need to rely on public transportation for part of their commute, the city provides secure and weatherproof bike accommodations at some Transfort stations.
The city of Fort Collins offers loads of bike safety education, free bike safety checks, and is home to many cycling co-ops and social clubs. There are 45 "grade crossings" throughout the city, meaning overpasses and underpasses designed for cyclists to avoid traffic and stay safe. That's reflected in the number of bike-related fatalities in Fort Collins, which are well below the national average.
And the runners-up are…
Now we'd be remiss to not share a few other safe cities for bicycle commuters in this report, as some scores were incredibly close—down to the decimal point close! Seattle, Austin, and Eugene (OR) can still celebrate their bike-safe streets, as they came within tenths of a point of making our top 10. Other cities who were just behind those three: St. Louis (MO) and New York (though we understand if NYC traffic isn't your jam).
Staying safe on the road
As a biker, some things are out of your control. You can't guarantee that idling drivers won't swing their car doors directly into your path. You can't dictate whether someone will choose to ride a motorcycle, the wrong way, down a one-way bike lane.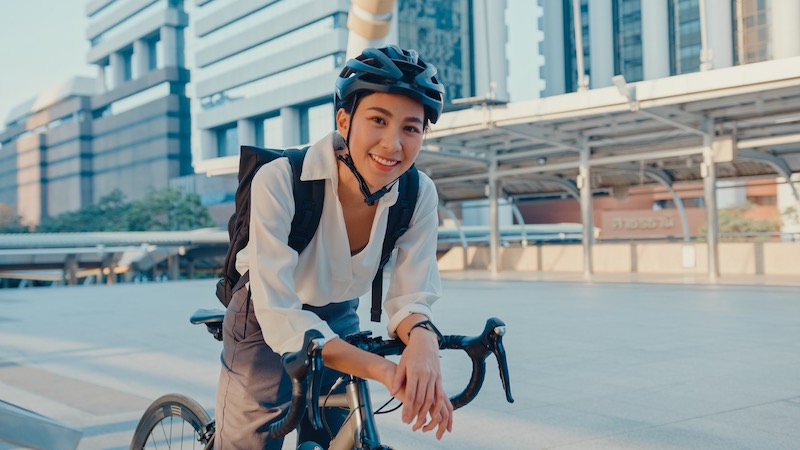 But with all the potential perils facing a bicycle commuter, there are best practices to follow to keep yourself safe, sound, and in one piece. Here's a few things to keep in mind.
Wear a helmet
Sorry, this one's just non-negotiable. Sure, they might not look incredibly cool—although certain types can be pretty chic. But you know what else isn't cool? Avoidable head and brain injuries. If you for some reason doubt whether helmets actually do anything, science has checked that one out.
Don't drink and bike
Plenty of people who would never consider drunk-driving in a motor vehicle will happily hop on a bicycle while under the influence. Guess what? It's equally stupid.
Be (a little) afraid of the dark
The National Safety Council cautions cyclists to "whenever possible, ride during the day," and to "wear reflective clothing and use flashing lights" if you have to cruise after dark. For commuters, staying off the road post-sunset can be impossible—especially if you live in a city where it gets dark around 4:30 pm for a portion of the year.
But proper clothing and lights are indeed a must. Get a (white) front light and a (red) back light, and be sure to remove them when you lock up your bicycle, since they're easily stolen. And "reflective clothing" doesn't mean you have to speed around in a shiny safety vest. Consider buying some reflective straps, or a pair of commuting jeans with reflective features.
Protecting your bike
It's true: Depending on your bike and your policy, renters and homeowners insurance may kick in if your bicycle is stolen. (Adding additional coverage with a company like Lemonade will also cover you against accidental damage and loss—more on that here—and you can also get coverage for certain classes of e-bike.)
But whether you're insured or not, no one wants to go through the hassle and anguish of losing a beloved bike. Here are some common-sense tips to follow if you want to protect your wheels. If you want to take a deeper dive into protecting your bike, we have a lot more here.
Make sure your bike is…actually locked up
It's embarrassingly easy to click your bike's chain or U-Lock into place…without actually securing any part of your bike to a pole or rack. A prospective bike theft doesn't need to do any work—they'll just walk away with your ride, leaving that lock behind. Oof.
Don't be a lazy locker
"Locking only the front wheel or back wheel to a pole is a very common mistake," Javier S., owner of NYC's Bushwick Bicycle Shop, told us. This is especially true for bikes that have quick-release wheels.
"If you have a quick release wheel, it makes it easier for anyone to just remove the wheels and take the frame with them," Javier explained. "Make sure to always lock up the rear wheel along with the frame." For those who are extra-cautious, it might be a good idea to use two locks: a classic U-lock for the bike frame, and a chain or cable lock that can be threaded through both wheels.
Buy some add-ons
If you're serious about the safety of your bike, invest in a few simple modifications that can significantly decrease the likelihood of it being stolen.
These mods can include a locking system for your wheels or seat clamp. Javier from Bushwick Bicycle Shop suggests using a locking skewer set (from Pinhead, or other brands) to ensure your wheels can't be easily nabbed.
Consider where you're locking up
Your bike will only be as secure as the object it's fastened to, so make sure you always choose an immovable object that can't be easily broken.
Avoid locking your bike to any wooden fences or any particularly thin pieces of steel– or, anything else you think might be easily snipped with a pair of bolt cutters.
If you're locking up to scaffolding, make sure you're only securing the bike to the vertical bars. The horizontal bars on scaffolding can be easily unscrewed and removed, leaving your bike vulnerable.
The Lemonade Bike Safety Score methodology, explained
In order to determine the safest cities for bike commuters, Lemonade accumulated data across five categories to provide a Bike Safety Score:
Bicyclist fatality rate per 10K people who bike to work (30 points): League of American Cyclists "Bicycling and Walking in the US – Benchmarking Report"; page 321
Miles of protected and buffered bike lanes (35 points): League of American Cyclists "Bicycling and Walking in the US – Benchmarking Report"; page 351-352
Percentage of bike commuters per total number of workers in a city (20 points): United States Census Bureau, "American Community Survey – Commuting Characteristics by Sex" (pulled table)
Lemonade theft claims per total exposure in a market (10 points): Lemonade proprietary claims data; for markets where Lemonade is not available, we found the median rate and applied to roughly 15 markets
State laws that promote biker and pedestrian safety (5 points; 2.5 points per law present) – (a) Motorist Must Give 3+ Feet When Passing Bicyclist (b) Driver's Test Incl. Questions about Responsibilities Towards Bikers: League of American Cyclists "Bicycling and Walking in the US – Benchmarking Report"; page 262
Each metric was weighted as listed above for the cities included, totaling to a 100-point scale, with a score of 100 representing the most favorable conditions for bike commuters. Finally, we determined each city's weighted score across all metrics to calculate the bike safety score and used the resulting scores to rank-order states.