Does Renters Insurance Cover Bike Theft?
It does—with a few important caveats.
Your regular renters insurance policy will most likely cover your stolen bicycle, but the amount of coverage and reimbursement will depend on your individual policy.
TL;DR
A standard renters insurance policy usually covers bike theft, regardless of whether the theft happened at home or in a public place.

Bicycle insurance coverage excludes normal wear-and-tear, bike maintenance, and flood damage.

You can purchase Extra Coverage (EC) to protect against additional damages and mysterious losses not covered by your regular policy.

E-bikes might also be covered, but it depends on what type they are. You can check out

our guide to all things e-bike

for more info.
In this article, we'll go over the ins and outs of bicycle insurance, addressing everything from what to do when your bike gets stolen to when you might need Extra Coverage to protect your wheels.
Here's what we'll dive into:
When is bike theft covered by your renters policy?
A stolen bike is most likely covered under your standard renters insurance policy. These policies include personal property coverage, which protects your stuff, including your bicycle.
Say your precious ride gets snatched while you're inside your local coffee shop overpaying for an iced oat milk latte. In this scenario, your renters policy has your back. That's right: whether your bicycle is tucked away at home or locked in a public place, it's covered.
You may, however, want to take some precautionary measures next time to avoid the stolen bike in the first place!
Besides theft, what other bike-related damages does renter insurance cover?
With renters insurance, your bike is covered for the 16 named perils—which includes things like collisions with motor vehicles, theft, vandalism, fire damage, and more.
So if a vandal cuts the cables while your bike is locked outside of the supermarket, or if the bike's frame is crushed by a falling AC unit, your renters policy would kick in to cover the damage. Ditto if you get involved in an accident with a car that destroys your bicycle.
Your renters policy also has personal liability coverage, which could come in handy if you are involved in a bicycle accident that ends up injuring someone else or their property.
| | Lemonade Base Policy | Lemonade Extra Coverage | Specialty Velo Insurance |
| --- | --- | --- | --- |
| Cosmetic damage | Depends | Yes | Yes |
| Basic wear & tear | No | No | No |
| Theft from your home | Yes | Yes | Yes |
| Theft outside of your home | Yes | Yes | Yes |
| Deductible? | Yes | No | Yes |
| Racing coverage | No | No | Depends |
When is your bicycle not covered by your renters insurance?
Your bicycle is not covered for losses or damages that don't fall under the named perils. This means things like normal wear-and-tear, bike maintenance, or damage caused by a flood.
Here are some common instances where your renters insurance policy likely wouldn't cover bike-related damage or loss:
You ride on a gravel road and puncture your tires
You damage the paint and finish of your bike from too much exposure to extreme weather conditions
It's also important to note that bicycle damage from a crash or accident generally wouldn't be covered by your standard renters insurance policy. Such damages might be covered if you "schedule" the bicycle with some additional coverage, though—more on that below.
What additional coverage can you get for your bicycle?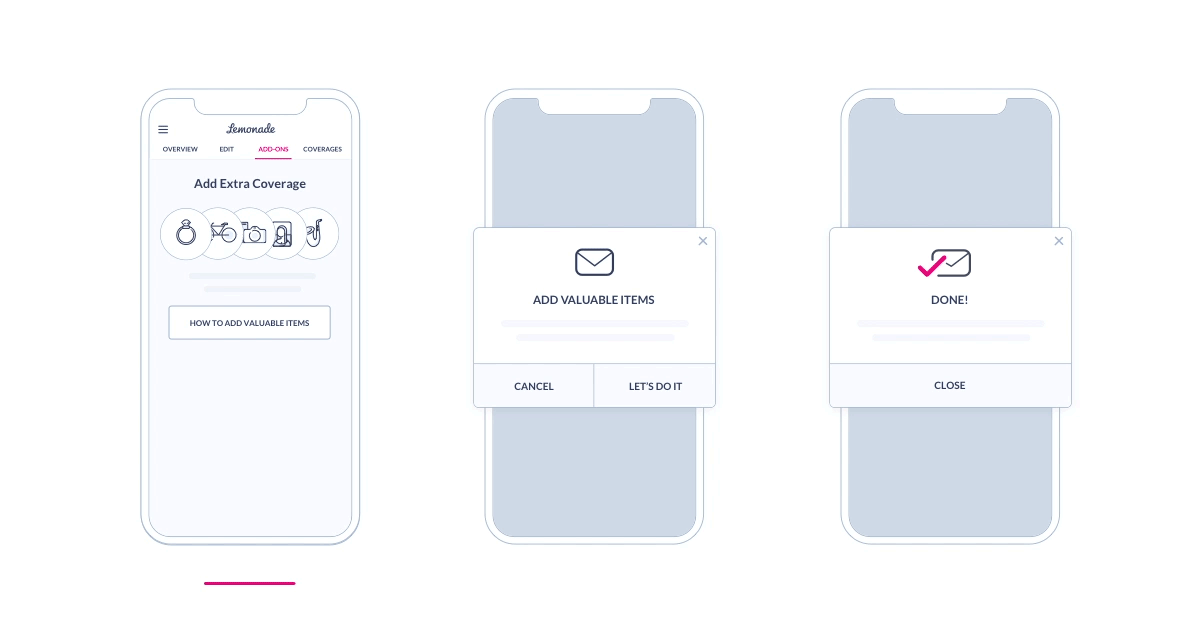 If you'd like a little extra security for your bike, you have the option of purchasing Extra Coverage, also known as scheduled personal property.
This gives you additional coverage for a number of scenarios excluded from the named perils, plus the benefit of a $0 deductible. If, say, you damage your bike by absentmindedly crashing it into a curb (relatable), your scheduled coverage would pay for the repairs.
Basically, Extra Coverage offers protection from any accidental damages that you may cause. Keep in mind, though, that Extra Coverage still wouldn't apply to normal bicycle wear-and-tear, like if your brake pads or tires need replacing.
Additional coverage is especially useful in cases of mysterious loss or accidental damage. Whether your bike falls off the rack of your moving car and gets run over or is lost forever when you leave it on the subway, Extra Coverage would back you up.
Who's covered?
Your bike is covered wherever it is, and regardless of who's riding it. Want to share your bike with bae? You've got options.
Once you're married, you're considered related, so you're both automatically covered under your renters or homeowners insurance policy.
Adding your spouse to your plan is easy, and it won't cost you a dime! They'll be considered a "Named Insured," which is insurance speak for someone who is implicitly included in the policyholder's plan.
If you're living with a significant other you share your bike with, add them to your insurance policy as an 'additional insured.' Because if something happens to your ride while it's in their possession, it'll only be covered if they're on your policy.
What should you do if your bike gets stolen?
After taking a deep breath, the first thing you should do when your bicycle has been stolen is file a police report.
Make sure to request the following information during your call, since you may need it to file a claim:
a copy of the report describing the bike and its value
the incident number
the name of the precinct
the name of the officer filing the report.
After filing the police report, you should also snap a quick picture of the crime scene–the exact place the bicycle was stolen, the broken lock, the bike rack it was on, etc.
How do you file a claim for your stolen bike?
Getting your ride snatched might be a big headache, but filing a theft claim with Lemonade bicycle insurance is quick and painless.
To get started, head to the Lemonade app where our claims expert, AI Maya, will prompt you to complete a series of simple steps. You will need to:
Record a short video describing the incident
Upload the police report
Provide some basic details about your bicycle (name, serial number, time and place of purchase, etc.)
Upload the receipt
For more details about Lemonade's theft claims process, check out our guide here.
How much will you be compensated if your bike is lost, stolen, or damaged?
If your bicycle theft claim is approved, you'll likely receive the value of your bike, minus your deductible. This means that if you have $10,000 of personal property coverage, you'd be covered up to that limit (although presumably your bike is worth much less).
Whether you're filing a claim through your base policy or through scheduled coverage, you will be reimbursed in one of two ways.
We pay to have your bike repaired good as new.
If the bicycle is damaged beyond repair, or stolen and not recovered, we pay to replace it with the exact make/model.
FAQs
Does my renters insurance cover e-bikes?
Yes, certain types! If your e-bike falls into a Class 1 or Class 3 category, it's covered under your base policy. All pedal-assist bikes generally fall into these two categories; if your e-bike is self-propelled, however, it is probably not covered under your policy. (At that point we're getting into motorcycle territory…) See our guide to e-bikes for more specifics.
What if I'm a pro cyclist or if I own an expensive bike?
If you own an especially expensive bicycle (a fancy road bike, for example), you may want to add an endorsement to your regular renters policy to protect it. You can learn more about how to insure your road bike here. However, if you're a professional cyclist, then you're not eligible for Extra Coverage; you'll need to purchase specialist bicycle insurance through a provider like Velosurance.
Will my premium increase after a theft claim?
It might, when your policy is up for renewal. (Btw, here's a behind-the-scenes guide to renters insurance prices.)
Does my bicycle insurance policy include accessories?
It does–just make sure you can also furnish receipts for all the things affixed to your bike (your basket, phone holder, bell, etc.) when you're filing your claim.
Before we pedal off into the sunset…
Unfortunately, bikes get stolen…a lot. The good news? That's why it's important to insure your bike. Proper coverage can make that terrible day a whole lot better.
Insuring your bicycle is easier, more essential, and more affordable than ever! Using AI and machine learning, Lemonade's insurance policies are much lower than the industry average. See for yourself!
Which states currently offer renters insurance?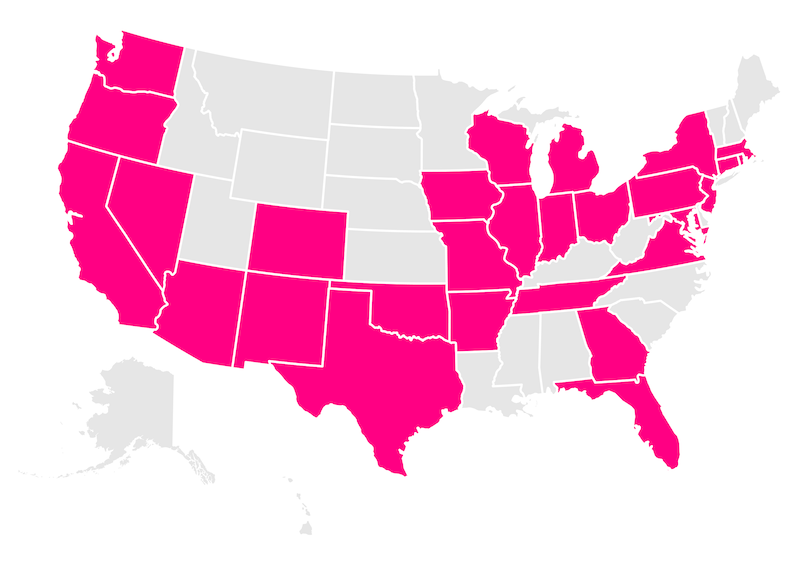 Arizona, Arkansas, California, Colorado, Connecticut, Florida, Georgia, Illinois, Indiana, Iowa, Maryland, Massachusetts, Michigan, Missouri, Nevada, New Jersey, New Mexico, New York, Ohio, Oklahoma, Oregon, Pennsylvania, Rhode Island, Tennessee, Texas, Virginia, Washington, Washington, D.C. (not a state… yet), and Wisconsin.
A few quick words, because we <3 our lawyers: This post is general in nature, and any statement in it doesn't alter the terms, conditions, exclusions, or limitations of policies issued by Lemonade, which differ according to your state of residence. You're encouraged to discuss your specific circumstances with your own professional advisors. The purpose of this post is merely to provide you with info and insights you can use to make such discussions more productive! Naturally, all comments by, or references to, third parties represent their own views, and Lemonade assumes no responsibility for them. Coverage and discounts may not be available in all states.