20 Tips on Moving to a New State
Major relocations deserve major planning.
Feeling overwhelmed by the thought of moving to a new state? From figuring out where to live and how to get settled, it can be an intimidating process.
But don't fret—with a little bit of preparation and foresight, your move can go as seamlessly as a move can go. Hey, a few hiccups are always bound to happen along the way. That's what keeps life "interesting."
To help you enjoy an easy(-ish) relocation, here are 20 helpful tips on moving to a new state.
1. Research the new state
Alongside housing prices, weather, and education systems, pay close attention to the job market in each state you're considering.
What industries provide the most job opportunities? What's the average rate of pay? How friendly is your new state to LGBTQ+ rights, or reproductive rights? Whether you're moving one state over or cross-country, this is research you shouldn't skip.
If you need help finding a great place to grow your career, check out our spotlight on the Best Cities for Young Professionals.
2. Visit the state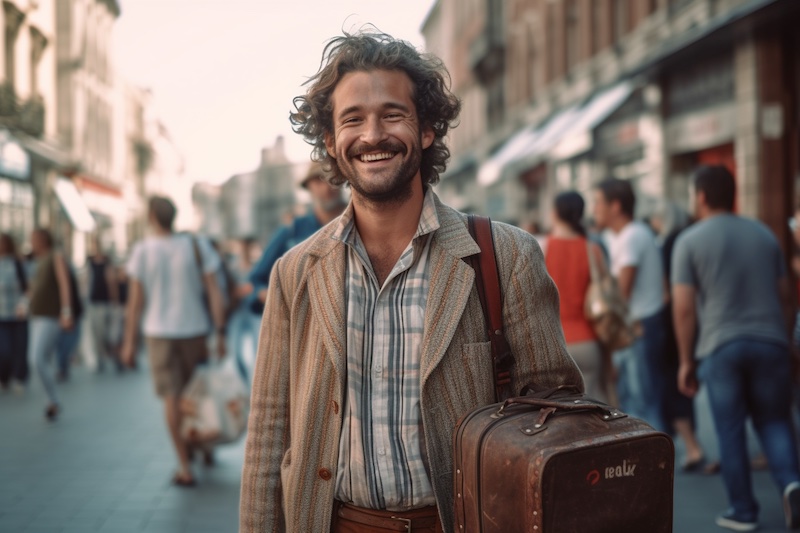 If time is on your side, it's always ideal to plan an IRL visit to any state and the specific town or region you're considering moving to.
There's really no substitute for actually being there, if you want to get a feel for a place's intangibles: its personality, energy, and overall vibe.
If you can't make that happen, you can lean on digital tools to get a sense of what it would be like to live there. You can book virtual apartment tours, work with a local real estate agent to do virtual home tours, and can use StreetView to get to know the local community.
3. Determine your moving budget before moving to a new state
Major moves can be pricey. Have a realistic grasp on the costs involved.
Consider the differences in the cost of living between your current state and the new state. This gives you an idea of how much you'll need to adjust your monthly expenses.
Factor in moving costs, whether that be through hiring a moving company or renting a truck. Remember to also factor in the cost of a storage unit, if necessary.
If you need to travel to your new state, consider the cost of flights or rental cars. It's important to book these well in advance to avoid last-minute price hikes. If you're driving to the new state, account for gas and lodging fees.
4. Establish job prospects
You don't have to have a job lined up before moving—some people may find those logistics to be a bit too tricky to navigate—but you need to at least have an idea of what your job prospects are in the area.
It can help to start researching potential local companies you can apply to and network virtually with professionals in your area. It can't hurt to start applying for jobs; just be upfront about what your ideal start date is.
5. Research schools in your new state
Whether you have children or hope to have children in the future, we'd bet a lot of money that you want them to go to good schools.
Researching which communities have the best schools when moving to a different state can help you narrow down your options for where you want to live and can make sure you feel comfortable with your child's education options once you move.
6. Learn more about local healthcare
Before moving to a new area, it is crucial to research the local healthcare facilities to ensure that you have access to quality medical services. If you have specialized health needs, you probably don't want to move somewhere if the nearest hospital is 100 miles away.
Pay attention to the availability of medical specialties that meet your needs, such as oncology, cardiology, or pediatrics.
You even need to consider if the facilities accept your insurance, or if they offer affordable out-of-pocket rates. You can also check the safety and quality ratings of different healthcare facilities and physicians by consulting sites like Medicare.gov.
7. Narrow in on a neighborhood
Once you have a better idea of specifically where you want to live, you need to do some research on what neighborhoods are right for you. If you're a 55-year-old father, you might not want to live in a district known for its loud bars and pub crawls. And if you're a 23-year-old club fanatic, you probably don't want to be stuck in an area where everything shuts down at 8pm.
Itemize what is important to you in a neighborhood (walkability, public parks, proximity to a really great book store) and then tailor your search accordingly.
8. Create a moving timeline
Let's be honest: Moving sucks. Give yourself some major mental peace by creating a written timeline that breaks down what you need to do each week or daily (depending on how far off your move is) before moving day so you can slowly chip away at everything on your list.
Here's an example of how to structure and plan a comprehensive moving timeline that ensures you don't miss any small details.
9. Find a new apartment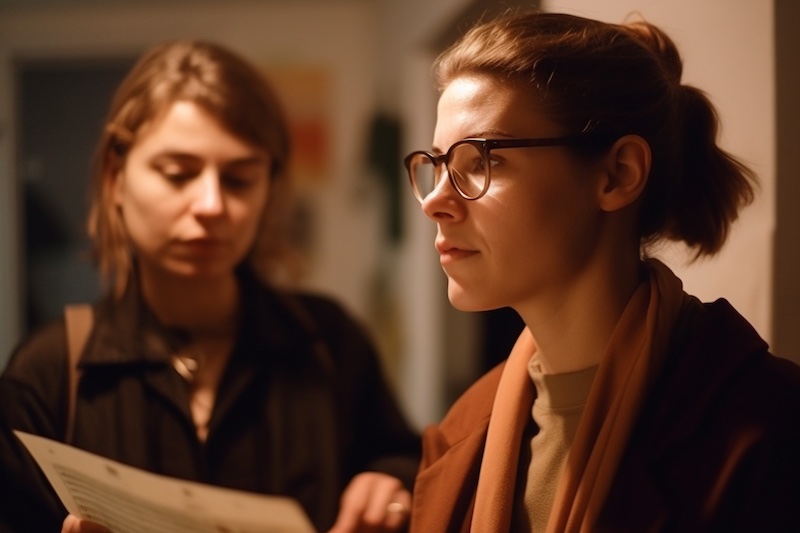 Unsurprisingly, this is the biggest hurdle you'll likely to face. If you're able to hunt for an apartment during an in-person visit: Great! Be methodical, check out small details, and use our handy apartment walkthrough checklist so you don't miss anything.
If not, use online resources such as real estate websites, social media groups, and online classifieds to get an idea of available properties.
Consider working with a real estate agent who can offer more personalized assistance and help you navigate the local market. Finally, be prepared to act quickly when you find a suitable property, as the housing market can be competitive and properties may not be available for long.
While a virtual apartment tour is never quite the same as an IRL one, you can still ask your future landlord the same important questions to make sure the place is right for you.
10. Research state laws and regulations
The last thing you want after a move is to accidentally incur fines, make tax mistakes, or break laws (marijuana edibles are legal in Colorado, but they sure aren't in Alabama).
Spend some time researching local state laws and regulations to make sure you're up to speed on things like vehicle registration or driver's license requirements (check your local DMV website for these details) and local tax laws.
If you have a dog, look into whether pets need to be registered where you're moving to.
11. Collect important documents
Moving gets messy fast and that's why this is one of the most important tips on moving to another state. Before you start to pack up all of your belongings locate all of your most important documents like your birth certificate, social security card, passport, and medical records.
Put them all in a safe place (these do not belong on a hired company's moving truck) and have a plan for securely transporting them. This can save a lot of panic down the road when you're trying to unpack everything you own at once.
12. Find & book a reputable moving company
We've all heard moving horror stories. To avoid living in one, start by asking for moving company recommendations from friends and family who recently moved.
Check for reviews and complaints on sites such as the Better Business Bureau and Yelp. Look for a company that is licensed and insured, which means they'll have the necessary protection in case any accidents or damages occur during the move. (If you're confused about how insurance works when you're moving, read this.)
Get a detailed estimate in writing from the company before hiring them, outlining all moving costs and services included in the move. A reputable moving company will provide clear and upfront pricing, have professional and well-trained movers, and be responsive and communicative throughout the moving process.
13. Downsize and declutter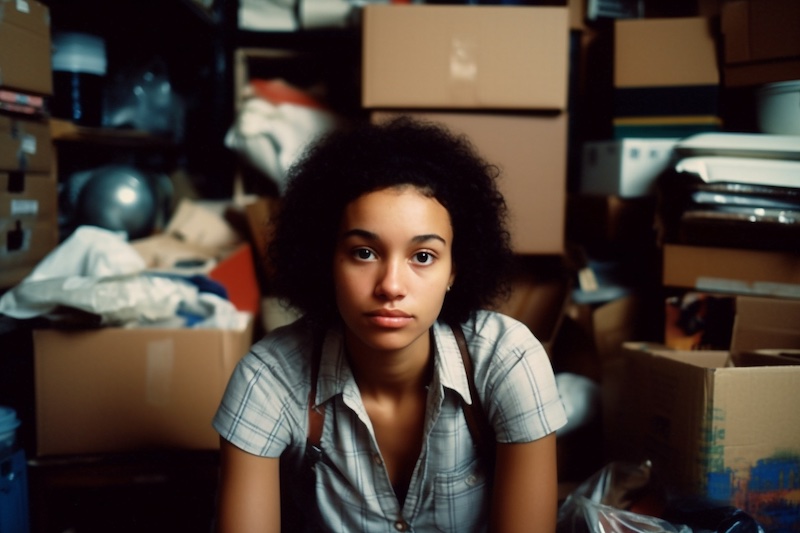 Do you really need to bring that full collection of SASSY magazine from the late '90s, or six boxes of old Nike sweaters? Probably not. The fewer belongings you have, the easier packing and unpacking is. As an added bonus, moving less stuff will save you a lot of time if you're doing a DIY move and money if hiring professional movers.
14. Create an inventory of your belongings
If you hire movers, they'll usually work with you to create an inventory of all of your belongings. Even if you're renting your own truck and moving on your own, it's helpful to do this so you have an exact idea of what you own and what you need to move.
15. Update your address
No matter where you move, it's important to update your new address with all the important organizations and institutions in your life. This will help you avoid any disruptions and ensure that important documents or packages are delivered to your new home. It'll also avoid driving your old neighbors crazy.
These organizations may include your bank, credit card companies, utility companies, and the postal service. Updating your new address promptly can also help prevent identity theft or fraud, since your personal information is not sent to the wrong location.
16. Transfer utilities
When you move to a new house or apartment, transferring utilities is an essential task that needs to be done. It involves transferring or establishing services such as electricity, gas, water, internet, and phone for your new home.
The trick here is to schedule the transfer early to ensure that the utilities are ready on the day you move in and to avoid unnecessarily paying for double services or experiencing a disruption in your essential services.
17. Set up new services
Setting up essential services like internet, cable, and home security is something you don't want to sleep on. Researching and comparing providers and their plans can help ensure you get the best deals and services that fit your needs and scheduling installations in advance can save you time and ensure a smooth transition into your new home.
18. Pack your belongings
Packing isn't fun, but it has to get done. Many people find it helpful to go room by room. Set aside any must-have essentials you'll need until the last minute, but otherwise, get your boxes and tape ready. Labeling moving boxes by room will make it super easy for your movers or yourself to know what goes where and you'll be able to easily unpack everything right in the room it belongs in.
19. Do the actual move, and try to relax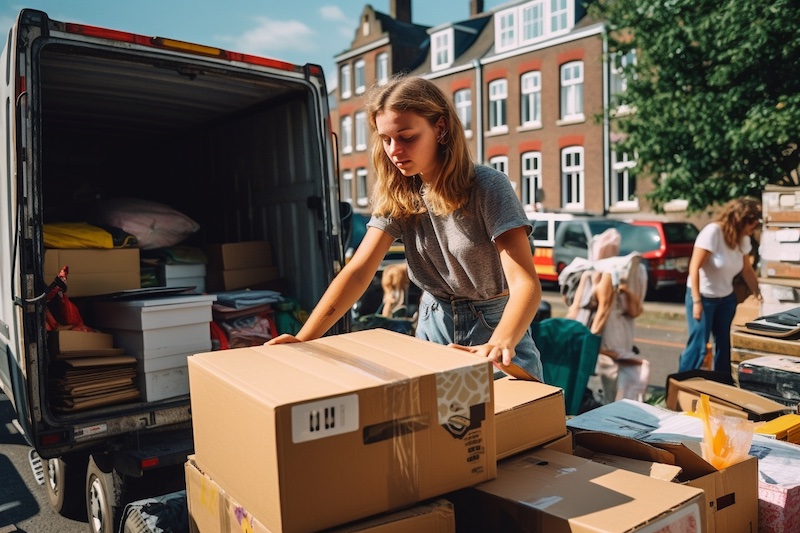 You've come this far, so give yourself a hand! Picking up your whole existence in California and shifting it to Maine is no easy task.
Expect that you'll face some unexpected challenges in transit, and try to roll with it. It's rare that a move is completely free of friction, snafus, or minor headaches. Just remind yourself that you've got a new chapter in your life waiting on the other side.
20. Settle in and celebrate
Socializing, checking out local nightlife, getting to know your new neighbors! It can take a while to get settled in a new home, especially after a major out-of-state move.
One way to speed things up is to give yourself a hard deadline for feeling or at least looking settled—aka put a housewarming party on the calendar. You've earned it.
Oh yeah, and don't forget another vital step: Getting renters insurance to protect your valuable stuff in its brand new home! Click below to get a quote in just minutes.
A few quick words, because we <3 our lawyers: This post is general in nature, and any statement in it doesn't alter the terms, conditions, exclusions, or limitations of policies issued by Lemonade, which differ according to your state of residence. You're encouraged to discuss your specific circumstances with your own professional advisors. The purpose of this post is merely to provide you with info and insights you can use to make such discussions more productive! Naturally, all comments by, or references to, third parties represent their own views, and Lemonade assumes no responsibility for them. Coverage may not be available in all states.