Washington State Renters Insurance Guide
Get your stuff covered in the Evergreen State.
Looking for renters insurance in Washington? Well, you've come to the right place!
Wherever you go in Washington, natural wonders surround you. Washington State has rainforests, forests, scenic mountain trails, extensive caves, panoramic precipices, iconic waterfalls, rivers, and lakes.
Washington is abundant in nature, earning its moniker as the Evergreen State. From being a nature lover's paradise to having a great education system and no income tax it makes for an ideal place to settle down. Residents get to enjoy an amazingly diverse climate and geography. Though the cost of living is higher than the average for the United States, it might be worth the higher quality of life.
Whether you're in Washington to study, work, play, or anything in between, you might want to cover your stuff with renters insurance. We'll take you through the basics of renters insurance coverage, and also go through some of the most incredible cities and hidden gems to explore in the Evergreen State.
What does your renters insurance cover in Washington?
Okay, so you get that a renters insurance policy is a great idea in theory… but obviously you're curious about what it can actually do for you. Let's break down the components of what your policy covers and your coverage options.
Personal Property
'Personal property coverage makes sure your stuff, your personal belongings, is protected, whether you're relaxing at your apartment or traipsing across Europe. So if your living room furniture is ruined due to water damage from that burst pipe, or your phone is stolen while you're taking a trip to Berlin, your renters insurance policy has your back.
Loss of Use
What about if disaster strikes? If you can't stay at your home because of covered losses (like a fire or windstorm), your 'loss of use' coverage provides reimbursements for temporary housing and additional living expenses such as food, laundry, hotel parking, and more.
Liability coverage
If someone is injured in your apartment or anyone on your policy causes damage to someone else's property or stuff, your insurance company should have things like legal fees and property damage covered.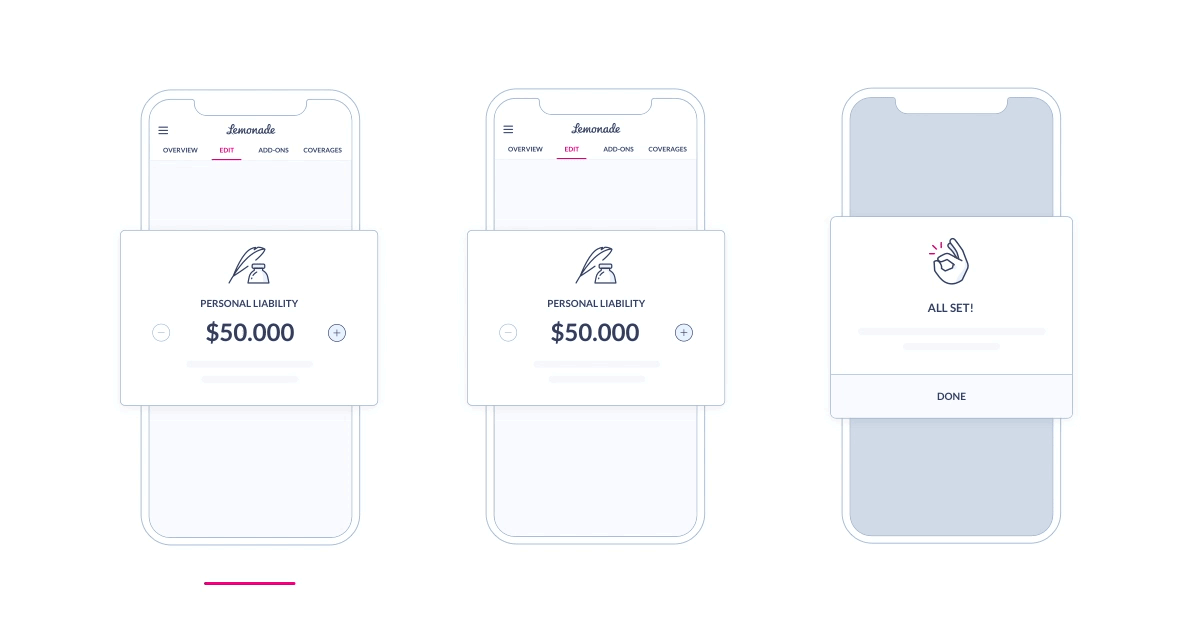 Medical Protection
Your insurer covers medical expenses if your guests get injured at your place or if you accidentally hurt people outside of your home as well. Note that your renters insurance policy does not cover medical payments if you or someone residing with you is injured—only non-residents and guests.
Is renters insurance required in Washington?
While there's no law requiring that you purchase renters insurance in Washington, your individual landlord might specifically require it. And if your lease specifies that you need renters insurance, well… that's that.
The good news is that it's easy to sign up for a renters insurance policy with Lemonade, and you'll thank yourself later if your stuff gets stolen or damaged! When signing up, your landlord might request they be added as an 'interested party' on your policy. This just means they'll be kept in the loop when you make any policy changes—or if you cancel your policy. It's super easy to add them using the Lemonade app.
What's the right amount of coverage to get?
There's no easy answer to that question, and it depends on how much stuff you have to cover and what it's worth. As we discussed above, your policy has a few main categories: Contents (your stuff); Loss of Use (temporary living expenses); and then personal liability and medical bills.
You're able to set the coverage limits for these categories when you sign up for a Lemonade policy. Lower coverage limits might save you a few bucks on your monthly premiums—but they might also leave you with insufficient coverage when you have to make a claim. You'll also need to figure out your deductible. It's a balancing act and one that requires you to think about your property and lifestyle. Take a few minutes to apply to see your renters insurance quote to get a sense of your insurance options.
Also, if you've got valuables that are especially pricey or important—things like engagement rings, fancy cameras, musical instruments, or artworks—you can add 'scheduled personal property coverage' for those items. At Lemonade, we simply call it 'Extra Coverage'—here's a bunch more info about that.
Top Washington rental destinations
Washington is known as the only state named after a United States president, and it's also known for its bountiful apple production. Whether you're after the incredible nature or looking to live in a thriving tech hub, you can find a variety of options from coast to coast.
While Washington State does have a higher cost of living, this is balanced out by the lack of income tax. Home to giants like Starbucks, Expedia, Microsoft, Boeing, and Amazon, Washington has a flourishing tech scene. Washington is also an agricultural powerhouse. Its proximity to water lends to a vibrant diversity of flora and fauna. All of the above make for a fantastic place to call home.
Redmond
Six out of the top ten best neighborhoods to live in, according to Niche.com, in Washington State are located in Redmond, including Sammamish Valley, North Redmond, Grass Lawn, Overlake, and South Redmond.
This city is the home of tech giants like Microsoft, Nintendo America, AT&T, and more. Yet, Redmond is much more than a hi-tech capital. It's a bike-friendly town full of activities for the outdoor enthusiast. The Idylwood Beach Park, the Farrel-McWhirter Loop Trail, and the most popular park in King County, Marymoor Park, make Redmond a nature lover haven.
Despite the fact that the majority of the residents are tech workers bringing in a higher income, the cost of living is not daunting at all. The average cost of a rental in Redmond is around $2,326 a month.
Fun fact: Redmond is home to The Jerry Baker Velodrome where annual bike races are held in the streets of the city. This event has earned Redmond the nickname of "Bicycle Capital of the Northwest.".
Places to visit:
Marymoor Park. This is the most popular park in King County, boasting 640 acres of wide-open space for hosting concerts and festivals. The area has plenty of biking trails and is also used for sporting events, picnics, and more!
Mac & Jack's Brewery. The proud makers of "Wholehearted Beer," this locally owned and operated craft brewery is on a mission to make what people love the right way! They carry a wide selection of beers and offer a tasting room, retail store, a beer garden, and free tours.
Idylwood Beach Park. Idylwood Beach Park is undoubtedly ideal. Nestled along the shores of the scenic Lake Sammamish, this seventeen-acre park features a swimming beach. You can go fishing from the pier or the beach, launch your boat from the ramps, or just enjoy the wide-open space. It's the only free recreational access to Lake Sammamish!
Bellevue
Coming out at number two for the highest-rated neighborhoods in Washington is Bellevue. Wilburton, West Bellevue, Bridle Trails, and Northeast Bellevue are all in the top ten best places to live in the state, according to Niche.com.
Nestled between Lake Sammamish and Lake Washington against the backdrop of the Cascade and Olympic Mountains, Bellevue lives up to the translation of its name "beautiful view." This King County suburb about twenty-five miles from Seattle boasts picturesque mountain scenery, excellent city parks, and top-notch education. The city has a flourishing arts scene, hosting the Bellevue Annual Festival of Arts, Bellevue Strawberry Festival, and more.
Bellevue also boasts a thriving business scene with big names such as Eddie Bauer, Expedia, and T-Mobile. Renting a home in Bellevue averages out to be about $2,481.
Fun fact: Bellevue is one of the most global cities in the United States, with over 39% of the population born outside of the country.
Places to visit:
Lake to Lake Trail and Greenway. Bellevue's Lake to Lake Trail and Greenway earn the city its nickname as a "City in a Park". The trail and greenway connect between Lake Sammamish and Lake Washington. Explore over 800 acres of parkland, historic farms, majestic forests, mystical wetlands, and more.
Bellevue Arts Museum. Located in the bustling Bellevue downtown district, the Bellevue Arts Museum is a forum for visual culture that displays a range of artworks that include local and international artists. Their vision is to create a space where the audience participates with the artists, creating a collective experience. The museum offers self-guided tours, private tours by trained curators, many education workshops, presentations, and special lectures. Go on the first Friday of every month for free admission!
Mercer Slough Nature Park. If you are fantasizing about meandering in lush wetlands, Mercer Slough Nature Park is the place for you. The park is over 320 acres, making it Bellevue's largest city park. Choose from over seven miles of trails, including a water trail through which you can canoe your way around the park. There is also a blueberry farm on-site, the Winters House Visitor Center, a 1920's era mansion, and the Environmental Education Center. So much to do, learn, and explore in one place!
Seattle
Washington State's largest city seems to have it all. Its Westlake neighborhood is number six on the top best neighborhoods in Washington and the number one best neighborhood to live in Seattle, according to Niche.com. South Lake Union is the second-best neighborhood in Seattle, and Clyde Hill is the number one best suburb to raise a family in Washington. Seattle boasts a booming economy, lively nightlife, thriving arts and culture, outdoor activities, and a lovely waterfront to boot.
The only downfall might be that Seattle is one of the most expensive cities, not only in the state, but in the country. The average cost for a rental in Seattle is $2,169 per month.
Fun fact: You may have heard of Luke Cage and Spider-Man, but have you heard of Phoenix Jones? Phoenix Jones, leader of the Seattle Superhero Movement, was a real-life superhero who patrolled the streets of Seattle. Benjamin Fodor, a Seattle resident with mixed-martial arts training, created the movement to help people and stop crime. Unfortunately, you won't find him prowling the streets today. The movement was banned in 2014, and Phoenix Jones was retired in 2019.
Places to visit:
Pike Place Market. The Pike Place Market has been a historic icon in Seattle for over a century. Dubbed the "Soul of Seattle," as the largest and oldest continuously working market, whether you are a tourist or a local, it is a place to visit again and again to shop, eat, or just hang out. It's home to hundreds of residents, crafters, small businesses, and farmers, and offers a broad range of services and activities.
Discovery Park. If you are looking for breathtaking views of the Olympic and Cascade Mountain ranges, come discover the 534 acres of natural parklands in Discovery Park. This gorgeous, tranquil park, located on Magnolia Bluff and overlooking Puget Sound is the largest city park in Seattle. Here, you can roam around streams, sand dunes, sea cliffs, forest groves, and open meadows to your heart's content.
Snoqualmie Falls. Do not miss out on one of Washington's most popular natural wonders, the 286-foot waterfall, Snoqualmie Falls. The Falls attract over 1.5 million visitors annually. Visit the Salish Lodge and Spa, observation deck, the two-acre park, or hike the trail to the river. Throw in a Seattle Wine Tour at the area's award-winning wineries for a truly fabulous time!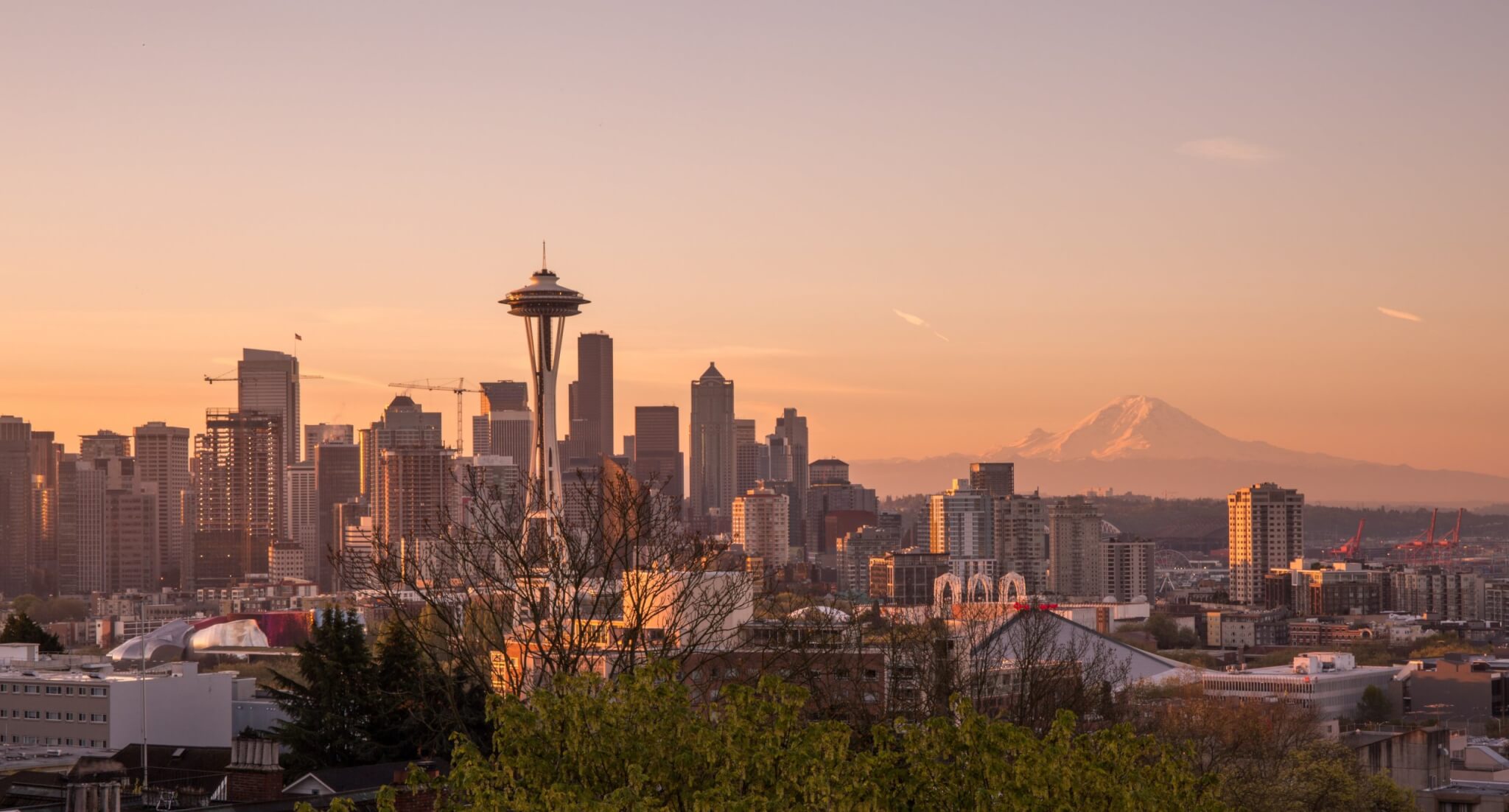 Issaquah
Located near Redmond, Bellevue, and Seattle, you will find the scenic suburb of Issaquah. You get to enjoy all of the best of city life with less of the hustle and bustle. A front-row view of the Cascade Mountains, forests, and trails galore has made it a popular hiking destination and earned Issaquah the nickname of "Trailhead City." This former farming and mining community has a growing urban agriculture movement and some of the best schools in the country.
Issaquah is also home to Costco, Boeing, and Microsoft, which employ many people who live in the area. The cost for a rental in Issaquah is $2,192 on average.
Fun fact: "Issaquah" comes from the language of the Lushootseed people, who included the Duwamish, Sammamish, Snoqualmie, and other tribes from the area. It means "the sound of water birds." Early settlers had named the place "Squak Valley" based on the same word in the Lushootseed language.
Places to visit:
Issaquah Salmon Hatchery. Are you curious about the seemingly mystical path that salmon make returning to their birthplace year after year? Book a tour at the Issaquah Salmon Hatchery, which is open year-round, to learn more about this natural phenomenon. The fall is when the hatchery is most active, as this is the time when you can see adult chinook and coho salmon spawning in Issaquah Creek. You also also visit the fish ladder, hatchery holding ponds, and exhibitions.
Lake Sammamish State Park. If you are looking for lakefront beaches, trails, forests, and wetlands all in one place, Lake Sammamish State Park is an ideal location to spend the day. You might get the pleasure of catching a glimpse of the great blue herons or bald eagles who reside there. The park offers kayak and board rentals at Tibbetts Beach, biking trails, and a state-of-the-art playground for the kids. They also host a plethora of year-round events and activities.
Other cities and towns to consider:
Olympia: Of course, it would be remiss not to mention the state's capital, Olympia, which has much to offer. The capital of Washington is family-friendly and renter-friendly, and is less expensive than Seattle. Home to the Olympic National Park, Mount Rainier National Park, Capital State Forest, and the Nisqually National Wildlife Refuge, there is plenty of nature to enjoy. The city also boasts cool bistros and wine bars, a flourishing arts and entertainment scene, museums, and a farmer's market. Average rent: $1,463.
Spokane: This vibrant city is full of wineries, waterfalls, and mountain lakes. This eclectic city with small-town vibes is a haven for beer enthusiasts with many local breweries. Natural beauty abounds, and outdoor lovers have plenty of trails to bike, hike, or walk. It is the perfect place to save money while living the good life. Average rent: $1,276.
Bellingham: If a small town with outdoor adventures is more your speed, Bellingham is a lovely place to settle down. Bloedel Park and Whatcom Falls Park offer waterfalls, the best trails for hiking, and waterways for swimming, kayaking, and fishing. You can also experience a lively downtown area that hosts live music events, breweries, diverse cuisine, or a Friday night fish fry. Average rent: $1,195.