If you're considering a move to Philadelphia, you'll find everything from low-key, affordable neighborhoods to those that offer all the luxe amenities you can imagine.
From the upscale Rittenhouse and gritty Fishtown to the family-friendly Mt. Airy, there's a neighborhood for every lifestyle. Whether your priority is a short commute to work or a buzzy restaurant and bar scene, Philly's got options.
Founded by William Penn way back in 1682, Philadelphia is overflowing with history. But this city isn't stuck in the past. It's a thriving, 21st-century metropolis—and while it might be overshadowed by its showy, nearby neighbors, it's a prime option for those who want urban energy without the daunting pace (and price tag) of New York.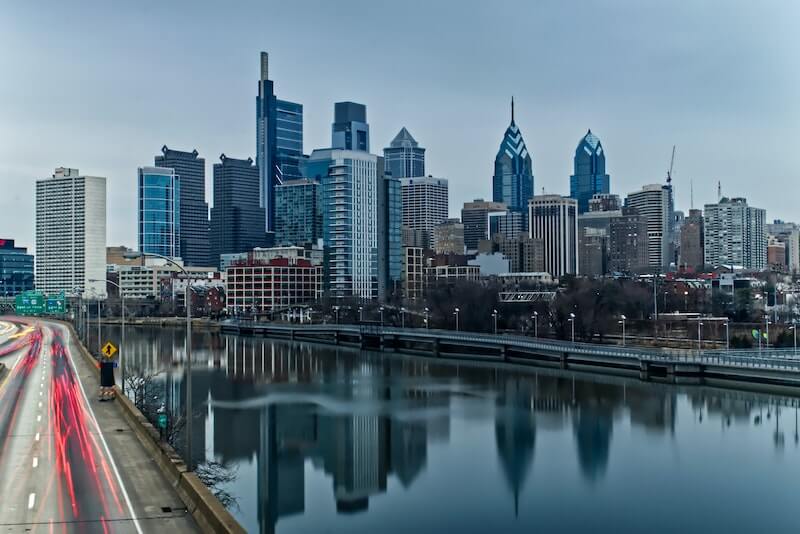 Philadelphia is the largest city in the state of Pennsylvania and the sixth-largest city in the country, with about 1.5 million residents. It boasts an incredible arts scene, a ton of top-tier restaurants, and a lower cost of living when compared to places like New York and Boston.
On a practical level, you'll also find that Philadelphia has a decent public transportation system and is rated as very walkable. Both the subway and bus system make it easy to get around. With its convenient location just off of I-95 and I-76, and connection to southern New Jersey via six different bridges, Philadelphia is also easily accessible. That means that quick weekend getaways for Philly residents are also a breeze.
Philly is replete with delicious signature foods, including the famous Philly cheesesteak as well as soft pretzels, hoagies (don't call it a sub!), pork rolls, crab fries, and water ice. The vibrant restaurant scene boasts everything from Zahav (a James Beard award recipient, considered one of the best restaurants in the country), to more casual yet delicious eateries like Han Dynasty, Chickie's and Pete's, Federal Donuts, and the Green Eggs Cafe.
On-trend neighborhoods to start your search in
Check out some of our favorite neighborhoods in Philadelphia to learn about what they have to offer—and what's in your personal budget.
Northern Liberties – Fishtown
Referred to as "NoLibs" by locals, the Northern Liberties neighborhood is located between Callowhill Street and Girard Avenue. Northern Liberties is known for its historical charm, with a number of beautiful historical buildings, some dating back to the era of Philadelphia's founding. It tends to be particularly attractive for recent college grads and young families.
It also plays host to some of the best-known restaurants and bars in the city. Local favorites include the Yards Brewing Company; North Bowl, a retro-themed bowling alley; the burger-and-tacos spot Set NoLibs; Jerry's Bar, a hotspot for whiskey aficionados; and Silk City Diner, a great brunch place that becomes a bar at night.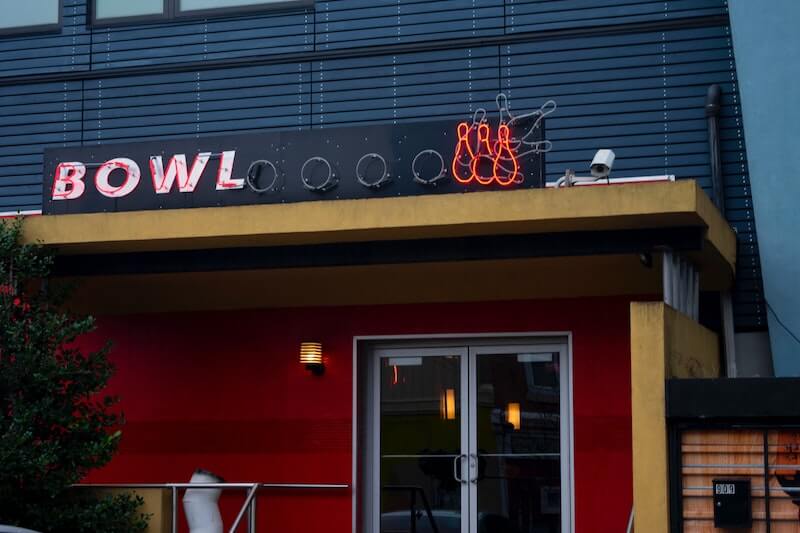 Northern Liberties can be easily accessed by subway or bus (although the bikes that line the sidewalks are a testament to how locals prefer to travel).
NoLibs blends into Fishtown, another vibrant part of the city, and one with a thriving arts and cultural scene. Johnny Brenda's and the Fillmore Philadelphia are iconic music venues, and the waterfront Penn Treaty Park is a great place to enjoy the outdoors.
High-end Israeli grub is on offer at Laser Wolf, and offbeat, decadent snacks are available at takeaway hotspot Zig Zag BBQ. To kickstart your morning, start with an espresso at La Colombe—a coffee shop chain that originated in Philadelphia. (Take that, Starbucks.)
Fishtown is accessible by SEPTA's Market-Frankford line as well as by bus and trolley.
The average monthly rent for a one-bedroom apartment in Northern Liberties – Fishtown is $1,795. Higher-end options are available. For instance, a one-bedroom with private balcony at Palazzo at the Piazza Apartments will cost you a minimum of $2,285/month—but you'll score a pool, fitness center, and other perks. Check out some current listings here.
Southwest Cedar Park
South of Center City and Rittenhouse Square, you'll find Southwest Cedar Park, which is also known as the Graduate Hospital neighborhood. If you're looking for a neighborhood that has easy access to plenty of bars, coffee shops, and more, Southwest Cedar Park is a great place to start your search.
While South Street West is the neighborhood's main thoroughfare, South Street East has developed a reputation over the years as a great place for quirky boutique shopping. The neighborhood is easily accessible by subway as well as SEPTA's Route 40 bus.
The area also hosts a few of Philly's top-notch street festivals, including the Odunde Festival, a one-day street market that pays tribute to the Yoruba people of Nigeria and the African diaspora in the United States, and Bloktoberfest, where you'll find street vendors, food, and live music along South Street every October. Favorite local restaurants and eateries include Miles Table, The Cambridge, and Chick's.
The average cost of rent for a one-bedroom apartment in Southwest Cedar Park is $995 per month. Studios can be found for under $800. Check out some current listings here.
East Mt. Airy
Located in northwest Philly between Chestnut Hill and Germantown, Mt. Airy is one of Philadelphia's most diverse neighborhoods. East Mt. Airy has the feel of a suburban neighborhood that just happens to be inside a major city. Housing prices are a bit more affordable here than they are closer to the city center or more upscale neighborhoods like Rittenhouse Square.
The neighborhood's accepting character, a feature Mt. Airy has cultivated since the 1950s, makes it a major draw for all kinds of families and single professionals. "From aging 1960s hippies to lefty vegan radicals to young professionals to LGBTQ+ families to service workers, and maybe even the occasional conservative," Philadelphia magazine notes, "you'll find someone matching that description living in Mt. Airy."
The neighborhood is about 20 minutes from Philly's Center City, and its distance from the hustle and bustle of downtown—along with its parkland, walking trails, and tree-lined streets—give you a sense of where its pastoral name comes from.
Located on Wissahickon Creek, Mt. Airy features the 1,600-acre Wissahickon Valley Park, a haven for hikers, cyclists, and even horseback riders.
Families love spending time at Pleasant Playground, the recently renovated Lovett Memorial Library, and the Wissahickon Environmental Center, which provides special programming for young kids. Local favorite restaurants include Iron Hill Brewery, El Poquito, and Earth – Bread + Brewery, an environmentally sustainable restaurant and brewpub.
The average rent for a one-bedroom apartment in East Mt. Airy is $735 per month. Three bedrooms aren't uncommon at under $1,200.
Rittenhouse Square
Anchored around Rittenhouse Square Park, this is one of the most popular neighborhoods in the city. It's also one of the most expensive (although it has competition from Logan Square, where the average one-bedroom will set you back $1,845/month).
Rittenhouse Square Park is surrounded by high-end houses and apartments, but it's also a popular destination for folks to stroll, sunbath, or browse the farmers market. The annual Rittenhouse Square Spring Festival in May features live entertainment, food, and shopping.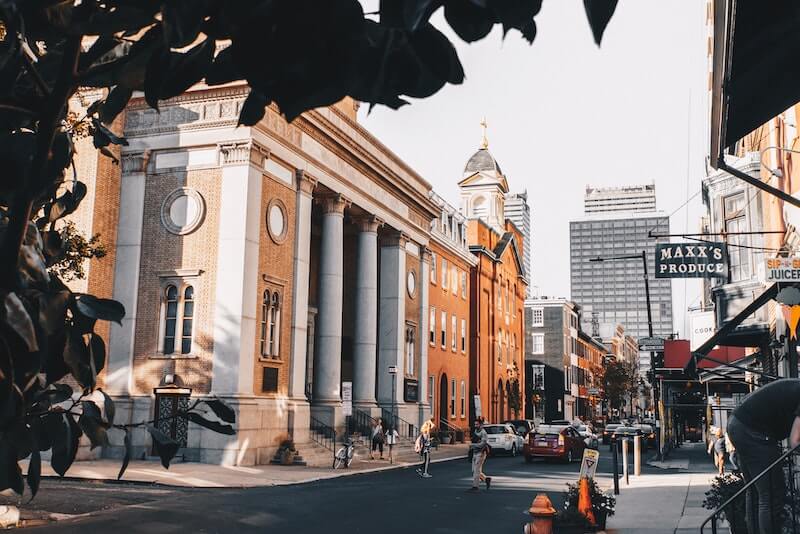 Those looking for a high-end shopping experience and a great place to bring out-of-town guests will love the Rittenhouse Row shopping district.
Rittenhouse Square is also home to Philadelphia's famed Avenue of the Arts, which is where you'll find the Kimmel Center for the Performing Arts, University of the Arts, the Academy of Music, and the Wilma Theater. Opera Philadelphia, the Philadelphia Ballet, and the Philadelphia Orchestra all frequently perform at these spots. Grab dinner at Oyster House, The Palm, or Giuseppe & Sons before you head to a show.
Rittenhouse is accessible from the close-by 30th Street Station as well as by subway and bus and the PATCO high-speed line that connects Philly with the New Jersey suburbs.
The average monthly rent for a one-bedroom apartment in the Rittenhouse Square area is $1,650. For around $2,000, you might be able to snag a one-bedroom unit in a high-end building like 1500 Locust, which boasts a pool and world-class views.
Queen's Village-Pennsport
Queen's Village is a charming, historic neighborhood with plenty of upbeat energy. Tree-lined streets, a waterfront location, and easy navigability by foot or by bike make Queen's Village one of the most vital residential areas in the city. The stretch of Fourth Street known as Fabric Row in Queen's Village is named for the area's many fabric stores, and is practically a pilgrimage site for those shopping for textiles (although the fabric shops are mixed in with restaurants and fun little boutiques to explore, too).
Queen's Village is easily accessible by multiple SEPTA bus routes that come through this neighborhood, although street parking can be tough to come by.
With the Delaware River to its east, Pennsport is a historically blue collar Philly neighborhood that's really grown in recent years. Pennsport is the home of many of the Mummers performance clubs. These clubs put on a show at the annual New Year's Day Mummers Parade on Broad Street every year. Following the Mummers Parade, Pennsport plays host to a famous afterparty, which is a neighborhood-wide celebration that transforms this otherwise quiet neighborhood.
Pennsport is very accessible by walking and by bike, and it's located just off of I-95, which makes it easy to drive to and from this neighborhood.
The average rent for a one-bedroom apartment in Queen's Village-Pennsport is $1,295 per month.
Happy hunting!
In some ways, Philadelphia is a city of over 100 neighborhoods that feels more like a series of local communities all knitted together. Philly's neighborhoods offer everything from historic row homes and detached houses to shiny new apartment buildings, offering plenty of options for your taste and budget.
With a cost of living lower than nearby New York, it's also a tempting option if you want more bang for your buck—without sacrificing the cultural amenities of a big city. There's a reason that Philadelphia has long been referred to as the "sixth borough" of NYC, and with the rise of remote work, the City of Brotherly Love is a great option for those looking for a change in zip code.
And after you find that dream apartment? Don't forget to get Lemonade renters insurance to make sure all your stuff is protected.