A big year for Philly
As a Philly native, my excitement was through the roof when we saw PA next on our nationwide expansion of renters and homeowners insurance across the US. My reaction was on par with that of the Eagles Superbowl win. Ever since I joined the Lemonade fam, I'm a full-blown insurance nerd – can you blame me?
Philly's known for a lot of things. It's our nation's founding city, and the first capital. But what many people overlook is that aside from its rich history, it has a pretty cool scene, too.
The city of brotherly love is the home of the cheesesteak, Will Smith, and some of the most talented chefs in our country (don't believe me? Ask James Beard). And as a token maximizer, I've spent my entire life figuring out the best of the best of Philadelphia. In honor of our PA launch, I'm here to share it with all of you.
So sit back, relax, and enjoy the best of Philly.
Eats
Best brunch: Parc Bistro & Cafe
It's only appropriate that we start off with the essentials: food, and particularly, brunch. But Parc is more than just a brunch spot – it's a teleporter to central Paris, with its charming and stylish atmosphere, happening scene, and not to mention delicious French food. Grab a seat outside along Rittenhouse Square for the best people-watching in all of Philly. I recommend the mushroom tart, macaroni au gratin, and an extra bread basket. Your tastebuds will thank you.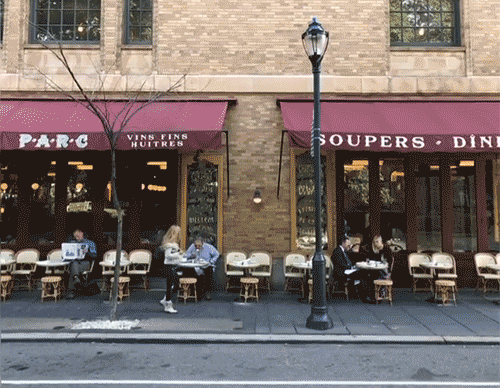 Best burger: Village Whiskey
Village Whiskey is where Jose Garces – one of Philadelphia's premier restaurateurs – goes to hang out. It feels like a speakeasy so tiny, you'll feel like a VIP just for scoring a seat at the bar. They serve up the best darn burger in the entire city, along with a side of duck-fat fries that are to-die for. There are tons of burger options to choose from, but the real star on the menu is the simplest of them all: the Village burger, with a slice of tomato, bibb lettuce, and homemade Thousand Island, which really allow the flavors of the beef to burst.
Best foodie experience: Reading Terminal Market
To get a taste of all Philadelphia has to offer, look no further than Reading Terminal Market. Think Chelsea Market, but more delicious, greasy, and authentic. I suggest opening up your appetite by sampling the fried mac and cheese balls at Beck's Cajun Cafe. For a fuller meal, grab a grilled cheese at Meltkraft (I recommend the Valley Thunder), or a pork sandwich from DiNiC's (named the best sandwich in America). For dessert, head over to Bassets – they'll serve up some of the most delicious ice cream you'll find. It's Ben and Jerry's-esque, but fresher.
Best cheesesteaks: Jim's Steaks
A roundup of Philadelphia grub would be incomplete without cheesesteaks. Now for some history: cheesesteak joints Pats and Genos have had a famous rivalry for as long as my grandfather can remember. But what most people don't know is that the best cheesesteak in the city lies elsewhere – on South Street to be exact. Jim's Steaks serves up exactly the Cheesesteak you've been dreaming of your whole life: juicy, soft, flavorful, and memorable. Founded in 1939, it's anything but undiscovered. Don't let the long lines scare you off – I promise, it'll be worth it.
Best dinner with friends: Sampan
If you're looking for a trendy night out, Sampan is your spot. Situated on Philly's hot 13th Street, Sampan serves up lively vibes, unreal Asian share plates, and mini ice cream cones with unforgettable flavors (think: reese's or strawberry cheesecake). If you're looking to pregame dinner, grab a cocktail at their Graffiti Bar before settling down into your seat. When you order, don't skip out on the edamame dumplings, brussels sprouts, or chicken bao bun – all perfect for your Instagram feed (and tastebuds).
Best date spot: Barbuzzo
Barbuzzo is the rustic, romantic vibes and farm-to-table food that'll make your date night one to remember. Barbuzzo's bread and butter is their wood-burning oven, from which incredible pizzas and roasted veggies emerge. Case in point: as I write about the uovo pizza, with brussels sprouts, eggs, and truffle, my mouth is legitimately watering. And don't even get me started on the sheep's milk ricotta. The biggest crime you can commit here is skipping dessert; order their salted caramel budino, and expect to get a second, because it's just that good. It'll take you from here to heaven (but don't forget your date!).
Best dinner with parents: Vernick
Vernick is the perfect upscale neighborhood bistro you'll be dying to take your parents to. It's not too loud, too crowded, or too stuffy. It's energetic yet intimate, and not to mention delicious. The menu features twists on American classics, from their upscale version of avocado toast (!!) to fire roasted cabbage, and organic amish chicken. This spot is guaranteed to impress your parents with your taste in restaurants, and will have them begging for another meal in Philly with you. Btw, it takes weeks to get a reservation, so be sure to book a table well in advance.
Daytime activities
Best history museum: The Constitution Center
Walking through Philly is a walk through history, but it's hard comprehend its background simply by observing. As Philadelphian Benjamin Franklin once said, "Tell me and I forget, teach me and I may remember, but involve me and I learn." For that reason, The Constitution Center is the perfect place to whip out your inner history buff, and familiarize yourself with the rich history of the city. The museum is full of interactive exhibits, movies, and excerpts, which capture the significance of the United States Constitution as the document on which our country was founded.
Best art museum: The Barnes
Philadelphia's also home to some of the finest art in the country. First stop? The Barnes Foundation, home to one of the world's best collections of impressionist, post-impressionist, and early modern paintings. Ask anyone who's been to the Barnes Museum, and they'll tell you it's one of the most fascinating museums they've ever been to. The museum boasts an incredible collection of paintings, a great walking flow, and knowledgeable staff who will answer your questions every step of the way.
Best spot to chill on a Saturday: Rittenhouse Square
If you're looking to people-watch, catch up with friends, and soak up the vibes of Philadelphia, Rittenhouse Square is where it's at. Though it's surrounded by popular restaurants and trendy shops, the Square offers an oasis from the bustling city, ironically when you're at the center of it. It has large patches of grass and beautiful trees that mask the surrounding high-rise buildings, making it a perfect spot for picnicking, painting, or simply listening to the sounds of the city. Pro tip: Head over to Hipcityveg and grab a banana whip to enjoy as you vege out in the Square.
Best running route: Along the Schuylkill, then run up the Museum steps
When it's time to get physical, Philly has tons of running routes. My favorite? The Schuylkill River Trail. As you jog along the river overlooking the Philly skyline, you'll join hundreds of others joggers also enjoying the scene. Try making it out to Boathouse Row (1 mile from the Market Street entrance), a historic spot in Philly with 15 beautiful boathouses. And for the utmost runner's high, end your workout session at the Philadelphia Museum of Art by running up the steps, Rocky style. You'll get an unforgettable view of the skyline, and feel just like Sylvester Stallone. Dream come true.
Best study spot: Elixr
If you've gotta bury your head in the books for the day, you may as well choose the perfect backdrop cafe. Elixr is that place. Situated in an alleyway off of Locust Street, this hipster coffee joint has a big, open space with both communal and private tables, and walls brimming with decor by local artists. The baristas have a laser focus on crafting the perfect cup of coffee (or matcha latte), and their determination comes through. The coffee is fresh, flavorful, and perfectly brewed. They also play crowd-pleasing music that won't distract from your studies, like Frank Ocean and 90's jams.
Best stroll: Locust Walk on Penn's Campus
Penn's Campus isn't just for students – it's also one of the most beautiful spots in Philly (disclaimer: I'm a Penn grad). Nestled in West Philadelphia (born and raised!), Penn has a tranquil neighborhood vibe. The hallmark of Penn's campus, Locust Walk is a serene tree-lined pathway that can quickly become bustling once the students are dismissed from class. If you're hungry by the end of your stroll, there's a Ben and Jerry's right at the exit! Plus, the first Urban Outfitters ever established is right off of Locust Walk, on 36th Street. Talk about a historic destination.
Out on the town
Best indoor happy hour: El Rey
If Mexican food during happy hour is your thing, put this spot on your bucket list stat. El Rey serves up sensational margaritas and scrumptious Mexican dishes, with one of the best happy hour deals in the city. I'm talkin' $1 tacos, $2 Tecate Cans, and $4 House Margaritas. Yeah, you read right. Not to mention, the vibe is to-die for: you'll be sippin' margaritas against a backdrop of a glitzy Mexican dive – it's retro, it's funky, and it's the perfect spot for your next happy hour. Get there early to beat the crowds.  
Best outdoor happy hour: Independence Beer Garden
When summer begins in Philadelphia, something amazing happens: Center City Sips. All summer long, some of the hottest bars and restaurants offer unbeatable deals on drinks and appetizers. Aka, block off 5-7 every Wednesday from June to August. The best spot to soak up these deals? Independence Beer Garden, a 22,000 square-foot outdoor bar that overlooks the Liberty Bell and Independence Park. The bar has tons of seating options to choose from, and if you're in a competitive mood, head over to the ping pong table or cornhole boards, and challenge a friend to a match.
Best speakeasy: Hop Sing Laundromat
Named one of the 30 greatest bars in the world by Conde Nast Traveler, Hop Sing Laundromat is anything but your typical bar. There's no sign outside of the bar, just a doorbell that summons a doorman. If you make the cut after submitting your ID for inspection, you can find a seat at one of the tables in a dimly lit room with ornate chandeliers. The bar has one of the highest selections of spirits in the country, from classic beers to specialty cocktails. Warning: phone usage is prohibited at the bar, so if you try to Instagram your cocktail, you might just be asked to leave.
Best late-night spot: Frankford Hall
It's 11:00 pm, and you and your friends are trying to decide where to go next. You've been to the bar down the street hundreds of times, and the bars down on 13th Street can get too crowded. Sound familiar? For the best end to your night, head over to Frankford Hall, a German-style biergarten with a modern edge. This joint has three different bars – one reserved exclusively for beer – so you won't have to wait in long lines (yass!). As you sip your drink at one of the communal tables amongst the exposed brick walls, order some German-style bar snacks for the perf late-night treat.
Best dessert: Franklin Fountain
Of course, I'm saving the best for last: dessert. If you're not feeling the bar scene, end your evening with an unreal treat at Franklin Fountain. Walking into this ice cream parlor feels like walking into a movie, with bow-tie-wearing staff serving up scoops in an old-timey, nostalgic vibe. Choose from the extensive selection of original ice cream flavors, like green tea, maple walnut, and my personal favorite, hydrox cookie. The best part? Your scoops will be served in a Chinese takeout box, adding a cherry on top to this out-of-a-movie experience.
Get exploring!
So there you have it. While fresh restaurants are always popping up, these Philly classics are bound to give you an unforgettable, consistent, and delicious experience. Whether you're a Philly native, or are just popping in to visit, don't forget coverage for your stuff while you're out on the town. Take Lemonade for a spin and get renters or homeowners insurance in Pennsylvania, so you can focus on the important things in life: eating, relaxing, and adventuring.