Nashville Homeowners Insurance Guide
Cover your home in the Music City.
Nashville is a thriving Southern city best known for its vibrant and historical music scene. The revival of the American country music scene in the 1950s and 1960s was created by record producers in Nashville, coining a music revolution known as "The Nashville Sound". This turned Nashville into the country-music capital of the country, with singers like Dolly Parton and Elvis Presley getting their start here.
Besides music, Nashville serves up some of the best southern comfort food you'll find in the US, like hot chicken, fish, barbeque. Eclectic neighborhoods and diverse communities make this Tennessee city a great place to live.
If you are considering buying a home in Nashville, you'll want to be sure to purchase homeowners insurance. This provides a much-needed financial safety net if something unfortunate happens to you or your property. For example, if someone breaks into your home while you're out on the town for a night out or a friend twists their ankle after jumping up and down in your living room during a Titans game and needs medical care, the right homeowners insurance policy offers financial protection.
Here's what we'll cover:
What does Nashville home insurance cover?
Nashville has a lot going for it. An incredible music scene, delicious southern barbeque, and fantastic universities and education system. All of this and more makes The Music Capital of the country a great place to call home.
However, there are also some natural risks that come along with living in this thriving city. As a Nashville resident you might experience severe weather including extreme thunderstorms, landslides, wildfires, tornadoes, and earthquakes.
It's worth noting that while no homeowners insurance policy can cover you from every single potential mishap, the right homeowners policy and insurance plan can keep you financially afloat through a myriad of typical situations. This is why it's important to understand your coverage options.
You might know that a home insurance policy is a good (and necessary) idea, but you might not have a grasp on all the moving parts of Nashville homeowners insurance. We've got a very extensive, plain English guide here, so feel free to dive deep into the specifics—but for now, we'll break down the basics of home insurance policies for you here, so you can get a handle on what a homeowners policy covers in general.
Dwelling
'Dwelling coverage' helps pay for damages to the structure of your home. So, if your pipes burst next winter and damage your walls, or a windstorm blows over a tree and damages your home, you're covered.
Other Structures
If one of the dangers mentioned above causes damage to your driveway, fence shed, or other structures on your property, your homeowners insurance company has you covered.
Loss of Use
If you can't live in your home due to covered damages, your loss of use coverage can help pay for a temporary place to stay and basic living expenses such as food, laundry, parking, etc.
Personal Property
Personal property coverage options protect your stuff both inside and outside your home. So, if your couch is ruined due to a burst pipe or your laptop is swiped at a coffee shop, homeowners insurance has your back. With Lemonade, if your insurance claim is approved, you'll receive the replacement cost of your personal belongings back in your pocket.
Liability coverage
If your neighbor slips and falls on an ice sheet on your driveway, you could be held liable, which is why you may want to consider purchasing liability coverage. If someone is injured on your property or anyone on your policy causes damage to someone else's property or stuff, your insurance company should have you covered.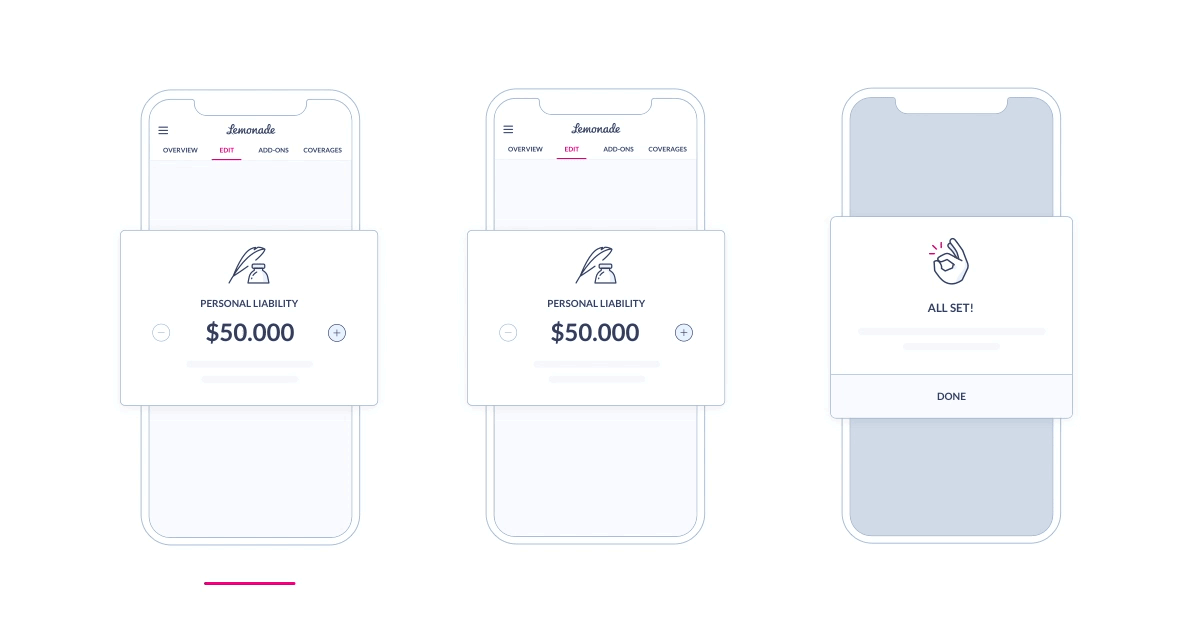 Medical Protection
If your neighbor needs to go to the hospital because of that slip and fall, your coverage will kick in to cover the medical expenses. Home insurance covers you if a guest gets injured at your place or if you accidentally cause injury to someone outside your home.
How much is home insurance in Nashville?
There isn't a standard policy price for homeowner's insurance for residents of Nashville. Of course, the owner of a mansion in The Gulch will pay a different monthly premium than a college student who owns a two-bedroom home in Midtown.
According to Bankrate, Nashville residents pay pretty close to the national average when it comes to homeowners insurance rates. In Nashville, the average cost of homeowners insurance is around $1,495 per year. In comparison, the national average for homeowners insurance is $1,477. How much your homeowners insurance costs depends on your coverage limits, your insurer, your property, and your deductible.
What are the different types of homeowners insurance?
Lemonade offers two types of homeowners insurance policies for a variety of insurance needs: one for single-family homes (called HO3 in insurance-speak) and one for condo insurance (HO6). There are minor differences between the two, and you'll choose the right homeowners policy depending on the type of home you're looking to insure.
A key difference between the two types of home insurance coverage is that homeowners own and are responsible for everything on their property (home, garage, fence, etc.). Condo owners with HO6 policies are only responsible for the outermost walls of their unit, inward.
The best neighborhoods to be a homeowner in Nashville
Cleveland Park
Located in East Nashville, this up and coming neighborhood offers buyers Tudor and Craftsman homes at an affordable price. The average cost of a home here is $176,000, and the neighborhood is full of things to do for kids and adults, making it ideal for singles, families, and retirees.
Homeowners can enjoy an abundance of green space in the neighborhood's own park, also called Cleveland Park. This is a great space to take the family for a day of outdoor fun, or simply take yourself for a jog or swim on a hot day. There is also no shortage of restaurants in this neighborhood, like Folk, which serves craft pizza and other upscale dishes, and Wilburn Street Tavern, serving a delicious menu of bar delights and is a great place to watch any sporting event.
Germantown
Germantown has very low crime and has become a fantastic neighborhood for young homebuyers. It's located just a fifteen minute walk from downtown Nashville, and offers properties for sale with an average price of $325,000. Germantown attracts musicians and artists, as well as anyone who enjoys a bustling arts and culture scene, as well as funky, craft coffee shops.
Germantown is home to the Tennessee State Museum, showcasing dedicated exhibits to the state's vibrant history. After an educational day at the museum with the family, head over to 312 Pizza Company for authentic Chicago-style deep dish pizza! There's guaranteed to be topping choices for everyone at this delicious spot. Butchertown Hall is another local favorite, serving a modern take on Texas barbeque (we recommend the oak-roasted brisket—it will change your life!).
The Gulch
Located just south of Downtown Nashville, the Gulch is a trendy, hip neighborhood for young homeowners. It's an incredibly walkable neighborhood, full of restaurants, cafes, and bars, and offers an average home price of around $695,000, which consists primarily of condos and high rises.
Some of our favorite Gulch eateries include Arnold's Country Kitchen, open for lunch and dinner and offering hearty Southern comfort food. We also love Virago for Asian fusion, a great date spot or perfect for anyone looking for an upscale evening with delicious cuisine.
12 South
12 South is known as one of the most walkable neighborhoods in Nashville and also has some of the most in demand real estate in the city. Residents enjoy living here because of its plethora of local businesses, including boutiques, flower shops, cafes, and restaurants. Most of the homes for sale are small houses, with apartments also available, but not as readily. The average price of a home in 12 South is the most expensive on our list, averaging around $1.1 million.
While 12 South isn't very large, every small business is a hopping one. Restaurants include Taqueria Del Sol, serving delicious, classic Tex Mex, Edley's Barbeque, which offers one of the best brunches in the city. If you're a musician looking to shop local, Corner Music is a must. This shop offers the best guitar selection in the city.
Sylvan Park
Sylvan Park makes our list because it is great for individuals and families who are looking for a suburban feel while still remaining close to the hustle and bustle of downtown. Neighbors are friendly and you can find new apartment complexes as well as a variety of single family homes.
There is a ton of green space, from golf courses, like McCabe Golf Course, to Richland Creek Greenway, which offers residents biking, running, and hiking trails. Vegans will feel at home with AVO available at their fingertips, offering an entire menu of vegan delights. Residents also love Double Dogs, a delicious restaurant offering sandwiches, salads, and pizzas.
These Nashville businesses will make your house a home
Random facts that make Nashville great
---
BTW, we've started offering car insurance in Tennessee! Woohoo! Learn more about our brand-new, earth-loving coverage here.