Tennessee Homeowners Insurance Guide
Get your home covered in the Volunteer State.
Whether you live a quick drive outside of Memphis or have a view of Watts Bar Lake right in your backyard, you deserve the best homeowners insurance coverage in Tennessee.
Homeowners insurance would cover you financially if something were to happen to you, your property, or your stuff. Let's say someone breaks into your home while you're on a weekend hike at Tuggle Creek, or your friend twists their ankle after getting too excited while watching the Titans in your living room. The right homeowners insurance policy could offer you financial protection if something terrible (or just plain inconvenient) were to happen.
What does Tennessee home insurance cover?
Tennessee is known for its natural beauty. The state is snugly landlocked in The South with the Mississippi River as its western border. Many Tennessee residents can enjoy forests, valleys, tree-covered ridges, plateaus, mountains, basins, fertile farmlands, and swamplands. Yet, along with the state's natural beauty, there are also some natural risks, such as floods, severe storms, wildfires, tornadoes, tropical storms, landslides, power outages, earthquakes, and, while uncommon, hurricanes in East Tennessee.
It's worth noting that while no insurance policy can cover you from every possible thing in the universe, the right homeowners policy can keep you financially afloat through a host of common situations.
You might know that a home insurance policy is a good (and necessary) idea, but you might not have a handle on all the moving parts. We've got a very extensive, plain English guide here, so feel free to take a deep dive into the specifics—but for now, we'll break down the basics for you here, so you can get a grasp on the general things a policy covers.
Dwelling
'Dwelling coverage' helps pay for damages to the structure of your home. So, if your pipes burst next winter and damage your walls, or a windstorm blows over a tree and damages your home, you're covered.
Other Structures
If one of the dangers mentioned above causes damage to your driveway, fence shed, or other structures on your property, your homeowners insurance has you covered.
Loss of Use
If you can't live in your home due to covered damages, your' loss of use coverage can help pay for a temporary place to stay and basic living expenses such as food, laundry, parking, etc.
Personal Property
Personal property coverage protects your stuff both inside and outside your home. So, if your couch is ruined due to a burst pipe or your laptop is swiped at a coffee shop, homeowners insurance has your back. With Lemonade, if your insurance claim is approved, you'll receive the replacement cost of your personal belongings back in your pocket.
Liability coverage
If your neighbor slips and falls on an ice sheet on your driveway, you could be held liable. If someone is injured on your property or anyone on your policy causes damage to someone else's property or stuff, your insurance company should have you covered.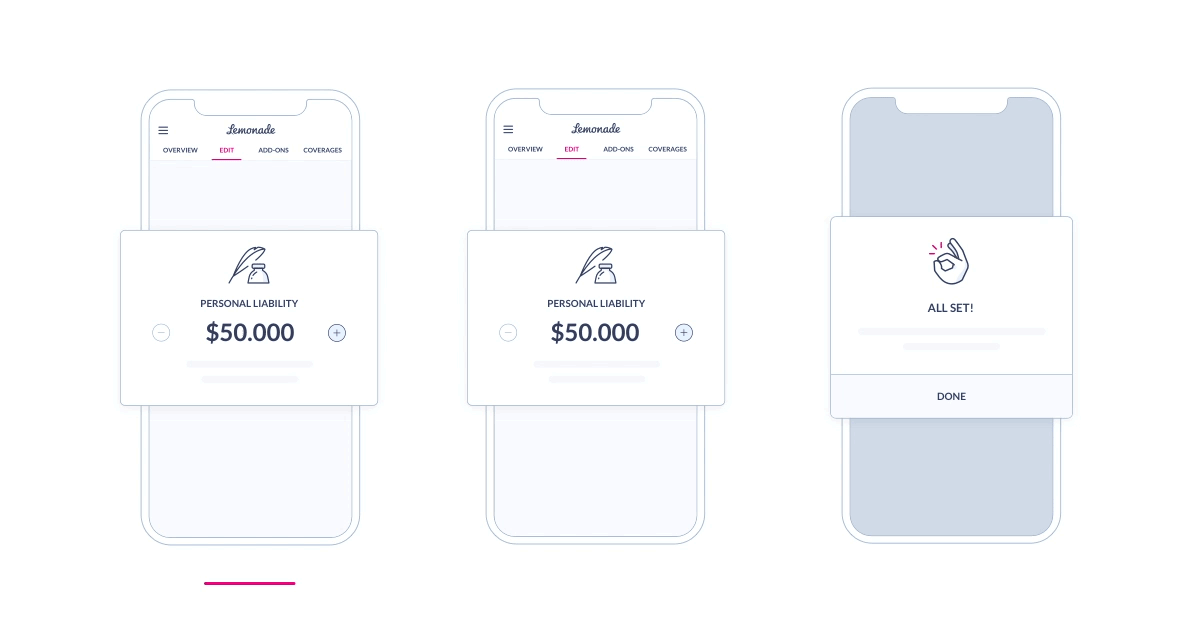 Medical Protection
If your neighbor needs to go to the hospital because of that slip and fall, your coverage will kick in to cover the medical expenses. Home insurance covers you if a guest gets injured at your place or if you accidentally cause injury to someone outside your home.
How much is home insurance in Tennessee?
Homeowner's insurance does not have a standard policy rate for residents of Tennessee. Of course, a luxury brick Nashville mansion owner with sprawling land will pay a monthly premium that's different than a college student who owns a two-bedroom home in Martin.
According to Bankrate, Tennessee residents pay a premium when it comes to homeowners insurance rates, compared to other states. The average cost of homeowners insurance in Tennessee is around $1,625 per year. The national average for homeowners insurance is $1,477 in comparison. How much you pay on homeowners insurance depends on your coverage limits, insurer, property, and deductible.
What are the different types of homeowners insurance?
Lemonade offers two types of homeowners insurance policies: one for single-family homes (called HO3 in insurance-speak) and one for condo insurance (HO6). There are minor differences between the two, and you'll choose the right policy depending on the type of home you're looking to insure. A key difference is that homeowners own and are responsible for everything on their property (home, garage, fence, etc.). Condo owners with HO6 policies are only responsible for the outermost walls of their unit, inward.
A few of the top places to buy a home in Tennessee
Elliston Place
Located between West End Avenue and the Church Street area, this urban neighborhood of Nashville has been ranked number one for the best places to live in Tennessee by Niche.com. Suitable for the hip and the settled alike, Ellison Place ranks most highly as an excellent place for families and due to the quality of its nightlife.
Contributing to its bustling nightlife are bars with fun places like Hurry Back, where you can enjoy high gravity, imports, and craft beer, or the exotic Aladdin's, a hookah lounge and bar.
Across the street from Vanderbilt University, you can find students and academics to and fro in this area. Elliston Place is close to Centennial Park, one of the best parks in Nashville which includes, the iconic Parthenon, historical monuments, Lake Watauga, a one-mile walking trail, a beautiful garden, the Centennial Art Center, and much more.
This street which is part of the Vanderbilt-Hillsboro area is the jewel of downtown, full of restaurants, boutiques, and lively entertainment. The typical value of a home in Elliston Place is $208,300, according to Niche.com.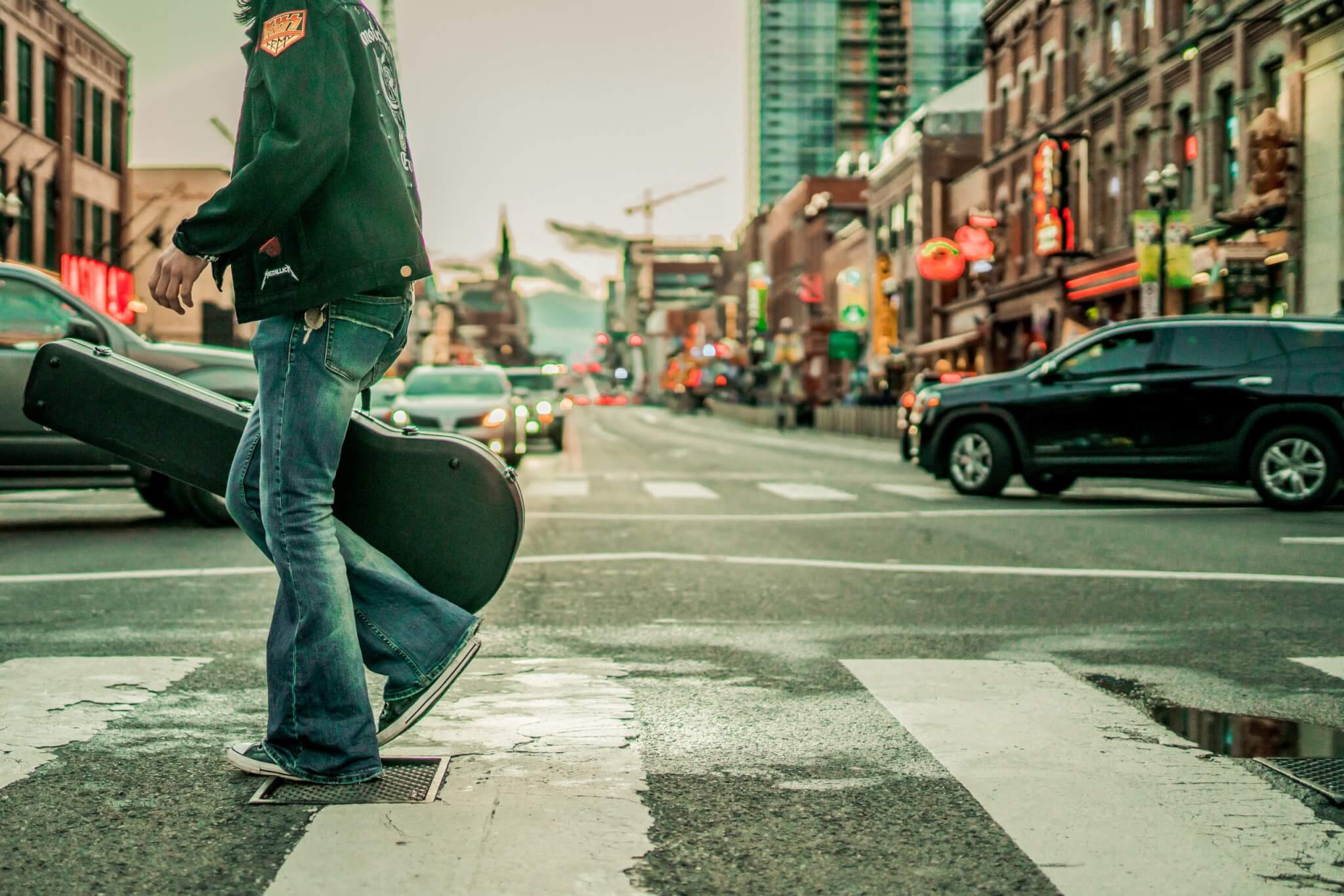 Brentwood
This suburb of Nashville in Williamson County is another highly ranked place to live in Tennessee, known for its hiking trails, rolling hills, and acres of green open spaces. These days it is rated number three in Tennessee by Niche.com, but the area has pulled the number one ranking in the past and still holds as the number one suburb in Tennessee. Brentwood has also made the list for number twenty-one best places to live in America by Money Magazine. There are thirteen parks to enjoy, including Brentwood's largest park, Marcella Vivrette Smith Park, with hiking trails and forested wildlife habitats.
This rich, sought-after, small city boasts a median income three times higher than the state average, top public schools, and low crime rates. However, it also has a high cost of living to match, one of the highest in Tennessee. The median home value in Brentwood, according to Zillow, is $960,269.
Franklin
Another attractive option, located just twenty minutes south of Nashville and named after Benjamin Franklin, is the historically significant city of Franklin. It was nominated as the Best Southern Town by Southern Living. It also made it to the top 100 places to live in the United States, ranked number fifty-two by Livability. Its connection to the Civil War makes it a haven for history buffs. Two must-see historical buildings include the Carnton and the Carter House, which are both open to the public daily for guided tours. There are eight greenways in Franklin, including the 58-acre Jim Warren Park and 34-acre Pinkerton Park trails. The Franklin Theater, with the glow of its marquee and the bustling downtown Main Street district, are worth a visit.
Franklin is dripping in southern charm, culture, nature, festivals, and history, with a picturesque countryside off of the Natchez Trace Parkway to boot. Based on Zillow, the average value of a home in Franklin is $678,453.
Germantown
Germantown, a suburb of Memphis located in Shelby County, is also considered one of the best places to live in Tennessee and is ranked number one in the Memphis area by Niche.com. This suburb, only fourteen miles away from Memphis, has top-quality public schools and a low crime rate. There are plenty of historical sites to revel in, such as Old Germantown, Fort Germantown Park, and the John Gray Historic House.
The housing is more affordable with a considerably lower cost of living than other popular places to live in Tennessee, all while maintaining one of the higher incomes of the state. The typical value for a home in Germantown, according to Zillow, is $435,939.
Tennessee real estate brokers to follow on Instagram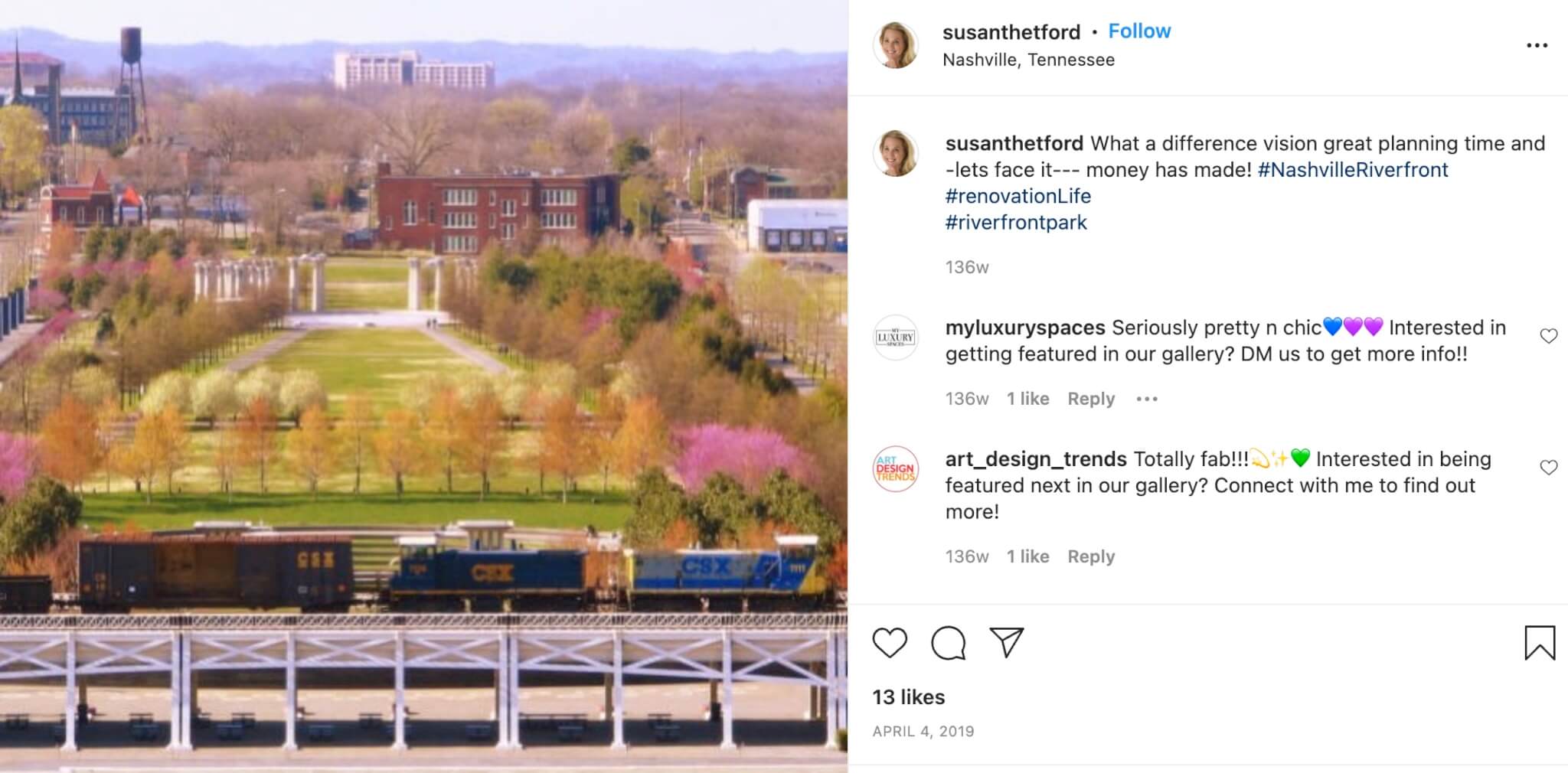 Do you want to get insider information on Nashville from someone who is truly local? Susan Thetford is a Nashville native, "unicorn realtor." She hosts her own show Nashville Redefined, which you can also find on her YouTube channel, "Living in Nashville!" She shares information about the best suburbs of Nashville to live in, the exact costs of buying a home, and everything that Nashville has to offer. Check out her video on why she disagrees with Niche.com's rating for the number one area in Tennessee. susanthetford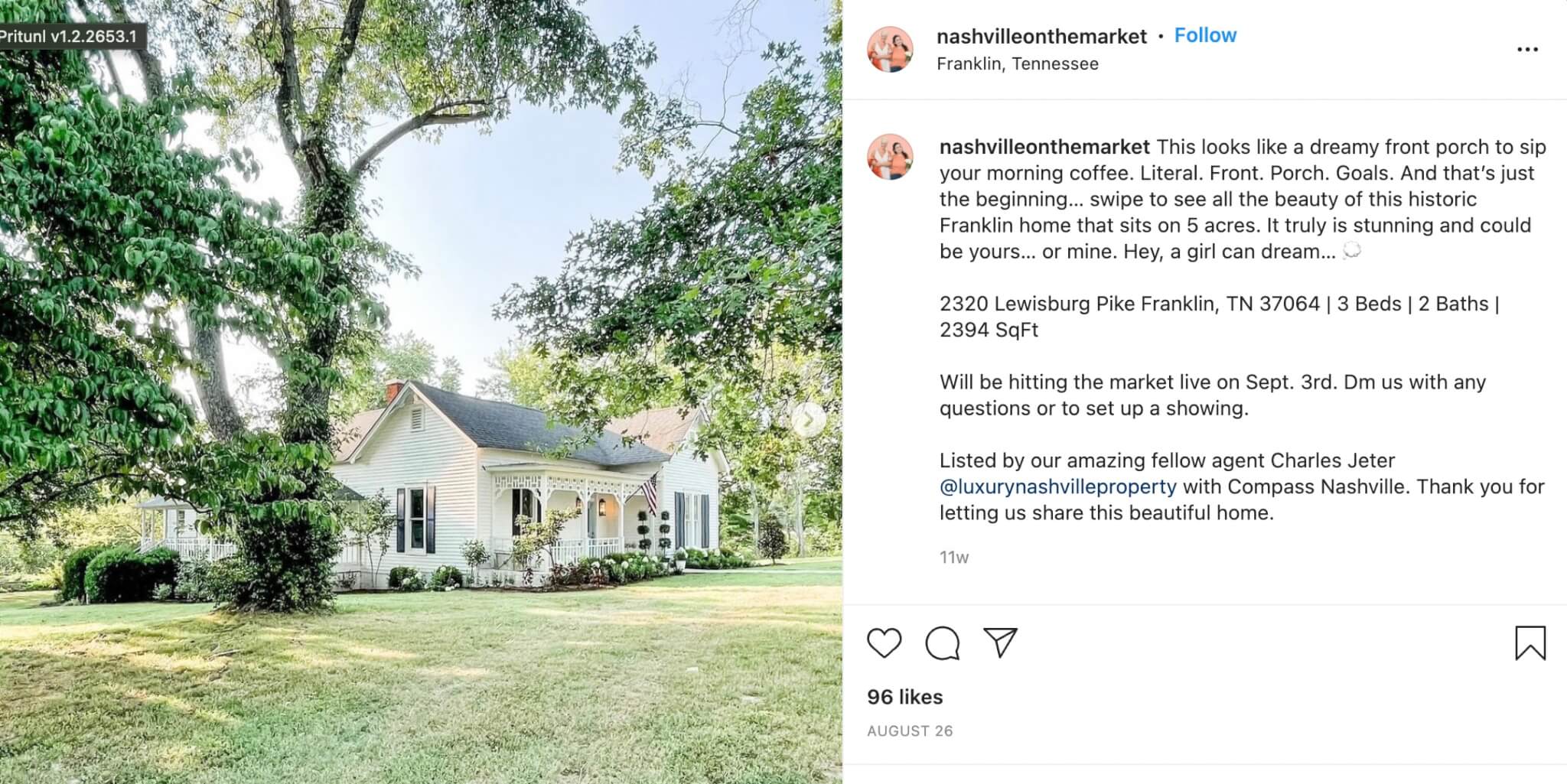 For a dynamic duo that will help you find boutique real estate on the Nashville market, check out Lisa Stigliano and Sammi Hoffman. Their listings include modern end unit townhome minutes from Brentwood, Nolensville & Lenox Village, high-rise condo residences in Broadwest and Four Seasons, and stunning historic Franklin homes. They have been featured in Nashville's Top 20 Real Estate Agents on Social Media! nashvilleonthemarket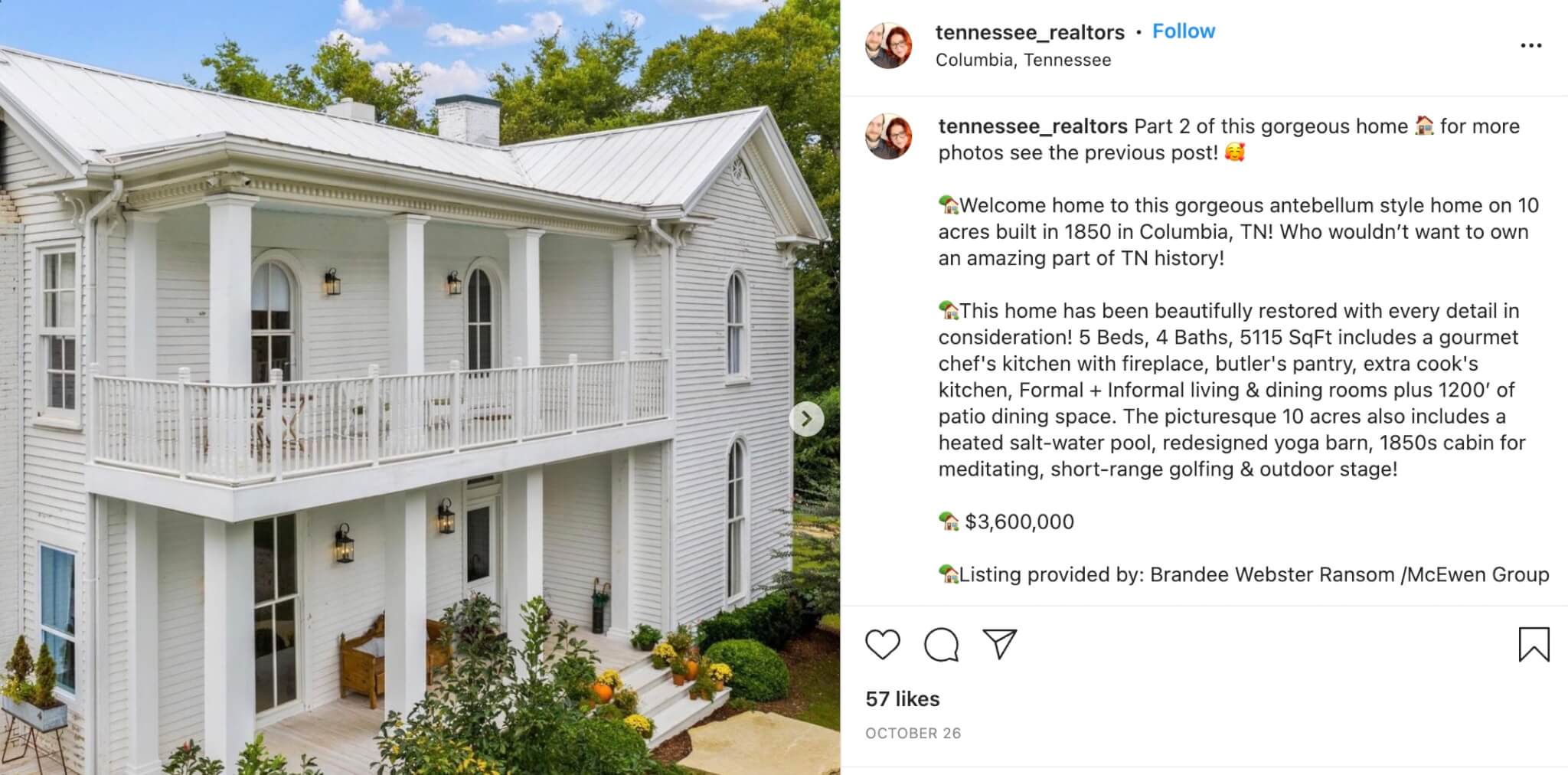 Anthony and Brittany Parker are realtors helping you buy and sell homes, land, farms, or homesteads in Middle Tennessee. Their IG page features fifty-three-acre farmhouses, expansive historical homes, and town tours of charming places like Bell Buckle. Listings include gorgeous antebellum homes and ranch homes in Columbia, a lovely historical garden home in Franklin, and a quaint Leipers Fork retreat. tennessee_realtors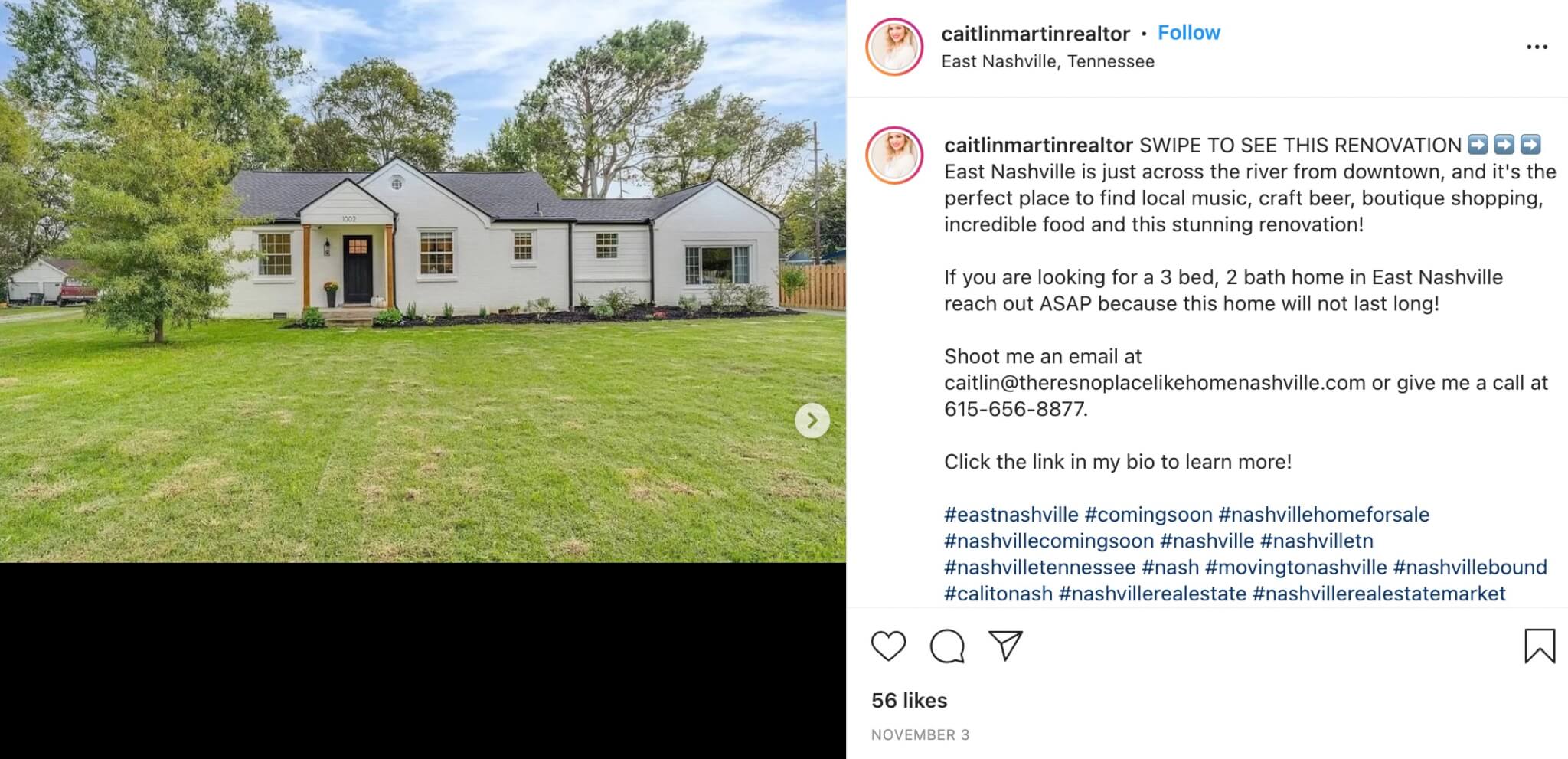 Caitlin Martin is a relocation specialist and real estate negotiation expert based in Franklin, Tennessee. Her IG page features savvy seller tips, buyer tips, and information on Franklin and Nashville. Her listings include stunning, renovated homes in East Nashville and gorgeous farmhouses with rustic detailing. She provides comparative market analysis for free. caitlinmartinrealtor
Random facts that make Tennessee a fascinating place
A "reelly" interesting lake
One of the state's lakes has not always been there. Several serious earthquakes created Reelfoot Lake along the New Madrid fault line between 1811 and 1812. These earthquakes actually caused the Mississippi River to flow backward! Reelfoot Lake is actually a flooded forest with an ecosystem unlike any other in Tennessee.
Holy smokes!
The most visited and most impressive national park in the United States is the Great Smoky Mountains National Park. It has also been called the Salamander Capital of the World because it has over thirty species of salamanders in the park alone. It is also the most biodiverse national park of the entire National Park system, with over 19,000 documented species.
Live since 1925
Broadcast every weekend since 1925, the Grand Ole Opry is the longest continuously running live radio program in the world! The Grand Ole Opry is famous for putting country music on the map. Check out live performances, tours, and other ways to experience the Opry.
The Lost Sea
Sweetwater, Tennessee, is the home of The Lost Sea. It is the largest underground lake in the Northern Hemisphere, 140 feet underground, and is listed in the Guinness Book of World Records for being the largest underground lake in the United States. The Lost Sea is part of the historic Craighead Caverns, used since the days of the Cherokee Native Americans and later by Confederate soldiers during the Civil War.
---
BTW, we've started offering car insurance in Tennessee! Woohoo! Learn more about our brand-new, earth-loving coverage here.