The Truth About Earthquake Insurance
Is earthquake insurance really worth it?
Earthquakes' potential for catastrophic destruction makes them intriguing and mysterious, especially since we have no real way to predict when they'll take place. Beyond the major ones receiving international attention, many small, undocumented earthquakes go unreported and cause trouble for homeowners and renters all over the US.
There have been well over 50,000 earthquakes in the past 365 days, according to Earthquake Track, so when it comes to protecting your home and personal property against earthquakes, you want to be properly covered for loss, no matter the strength on the Richter scale.
We're here to answer your biggest questions about earthquake insurance – here's what we'll cover:
What is earthquake insurance?
Earthquake insurance reimburses you for damage caused by earthquakes, from damage to your home and personal property, to temporary living arrangements. It's available in most states as an add on to your homeowners insurance policy, or you can buy it from a carrier that specializes in selling earthquake coverage.

Geography 101: An earthquake is an intense shaking of the earth's surface, caused by fractures in the earth, aka fault lines, which can be devastating to a home's structure and extended property. 148 million Americans are at risk of damage from earthquakes, and fault lines aren't the only cause of earthquakes – fracking and mining also cause quakes in parts of Oklahoma, for instance.
The potential cost of earthquake-related damage has steadily grown as buildings get older, and more urban developments are popping up in areas that are at high risk for earthquakes.
Does homeowners and renters insurance cover earthquakes?
No. Homeowners and renters insurance policies do not cover damage caused by earthquakes, so if you live in a high-risk area, you'll likely need to buy a separate earthquake insurance policy, along with your base homeowners or renters insurance policy. 
Some homeowners insurance policies might cover damages caused by a fire following an earthquake, which is a common consequence of an earthquake.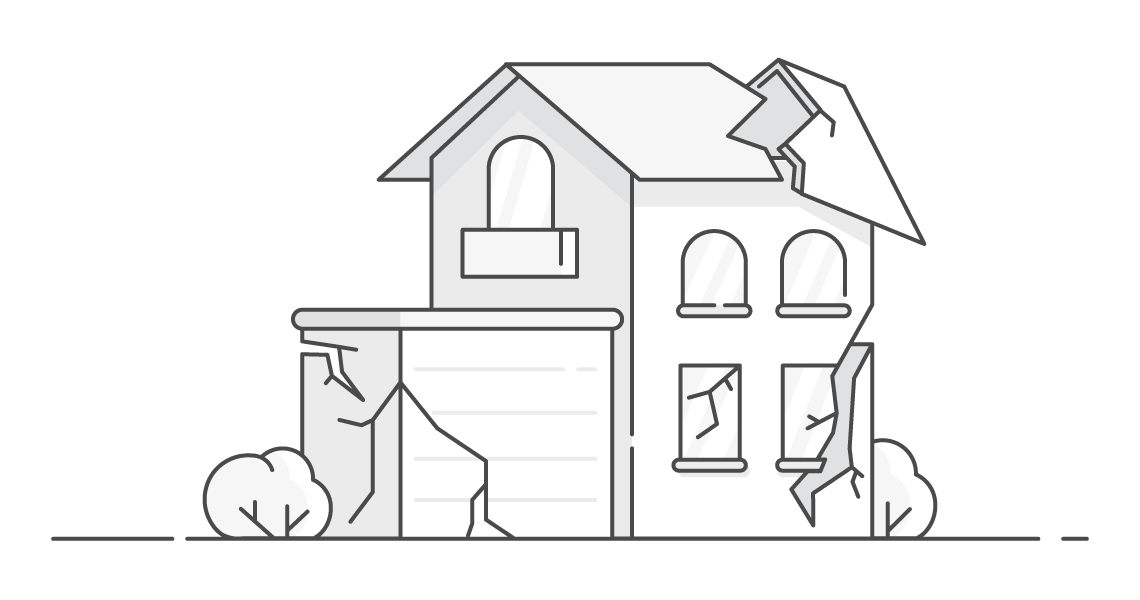 What does earthquake insurance cover?
If an earthquake strikes, your policy will cover:
1. Dwelling coverage: If you are a homeowner, this covers damage to your home and extended structure, like a garage or swimming pool.

2. Personal property coverage: Reimbursement for the replacement cost of your damaged property.

3. Loss of use coverage: Any additional expenses you might need, like a hotel, takeout, and parking if you can't stay in your home.
FYI, your earthquake insurance policy won't cover damage due to:
Floods

Sinkholes

Vehicle damage

Fires
Earthquake insurance and deductibles
Quick recap: an insurance deductible is the amount of money you choose when purchasing a policy that will be subtracted from any future claims payouts.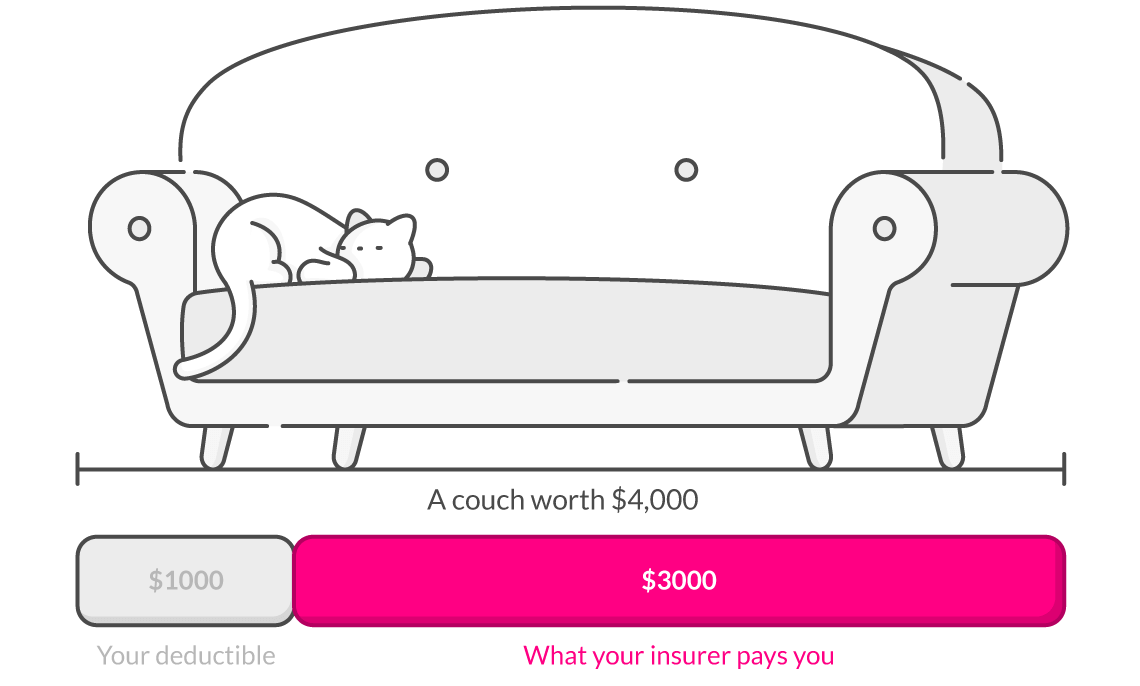 When it comes to earthquake insurance, deductibles tend to be high, somewhere between 15-20 percent of your dwelling coverage limit. Cities built closer or on active fault lines will have higher deductibles, so you'll end up paying more out of pocket if you file an insurance claim.
So let's say your dwelling coverage is $200,000, and you have a 20 percent deductible. If you file a claim for $200,000 for damage to your home, you're responsible for paying $40,000 before your insurance kicks in.
How much does earthquake insurance cost?
The average cost of earthquake insurance in the US is $800 per year. Keep in mind that insuring a single-family house in California can cost more — between $1,248 to $2,744 annually for $500,000 of coverage.
However, the exact price of an earthquake insurance policy will depend on your coverage limits, deductibles, and several other factors, including:
Zip code

Age of home

Distance to fault lines

The material your house is made of

How much it would cost to rebuild your home
Btw, residents of California can use the California Earthquake Authority's (CEA) premium calculator to get an estimate of how much earthquake insurance will cost.
Do I need earthquake insurance?
It depends. Earthquake insurance isn't mandatory, but depending on where you live, your home might be at risk of suffering irreparable damage. California law requires homeowners insurance companies to offer add-on earthquake coverage, but there's no law forcing anyone to actually purchase a policy.
A mere 13 percent of Californians purchase earthquake insurance because people don't think it's going to happen to them, according to California Earthquake Authority CEO Glenn Pomeroy. They also mistakenly believe that homeowners or renters insurance policy will cover them for earthquake damage.
While people tend to think only the state of California is high-risk, there are actually 42 other states that are also at risk for earthquakes, 16 of which see a registered magnitude six or greater quakes on the Richter scale.
If you don't have the money put aside to rebuild your home, repurchase your personal belongings, and pay for temporary living costs, you should definitely consider purchasing an earthquake insurance policy. Don't forget, that budget would be on top of continued costs to pay off your mortgage, even if your home has been completely destroyed.
FYI: If an earthquake has just occurred in your area, insurers typically won't sell new policies for a couple of months.
Is earthquake insurance worth it?
Some argue the high price of deductibles and premiums make earthquake insurance costly – and therefore not worth the money.
To figure out if an earthquake insurance policy is worth it for you, start by establishing the potential risk of where you live. Use this map by the United States Geological Survey to figure out the probability of an earthquake happening in your area (you might be surprised to find you're closer to a fault line than you thought).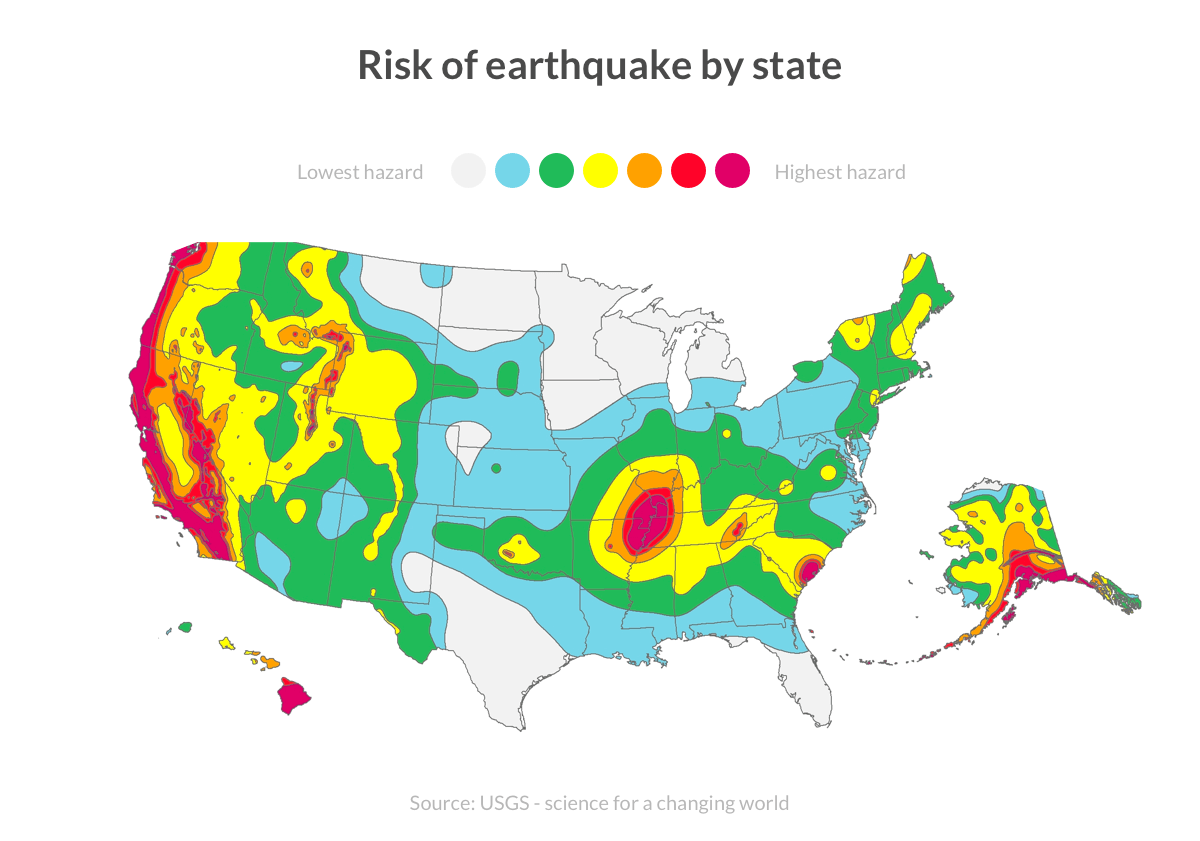 The further you are from a fault line, the cheaper a policy, so you may decide it's worth purchasing a policy for around $25 a month for peace of mind.
Where can I buy earthquake insurance?
There are dozens of insurers that offer earthquake insurance as an add-on on their standard homeowners policies. If you're interested in adding coverage to your policy, ask your insurance company if they offer Earthquake Insurance in your state, and how much it will add to your monthly premiums.
At Lemonade, we offer Earthquake Insurance for our California homeowners insurance policyholders through our partners, Palomar, for just a few extra bucks a month. This add-on extends coverage for your stuff for any physical damage by an earthquake event.
It's worth noting that a base policy Lemonade already covers direct loss caused by fire, explosion, or theft resulting from earthquakes.
Don't leave yourself at risk
Banks require homeowners to buy flood insurance if they live in flood zones, but the same doesn't apply for earthquake insurance. Because of this, homeowners often leave their homes with no contingency plan.
If you live on a fault line or near areas that experience fracking, it's worth purchasing earthquake insurance. And of course, always have a renters or homeowners insurance policy in place, which will help protect you against other perils, from vandalism and theft to windstorms and certain types of water damage.
Which states currently offer Lemonade homeowners insurance?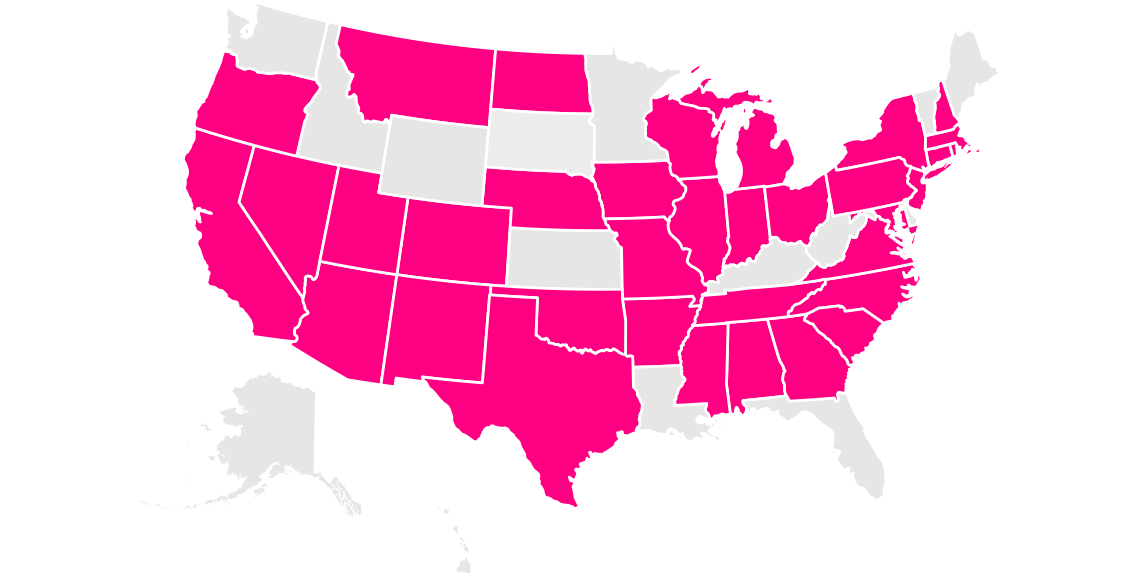 Arizona, California, Colorado, Connecticut, Georgia, Illinois, Indiana, Iowa, Maryland, Massachusetts, Michigan, Missouri, Nevada, New Jersey, New York, Ohio, Oklahoma, Oregon, Pennsylvania, Tennessee, Texas, Virginia, Washington, D.C. (not a state…yet), and Wisconsin.