Boston Renters Insurance Guide
Cover your stuff in Beantown.
Whether you are in Boston to study, start a new chapter, or work—you'll want to have the best renters insurance coverage possible.
Boston is ranked as the eighth best place to live and the tenth largest city in the United States by the U.S. News and World Report, with an estimated population of 687,257 people. We personally think it's one of the best cities for young professionals in the entire country.
While Boston living is pretty awesome, you'll want to get the facts for protecting your stuff with renters insurance. We will also show you some of the best Boston neighborhoods for renters to live in so you can uncover some hidden gems in Boston.
Here's what we'll cover:
What does renters insurance cover in Boston?
You've found your perfect apartment in Boston and are ready to sign a lease! Congrats!
We know that apartment hunting is no simple task., especially in a centrally-located neighborhood in very high demand. Before you head out to shop for furniture to hang photos, you should consider getting quality renters insurance in Boston and find out how much it covers to guarantee your dream rental doesn't become a nightmare.
We'll break down the components of what your insurance policy covers (and what it doesn't) as well as your coverage options.
Personal Property
Personal property coverage protects your personal belongings, whether you're relaxing at your apartment or traveling across Europe. For instance, if your living room furniture is ruined due to water damage from a burst pipe or your phone is stolen while taking a trip to Berlin, your renters' insurance policy will cover the replacement cost.
Loss of Use
What happens when a disaster strikes? If you cannot stay in your home due to a covered loss (such as a fire or windstorm), your 'loss of use coverage reimburses you for temporary housing and additional living expenses such as food, laundry, hotel parking, and more.
Liability Coverage
Injuries do happen. If someone is injured in your apartment or anyone on your policy damages someone else's property or belongings, your insurance company should cover legal fees and property damage.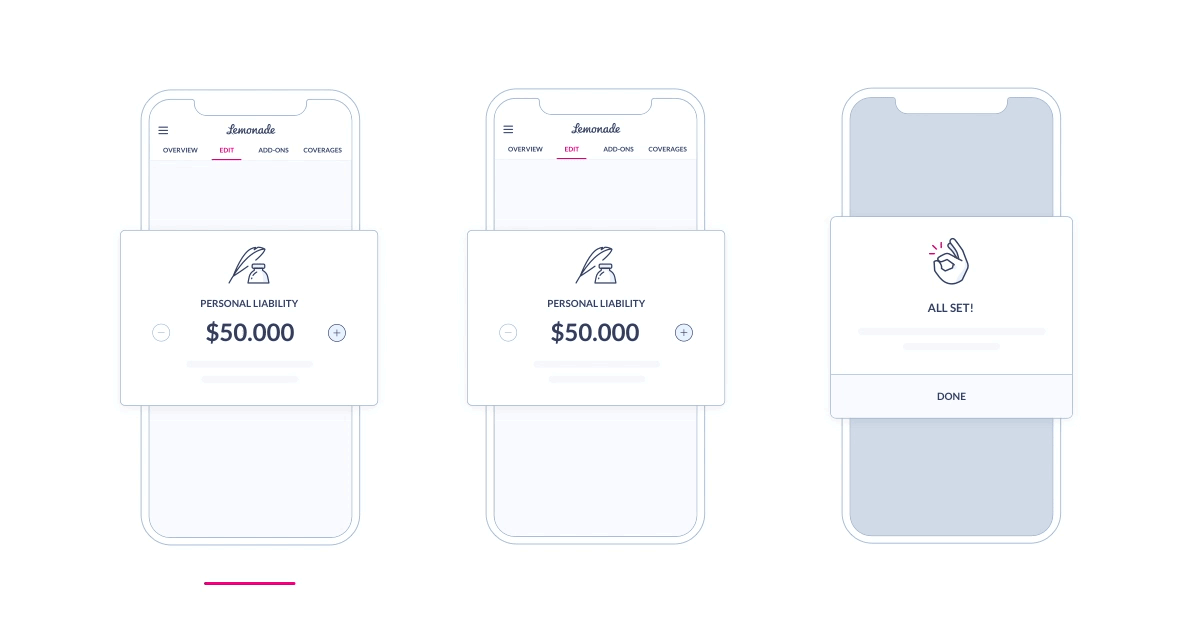 Medical Protection
Your insurance provider will cover medical expenses if your guests are injured at your home or if you accidentally injure people outside your home. It is important to note that your renter's insurance policy does not cover medical expenses if you or your roommates are injured—only non-residents and guests are protected.
Is renters insurance required in Boston?
Renters insurance is not mandatory when leasing an apartment or a home in the state of Massachusetts. Nevertheless, your landlord can ask you to buy a policy before signing your lease.
Fortunately, you can quickly sign up for a renters insurance policy with Lemonade. When you are finally insured, you will be very thankful for your coverage should your stuff get stolen or damaged. Trust us! When signing up, your landlord may ask to be added as an interested party on your policy.
They will be notified when you make any changes or cancellations with your policy. The Lemonade app makes it super easy for you to add them.
How much does renters insurance cost in Boston?
On average, renters insurance in Boston will set you back around $22 a month, or around $264 a year.
The exact cost of your renters insurance will depend on your personal property coverage amount, your liability and medical bills coverage, your deductible, as well as any Extra Coverage you might want to sign up for (more on that below).
What's the right amount of coverage to get?
There isn't an easy answer to this question. It depends on how many things you have to cover and their value. As mentioned before, your policy has a few main categories: Contents (your stuff); Loss of Use (temporary living expenses); and then personal liability and medical bills.
The good news is that you'll be able to set coverage limits for these categories once you've signed up for a Lemonade policy. Although lower coverage limits might save you a few dollars on your monthly insurance premiums, they may also leave you with insufficient coverage when you need to make a claim. You will also need to determine your deductible. It's a balancing act that requires you to consider your property and lifestyle. It literally takes minutes to apply to see your renters insurance quote. That way, you can also get a sense of your insurance options.
If you have valuables that are expensive or very important to you – engagement rings, an heirloom, musical instruments, fancy artwork, or high-end digital cameras – you can add 'scheduled personal property coverage' for those items. At Lemonade, we call it 'Extra Coverage'—here's a lot more info about that.
The best neighborhoods for renters in Boston
East Boston
Perfect for young professionals who want to save a little while enjoying the fantastic skyline view of Boston!
Nicknamed Eastie, East Boston is quickly gaining prominence with a great view of the city and the Atlantic ocean. It is also conveniently close to Logan airport, making it ideal for those with wanderlust – just a few minutes in your car, and you can see the world.
The waterfront in East Boston is a place worth exploring. The Constitution Beach is great for swimming; the Belle Isle Marsh Reservation is teeming with wildlife; and the Piers Park Sailing Center is great for swimming, sailing, and scuba diving. Embark on an experience of a lifetime on the Boston seaside–ahoy!
Charlestown
There are several famous games and movies filmed in Charlestown, including Good Will Hunting, The Town, Fallout 4, and Assassin's Creed 3. More importantly, though, it's a place with a lot of historical significance. The American Revolutionary War began in Charlestown in 1775 with the Battle of Bunker Hill.
In Boston's oldest neighborhood, you can see the Bunker Hill Monument, the U.S.S. Constitution, the Charlestown Navy Yard, and St. Catherine of Siena Catholic Church. However, it's also a really vibrant district with fantastic stores, eateries, and the Warren Tavern, the city's oldest bar. Even so, once you move there, you won't be visiting the main historical attractions there as much.
You won't need to drive around as much since public transportation is very reliable and most things are within walking distance.
Charlestown's welcoming community complements its wonderful mix of renovated, luxurious, modern waterfront homes and historical, brick, wood-frame vintage townhouses.
Whether you are a history fanatic, a young family looking for good schools, or want to live in a quiet yet convenient location, Charlestown is worth looking into.
Jamaica Plains
Perfect for students, young professionals, and families wishing to experience the artistic side of Boston.
Often referred to as J.P., Jamaica Plains is one of the first streetcar suburbs in America. Today, though, Converse, bicycles, and Subarus are commonplace on its streets. Whether you're looking for an artsy spot to hang out or scouting for some of the best thrift shops in Boston, this neighborhood has everything you need. Center Street is the area's central shopping hub.
Weekend activities include yoga and meditation courses, farmers' markets, and music festivals.Apart from the colorful street art, there is plenty of greenery too. It's one of Boston's greenest neighborhoods. J.P. is surrounded by Franklin, Jamaica Pond, and Olmstead Parks, three of Boston's renowned Emerald Necklace parks.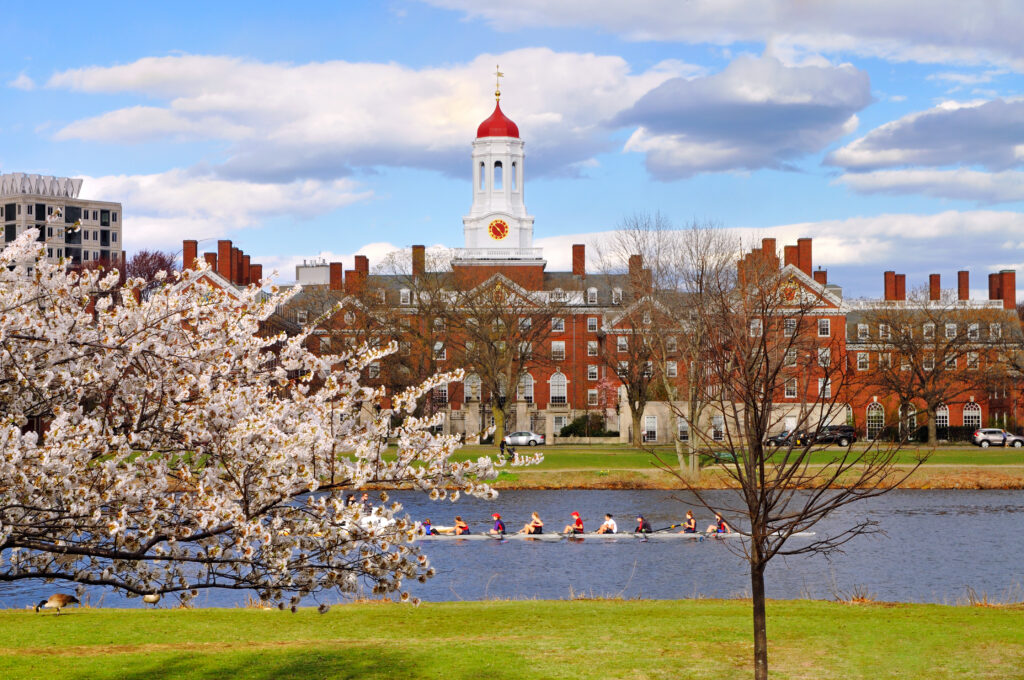 Cambridge
Perfect for college students and young professionals who work in Boston or Cambridge, but seek a more laid back lifestyle.
Dubbed as the Intellectual Capital of the Word, Cambridge provides a tranquil small-town atmosphere without losing the convenience of metropolitan living.
Some of the best educated Americans reside in this region, contributing to the people's general progressive, liberal, and civic-minded outlook.
About 30% of Cambridge's population was born outside of the country, making this neighborhood very diverse. If you are concerned about the environment, you'll be pleased to know that the city laws support clean energy, mass transit, cycling, and walking. Cambridge is the perfect location to explore, unwind, or enjoy the outdoors, thanks to the top-notch schools and a 5-star Safety rating.
Choose from one of the 16 nearby public parks and open areas, or go with the crowd at North Point Park for the best night-time view of Boston. You can enjoy boating, rowing, and entertaining events like the Head of the Charles Rowing Competition and the Dragon Boat Festival all year long on the Charles River.
These Boston businesses will make your rental a home
Random facts that make Boston great
Did you know that Boston was the first city in the U.S. to have a subway system? In 1897, at around 6:00AM, over 100 people boarded the first subway train built in the U.SU.S. To ease congestion on the roads, officials decided to mimic European cities like London and create an underground rail system. Today, Boston's subway system (the "T") transports over 1.3 million people a day!
Want to know today's weather? The Berkley Building has a color-coded weather signal on its roof! And if it is flashing red during baseball season, that means the game has been rained out!
Curious how Boston earned its nickname as Beantown? From Boston's famous baked beans, of course! Since the town's creation, Boston's favorite food has been beans baked in molasses. Sailors and merchants passing through enjoyed this local dish so much that they referred to Boston as "Beantown." It even impressed a tourism slogan within the early 1900's – "You Don't Know Beans Until You Come to Boston."