Massachusetts Renters Insurance Guide
Get your stuff covered in the Bay State.
Looking for renters insurance in Massachusetts? Well, you've come to the right place!
Massachusetts is teeming with natural beauty: dramatic gorges, scenic mountains, majestic peaks, verdant forests, agricultural hamlets, gorgeous trails in the wilderness, pristine seashores, public parks, magical waterfalls, and sparkling lakes, ponds, and rivers.
Massachusetts residents enjoy an intense sports culture, incredible summers, world-famous seafood, top-notch schools and universities, and world-renowned hospitals. The economy is diverse, and the state is rich in history.
Whether you're in Massachusetts to work, study, play, or anything in between, you might want to cover your stuff with renters insurance. We'll take you through the basics of renters insurance coverage and also go through some of the coolest cities and hidden gems to explore in The Bay State and beyond.
What does your renters insurance cover in Massachusetts ?
Okay, so you get that a renters insurance policy is a great idea in theory… but obviously you're curious about what it can actually do for you. Let's break down the components of what your policy covers and your coverage options.
Personal Property
'Personal property coverage makes sure your stuff, your personal belongings, is protected, whether you're relaxing at your apartment or traipsing across Europe. So if your living room furniture is ruined due to water damage from that burst pipe, or your phone is stolen while you're taking a trip to Berlin, your renters insurance policy has your back.
Loss of Use
What about if disaster strikes? If you can't stay at your home because of covered losses (like a fire or windstorm), your 'loss of use coverage provides reimbursements for temporary housing and additional living expenses such as food, laundry, hotel parking, and more.
Liability coverage
If someone is injured in your apartment, or anyone on your policy causes damage to someone else's property or stuff, your insurance company should have things like legal fees and property damage covered.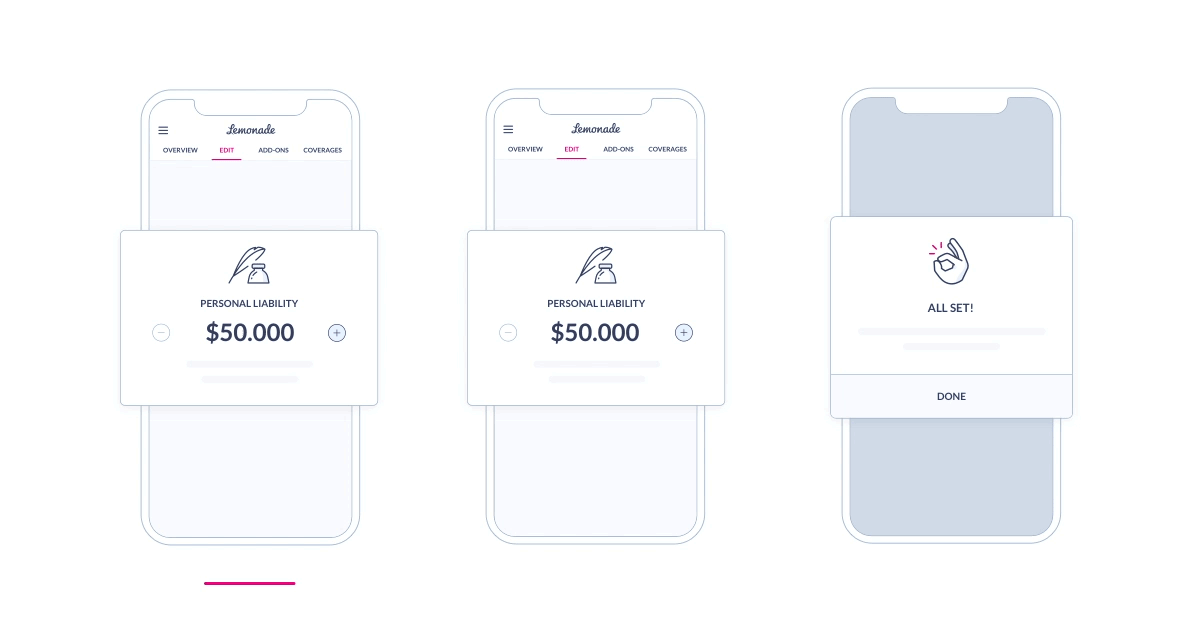 Medical Protection
Your insurer covers medical expenses if your guests get injured at your place or if you accidentally hurt people outside of your home as well. Note that your renters insurance policy does not cover medical payments if you or someone residing with you is injured—only non-residents and guests.
Is renters insurance required in Massachusetts?
While there's no law requiring that you purchase renters insurance in Massachusetts, your individual landlord might specifically require it. And if your lease specifies that you need renters insurance, well… that's that.
The good news is that it's easy to sign up for a renters insurance policy with Lemonade, and you'll thank yourself later if your stuff gets stolen or damaged! When signing up, your landlord might request they be added as an 'interested party' on your policy. This just means they'll be kept in the loop when you make any policy changes—or if you cancel your policy. It's super easy to add them using the Lemonade app.
What's the right amount of coverage to get?
There's no easy answer to that question, and it depends on how much stuff you have to cover and what it's worth. As we discussed above, your policy has a few main categories: Contents (your stuff); Loss of Use (temporary living expenses); and then personal liability and medical bills.
You're able to set the coverage limits for these categories when you sign up for a Lemonade policy. Lower coverage limits might save you a few bucks on your monthly premiums—but they might also leave you with insufficient coverage when you have to make a claim. You'll also need to figure out your deductible. It's a balancing act and one that requires you to think about your property and lifestyle. Take a few minutes to apply to see your renter insurance quote to get a sense of your insurance options.
Also, if you've got valuables that are especially pricey or important—things like engagement rings, fancy cameras, musical instruments, or artworks—you can add 'scheduled personal property coverage' for those items. At Lemonade, we simply call it 'Extra Coverage'—here's a bunch more info about that.
Top Massachusetts rental destinations
Massachusetts boasts the most highly educated population in the nation, some of the freshest seafood in the country, small towns out of a postcard, history wherever you look, and hidden gems around every corner. Residents get to enjoy all four seasons. The state values diversity and is quite the melting pot. These reasons and more make it easy to see why Massachusetts would make for an ideal place to settle down. Whether you're a Boston-based renter looking to protect your pad or looking to lay down roots in other parts of the Bay State, Massachusetts offers a wealth of opportunities to explore.
Brookline
A suburb of Boston located in Norfolk county, Brookline offers the best of both worlds by being close enough to be a convenient commute, while still being far from the city's noisiness. It is the best place to live in Massachusetts, according to Niche.com, and it also ranked at number two for the best schools in the state. The town has excellent educational opportunities and is known to be safe, making it a great place to raise a family.
Brookline is also an excellent place for young professionals and rich with culture and arts. The average cost of a rental in Brookline is $2,495.
Fun fact: Brookline is a lovely name for a lovely town. When the area was first settled in 1638, it was a hamlet called Muddy River. It's a good thing it got a name change.
Places to visit:
John Fitzgerald Kennedy National Historic Site. Norfolk County Massachusetts is a great place for producing presidents! President John F. Kennedy was born in Brookline and one of four presidents born in the area! At the John Fitzgerald Kennedy National Historic Site, you can step into his childhood home. It is both a designated National Historic Landmark and a National Historic Site.
Emerald Necklace. From the heart of Boston and leading into Brookline, you'll find the verdant Emerald Necklace. This historic park system is a chain of 1,100 acres of parkways and waterways. Designed by landscape architect Frederick Law Olmsted, you can go hiking, sailing, play softball, or just connect with nature and people!
Larz Anderson Park. If you're looking for a beautiful green expanse, Larz Anderson Park is the perfect place! The park is 64 acres of waterscapes, landscaped, and wooded parkland. Larz Anderson Park features an ice skating rink, waterways, gardens, playing fields, and picnic areas. Make sure to check out the Auto Museum and Putterham School, which date back to colonial times.
Wayland
This quaint Massachusetts town lies to the west of the Boston metropolitan area. Wayland is the best place to raise a family in Massachusetts and number two best place to live in Massachusetts, according to Niche.com. The town has a colonial character, good schools, quiet streets, and a mix of rural and urban vibes. Its proximity to Boston and Worcester makes it an ideal place for commuters.
The town is full of history, green spaces, and New England countryside charm. The average cost of a rental in Wayland is around $2,900 a month.
Fun fact: Founded in 1848, the Wayland Free Public Library was one of the first free libraries in the United States.
Places to visit:
Great Meadows National Wildlife Refuge. Nature lovers will feel right at home at Great Meadows National Wildlife Refuge. A part of the National Wildlife Refuge System, the refuge protects plants, fish, and wildlife. Nestled along the Sudbury River and Concord River, these 12-mile-long, 3,600 acres of wetlands stretch from Billerica to Wayland. It's an ideal spot for birdwatching!
Mass Audubon's Drumlin Farm Wildlife Sanctuary. Experience life on a farm and visit a wildlife sanctuary at the same time! A short 12-minute drive outside of Wayland, you'll find a tranquil, 291-acre wildlife sanctuary and a working farm that grows crops sustainably. The sanctuary has trails through wetland, forest, and field habitats. Don't miss their annual sheep-shearing festival! The farm also offers educational programs and hosts a summer camp.
Minute Man National Historical Park. History buffs will appreciate the Minute Man National History Park, which commemorates the opening battle of the American Revolutionary War. The park protects an expanse of 970 acres of land in Massachusetts, including Wayland. Explore battlefields brought to life and pay witness to the American revolutionary spirit!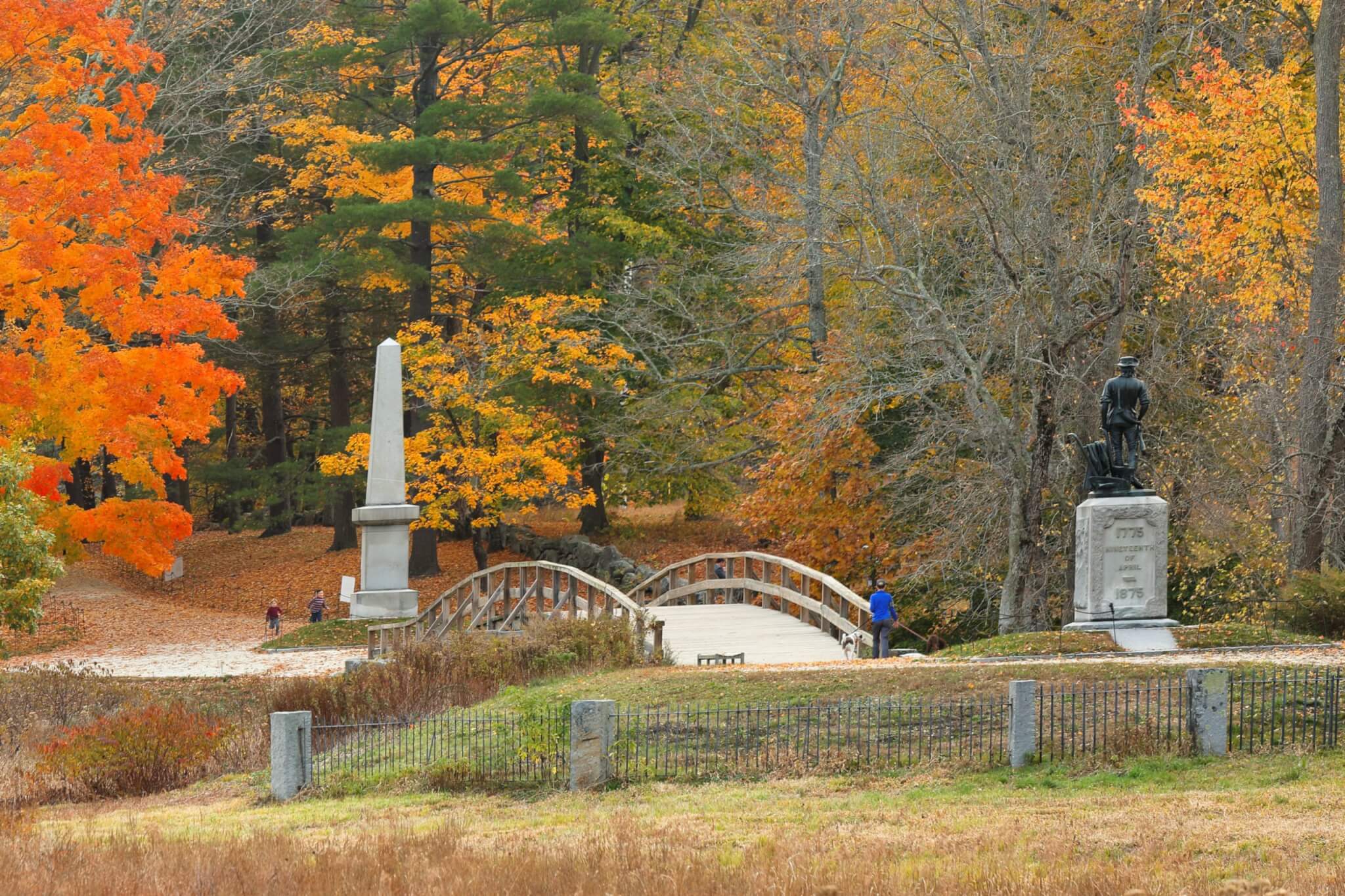 Cambridge
Cambridge has a lot going for it, with high educational standards, fantastic job opportunities, and excellent public transportation. It is the fifth-best city to live in the entire United States and the third best place to live in Massachusetts according to Niche.com. Cambridge is best known for its college communities around Harvard and MIT.
Besides its excellent schools, Cambridge stands out for its diversity, walkability, culture, history, and eco-consciousness. The average cost for a rental in Cambridge is approximately $2,966 per month.
Fun fact: Cambridge (known as Newtown at the time) was founded to be the capital of Massachusetts. But Governor John Winthrop changed his mind at the last minute, choosing Boston because of its proximity to the sea.
Places to visit:
Harvard Art Museums. The Harvard Art Museums are three museums perfect for art, history, and culture lovers! The Fogg Museum has paintings, prints, photographs, and sculptures, from the Middle Ages to contemporary times on display. The Busch-Reisinger Museum is unique in that it exclusively exhibits art from German-speaking countries. The Arthur M. Sackler Museum displays art from countries in Asia. Check out their current exhibitions!
Fresh Pond Reservation. Practical and beautiful, the Fresh Pond Reservation is not only an attractive place for activities, but it's also the natural source of public drinking water! This park and reservoir is a 155-acre lake encompassed by 162 acres of land. The trail around the lake's perimeter is perfect for walking, running, or cycling. You can also enjoy a round of golf or ice skating in the winter.
Central Square Historic District. Listed on the U.S. National Register of Historic Places, the Central Square Historic District is a cultural hub in Cambridge. This vibrant district serves as the traditional downtown, and is home to diverse shops, ethnic restaurants, bars, historic churches, theater venues, and live music. Nestled between MIT and Harvard, it is not to be missed!
Lexington
Located in Middlesex County and only 11 miles from Boston, Lexington is a safe town with a high-quality public school system. It ranks as the top city for the best public schools in Massachusetts, and is ranked as the third best place to raise a family in the state, and the fourth best place to live in Massachusetts according to Niche.com. Lexington is full of history, with landmarks at every corner.
The "Birthplace of American Liberty" is rich in history, culture, and highly rated restaurants. The cost for a rental in Lexington is $2,400 on average.
Fun fact: In 1642, Lexington was initially settled as a part of Cambridge. It was only in 1713 that Lexington was incorporated as its own town.
Places to visit:
Lexington Green. A major historic landmark, also known as Lexington Common, Lexington Green is the site of the first battle between the Redcoats (British soldiers) and the Minutemen (revolutionary colonial soldiers) during the Revolutionary War. Pay homage by visiting Henry H. Kitson's Minuteman Statue, the oldest monument in the country.
Buckman Tavern. Walk into living history at Buckman Tavern, one of the few standing colonial area buildings. This historic tavern was used by the Lexington Militia in 1775, and is now a museum. While you're in the area, check out Hancock-Clarke House and Munroe Tavern, where you can walk in the footsteps of America's forefathers!
Wilson Farm. Wilson Farm was founded by Irish immigrants in 1884. The farm is 33 acres in Lexington and 500 acres in Litchfield, New Hampshire. The farm is committed to Integrated Pest Management (IPM), which produces high-quality plants while reducing chemical pesticide use. The farm sells top-tier produce, and sells award-winning baked-goods, fine foods, a cheese shop, and plenty of scrumptious, seasonally-inspired food prepared by the staff chef.
Other cities or towns to consider:
Cochituate: Located in Middlesex County, Cochituate is the second-best place to raise a family and the fifth-best suburb to live in Massachusetts, according to Niche.com. The suburb has beautiful state parks and beaches. Average rent: $2,380.
Newton: 11 miles west of Boston, lies this lovely town full of nature and museums. Newton ranks at number five for the best public schools and the sixth-best suburb to live in Massachusetts, according to Niche.com. It's home to Oscar-winning screenwriters and influential authors such as Harriet Beecher Stowe, Isaac Assimov, and Ralph Waldo Emerson. Average rent: $2,200.
Belmont: Another western suburb of Boston, Belmont is a town in Middlesex County. Belmont ranks at number seven for the best suburbs for young professionals, and as the seventh-best suburb to live in Massachusetts, according to Niche.com. The town has excellent schools and plenty of green space. Average rent: $1,850.
By the way, we just started offering Lemonade Pet Insurance in Massachusetts. Learn more about covering your four-legged bestie, wicked fast.