Maryland Renters Insurance Guide
Get your stuff covered in the Bay State.
Looking for renters insurance in Maryland? Well, you've come to the right place!
Maryland is teeming with natural beauty: impressive waterfalls, bright sunflower fields, sweet lavender farms, mysterious caverns, remarkable cliffs, scenic rivers, white sandy beaches, a beautiful canal, deep lakes, expansive state parks, wetlands filled with wildlife, and rugged trails with stunning views of the Potomac River.
Maryland residents enjoy diverse regions—all within the state's borders. Eastern, western, southern, central, and suburban Maryland all have something to offer. Whatever you crave, you can find it in this state. There are many quaint small towns, rich history and unique culture, plenty of employment opportunities, world-class hospitals, and a bunch of museums.
Whether you're in Maryland to work, study, play, or anything in between, you might want to get your stuff covered with renters insurance. We'll take you through the basics of renters insurance coverage and also go through some of the coolest cities and hidden gems to explore in the Free State and beyond.
What does your renters insurance cover in Maryland ?
Okay, so you get that a renters insurance policy is a great idea in theory… but obviously you're curious about what it can actually do for you. Let's break down the components of what your policy covers and your coverage options.
Personal Property
'Personal property coverage makes sure your stuff, your personal belongings, is protected, whether you're relaxing at your apartment or traipsing across Europe. So if your living room furniture is ruined due to water damage from that burst pipe, or your phone is stolen while you're taking a trip to Berlin, your renters insurance policy has your back.
Loss of Use
What about if disaster strikes? If you can't stay at your home because of covered losses (like a fire or windstorm), your 'loss of use coverage provides reimbursements for temporary housing and additional living expenses such as food, laundry, hotel parking, and more.
Liability coverage
If someone is injured in your apartment, or anyone on your policy causes damage to someone else's property or stuff, your insurance company should have things like legal fees and property damage covered.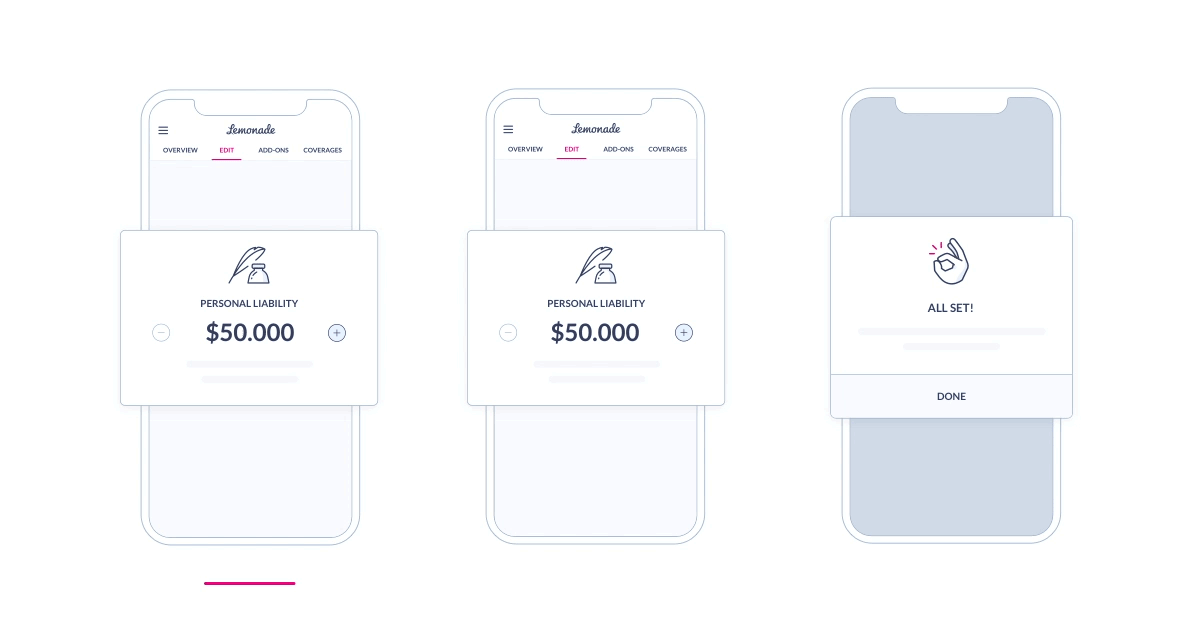 Medical Protection
Your insurer covers medical expenses if your guests get injured at your place or if you accidentally hurt people outside of your home as well. Note that your renters insurance policy does not cover medical payments if you or someone residing with you is injured—only non-residents and guests.
Is renters insurance required in Maryland?
While there's no law requiring that you purchase renters insurance in Maryland, your individual landlord might specifically require it. And if your lease specifies that you need renters insurance, well… that's that.
The good news is that it's easy to sign up for a renters insurance policy with Lemonade, and you'll thank yourself later if your stuff gets stolen or damaged! When signing up, your landlord might request they be added as an 'interested party' on your policy. This just means they'll be kept in the loop when you make any policy changes—or if you cancel your policy. It's super easy to add them using the Lemonade app.
What's the right amount of coverage to get?
There's no easy answer to that question, and it depends on how much stuff you have to cover and what it's worth. As we discussed above, your policy has a few main categories: Contents (your stuff); Loss of Use (temporary living expenses); and then personal liability and medical bills.
You're able to set the coverage limits for these categories when you sign up for a Lemonade policy. Lower coverage limits might save you a few bucks on your monthly premiums—but they might also leave you with insufficient coverage when you have to make a claim. You'll also need to figure out your deductible. It's a balancing act and one that requires you to think about your property and lifestyle. Take a few minutes to apply to see your renter insurance quote to get a sense of your insurance options.
Also, if you've got valuables that are especially pricey or important—things like engagement rings, fancy cameras, musical instruments, or artworks—you can add 'scheduled personal property coverage' for those items. At Lemonade, we simply call it 'Extra Coverage'—here's a bunch more info about that.
Top Maryland rental destinations
Often called "American in Miniature," Maryland boasts several beautiful beaches and parks, highlighting the region's geographic diversity and offering something different everywhere you go. The state is conveniently close to several major cities, like Washington D.C. and New York City. Residents enjoy charming apartments and lofts, excellent food, a temperate climate, and some of the nation's best schools, colleges, and universities. These reasons and more make it easy to see why Maryland would make for an ideal place to settle down. Whether you are a native-born Maryland resident or part of the growing influx of new residents, it's worth finding out why Maryland is such a great place to live.
North Potomac & Potomac
The scenic suburban North Potomac is the number one best place to live in Maryland, according to Niche.com, and the best place to raise a family. North Potomac has top-notch schools, a thriving job market, and low crime rates. Potomac is also one of the best places to raise a family, and comes in at number two for the best schools in Maryland.
Due to their proximity to Washington D.C., both Potomac and North Potomac draw families and professionals looking to reap the best of both worlds. The average cost of a rental in North Potomac is $1,680, and in Potomac, it's $1,540.
Fun fact: Algonquians used to call the river of the area Cohongorooton, or "river of geese," due to the abundance of swans and geese. The spelling was simplified and transformed in the 18th century from Patawomeke to Patowmack to what is now Potomac.
Places to visit:
Muddy Branch Greenway Trail. If a scenic trail to hike is your idea of a good time, Muddy Branch Greenway Trail is the perfect place for you. You can traverse diverse ecosystems and terrain from streambanks and meadows to the rocky upland forest to rich vernal pools. There are also earthen mill remnants. Make sure to stop by the historic Blockhouse Point Conservation Park or cross over to Pennyfield Lock and the C & O Canal on the way!
Aberdeen Local Park. This 14.5-acre park is packed with outdoor activities, many of which are also accessible to wheelchair users. The accessible amenities include two tennis courts, a basketball court, a gazebo, and a playground. You can also toss balls at the sand volleyball court or take a stroll along the paved trails. Bring your lunch for a picnic or something savory to throw on the onsite grills!
Mather Gorge. Located south and just downriver of the Great Falls on the narrowest section on the lower Potomac River, the Mather Gorge is a national treasure abundant with rare plant life, wild animals, and fish. There is the Billy Goat Trail on the Maryland side, and on the Virginia side, the River Trail. Take in the stunning view of the Mather Gorge from the Great Falls Overlook, the Billy Goat Trail, or get immersed by rock climbing or paddling if you're looking for a real adventure!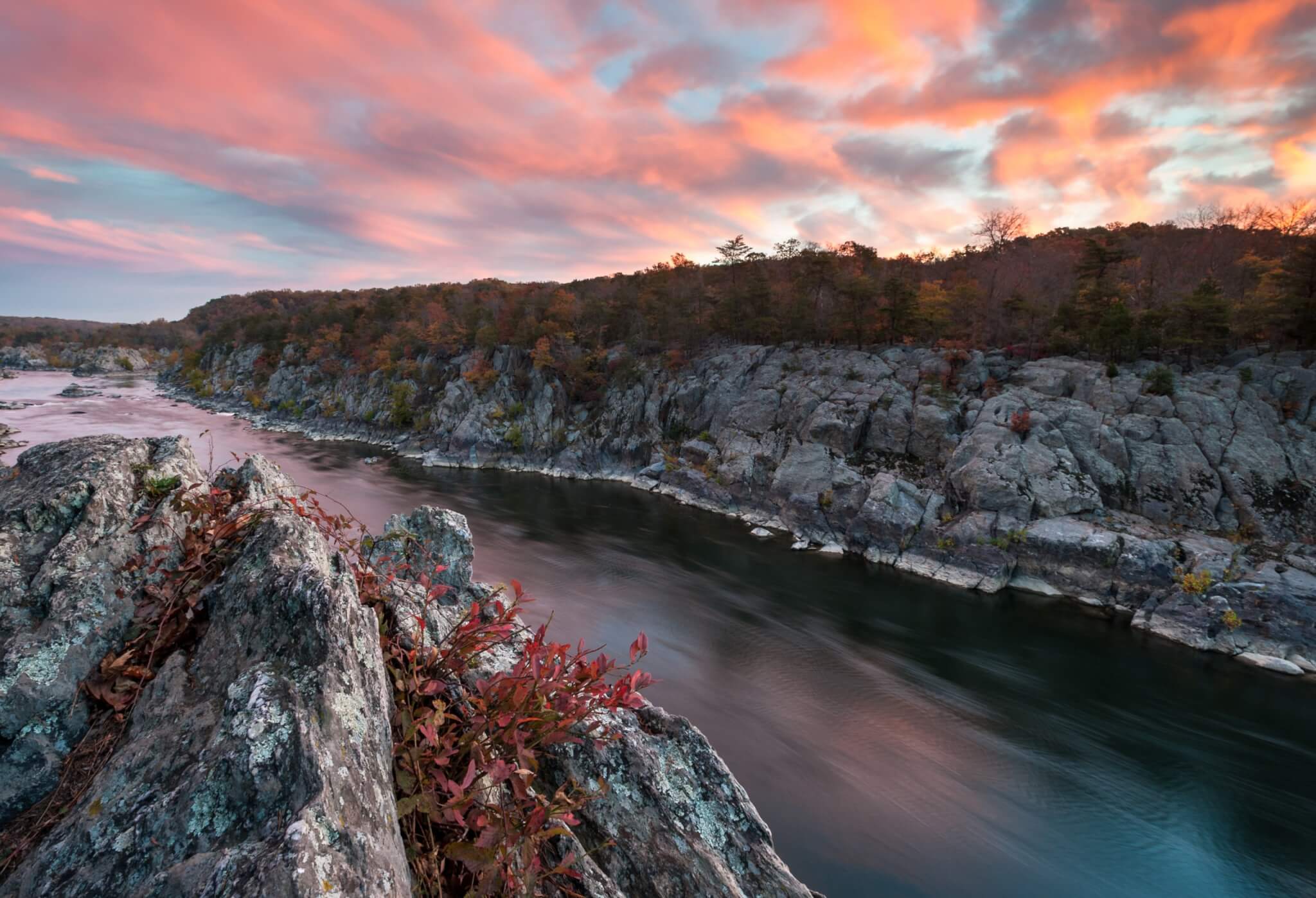 North Bethesda & Bethesda
This suburb of Washington D.C. in Montgomery County, North Bethesda, is the number two best suburb to live in all of Maryland, according to Niche.com, and is also the best suburb for young professionals. Located north of Washington D.C., Bethesda is an affluent city and the sixth-best place to live in Maryland, according to Niche.com. The population is highly educated, boasting the largest percentage of residents with advanced degrees in America.
North Bethesda is more affordable than Bethesda, yet higher ranked than Bethesda. Perhaps this is because you can get the best of urban and suburban life without the costs. The average cost of a rental in North Bethesda is around $1,906 a month, and $2,261 in Bethesda.
Fun fact: Bethesda is considered the best-educated town in the United States. Not only does the town have top-tier public schools, but 79% of its residents over 25 hold bachelor's degrees and 49% also have professional or graduate degrees.
Places to visit:
Strathmore. For all of the drama lovers and creativity lovers, Strathmore is a performing arts theater in North Bethesda committed to building a creative community and sharing a top-tier arts program. The multidisciplinary center offers classical and contemporary concerts and art exhibitions in its Music Center. Don't miss the best place in the DMV for live concerts!
Capital Crescent Trail. Do you have the most fun when you're traversing off the beaten path? The Capital Crescent Trail is a 7-mile off-road trail that extends from Georgetown in D.C. to Bethesda, Maryland. You can rollerblade, bike, walk, or jog on this paved rail-trail. Set out on one of the most popular trails in the nation!
McCrillis House and Gardens. Shady woodland walks, old-growth trees, a naturalistic garden, and a stone manor house make up this beautiful 5-acre park in Bethesda. Enjoy a lovely stroll on a path that meanders through a collection of ornamental trees and shrubs and shade-loving perennials that keep the garden bursting with color year-round.
South Kensington
South Kensington is the third best place to live in Maryland, according to Niche.com. It is the second-best place to raise a family and to retire in the state. Residents benefit from a safe environment, modern convenience, and top-quality education. The suburb is walkable with many shopping centers easily accessible. There are also farmers markets, marathons, and community events like Kensington Day.
This small town offers the best of modern living. The average cost for a rental in South Kensington is approximately $1,867 per month.
Fun fact: Does Kensington's name sound familiar, as if from another place and time? Kensington, Maryland, has its origins as a "garden suburb," full of summer homes, modeled after Kensington, England.
Places to visit:
Design Emporium and Antiques. An antique lover's dream, Design Emporium and Antiques is a brick-and-mortar antique furniture store in South Kensington. They offer beautiful home furnishings, including glassware, chairs, mirrors, cabinets, lighting, and objets d'art. Find the certain je ne sais quoi that you're looking to add to your home!
Noyes Library for Young Children. This charming one-room library is made just for children. This library in Kensington is the only one in Montgomery County that focuses solely on children, and offers books and programs specifically for early childhood. It is also a historic landmark. Check out their services and events!
Kensington Antique Row. The historic Kensington Antique Row is an oasis for those who love all things vintage and eclectic. The area is home to one-of-a-kind, locally owned and operated antique and specialty shops, a design center, a multi-dealer antique market, and an art gallery—plus an array of restaurants and cafes. Antique, vintage, and new, you'll find it all here!
Ellicott City
From excellent restaurants to top-notch schools to incredible scenery, there's something here for everyone. Ellicott City is the number one best place to live in the Baltimore area, according to Niche.com, is the fourth best place to live in Maryland, and is one of the best suburbs to raise a family. The city is a charming mix of great shopping, historic homes, and neighborly charm. Lying on the Tiber and Patapsco rivers, it's an ideal place for fishing and water sports.
Ellicott's proximity to Baltimore, Annapolis, and Washington D.C. makes it the ideal place to live and commute. The cost for a rental in Ellicott City is $985, on average.
Fun fact: Built-in 1831, Ellicott City is home to the oldest surviving and operating train station in the U.S.
Places to visit:
Patapsco Valley State Park. Take a breath of fresh air in the over 30 miles of greenery located on the Patapsco River and enjoy 16,043 acres of recreational outdoor space. You can go camping, canoeing, fishing, hiking, mountain biking, or horseback riding with over 200 miles of trails to explore! You can also enjoy a relaxing picnic in one of the pavilions.
Clark's Elioak Farm. When was the last time you were at an Enchanted Forest? Clark's Elioak Farm is a place that wishes are made of with petting farm animals, cow train and pony rides, an enchanted express train, a fairy forest, and wagon rides! It's also a great venue for birthday parties, educational tours, and special events. Make sure to check out Clark's Produce, all sustainably and locally grown.
Centennial Park. The award-winning Centennial Park spans 337 acres around the picturesque Centennial Lake. The trail is a 2.4-mile paved loop around the lake. The lake is manufactured, and it has been recognized for its keen sense of nature and design. The park is teeming with wildlife, including beavers, foxes, white-tailed deer, turtles, herons, and winter waterfowl!
Other cities or towns to consider:
Chevy Chase: Chevy Chase, located in Montgomery County, has a great vibe with its 20th-century architecture and leafy streets. Just seven miles away from D.C, it makes for a great place to commute to the Capital. It's ranked as the seventh best place to live in Maryland, according to Niche.com. Average rent: $1,898.
Rockville: Rockville has some of the best schools in the state, low crime, and a vibrant nightlife. It is the eighth-best place to live in Maryland, according to Niche.com, and was also ranked well for diversity. The MetroRail makes it one of the best places to live for those commuting back and forth from D.C. Average rent: $1,800.
Columbia: Columbia ranks as one of the best, safest, and wealthiest cities not only in Maryland—but in the entire country. Columbia is the ninth best place to live in Maryland, according to Niche.com. There are plenty of job opportunities, plus the commute to Baltimore is not too long, which opens up even more employment options. Average rent: $1,931.