Nevada Renters Insurance Guide
Get your stuff covered in the Battle Born State.
Looking for renters insurance in Nevada? Well, you've come to the right place!
Nevada has natural beauty at every turn: splendid desert landscapes, rugged canyons, "sky islands" in the mountains, stunning sandstone formations, and picturesque rivers and lakes. Nevada residents enjoy diversity, plentiful employment opportunities, great housing options, a reasonable cost of living, and no state income tax.
Whether you're in Nevada to work, study, play, or anything in between, you might want to get your stuff covered with renters insurance. We'll take you through the basics of renters insurance coverage and go through some of the coolest cities and hidden gems to explore in the Silver State and beyond.
What does your renters insurance cover in Nevada ?
Okay, so you get that a renters insurance policy is an excellent idea in theory… but obviously, you're curious about what it can actually do for you. Let's break down the components of what your policy covers and your coverage options.
Personal Property
'Personal property coverage makes sure your stuff, your personal belongings, is protected, whether you're relaxing at your apartment or trekking across Europe. So if your living room furniture is ruined due to water damage from that burst pipe, or your phone is stolen while you're taking a trip to Berlin, your renters insurance policy has your back.
Loss of Use
What about if disaster strikes? If you can't stay at your home because of covered losses (like a fire or windstorm), your loss of use coverage provides reimbursements for temporary housing and additional living expenses such as food, laundry, hotel parking, and more.
Liability coverage
If someone is injured in your apartment, or anyone on your policy causes damage to someone else's property or stuff, your insurance company should have things like legal fees and property damage covered.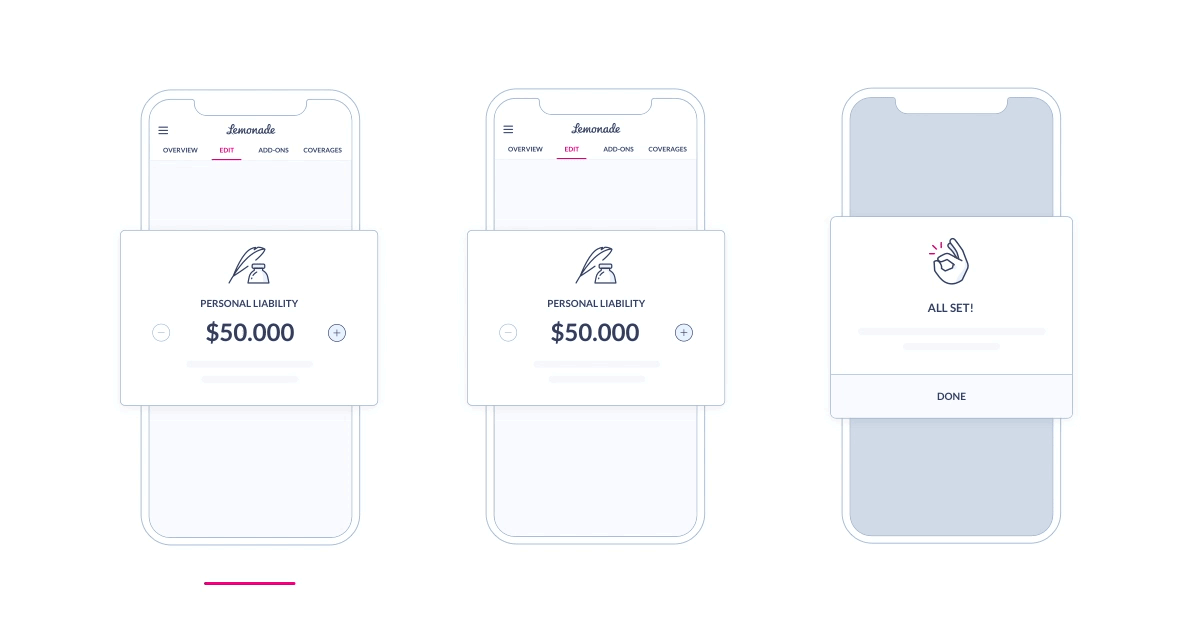 Medical Protection
Your insurer covers medical expenses if your guests get injured at your place or if you accidentally hurt people outside of your home as well. Note that your renters insurance policy does not cover medical payments if you or someone residing with you is injured—only non-residents and guests.
Is renters insurance required in Nevada?
While there's no law requiring that you purchase renters insurance in Nevada, your individual landlord might specifically require it. And if your lease specifies that you need renters insurance, well… that's that.
The good news is that it's easy to sign up for a renters insurance policy with Lemonade, and you'll thank yourself later if your stuff gets stolen or damaged! When signing up, your landlord might request they be added as an 'interested party' on your policy. This just means they'll be kept in the loop when you make any policy changes—or if you cancel your policy. It's super easy to add them using the Lemonade app.
What's the right amount of coverage to get?
There's no easy answer to that question, and it depends on how much stuff you have to cover and what it's worth. As we discussed above, your policy has a few main categories: Contents (your stuff); Loss of Use (temporary living expenses); and then personal liability and medical bills.
You're able to set the coverage limits for these categories when you sign up for a Lemonade policy. Lower coverage limits might save you a few bucks on your monthly premiums—but they might also leave you with insufficient coverage when you have to make a claim. You'll also need to figure out your deductible. It's a balancing act and one that requires you to think about your property and lifestyle. Take a few minutes to apply to see your renters insurance quote to get a sense of your insurance options.
Also, if you've got valuables that are especially pricey or important—things like engagement rings, fancy cameras, musical instruments, or artworks—you can add 'scheduled personal property coverage' for those items. At Lemonade, we simply call it 'Extra Coverage'—here's a bunch more info about that.
Top Nevada rental destinations
Nevada is a state that doesn't disappoint. In the Silver State, you will pay fewer taxes than in other states in the country. There are a plethora of outdoor activities, the best scenic drives in the country, and world-class restaurants. Nevada boasts numerous housing options, which are surprisingly affordable.
From year-round sun and unparalleled natural wonders, to a robust economy and a reasonable cost of living, Nevada has what your soul and your wallet needs. Whether you are a native-born Nevada resident or part of the growing influx of new residents, it's worth finding out why Nevada is the perfect place to settle down.
Kingsbury
Lying along Lake Tahoe, Kingsbury is a diverse community of businesses and restaurants located in Douglas County. According to Niche.com, Kingsbury ranks as the number one best place and the best suburb to live in Nevada. It also ranks as the number one best place to raise a family in the state.
Kingsbury is an affluent, rural, naturally beautiful area, making housing less affordable. However, the lakeside scenery makes it worth it. The average cost of a rental in Kingsbury is $1,538.
Fun fact: Kingsbury Grade is an important and fascinating site. At the height of the Gold Rush, it was a starting point for emigrants taking the Daggett Pass route on the way to Californian goldfields.
Places to visit:
Tahoe Rim Trail Association: Van Sickle State Park Trailhead. The Kingsbury area is full of beautiful trails and waterfalls to explore under the auspices of the Tahoe Rim Trail Association. McCloud Falls Hike boasts colorful seasonal wildflowers and a waterfall, and the Van Sickle Bi-State Park trailhead has a waterfall and spectacular views of Tahoe Lake. Those are only a taste of the natural beauty awaiting you!
Daggett Pass/Kingsbury Grade. On the main route between Carson Valley and Lake Tahoe lies Dagget Pass, which connects the two. However, the locals call it Kingsbury Grade. Kingsbury Grade is situated 7,339 feet above sea level, and the road offers beautiful views of Carson Valley to the east. It is also of historical significance as part of the Pony Express National Historic Trail.
Genoa Peak. Typically when you think of Nevada, you imagine golden deserts and auburn sand dunes, but Genoa Peak is a luscious, verdant summit with picturesque hiking trails. Located in Toiyabe National Forest, east of Lake Tahoe, the peak is the highest point between Kingsbury Grade and Spooner Summit and is easily accessible from the Tahoe Rim Trail.
Incline Village
If you are trying to get away from the big city, Incline Village will catch your eye. The village is a cozy area with a population of only 8,700 people. According to Niche.com, Incline Village is Nevada's second-best place to live. It also ranks number one for the best public schools in the state. Plentiful in natural beauty, this ski village is encompassed by pines and lies on the banks of Lake Tahoe.
There are plenty of amenities, nature to explore, and beautiful chalet-like homes. The average cost of a rental in Incline Village is around $1,750 a month.
Fun fact: One of Lake Tahoe's most stunning mountain retreats, Incline Village, is named after the Great Incline Tramway. Loggers built the tramway in 1878.
Places to visit:
Burnt Cedar Park. Perfect for a family day in the water, Burnt Cedar Park is one of the most popular places for the summer. You can spend the day in the pool, at the playground, playing volleyball, kayaking, or having a relaxing picnic.
Incline Flume Trailhead. Meandering around the hillside at 7,600 feet above Lake Tahoe, Incline Flume Trailhead is a 4.3-mile trail of beautiful wildflowers. Located near Incline Village-Crystal Bay, it's an excellent place for running, hiking, snowshoeing, and nature trips.
Stateline Fire Lookout Trailhead. A trail with scenic views of lakes and mountains, this paved trail begins in Nevada and ends in California. This paved hike boasts spectacular views and an easy hike. You will experience a panoramic Lakeview from the moment you enter the parking lot.
Spring Valley
Situated southwest of Las Vegas, Spring Valley is a developing area with a promising future.
According to Niche.com, Spring Valley is the best suburb to live in the Las Vegas area. It ranks number one for diversity in Nevada and the second-best place for young professionals. Its proximity to Las Vegas makes it perfect for commuters and provides ample job opportunities in the area.
Renting in the area is above the national average; however, that's a small price relative to the suburb's prospects. The average cost for a rental in Spring Valley is approximately $1,554 per month.
Fun fact: Spring Valley is a small town, but it is home to big-time fast drivers. NASCAR drivers Kurt and Kyle Busch used to go to high school in Spring Valley.
Places to visit:
Desert Breeze Park. If you are looking for lovely walking trails and plenty of activities, Desert Breeze Park has what you need. This massive recreation area features baseball and soccer fields, sand volleyball, tennis courts, a skate park, spray-and-splash pads, and dog runs. The picnic areas are a great place to hang out with friends and family.
Charlie Frias Park. Charlie Frias Park is a 32-acre park with scenic mountain and canyon views. It includes a neighborhood park, a baseball field, a soccer field, and basketball and tennis courts. Take in a deep breath of fresh air in the bluff overlooks and gardens.
Spring Valley Community Park. This community park has a kids' play area, basketball courts, and ballfields. It is an excellent place for biking and playing fetch with your furry friend. The site is well-maintained with friendly locals.
Henderson
Do you want to be close enough to Las Vegas to enjoy some of the action but avoid the hustle of the city? Henderson, a Las Vegas suburb, is an attractive, peaceful place that does just that. With its proximity to Las Vegas and Summerlin, it is a perfect place for commuters. According to Niche.com, Henderson is the number one best suburb to raise a family in the Las Vegas area, and residents benefit from a low crime rate compared to other cities in the state. Henderson is known for producing titanium and heavy chemicals for commercial and defense needs, making it Nevada's primary industrial center.
It also makes the top 100 list for healthiest cities in the United States and the best places to retire. The cost for a rental in Henderson is $1,717 on average.
Fun fact: Not only is Henderson a city with natural beauty to brag about, but it has over 37 miles of walking trails. You can take over 3000 routes in the area! It's no wonder that Henderson was nominated the 6th best walking city in America.
Places to visit:
Sloan Canyon National Conservation Area. Right on the outskirts of Henderson's borders, you'll find a 48,438-acre nature preserve with hiking trails, wildlife watching, and Native American petroglyphs. Sloan Canyon National Conservation Area protects and preserves the southern part of Nevada's Mojave Desert, including the Sloan Canyon Petroglyph Site, the most scenic and significant cultural resource in the area!
Ethel M Botanical Cactus Garden. Located at the Ethel M Chocolate Factory, you'll find the breathtaking Ethel M Botanical Cactus Garden. It is the most prolific collection of its kind in the world, with three acres of cacti and other succulents. The garden boasts over 300 species of plants from American Southwest natives to desert shrubs and trees. After a stroll through the desert terrain, experience their chocolate with their chocolatiers!
Clark County Museum. Owned and operated by Clark County, Clark County Museum, located in Henderson, is a 30-acre site that includes eight historical buildings from the county in the Anna Roberts Parks Exhibit Hall and Heritage Street. Walk through history with exhibitions that include a collection of restored historic buildings from different periods and a timeline exhibit about southern Nevada from prehistoric to modern times.
Other cities or towns to consider:
Reno: "The Biggest Little City in the World," Reno has a diverse population, and there is always something to do. There are mountains, deserts, and places for fishing and hiking. According to Niche.com, Reno is the second-best place to live in Washoe County. It is ranked in the top 20 best places for outdoor activities in the United States. Average rent: $1,557.
Mogul: This quiet suburb of Reno is full of wildlife. For those who love the outdoors and rural living, Mogul is a great place. According to Niche.com, Mogul is the number one best suburb to buy a house in Nevada and the third-best suburb to raise a family in the state. Average rent: $1,275.
Enterprise: Safe, clean, family-friendly, and popular with millennials, this suburb of Las Vegas is an amazing place to live. According to Niche.com, Enterprise is the fourth-best suburb for young professionals in Nevada and the sixth-best suburb to live in the state. It is also the fifth most diverse suburb in Nevada. Average rent: $1,484.