Washington, D.C. Renters Insurance Guide
Cover your stuff in the Federal City.
Looking for renters insurance in Washington D.C.? Well, you've come to the right place!
Wherever you go in Washington, D.C. there are great sites to see. The city boasts the 72-foot statue of The Awakening on the waterfront, The House of the Temple modeled after one of the Seven Wonders of the Ancient World, The National Arboretum, the Tidal Basin lined with cherry blossom trees, and of course, iconic structures like the Washington Monument or the Lincoln Memorial. D.C. is also surrounded by natural beauty. There are rivers and gorges, gardens and farms, lakes and canals.
Aside from history galore, the city is a sports fan's dream, a biker's paradise, is brimming with fruitful job prospects, quality education, and a wealth of knowledge—all in a small package.
While we tend to only think of D.C. as an urban landscape of impressive architecture and monuments, the city is full of green spaces. Not to mention the diversity, the culinary experiences, and the sense that this is a place where you can change the world.
Whether you're in Washington D.C. to study, work, play, or anything in between, you might want to cover your stuff with renters insurance. We'll take you through the basics of renters insurance coverage, and go through some of the coolest neighborhoods and hidden gems to explore in the Capital City and beyond.
What does your renters insurance cover in Washington D.C.?
Okay, so you get that a renters insurance policy is a great idea in theory… but obviously, you're curious about what it can actually do for you. Let's break down the components of what your policy covers and your coverage options.
Personal Property
'Personal property coverage makes sure your stuff, your personal belongings, is protected, whether you're relaxing at your apartment or traipsing across Europe. So if your living room furniture is ruined due to water damage from that burst pipe, or your phone is stolen while you're taking a trip to Berlin, your renters insurance policy has your back.
Loss of Use
What about if disaster strikes? If you can't stay at your home because of covered losses (like a fire or windstorm), your 'loss of use coverage provides reimbursements for temporary housing and additional living expenses such as food, laundry, hotel parking, and more.
Liability coverage
If someone is injured in your apartment, or anyone on your policy causes damage to someone else's property or stuff, your insurance company should have things like legal fees and property damage covered.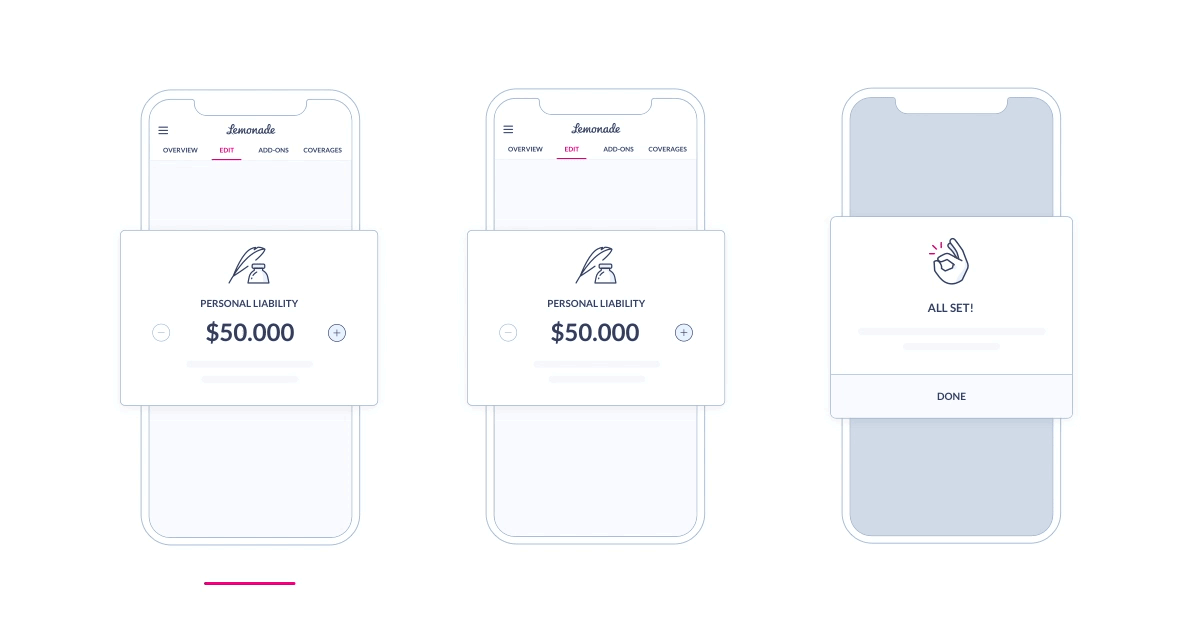 Medical Protection
Your insurer covers medical expenses if your guests get injured at your place, or if you accidentally hurt people outside of your home as well. Note that your renters insurance policy does not cover medical payments if you or someone residing with you are injured—only non-residents and guests.
Is renters insurance required in Washington D.C.?
While there's no law requiring that you purchase renters insurance in Washington D.C., your individual landlord might specifically require it. And if your lease specifies that you need renters insurance, well… that's that.
The good news is that it's easy to sign up for a renters insurance policy with Lemonade, and you'll thank yourself later if your stuff gets stolen or damaged! When signing up, your landlord might request they be added as an 'interested party' on your policy. This just means they'll be kept in the loop when you make any policy changes—or if you cancel your policy. It's super easy to add them using the Lemonade app.
What's the right amount of coverage to get?
There's no easy answer to that question, and it depends on how much stuff you have to cover, and what it's worth. As we discussed above, your policy has a few main categories: Contents (your stuff); Loss of Use (temporary living expenses); and then personal liability and medical bills.
You're able to set the coverage limits for these categories when you sign up for a Lemonade policy. Lower coverage limits might save you a few bucks on your monthly premiums—but they might also leave you with insufficient coverage when you have to make a claim. You'll also need to figure out your deductible. It's a balancing act and one that requires you to think about your property and lifestyle. Take a few minutes to apply to see your renters insurance quote to get a sense of your insurance options.
Also, if you've got valuables that are especially pricey or important—things like engagement rings, fancy cameras, musical instruments, or artworks—you can add 'scheduled personal property coverage' for those items. At Lemonade, we simply call it 'Extra Coverage'—here's a bunch more info about that.
Top Washington D.C. rental destinations
Some choose D.C. to enjoy the convenience of everything you need being just a short drive away—the job opportunities, the love of history as part of daily life, or coming to change the world. Whatever your reasons are, it's easy to see why the Federal City would make for an ideal place to settle down. Whether you are a Washington D.C. native, or part of the growing influx of new residents, it's worth finding out why you should keep Washington D.C. on the top of your list.
Georgetown
As the oldest neighborhood in the city, with homes dating back to the 18th and 19th centuries, complete with cobblestone streets, Georgetown is living American history. Georgetown residents enjoy waterfront views on the Potomac River, and the Chesapeake and Ohio River Canal, a national park is only twenty-five minutes away. Beautiful oaks line the residential streets, and parks and green spaces surround the area. If the name rings a bell, yes, this neighborhood is the home of Georgetown University, which adds to an intellectual atmosphere and diversity with college students on their way to classes. It is also a perfect place for families, as it's one of the safest places in town.
Aside from landmarks and historical buildings, this prestigious area is also full of high-end restaurants and boutiques. Georgetown is the perfect mix of classic old town meets bustling metropolitan vibes. Renting a home in Georgetown averages out to be about $2,250.
Fun fact: You might have thought that Georgetown was named after George Washington, paying homage to the nation's first President's first name. However, the area was actually named after England's King George II.
Places to visit:
Logan Circle
Logan Circle is likely the trendiest area in the entire city of Washington, D.C. This neighborhood is hip with a Victorian flair, decorated with well-preserved, authentic architecture, stylish boutiques, and restaurants for the foodies in the famous historic district. The area's namesake is John Logan, a Civil War hero whose statue is the centerpiece of Logan Circle. All of the townhouses face the traffic circle where his statue stands. The historic districts include Fourteenth Street Historic District and the Logan Circle Historic District. The area is walkable, safe, and has a thriving nightlife, perfect for young people or the young at heart.
There are various housing options in the area from townhouses to apartments to studios, so prices may vary. The average cost of a rental in Logan Circle is around $2,125 a month.
Fun fact: Washington, D.C. is infamous for its traffic that will, let's just say, teach the value of patience and resilience. Logan's Circle, however, is the only 100% residential traffic circle in downtown D.C. making it a traffic oasis.
Places to visit:
Bloomingdale
If you are looking for a quieter part of town, Bloomingdale might be just the place for you. Georgetown and Logan Circle are not the only classic spots in D.C. Most D.C. neighborhoods are historic districts, and Bloomingdale is no exception. This neighborhood also has traditional Victorian row houses to brag about, less than two miles away from the United States Capitol Building. The area also includes renovated brick single-family homes and two-story condos.
There are also coffee shops, bars, award-winning restaurants, public parks, and a farmer's market. This neighborhood draws in families and the young alike. The average cost for a rental in Bloomingdale is approximately $3,204 per month.
Fun fact: The turrets of Bloomingdale are so iconic they are even featured in the opening credits of Netflix's "House of Cards." You can see why. They're quite impressive.
Places to visit:
Foggy Bottom
Diplomats, culture vultures, and outdoor enthusiasts all relish this riverside neighborhood best known for being home to the State Department and the Kennedy Center. Foggy Bottom, also known as West End, lies along the Potomac River, and boasts riverfront views and nature to revel in, like Rock Creek Park. Not far from Georgetown, it is nestled in the middle of the George Washington University Campus, keeping the neighborhood spry with its college students and young professionals.
It is another one of the oldest neighborhoods in D.C., home to historical edifices and a thriving cultural arts scene. The cost for a rental in Foggy Bottom is $2,150, on average.
Fun fact: Most places in this historic city are named after significant figures in American history. However, Foggy Bottom gets its name from the fog that naturally lingers along the Potomac River neighborhood.
Places to visit:
Other areas to consider: