Quick question: If you moved overseas and could only pack one suitcase, what would you bring with you?
Chances are, some of your most valuable items come to mind – your engagement ring, valuable camera, and that watch you got for college graduation.
We know how important these things are to you, which is why your renters or homeowners insurance policy provides special coverage for them! At Lemonade, we call it Extra Coverage. (Or 'scheduled personal property endorsement,' in insurance speak.)
Sometimes, Extra Coverage is confusing. Which items are covered, and which aren't? And what's so 'Extra' about it? How do you even add it on, anyway?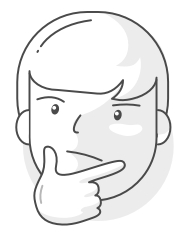 We're here to answer all of these questions for you. But first, we want to clear up some confusing insurance lingo.
What does 'scheduling personal property' mean?
Okay, let's cut through the jargon. You may have heard the term 'scheduling personal property' when it comes to your Extra Coverage. That's insurance speak for adding a valuable item to your insurance policy.
So if you'd like to 'schedule' your jewelry, that means you'd like to add Extra Coverage for it, so it can be replaced/repaired at full value in case of things like theft, fire, or physical damage (aka, if your ring's scratched or your ring setting's bent).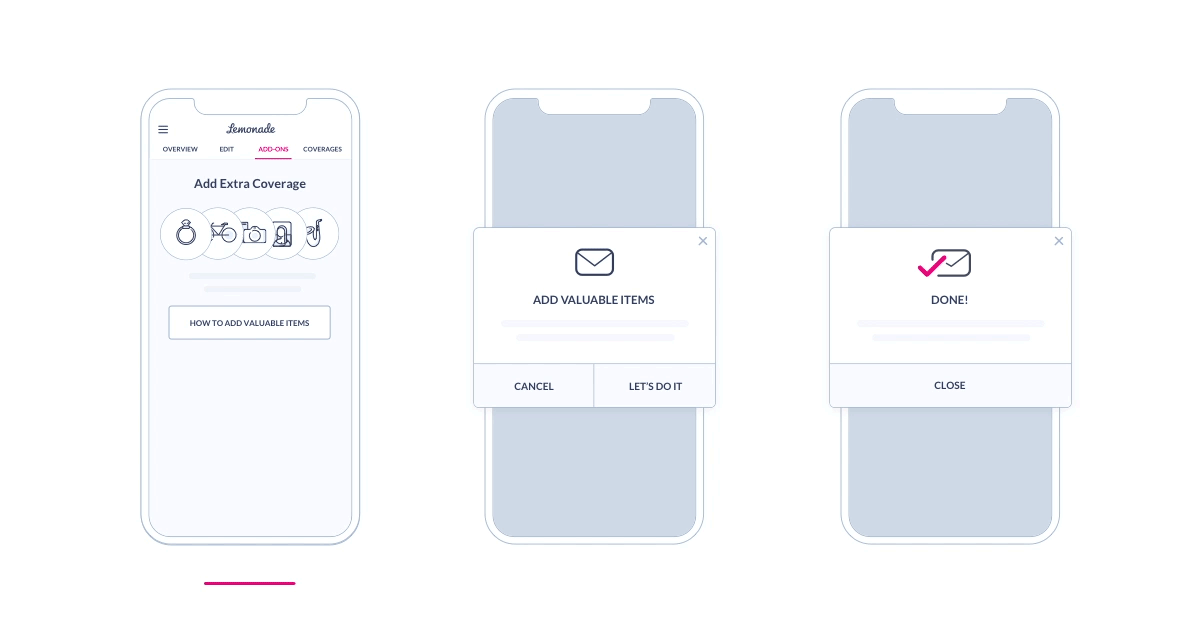 You also may have heard of an 'endorsement.' Again, this is just insurance speak for what you can add on to your policy. So, 'scheduling personal property endorsement' means adding more coverage for your valuables. Think of it as an agreement between you and your insurer on protection for your special things.
So TL;DR – when you read things like 'scheduling personal property' or 'scheduling personal property coverage,' that's all referring to Extra Coverage.
So, what's Extra Coverage?
Extra Coverage is exactly what it sounds like: It's a bit of 'extra' insurance coverage for your special items! Because let's face it: Some of your most prized possessions need a little extra TLC.
What are the perks of Extra Coverage? Here are the basics:
Coverage against accidental loss (aka, mysterious disappearance)
Coverage against any accidental physical damage
Sounds pretty nice, right? We think so too.
Just take note that these losses/damages are not covered under your base policy (aka, they're not 'covered perils') – so if your expensive ring falls off after your partner proposes in Time Square (er, yes, that's happened!), your HO3 (homeowners) or HO4 (renters insurance) wouldn't cover you.
And if your ring got stolen in Times Square after the proposal (which is a 'covered peril'), your base policy would only cover up to $1,500 (in insurance speak, we call that amount 'the sublimit').
That's where scheduling your personal property with Extra Coverage kicks in.
Which items are covered under Extra Coverage?
We're so glad you asked! Generally speaking, Extra Coverage is offered for:

A couple of notes here. First off, you can schedule multiple items from each category (ex. 2 bikes, 4 instruments, 3 watches, etc), but the sky isn't the limit. So if you have enough musical instruments for an orchestra, or an entire Tiffany's collection in your jewelry box, your Extra Coverage can't insure all of 'em.
One of the most commonly scheduled personal property items is… you guessed it: engagement rings and wedding bands! If you bought your fiancée an engagement ring, take note that the ring won't automatically be covered under your homeowners insurance policy – or your renters – even though you bought it!
Pro tip: Add your partner to your insurance policy as an 'additional insured.' Because if he or she loses the engagement ring while in their possession, it'll only be covered if their name is on your policy.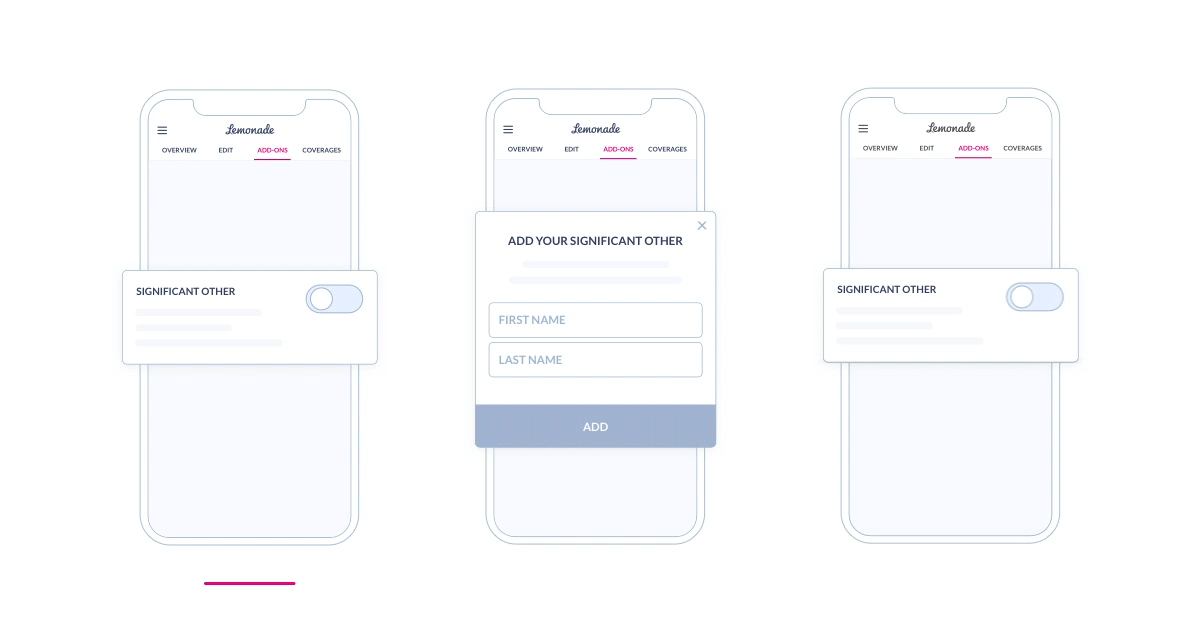 One last thing about this: If you're thinking 'Wait, I have a few expensive items that don't fit into any of those categories above…' – no fear! These items are probably covered under your base insurance policy, including furniture, personal electronics, and clothing.
If you'd like to learn more about what your base insurance policy covers, check out our ultimate renters insurance or homeowners insurance coverage guides.
Which items aren't covered under Extra Coverage?
Sometimes, certain types of personal property don't qualify for Extra Coverage. So we're here to set things straight.
Phones, drones, sunglasses and expensive electronics aren't covered under Extra Coverage. Same goes for musical equipment and recording gear (even though musical instruments are!). So if you have a few guitars, a microphone, and recording gear, only the guitars will qualify for Extra Coverage.
One last thing: Only your personal items are covered under Extra Coverage. You can't schedule personal property coverage for things that you use for your business.
So let's say you do some professional photography as a side gig. While your base policy can cover your camera up to a certain amount for 'named perils,' you can't get Extra Coverage on your camera. If you need to cover your professional camera for accidental damage and mysterious disappearance, go ahead and look into business insurance (aka, business personal property coverage).
What types of loss/damages are covered under Extra Coverage?
Now, back to the good stuff.
So if you accidentally drop your wedding ring down the disposal while doing the dishes, or forget your valuable camera at Starbucks, your Extra Coverage will have your back.
"A few weeks ago, one of our Lemonaders was taking photos with his valuable camera. He went to adjust his bag, and one of his lenses fell right onto the concrete! It completely cracked, and his camera shop told him it was totaled. Luckily, he has Extra Coverage, so he filed a Lemonade claim, and we reimbursed him for the full cost of the lens!" – Mike, Customer Experience (CX) Specialist at Lemonade
Best part? You won't have to pay a deductible for anything scheduled as a personal property endorsement (aka, Extra Coverage). So if your camera is worth $2,000, Lemonade will pay you the full replacement cost, deductible-free!
How do I get Extra Coverage?
Adding Extra Coverage to your Lemonade policy is simple – just follow these steps:
1. When you're getting your Lemonade policy, tap 'Activate Extra Coverage.' If you already have a policy, head to Lemonade app and tap the Extra Coverage button under 'Add-Ons.'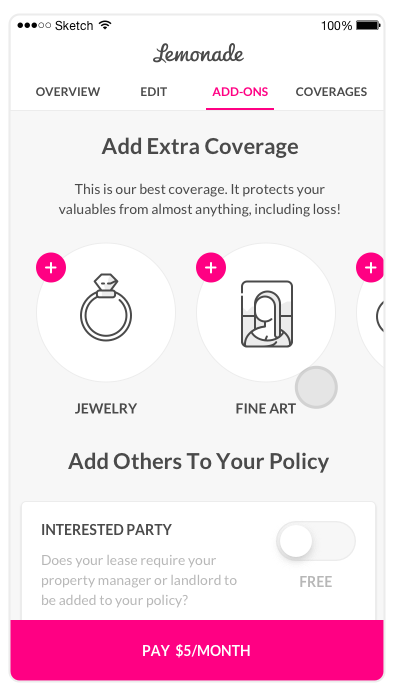 2. Open up the email you got from Maya, and click 'Add Extra Coverage'
3. Go through the flow, and send over:
– A pic of your item
– A pic of the receipt or an appraisal that was issued in the last 5 years
– A pic of your item on top of the receipt or appraisal if you're insuring jewelry!
"Snapping a few pics is easy and quick! This info is incredibly important to make sure we're properly insuring your camera, musical instruments, or bike. It also makes your claims process much smoother if something were to happen. We'll already have all the docs we need on file – so it's less work for you down the road!" – Ashley Delgado, Lemonade's CX Specialist.
4. Our CX team will get back to you, and they'll let you know via email once your stuff is covered! Btw, you can always add on more items later.
A couple of notes here. If you answer 'Yes' when Maya asks if you have any valuable items, and select which items you'd like to insure under Extra Coverage in the Lemonade App, and provide a guesstimate of the total value of the items you'd like to cover (refer to step 1), Lemonade will automatically grant you temporary Extra Coverage!
This will give you time to send over the necessary info, and for CX team to review it. This temporary Extra Coverage will last for 14 days, so try to submit your info by then. If you can't get to it, you can still add on the Extra Coverage yourself after it expires.
Have more questions about Extra Coverage? Open up your Lemonade app, and ask Maya. Or, shoot an email over to [email protected], and our CX team will get back to you as soon as possible. For more info about your renters or homeowners insurance coverage, check out more of our helpful guides below.