Indianapolis Homeowners Insurance Guide
Cover your home in Indy.
Indianapolis, the state capital of Indiana, is often referred to as the Crossroads of America. The city is famously home to the Indy 500, the largest single-day sporting event in the world. Indianapolis is home to the Colts and Pacers, and is the birthplace of Brendan Fraser, Vivica A. Fox, David Letterman, Adam Lambert, Dan Quayle, and Mike Pence.
Homeowners insurance would cover you financially if something were to happen to you, your property, or your stuff. Let's say someone breaks into your home while you're on a weekend hike along the White River, or your friend twists their ankle after getting too excited while watching the Pacers in your living room.
The right homeowners insurance policy could offer you financial protection if something terrible (or just plain inconvenient) were to happen to you or your valuables.
Here's what we'll cover:
What does Indianapolis home insurance cover?
The Hoosier State has a lot going for it. Quality education, an affordable cost of living, friendly people, lively sports culture, and stunning recreational trails make Indiana a great place to live. Indiana is full of awe-inspiring natural wonders, including the Indiana Dunes, Yellowwood State Forest, Hoosier National Forest Caves, the White River, the Seven Pillars of Peru, and Cataract Falls.
However, there are also some natural disasters that pose risks along with the state's natural beauty. In Indiana, floods, tornadoes, landslides, ice storms, thunderstorms, blizzards, and snowstorms are all unfortunate possibilities.
It's worth noting that while no insurance policy can cover you from every single potential mishap, Indiana homeowners insurance can keep you financially afloat through a myriad of typical situations.
You might know that a home insurance policy is a good (and necessary) idea, but you might not have a grasp on all the moving parts. We've got a very extensive, plain English guide here, so feel free to dive deep into the specifics—but for now, we'll break down the basics of insurance coverage for you here, so you can get a handle on some of the different types of coverage you should consider.
Dwelling
Dwelling coverage helps pay for damages to the structure of your home. So if your pipes burst next winter and damage your walls, or a windstorm blows over a tree and damages your home, you're covered.
Other Structures
If one of the dangers mentioned above causes damage to your driveway, fence shed, or other structures on your property, your homeowners insurance has you covered.
Loss of Use
If you can't live in your home due to covered damages, your loss of use coverage can help pay for a temporary place to stay and additional living expenses such as food, laundry, parking, etc.
Personal Property
Personal property coverage protects your stuff both inside and outside your home. So, if your couch is ruined due to a burst pipe or your laptop is swiped at a coffee shop, homeowners insurance has your back. With Lemonade, if your home insurance claim is approved, you'll receive the replacement cost of your personal belongings back in your pocket.
Liability coverage
If your neighbor slips and falls on an ice sheet on your driveway, you could be held liable. If someone is injured on your property or anyone on your policy causes damage to someone else's property or stuff, your insurance company should have you covered.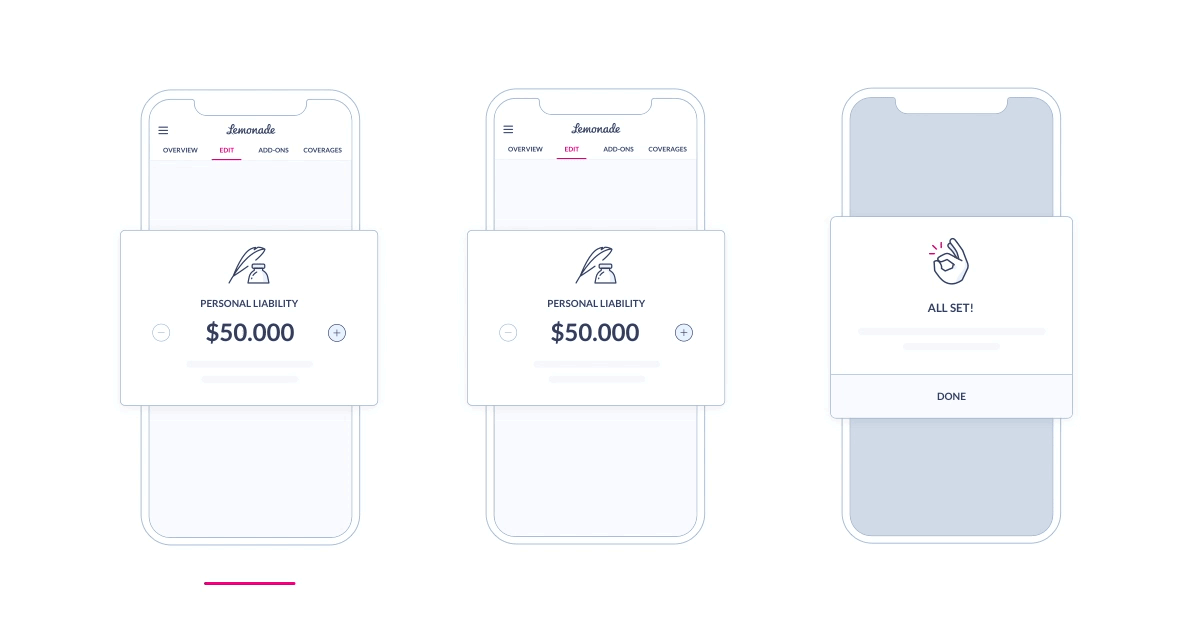 Medical Protection
If your neighbor needs to go to the hospital because of that slip and fall, your home insurance coverage will kick in to cover the expense of the medical payments. Home insurance covers you if a guest gets injured at your place or if you accidentally cause injury to someone outside your home.
How much is home insurance in Indianapolis?
There isn't a standard policy price for homeowner's insurance for residents of Indianapolis. Of course, a Meridian Hills mansion will pay a different monthly insurance premium than a college student who owns a two-bedroom home in Martinsville.
According to Bankrate, Indiana residents can get a pretty good deal when it comes to homeowners insurance rates. In Indiana, the average cost of homeowners insurance is around $1,150 per year. In comparison, the national average for homeowners insurance is $1,393. How much your homeowners insurance costs depends on your coverage limits, your insurer, your property, and your deductible.
What are the different types of homeowners insurance?
Lemonade offers two types of homeowners insurance policies: one for single-family homes (called HO3 in insurance-speak) and one for condo insurance (HO6). There are minor differences between the two coverage options, and you'll choose the right policy depending on the type of home you're looking to insure. A key difference is that homeowners own and are responsible for everything on their property (home, garage, fence, etc.). Condo owners with HO6 policies are only responsible for the outermost walls of their unit, inward.
The best neighborhoods to be a homeowner in Indianapolis
Garfield Park
This cozy, welcoming neighborhood surrounds its namesake, historic Garfield Park, which is the first park owned by the City of Indianapolis. Catch a summer concert or festival at the park, with lineups like the WonderRoad Festiva. It's easy to commute to downtown Indianapolis by public transportation, and neighborhood residents can walk or bike easily to get where they want to go.
The neighborhood boasts wholesome amenities like an outdoor pool, picnic areas, sports fields, playgrounds, and hiking trails. Families love exploring the Sunken Gardens or catching a concert at MacAllister Amphitheater or the Garfield Park Conservatory.
Homes in Garfield Park are surprisingly affordable, with the average price at $158,252 according to Trulia. You'll find single-family homes, including Craftsman-style homes and Colonials in Garfield Park.
If you're looking for food and fun in Garfield Park, locals love Shelby Street Saloon's old-world feel and upstairs "speakeasy" area for more intimate gatherings. Looking for heartier fare? Neighborhood favorite Greiner's has been serving hot and cold subs since 1969. Don't miss it.
Carmel
Carmel is a family-friendly suburb north of Indianapolis that regularly graces lists of the best places to live in the country. With Colonials, ranches, and Tudors, you're sure to find an elegant house in Carmel. The average price of homes in Carmel is $489,239, according to Zillow. While this is a more expensive neighborhood than some others in and around the city, residents say the low crime rate, great school system, clean streets, and exceptional standard of living are worth it.
The Monon Rail Trail runs through Carmel and offers bike trails and great spots to go hiking. Families can visit Coxhall Gardens for some pretty photo ops or splash around in the Waterpark at the Monon Community Center or Cool Creek Park.
Residents of Carmel have their pick of cultural offerings, such as the Center for the Performing Arts or Booth Tarkington Civic Theatre. The Carmel Arts and Design District features antique stores, art galleries, and restaurants along brick-lined Main Street.
Hungry in Carmel? Check out the Farmers Market on Saturdays in the warm months. You'll find homemade treats, traditional German street food cooked right on the premises, and some of the finest seasonal produce around. Local favorite Divvy is a restaurant and bar where you can enjoy an innovative variety of dishes, beers, and wines to satisfy every palate.
Downtown
Downtown Indianapolis, or Mile Square, is the place to be in Indy. The convenience of living downtown is hard to beat. Downtown offers a range of housing options, from lofts and condos to colorful townhouses and historic homes. According to Redfin, the average price of a house in Downtown Indianapolis is $335,000.
Downtown residents and visitors love walking or biking along the canal. Central Canal was originally meant to connect the Wabash and Erie Canal to the Ohio River. Once used as the water supply for Downtown Indianapolis, it's a great place to go walking, kayaking, or to be serenaded by a gondolier in full costume.
There's no shortage of things to see downtown, including the Scottish Rite Cathedral, one of the largest Masonic-style buildings in the world. The one-hundred-year-old cathedral offers guided tours by historians and a theater with a thousand seats. Learn about the indigenous people of America at the Eiteljorg Museum of American Indians and Western Art. Native American sculptures and pottery are featured, as are visual artworks that depict the early days of the American West.
Check out the Artsgarden, a seven-story glass-domed venue that features event spaces, an art gallery, and a walkway for pedestrians. Sports fans will want to visit the NCAA Hall of Champions, featuring interactive game simulators, a vintage gym from the 1930s, and an exhibit on the achievements of collegiate athletes.
For great food in Downtown Indianapolis, try St. Elmo Steak House and order their world-famous spicy shrimp cocktail. The Slippery Noodle Inn was once a stop on the Underground Railroad. Today, it's a premium blues bar with live music every night and an extensive drinks menu. If you look closely, you'll see a few bullets that remain lodged in the walls of the building, remnants from the Prohibition days when gangsters frequented the place.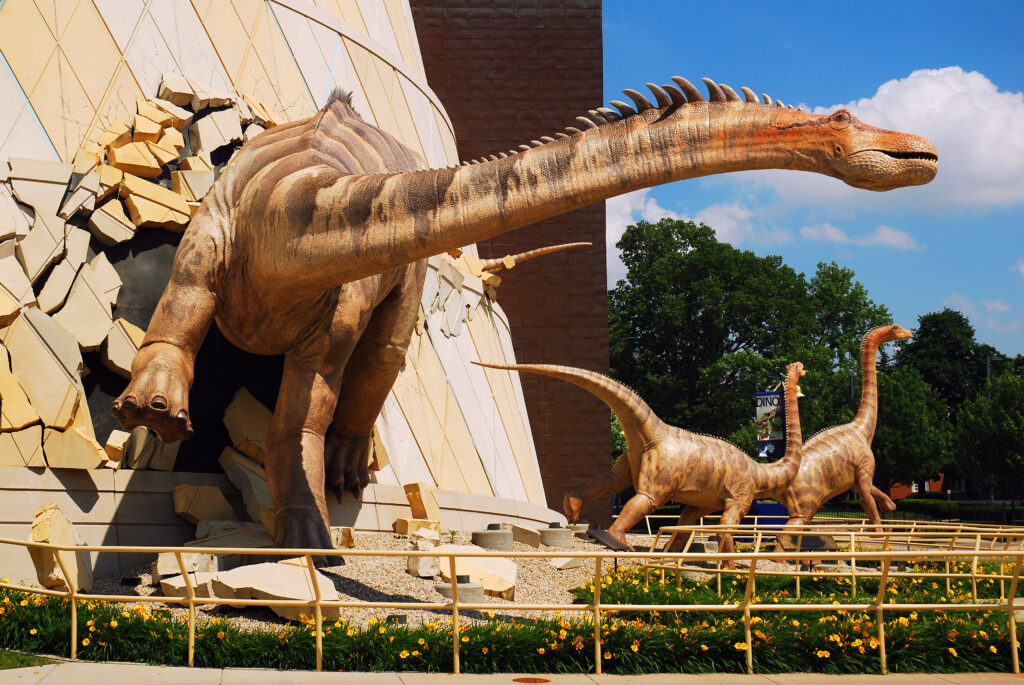 Broad Ripple
Broad Ripple Village is one of seven cultural districts in Indianapolis. This diverse neighborhood is beloved by families and young professionals. Located halfway between downtown and the Northern suburbs, Broad Ripple has historical significance with a relaxed, modern vibe. Homes in BRip, as the neighborhood is sometimes called, cost an average of $321,200, according to Realtor.com. Housing styles include Cape Cods, Colonials, and Craftsman-style bungalows.
The neighborhood is home to the legendary Children's Museum of Indianapolis—the largest children's museum in the world. The Indianapolis Art Center features exhibitions, studios, classes, and a famous sculpture garden. Adults will enjoy the Indy Brew Bus, where you can learn about local breweries and try some samples, or The Vogue, a unique, saloon-style concert venue.
Broad Ripple Park borders the White River and features a wooded preserve, athletic fields, a boat ramp, and an outdoor pool. Butler University is located near the area, and nightlife options like bars and live music performances abound.
For tasty eats in BRip, head to Taste of Havana for some of the most authentic Cuban cuisine you've ever had. If you've got a sweet tooth, don't miss The Cake Bake Shop, an upscale Parisian-style bakery that serves cakes, sandwiches, and salads. The pastries and the ambiance are a dessert-lover's delight.
These Indianapolis businesses will make your house a home
Random facts that make Indianapolis great