Iowa Homeowners Insurance Guide
Get covered in the Hawkeye State.
Whether you live a quick drive outside of Des Moines or have a view of the Mississippi from your backyard, you deserve the best homeowners insurance coverage in Iowa.
Homeowners insurance covers you financially if something were to happen to you, your property, or your stuff. Let's say someone breaks into your home while you're on a weekend hike at Effigy Mounds, or your friend twists their ankle after getting too excited while watching the Hawkeyes in your living room.
The right homeowners insurance policy could offer you financial protection if something terrible (or just plain inconvenient) were to happen.
Here's what we'll be covering:
What does homeowners insurance cover?
How much does homeowners insurance cost?
Where to live in Iowa
Iowa real estate agents to follow
Fun Iowa facts
What does Iowa home insurance cover?
Iowa is known for its natural beauty. Because of the state's cozy placement in the Midwest between the Mississippi and Missouri rivers, many Iowa residents enjoy rolling plains, golden cornfields, magical caves, cliffs, rivers, and lakes. However, along with the state's natural beauty, there comes some natural disasters, like floods, severe storms, tornadoes, winter storms, landslides, extreme heat and droughts, and even "inland" hurricanes, though they are rarer, or the obscure, but devastating, derecho storm.
It's worth noting that while no insurance policy can cover you from every possible thing in the universe, the right homeowners policy can keep you financially afloat through a host of common situations.
You might know that a home insurance policy is a good (and necessary) idea, but you might not have a handle on all the moving parts. We've got a very extensive, plain English guide here, so feel free to take a deep dive into the specifics—but for now, we'll break down the basics for you here, so you can get a grasp on the general things a policy covers, and your coverage options.
Dwelling
'Dwelling coverage' helps pay for damages to the structure of your home. So, if your pipes burst next winter and damage your walls, or a windstorm blows over a tree and damages your home, you're covered.
Other Structures
If one of the dangers mentioned above causes damage to your driveway, fence shed, or other structures on your property, your homeowners insurance has you covered.
Loss of Use
If you can't live in your home due to covered damages, your loss of use coverage can help pay for a temporary place to stay and additional basic living expenses such as food, laundry, parking, etc.
Personal Property
Personal property coverage protects your stuff both inside and outside your home. So, if your couch is ruined due to a burst pipe, or your laptop is swiped at a coffee shop, homeowners insurance has your back. With Lemonade, if your insurance claim is approved, you'll receive the replacement cost of your personal belongings back in your pocket.
Liability coverage
If your neighbor slips and falls on an ice sheet on your driveway, you could be held liable. If someone is injured on your property, or anyone on your policy causes damage to someone else's property or stuff, your insurance company should have you covered.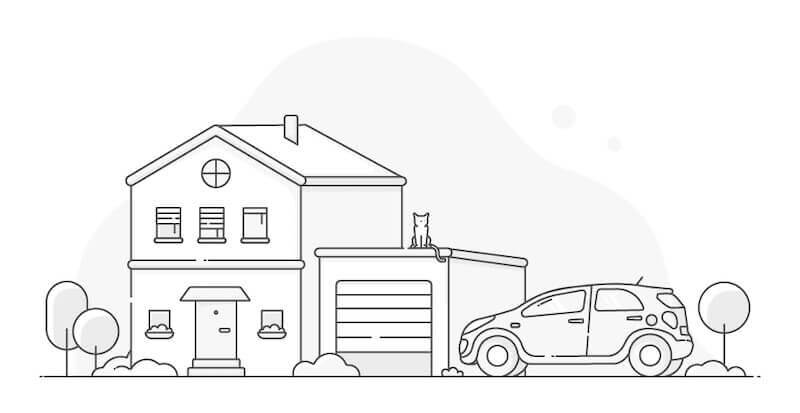 Medical Protection
If your neighbor needs to go to the hospital because of that slip and fall, your coverage will kick in to cover the medical expenses. Home insurance covers you if a guest gets injured at your place or if you accidentally cause injury to someone outside your home.
How much is home insurance coverage in Iowa?
Homeowner's insurance does not have a standard policy price for residents of Iowa. Of course, an Iowa City mansion owner with a sprawling estate will pay a different monthly insurance premium than a graduate student who owns a two-bedroom home in Creston.
According to Bankrate, Iowa residents pay right around the national average when it comes to homeowners insurance rates. The average cost of homeowners insurance in Iowa is around $1,502 per year. The national average for homeowners insurance is $1,477 in comparison. How much you pay on homeowners insurance depends on your coverage limits, your insurer, your property, and your deductible.
What are the different types of homeowners insurance?
Lemonade offers two types of homeowners insurance policies: one for single-family homes (called HO3 in insurance-speak) and one for condo insurance (HO6). There are minor differences between the two, and you'll choose the right policy depending on the type of home you're looking to insure. A key difference is that homeowners own and are responsible for everything on their property (home, garage, fence, etc.). Condo owners with HO6 policies are only responsible for the outermost walls of their unit, inward.
A few of the best places to buy a home in Iowa
University Heights
Voted as the number one place to live in Iowa, the best place to raise a family, and the best suburb by Niche.com, University Heights has a small town that packs a big punch. As its name suggests, it is a highly educated area. Over half of the residents hold master's degrees, in proximity to the University of Iowa, and boasts some of Iowa's top school districts that reign in test scores.
There are restaurants, breweries, parks and trails, and many athletic opportunities, with its proximity to the Carver-Hawkeye Arena and the University of Iowa's Kinnick Stadium. The typical value of a home in University Heights ranges from $185,000 to as high as $540,000.
Mount Vernon
Mount Vernon is another small town with village vibes and a neighborly feel. It's the number one place to live in Linn County, according to Niche.com, and places at number five in all of Iowa. It is home to Cornell College and not far from Cedar River, where you can go hiking at the Palisades-Kepler State Park. Residents get to enjoy cultural and arts amenities more than the average small town. The Mount Vernon and Lisbon Community Development Group hosts concerts by symphony orchestras and other events.
With a median household income of around $71,000 – $80,000, some of the highest performing schools, and a crime rate well over 70% below the national average, it is clear that people are living well in Mount Vernon. The median home value in Mount Vernon, according to Zillow, is $551,293.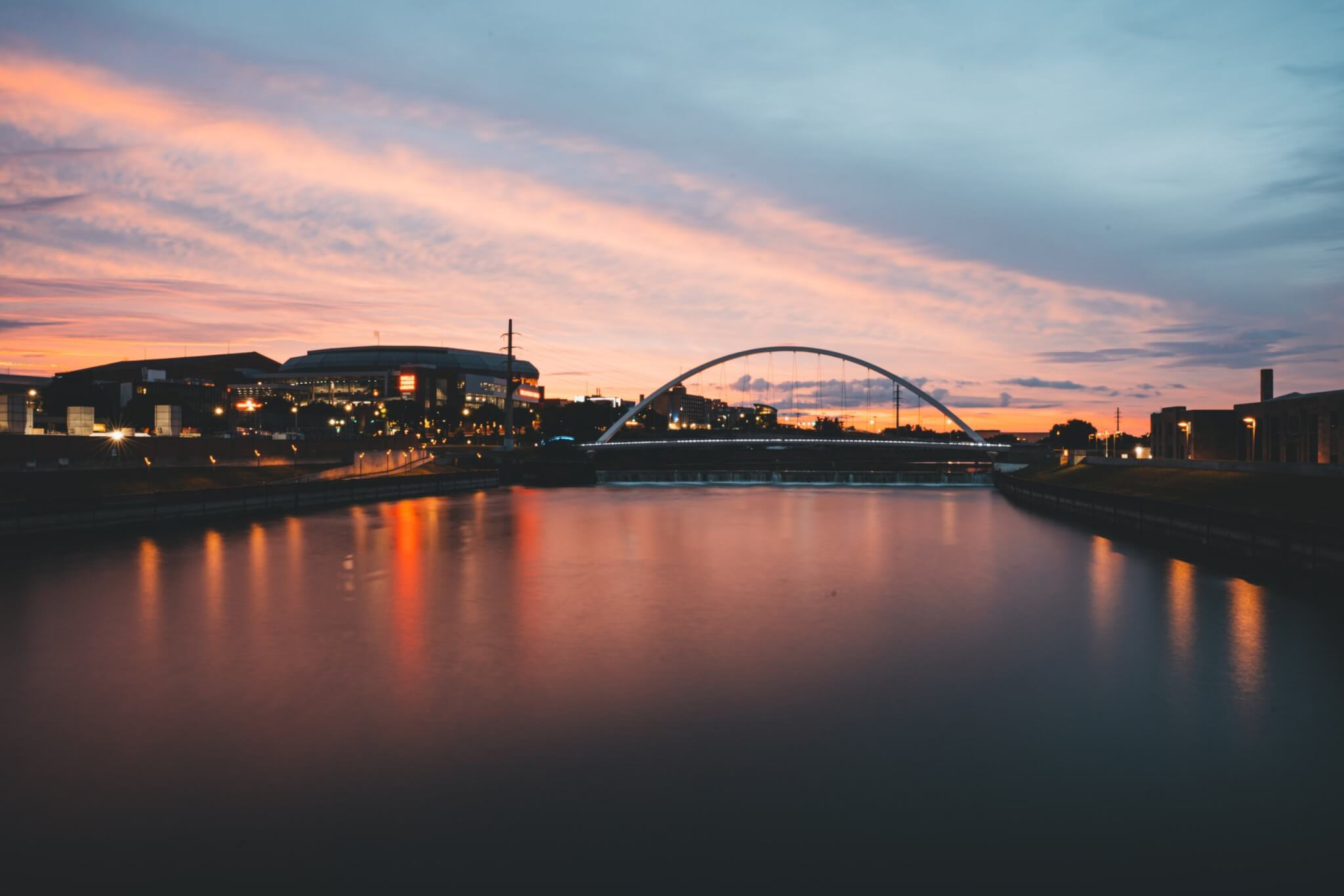 Bettendorf
Bettendorf is an affordable, family-oriented town located on the Iowa-Illinois border, in which most residents own their homes. This city is so family-friendly that it even has a Family Museum, with field trips, exhibitions, and classes. It comes in at number two in all of Iowa after University Heights and, according to Niche.com, it is number one in the Quad Cities Area, the "Breadbasket of America." This area is known for its picturesque farmlands as the heart of the Corn Belt. Bettendorf is also home to the Quad Cities Waterfront Convention Center, a state-of-the-art facility.
According to Zillow, the typical value of a home in Bettendorf is $256,780.
West Des Moines
As its name suggests, West Des Moines is a suburb lying to the west of Des Moines, the state capital. It is one of the most desirable places in all of Iowa, ranked number three best place to live in Iowa according to Niche.com, and also highly ranked by Money.com. The town is said to enjoy big city amenities with a small-town feel. You can find antiques and vintage shops, restaurants, and events like "Sip and Shop" or the farmer's market at its thriving Valley Junction shopping district. There is also bountiful nature to be enjoyed at Walnut Woods State Park with 260 acres of woodland to explore. You can also get lost in the 631 acres of parkland at Raccoon River Park, the "crown jewel" of West Des Moines parks. This rich parkland includes Blue Heron Lake, a swimming beach, a fishing pier, a boathouse, a nature lodge, and even an archery facility and ice rink.
With low unemployment and home prices coupled with a high-ranking school district, West Des Moines is a quality place to put down roots. The typical value for a home in West Des Moines, according to Zillow, is $272,339.
Iowa real estate brokers to follow on Instagram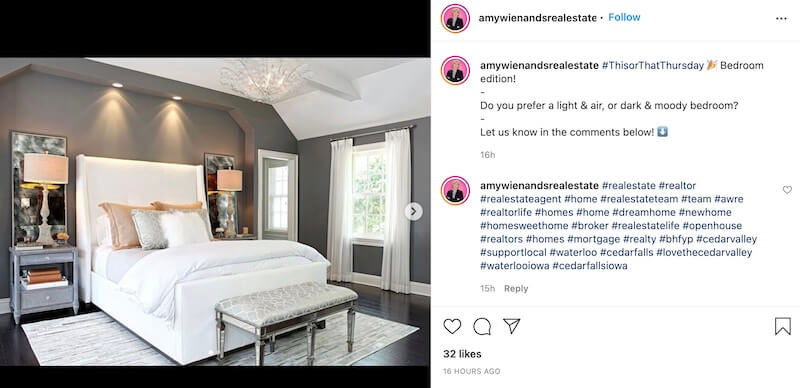 Amy Wienands serves the Cedar Valley area and has sold over 4,500 homes. She offers tips on how to upgrade your home and make a great first impression. She also shares regularly about events happening in Cedar Valley every Friday under #WhatsHappeningThis Weekend. amywienandsrealestate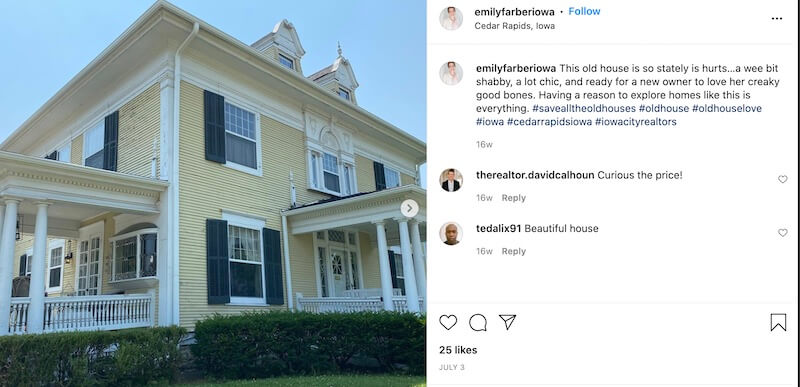 Do you like being in the hustle and bustle of town? Emily Farber is a realtor in Iowa City, whose listings include affordable condos in the heart of downtown for students or families who want to be within walking distance of the campus, restaurants, stores, and entertainment venues. She also has transformations of classic Iowa City bungalow homes and meticulously maintained, move-in-ready houses in prime locations. emilyfarberiowa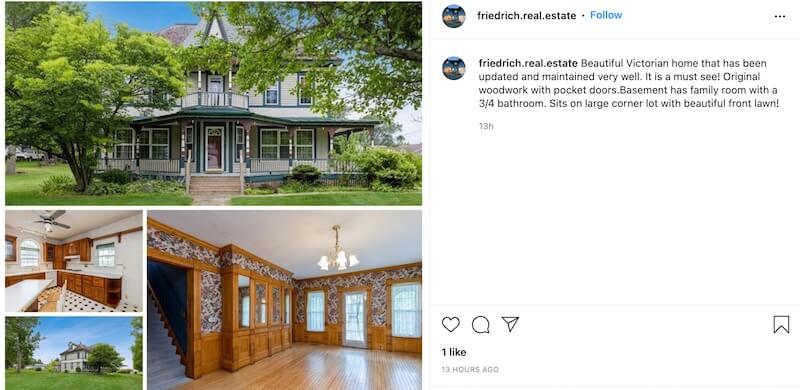 Friedrich Iowa Realty wants to move you! Their listings include excellent investment or owner-occupied opportunities. They offer one-of-a-kind homes that have been completely remodeled in great locations such as Eastgate, improved homes with a country site view in Ogden, or charming homes in an idyllic Ames neighborhood. friedrich.real.estate
Random facts that make Iowa an interesting place
Go with the flow
Iowa is the only state bordered by two parallel, navigable rivers: the Missouri River flowing on its western border and the Mississippi River on the state's eastern border. These two vital river systems were crucial for Iowa's settlement. They contribute to the state's economy and natural richness. On the side of the Mississippi River, you can visit the Mississippi National River and Recreation Area, and the sacred space of Effigy Mounds near the majestic Pikes Peak State Park. On the side of the Missouri River, you should check out the popular Lake Manawa State Park or the historic Lewis and Clark State Park, where its eponyms spent time. That's not even all!
A bird's eye view?
Actually, the nickname for Iowa, the Hawkeye State, has nothing to do with hawks or the mascot for the state's football team. Legend has it that James G. Edwards popularized the nickname for Iowa by changing the name of his newspaper, The Iowa Patriot, to The Hawk-Eye and Iowa Patriot. He did it after the 1832 Black Hawk War as a tribute to the Sauk tribe leader, Chief Hawkeye, who was also his friend. It has also been suggested that Hawkeye is connected to the character from The Last of the Mohicans. However, you can get a bird's eye view of Iowa from Hawkeye's Point, the highest elevation point in the state at 1,670 feet in Osceola County.
City of literature
Iowa City has been honored with the title of a UNESCO Creative City of Literature. The accolade is mainly thanks to the contributions of the Iowa Writers' Workshop at the University of Iowa, which was a pioneer in university-level creative writing programs. Iowa City, rich in writing programs in addition to Iowa's Writers' Workshop, and literary spots, has been a home for writers for over eighty years. Check out the renowned, independent Prairie Lights bookstore.
The best thing since sliced bread
Without the ingenuity of Iowan Otto Frederick Rohwedder, we would not have this expression. Rohwedder invented pre-sliced bread in 1912 with a bread-slicing device in Davenport. Unfortunately, his genius invention was destroyed when his workshop caught on fire. However, as we know today, sliced bread made it out into the world. He took time to perfect his work, popularized his machine, and finally, sliced bread became widely available in 1928.