Kansas City, MO Homeowners Insurance Guide
Cover your home in the City of Fountains.
Situated along the Missouri and Kansas Rivers, Kansas City, Missouri is part of a large metropolitan area. French fur traders first arrived in the area from St. Louis. Named for the Kansa Indian tribe, the city was incorporated in 1853.
Kansas City residents enjoy some of the best barbecue in the world, characterized by slowly smoked meat seasoned with a dry rub and smothered in a tangy, sweet, and spicy sauce. Sports fans will feel at home in Kansas City, Missouri. The city is home to the MLB Royals and the NFL Chiefs.
In Kansas City, homeowners insurance would cover you financially if something were to happen to you, your property, or your stuff. Let's say someone breaks into your home while you're on a weekend hike at Swope Park, or your friend twists their ankle after getting too excited while watching the Royals game in your living room. The right homeowners insurance policy could offer you financial protection if something terrible (or just plain inconvenient) were to happen.
Here's what we'll cover:
What does Kansas City homeowners insurance cover?
Kansas City has a lot going for it. Affordable homes, a solid job market, low taxes, friendly people, lively entertainment options, and some of the best barbecue in the country all make it clear why the City of Fountains is a great place for any American family. The state is full of awe-inspiring natural wonders including gorgeous state parks, spring-filled caves, limestone bluffs, meandering lake trails, rolling rivers, and woodland ponds.
However, there are also some natural risks along with the state's natural beauty. In Kansas City, floods, tornadoes, thunderstorms with straight-line winds, wildfires, blizzards, and snowstorms are all unfortunate possibilities.
It's worth noting that while no insurance policy can cover you from every single potential mishap, the right homeowners policy offers coverage options that can keep you financially afloat through a myriad of typical situations.
You might know that a home insurance policy is a good (and necessary) idea, but you might not have a grasp on all the moving parts of various insurance products. We've got a very extensive, plain English guide here, so feel free to dive deep into the specific insurance options — but for now, we'll break down the basics for you here, so you can get a handle on what a policy covers in general.
Dwelling
'Dwelling coverage' helps pay for damages to the structure of your home. So, if your pipes burst next winter and damage your walls, or a windstorm blows over a tree and damages your home, you're covered.
Other Structures
If one of the dangers mentioned above causes damage to your driveway, fence shed, or other structures on your property, the best home insurance will have you covered.
Loss of Use
If you can't live in your home due to covered losses, your loss of use coverage can help pay for a temporary place to stay and basic living expenses such as food, laundry, parking, etc.
Personal Property
Personal property coverage protects your stuff both inside and outside your home. So if your couch is ruined due to a burst pipe, or your laptop is swiped at a coffee shop, homeowners insurance has your back. With Lemonade, if your insurance claim is approved, you'll receive the replacement cost of your personal belongings back in your pocket.
Liability coverage
If your neighbor slips and falls on an ice sheet on your driveway, you could be held liable. If someone is injured on your property or anyone on your policy causes damage to someone else's property or stuff, your insurance company should have you covered.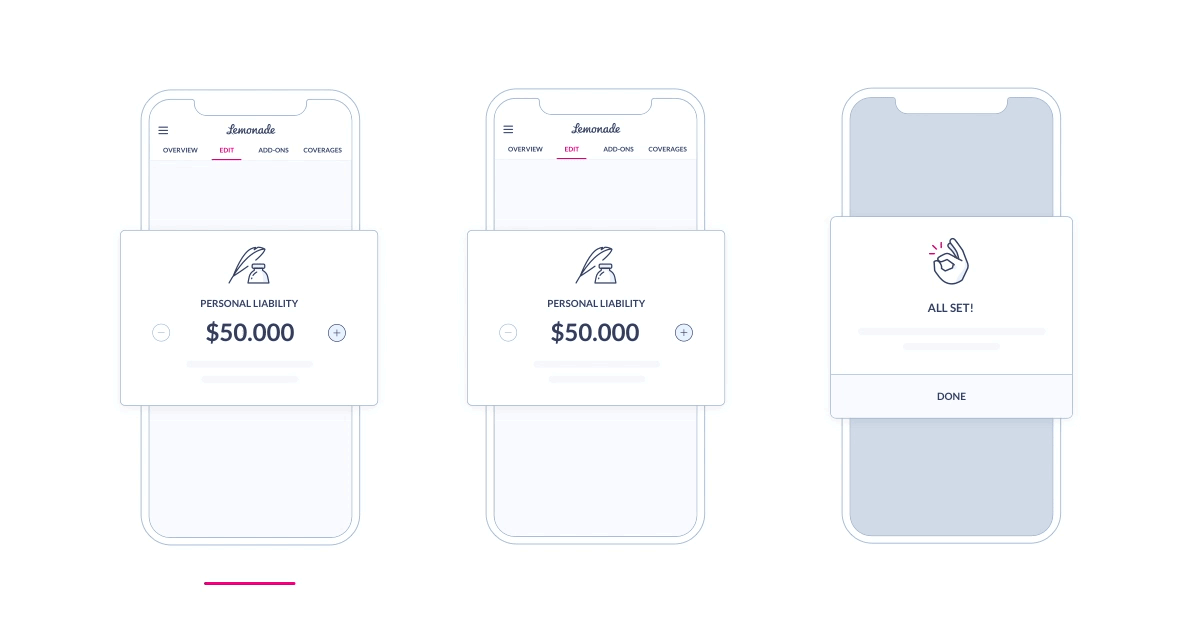 Medical Protection
If your neighbor needs to go to the hospital because of that slip and fall, your coverage will kick in to cover the medical expenses. Home insurance covers you if a guest gets injured at your place or if you accidentally cause injury to someone outside your home.
How much is home insurance in Missouri?
There isn't a standard policy price for homeowner's insurance for residents of Missouri. Of course, the owner of a Sunset Hill West mansion will pay a different monthly premium than a grad student who owns a two-bedroom home in Lea Manor.
According to Bankrate, Missouri residents pay a bit more than average when it comes to homeowners insurance rates. In Missouri, the average cost of homeowners insurance is around $1,558 per year. In comparison, the national average homeowners insurance costs $1,383. How much your homeowners insurance costs will depend on your coverage limits, your insurer, your property, and your deductible.
What are the different types of homeowners insurance?
Lemonade offers two types of homeowners insurance policies: one for single-family homes (called HO3 in insurance-speak) and one for condo insurance (HO6). There are minor differences between the two, and you'll choose the right insurance coverage depending on the type of home you're looking to insure. A key difference is that homeowners own and are responsible for everything on their property (home, garage, fence, etc.). Condo owners with HO6 policies are only responsible for the outermost walls of their unit, inward.
The best neighborhoods to be a homeowner in Kansas City
Armour Hills
Families love Armour Hills because it's a safe, affordable neighborhood with great public and private schools. The neighborhood takes its name from Armour and Company, one of the main meatpacking firms in the area. When real estate developer J.C. Nichols bought the land from the Armour brothers in 1922, he stipulated that each home should look unique, and the South Kansas City neighborhood is known for a varied mix of housing styles, including Tudors, Colonials, and bungalows. The average price of a home in Armour Hills is $392,500 according to Realtor.com.
Armour Hills is known as a welcoming community with an active homeowners association. Residents of Armour Hills enjoy hiking or riding on the historic six-mile Harry Wiggins Trolley Track Trail. Arbor Villa Park offers a pool, playgrounds, and tennis courts. The Cleaver Family YMCA is also in Armour Hill, with sports programs for the entire family.
For delicious food and drinks in Armour Hills, head to District Pour House and Kitchen. Enjoy unique craft beers and chow down on American comfort food favorites like gumbo and burgers. Betty Rae's Ice Cream is the place to go for a scoop. Mainstay flavors like brown butter & toasted pecan, cookie dough, and lavender honey are always featured, alongside rotating selections like pineapple upside -down cake, Chinese 5 spice, and lemon poppyseed cake. Dairy, vegan, and gluten-free options are available.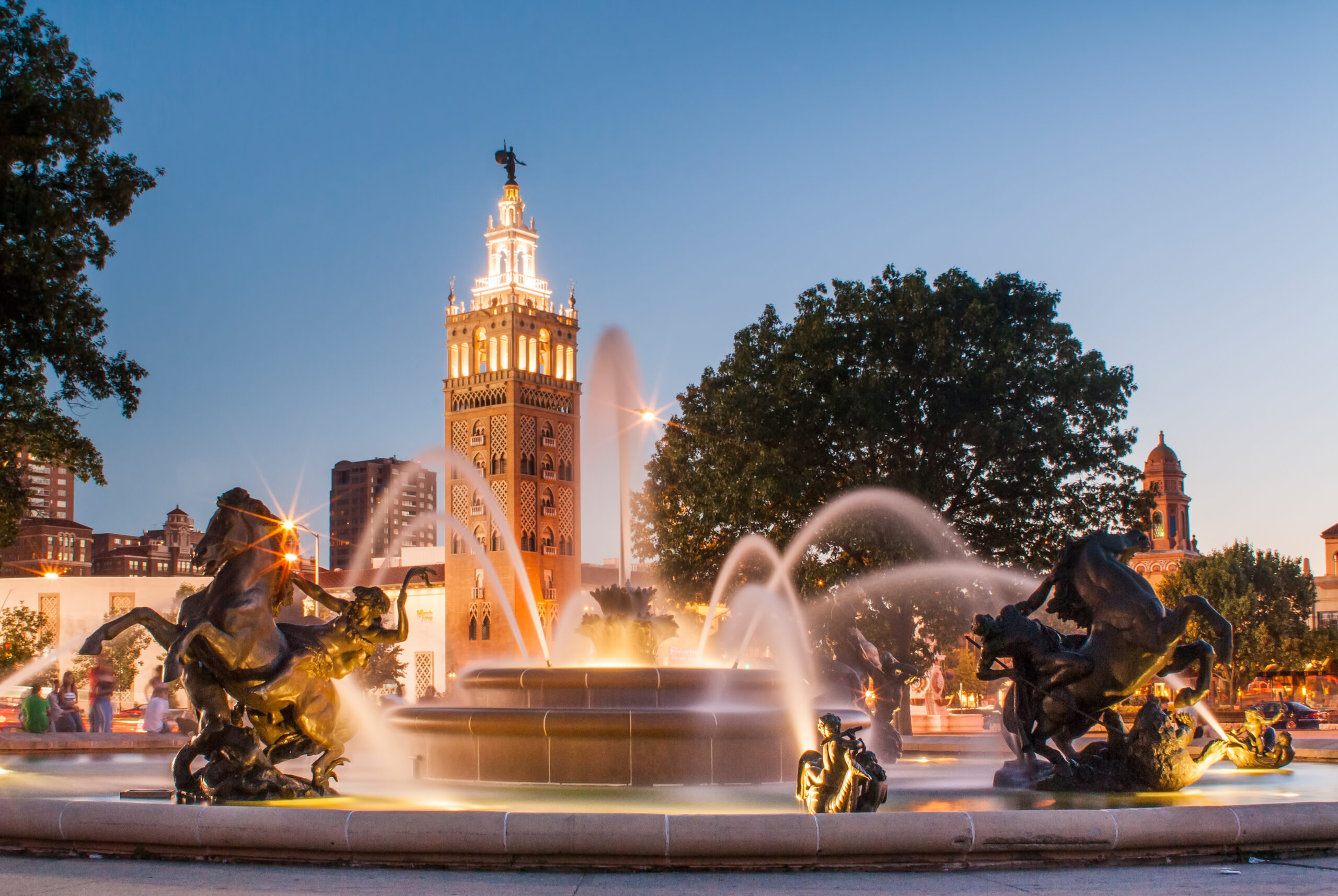 Liberty
Liberty is a family-friendly suburb of Kansas City that is rich in historical significance. The schools in Liberty are among the top-rated in Missouri, with great educational options for all ages, including William Jewell College. Spacious, affordable homes can be found in the area, including split-levels, Capes, and Colonials. The average price of a home in Liberty is $295,476 according to Zillow.
Liberty was once the jumping-off point for those seeking to go West and settle the frontier during westward expansion. Liberty Landing, a steamboat dock along the Missouri River, was the site of daily boat arrivals. The Liberty Jail Historic Site was home to famous prisoners including Mormon leader Joseph Smith. You can also visit the Jesse James Bank Museum, the site of an infamous bank robbery in 1866.
Liberty has a lot to offer residents in terms of recreational activities. For nature lovers, the Martha Lafite Thompson Nature Sanctuary provides a welcome break from the hustle and bustle, with numerous hiking trails, exhibits, and the peaceful calm of the great outdoors. Sea Life is a world-class aquarium with a touch pool and a 180-degree underwater tunnel where you can get up close and personal with sea creatures. At Legoland Discovery Center, kids can make creations, go on rides, and view intricate miniature city models.
Liberty's got great food, too. The Fish Market may look like an old roadside diner, but prepare yourself for some of the best Cajun-style fish dishes you've ever had. Jambalaya, catfish, shrimp, alligator, and incredible fries are served up fresh every day at the Fish Market. For flavorful Mexican dishes and refreshing margaritas, visit La Costa Mexicana. It's in one of Liberty's historic buildings, complete with exposed brick, old mailboxes, and ambiance to spare. The tamales come loaded with meat and the friendly staff makes La Costa Mexicana a place you'll want to return to again and again.
Brookside
Residents of Brookside know they've found the perfect neighborhood to call home. Beautiful properties and tree-lined streets abound in Brookside, offering Kansas City dwellers convenient urban living in a vibrant, quaint neighborhood. Brookside is home to a mix of different housing styles, including Colonial Revivals, Georgians, Tudors, and craftsman bungalows. The average price of a home in Brookside is $445,000 according to Redfin.com.
Culture is big in Brookside, with a lively arts scene. Boutiques, art galleries, and antique shops can be found in the neighborhood. Brookside Day is a yearly celebration held on the first Saturday in June every year, with live music, food trucks, and a parade.
Brookside Park lies at the heart of the neighborhood and is a popular place where locals get together to picnic, play basketball, or relax while the kids enjoy the playground. Saturdays from May to October mean the Brookside Farmers Market, featuring local produce, freshly baked treats, and a selection of floral stands. In short: Brookside has that quintessential American town feel.
Red Door Woodfired Grill is located in Brookside Plaza and is a great place for grilled meats, chicken, burgers, or a hearty brunch. If you're looking for a delectable spot that combines comforting Italian favorites with bold Latin tapas, head to Carmen Cafe. The pasta dishes are complemented by incredible sauces, and don't forget to ask for the Italian butter with fresh garlic and herbs!
River Market
Historic River Market is the site of the oldest incorporated district in Kansas City. In River Market, you'll find the best of modern urban living with the ease of a Midwestern neighborhood lifestyle. Residents of River Market can walk just about anywhere in their neighborhood. Housing opportunities in River Market range from single-family homes to lofts, condos, and townhouses. Realtor.com reports that the average cost of a home in River Market is $241,300.
The largest farmer's market in the area, City Market, takes place in River Market every Saturday and Sunday. It's a great place to buy fresh produce, spices, and specialty items. While you're there, you can try some of the most popular restaurants in Kansas City. Other attractions in the neighborhood include the Arabia Steamboat Museum. There, you can take in thousands of artifacts from a steamboat that sank in 1856, and was recovered in the late 1980s.
If you're hungry in River Market, you're in luck, because you'll have your pick of cuisines from around the world. It's hard to choose from the plethora of options, but we like Local Pig and Pigwich for satisfying sandwiches stuffed with locally-raised meats and smoked charcuterie. Try some authentic Vietnamese Pho at Nguyen Pho and Grill in River Market, or enjoy a decadent brunch at The Farmhouse, which serves farm-to-table food, from tip to tail.
These Kansas City businesses will make your house a home
Random facts that make Kansas City great
It's Showtime!
The first multiplex movie theater opened in Kansas City in 1963. Located in Ward Parkway Shopping Center, the theater is still popular today.
Let's see that again
NFL's Kansas City Chiefs play at Arrowhead Stadium, and the scoreboard at the stadium was the first to transmit the magic of instant replay during a game.
A Nature Lover's Paradise
Kansas City's largest green space is Swope Park. At 1,805 acres, Swope Park is more than double the size of New York City's Central Park. As for the rest of the city, it boasts over 220 parks, 134 miles of trails and bike paths, 103 playgrounds, and 29 lakes.
M-i-c-k-e-y M-o-u-s-e
Walt Disney's Laugh-O-Gram Studios in Kansas City is where Mickey Mouse got his start. Legend has it that a real, live mouse in the building inspired Disney to create the beloved cartoon character.
Shop 'til you drop
America's first suburban shopping district, the Country Club Plaza, opened in Kansas City in 1923. Covering 15 blocks and featuring Spanish-style architecture, and – you guessed it – dozens of fountains, the Plaza features upscale shops and lots of dining options.