Missouri Homeowners Insurance Guide
Cover your home in the Show Me State.
Whether you live close to Jefferson City or have a view of Osage Beach from your window, you deserve the best homeowners insurance coverage in Missouri.
Homeowners insurance would cover you financially if something happened to you, your property, or your stuff. Let's say someone breaks into your home while you're hiking for the weekend at Mark Twain National Forest, or your friend twists their ankle after getting too excited while watching the St.Louis Cardinals in your den. The right homeowners insurance policy could offer you financial protection if something horrible (or just plain inconvenient) were to happen.
What does Missouri home insurance cover?
Missouri is an ideal state. It has something for everyone, rural areas and cities, nature and culture, sports and excellent food. Missouri residents enjoy all four seasons, natural areas, and despite being landlocked, it is full of lakes, streams, and rivers.
However, there are also some natural risks along with the state's natural beauty. Tornadoes, severe storms, ice storms, and flooding are all common in Missouri due to its geography. Tropical storms or hurricanes can occur every two to three years.
It's worth noting that while no insurance policy can cover you from every single possibility in the universe, the right homeowners policy can keep you financially afloat through a myriad of common situations.
You might know that a home insurance policy is a good (and necessary) idea, but you might not have a grasp on all the moving parts. We've got a very extensive, plain English guide here, so feel free to dive deep into the specifics—but for now, we'll break down the basics for you here, so you can get a handle on what a policy covers in general.
Dwelling
'Dwelling coverage' helps pay for damages to the structure of your home. So, if your pipes burst next winter and damage your walls, or a windstorm blows over a tree and damages your home, you're covered.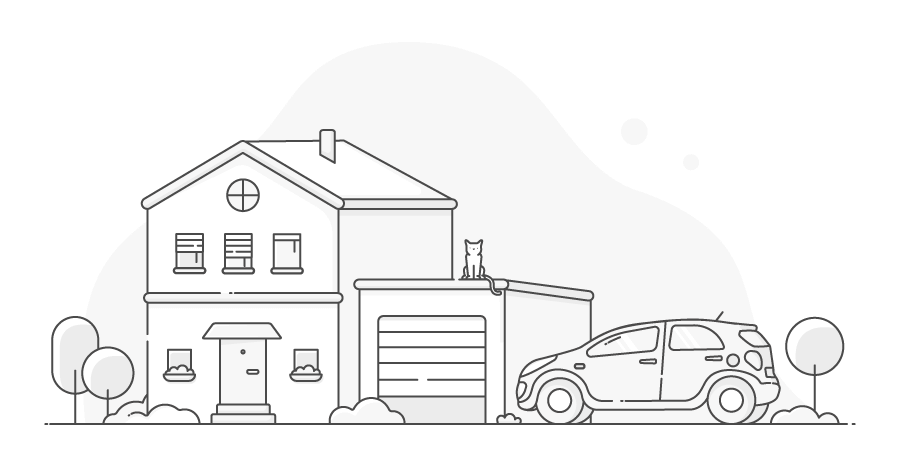 Other Structures
If one of the dangers mentioned above causes damage to your driveway, fence shed, or other structures on your property, your homeowners insurance has you covered.
Loss of Use
If you can't live in your home due to covered damages, your' loss of use coverage can help pay for a temporary place to stay and basic living expenses such as food, laundry, parking, etc.
Personal Property
Personal property coverage protects your stuff both inside and outside your home. So, if your couch is ruined due to a burst pipe or your laptop is swiped at a coffee shop, homeowners insurance has your back. With Lemonade, if your insurance claim is approved, you'll receive the replacement cost of your personal belongings back in your pocket.
Liability coverage
If your neighbor slips and falls on an ice sheet on your driveway, you could be held liable. If someone is injured on your property or anyone on your policy causes damage to someone else's property or stuff, your insurance company should have you covered.
Medical Protection
If your neighbor needs to go to the hospital because of that slip and fall, your coverage will kick in to cover the medical expenses. Home insurance covers you if a guest gets injured at your place or if you accidentally cause injury to someone outside your home.
How much is home insurance in Missouri?
There isn't a standard policy price for homeowner's insurance for residents of Missouri. Of course, a Highlandville mansion will pay a different monthly premium than a college student who owns a two-bedroom home in Kansas City.
According to Bankrate, Missouri residents can get a pretty good deal when it comes to homeowners insurance rates. The average cost of homeowners insurance in Missouri is around $2,251 per year. In comparison, the national average for homeowners insurance is $1,477. How much your homeowners insurance costs depends on your coverage limits, your insurer, your property, and your deductible.
What are the different types of homeowners insurance?
Lemonade offers two types of homeowners insurance policies: one for single-family homes (called HO3 in insurance-speak) and one for condo insurance (HO6). There are minor differences between the two, and you'll choose the right policy depending on the type of home you're looking to insure. A key difference is that homeowners own and are responsible for everything on their property (home, garage, fence, etc.). Condo owners with HO6 policies are only responsible for the outermost walls of their unit, inward.
A few of the best places to buy a home in Missouri
Ballwin
This suburb of St. Louis is the number one best place to buy a home in Missouri, according to Niche.com. It also ranks number three as the best place to raise a family in the state. Ballwin is Missouri's safest city and received an A+ on Areavibes, particularly for amenities and low crime.
In Ballwin, there is tons of nature to enjoy. At Castlewood State Park, Ballwin residents can go mountain biking or hiking with a beautiful view of the lush valley and the winding Meramec River, or explore one of the most attractive trails in the state, Rock Hollow Trail. There is also Lone Elk Park, which is teeming with wildlife. The city is abundant with urban green spaces and parks such as Vlasis Park, New Ballwin Park, and more.
Surprisingly, the city center is one of the more affordable areas in town. In general, Ballwin is an affluent area with plenty of job opportunities. It is a rather convenient place to live with stores and good schools nearby. According to Zillow, the median value of a home in Ballwin is $358,042.
Learn more about homeowners insurance in St. Louis.
Glendale
Another suburb of St. Louis lying along the Mississippi River, Glendale is the number two best place to purchase a home in Missouri, according to Niche.com. The city also ranks at number seven as one of the best places to raise a family in the state. The majority of Glendale residents own their own homes. Areavibes ranked Glendale as the number one city in Missouri and ten in the United States, giving the city an A+ for amenities, low crime, employment opportunities, and quality education.
Glendale residents can play a relaxing round of golf at Algonquin Golf Club or a short drive away at Larson Park. The average value of a house in Glendale is $465,984, according to Zillow.
Crestwood
Located in south St.Louis county, Crestwood is another St.Louis suburb that ranks number three as the best place to buy a home in Missouri, according to Niche.com. It is also in the top twenty best suburbs in the state for young professionals. It has a reasonable cost of living, a vibrant arts and culture scene, and an educated population. Crestwood has plenty of parks, including Rayburn Park, Whitecliff Park, and the 21 acres of Crestwood Park with trails, sports fields, and a sledding hill.
The town is also home to Thomas Sappington House Museum, a restored Federal-style home built in 1808. The median value of a home in Crestwood is $226,213, according to Zillow.
Dardenne Prairie
Dardenne Prairie is the fourth best place to buy a home in Missouri, according to Niche.com. This suburb, located in St. Charles County, is also ranked in the top 20 best places to raise a family in the state. Dardenne Prairie has verdant parks, high-quality schools, and a variety of restaurants. Residents get to enjoy parks such as City Hall Park, Dardenne Greenway at Bluebird Meadow Park, and the 94-acre Barathaven Park that has 3 miles of trails and a 15-acre lake.
There are also gorgeous state parks, including Katy Trail State Park and August A. Busch Memorial Conservation Area, which are perfect places for a hike, a nature photoshoot, or you can follow Lewis and Clark's path along the Missouri River. The typical value for a home in Dardenne Prairie, according to Zillow, is $398,311.
Missouri real estate brokers to follow on Instagram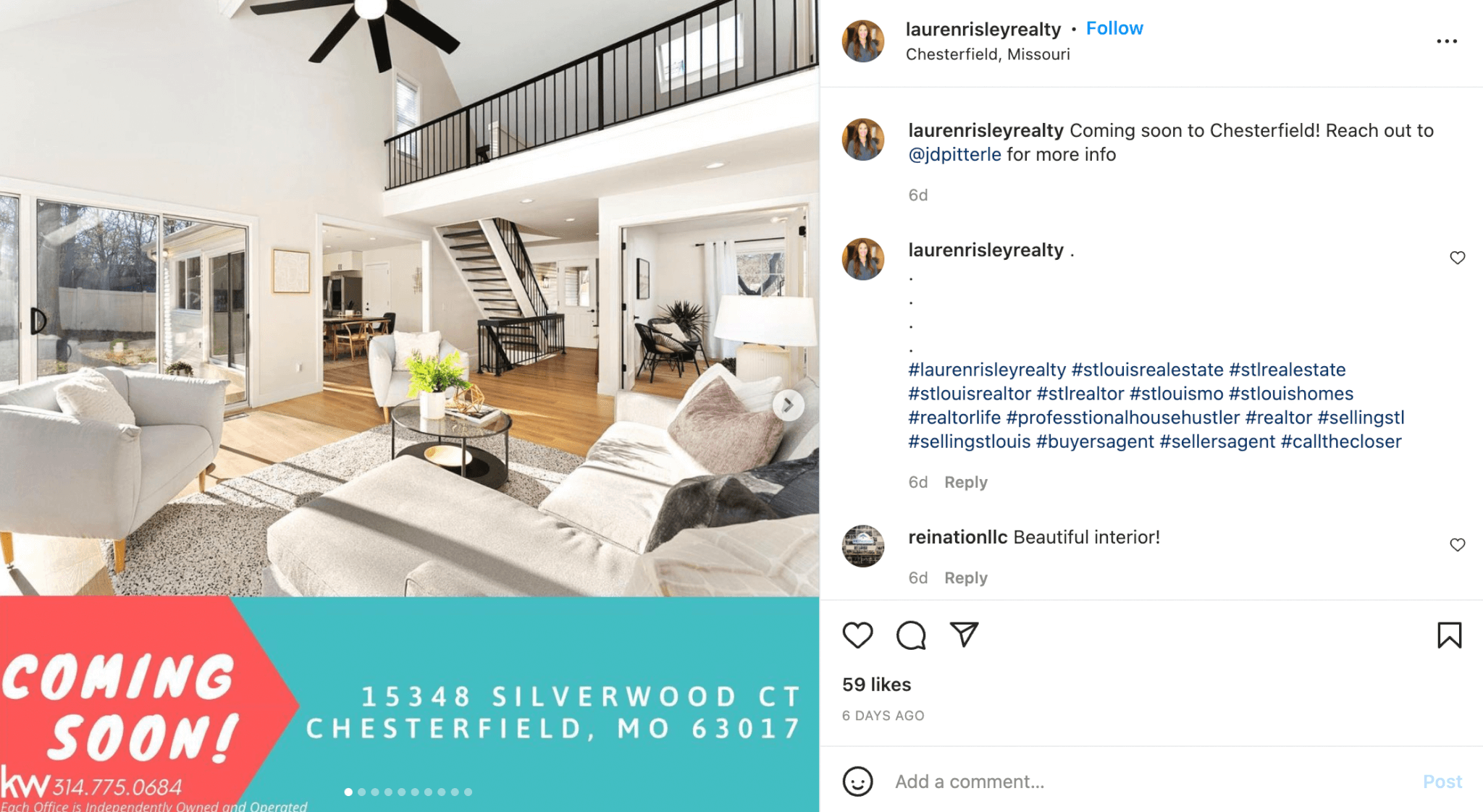 The Lauren Risley Realty Team shares listings, events, travel information, and even stray rescues on her page. This Missouri realtor has lovely properties in Chesterfield, Compton Heights, Valley Park, U City, St.Louis, and more. She also uses her platform to raise money for good causes and holds fun contests. laurenrisleyrealty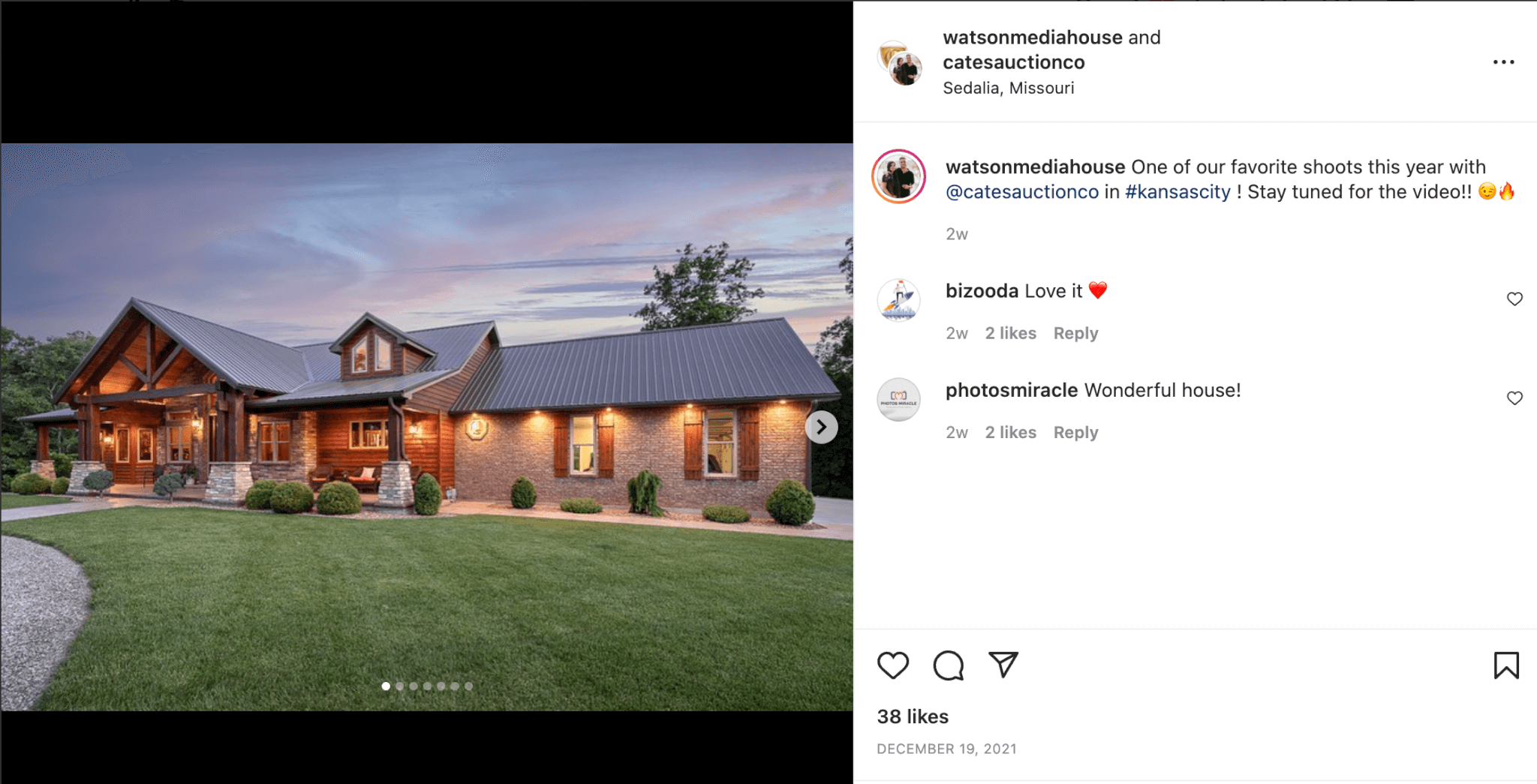 While not real estate agents, the Watson Media House team are assets to anyone selling their home and to agents listing excellent properties. Missouri Real Estate Media provides flattering photos, creative videos, stunning aerial shots, and more! They have provided gorgeous shots in locations like Sedalia, Branson, and Springfield. watsonmediahouse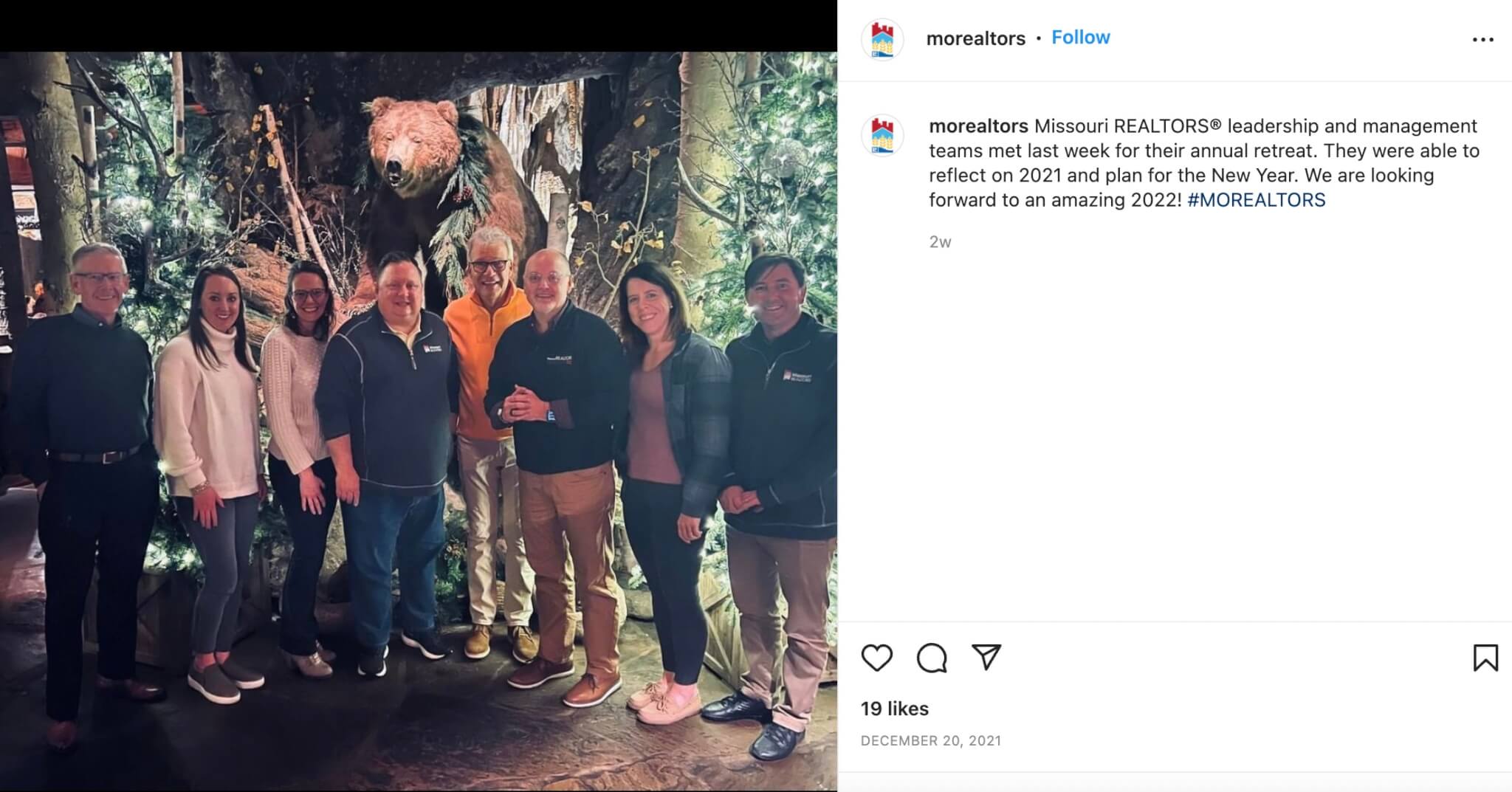 Missouri REALTORS® are dedicated to the American Dream. You can count on them as you make life's most important decisions. They even have their very own podcast and music playlist! They are also supporters of the Diversity Summit and MO Pride. morealtors
Random facts that make Missouri great
A Monumental Gateway
St.Louis's Gateway Arch is the tallest manufactured national monument in the United States.
It's a dramatic and impressive 630 feet tall. You can take a tram to the top to get the best view of the city. The Museum at the Gateway Arch will inspire you to explore "new heights," traces the story of the area's Native Americans, pioneers, and explorers, and celebrates America's pioneering spirit.
City of Fountains
Kansas City has the nickname "City of Fountains" because it has the second most fountains of any city in the world (second only to Rome). The city's love affair with fountains started in the late 1800s to provide fresh water for thirsty people and their horses. Eventually, many architectural fountain styles began to pop up around the city, from petite spouting statuary to grand cascading centerpieces.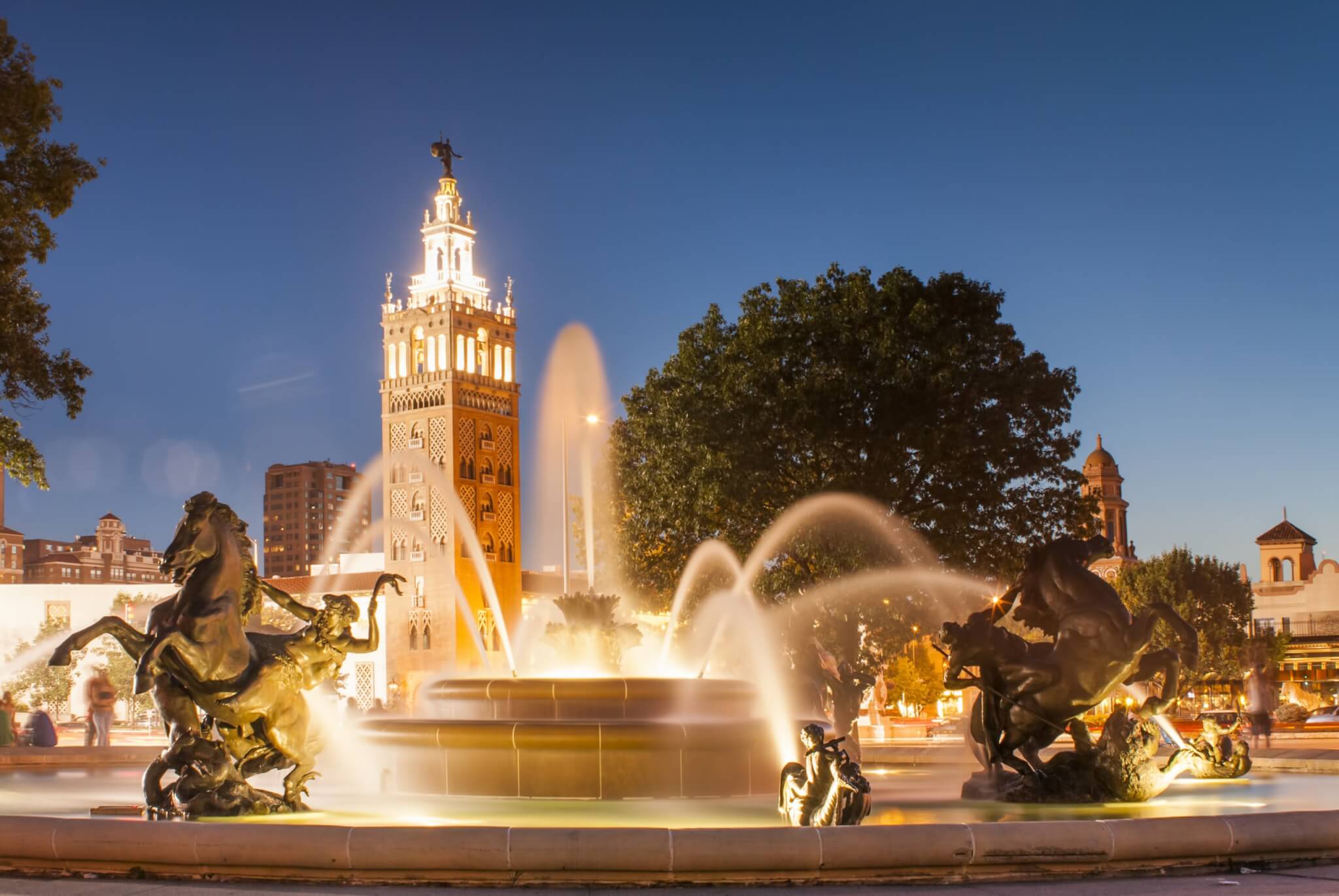 Good Neighbors
Bordered by eight different states, Missouri has the highest number of neighboring border states. Iowa lies to the north; Illinois, Kentucky, and Tennessee are east across from the Mississippi River; Arkansas is on the south; and Oklahoma, Kansas, and Nebraska are on the west. However, Missouri isn't the only state with lots of bordering states. It actually shares the title for #1 with Tennessee.
The Allegory of the Cave
Another nickname for Missouri is the Cave State because the state is home to around 6,400 caves! Some of the most noteworthy caves are Fisher Cave at Meramec State Park, Ozark Caverns at Lake of the Ozarks State Park, and Onondaga Cave and Cathedral Cave at Onondaga Cave State Park.