New Jersey Homeowners Insurance Guide
Get your home covered in the Garden State.
Whether you live not far from Trenton or have a view of the Delaware River from your window, you deserve the best homeowners insurance coverage in New Jersey.
Homeowners insurance would cover you financially if something happened to you, your property, or your stuff. Let's say someone breaks into your home while you're camping out for the weekend at Paterson Great Falls, or your friend twists their ankle after getting too excited while watching the Devils in your den. The right homeowners insurance policy could offer you financial protection if something unfortunate (or just plain inconvenient) were to happen.
What does New Jersey home insurance cover?
New Jersey has it all and was once even ranked as the best state to live in the United States by WalletHub. The state boasts a leading education system, superior health care, world-class entertainment, recreational opportunities, family-friendly towns, quality dining, and diversity.
Nicknamed the Garden State, New Jersey possesses a wealth of natural beauty from the neighborhoods and public parks to waterfalls, cliffs, beaches, lakes, and mountains.
However, there are also some natural risks along with the state's natural beauty. In New Jersey, severe storms, tropical storms and hurricanes, floods, winter storms, wildfires, extreme heat and drought, landslides, tornadoes, earthquakes, and though rare, even tsunamis are possible.
It's worth noting that while no insurance policy can cover you from every single potential mishap, the right homeowners policy can keep you financially afloat through a myriad of typical situations.
You might know that a home insurance policy is a good (and necessary) idea, but you might not have a grasp on all the moving parts. We've got a very extensive, plain English guide here, so feel free to dive deep into the specifics—but for now, we'll break down the basics for you here, so you can get a handle on what a policy covers in general.
Dwelling
'Dwelling coverage' helps pay for damages to the structure of your home. So, if your pipes burst next winter and damage your walls, or a windstorm blows over a tree and damages your home, you're covered.
Other Structures
If one of the dangers mentioned above causes damage to your driveway, fence shed, or other structures on your property, your homeowners insurance has you covered.
Loss of Use
If you can't live in your home due to covered damages, your' loss of use coverage can help pay for a temporary place to stay and basic living expenses such as food, laundry, parking, etc.
Personal Property
Personal property coverage protects your stuff both inside and outside your home. So, if your couch is ruined due to a burst pipe or your laptop is swiped at a coffee shop, homeowners insurance has your back. With Lemonade, if your insurance claim is approved, you'll receive the replacement cost of your personal belongings back in your pocket.
Liability coverage
If your neighbor slips and falls on an ice sheet on your driveway, you could be held liable. If someone is injured on your property or anyone on your policy causes damage to someone else's property or stuff, your insurance company should have you covered.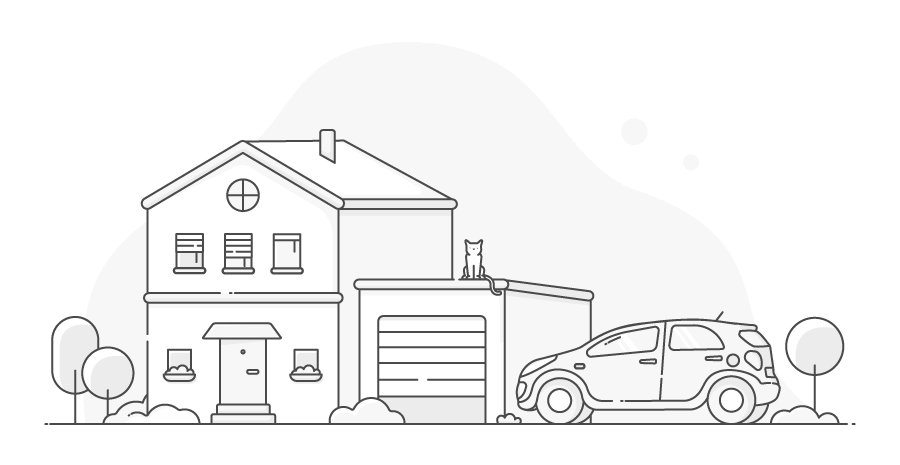 Medical Protection
If your neighbor needs to go to the hospital because of that slip and fall, your coverage will kick in to cover the medical expenses. Home insurance covers you if a guest gets injured at your place or if you accidentally cause injury to someone outside your home.
How much is home insurance in New Jersey?
There isn't a standard policy price for homeowner's insurance for residents of New Jersey. Of course, an Englewood mansion will pay a different monthly premium than a college student who owns a two-bedroom home in New Brunswick.
According to Bankrate, New Jersey residents can get a pretty good deal when it comes to homeowners insurance rates. In New Jersey, the average cost of homeowners insurance is around $751 per year. In comparison, the national average for homeowners insurance is $1,477. How much your homeowners insurance costs depends on your coverage limits, your insurer, your property, and your deductible.
What are the different types of homeowners insurance?
Lemonade offers two types of homeowners insurance policies: one for single-family homes (called HO3 in insurance-speak) and one for condo insurance (HO6). There are minor differences between the two, and you'll choose the right policy depending on the type of home you're looking to insure. A key difference is that homeowners own and are responsible for everything on their property (home, garage, fence, etc.). Condo owners with HO6 policies are only responsible for the outermost walls of their unit, inward.
Some of the best places to buy a home in New Jersey
Princeton Junction (West Windsor Township)
Princeton Junction is an excellent place for raising a family, safe, socially and culturally diverse, and has plenty of outdoor spaces. According to Niche.com, it is the number one best place in New Jersey to purchase a home and the best place to live in the state.
This small neighborhood is located in West Windsor Township in Mercer County and an outer-ring suburb of New York City. Green spaces where residents can enjoy nature include Princeton Metro Park, West Windsor Community Park, Mercer County Park, and Delaware & Raritan Canal State Park. It is a perfect place for those looking for the small-town suburban feel while simultaneously having close access to the affluent, prestigious Princeton.
Princeton Junction is a commuter's dream with its proximity to New York City, the Jersey Shore, and Philadelphia. The average value of a house in Princeton Junction, according to Zillow, is $741,432.
Robbinsville Township
Also located in Mercer County is Robbinsville, a small township with a lot to offer. According to Niche.com, Robbinsville is the second-best place to buy a house in New Jersey and is in the state's top twenty best places to live. Similar to Princeton Junction, Robbinsville Township is close to Trenton, Philadelphia, New York, contributing to a development boom and making it an ideal location for commuters. Not only that, it is a commercial hub in its own right. Robbinsville has restaurants, retail centers, and a winery. There are various recreational centers and lovely places to spend the day, from the historic town of Windsor to the Town Center Lake Gazebo to Oasis Family Farm, and many parks.
Residents rave about the extremely high quality of education, safety, and sense of community in the township. The average value of a house, according to Zillow, in Robbinsville is $415,000.
Monmouth Junction
Monmouth Junction is a scenic, growing community in South Brunswick Township, Middlesex County. According to Niche.com, Monmouth Junction is the number one best suburb and third best place to purchase a home in New Jersey. It is also the third-best place to raise a family in the state.
There are many green spaces to enjoy and farms, such as Reichler Park, Von Thun's Country Farm Market, and Gulick House Red Maple Farm, also listed on the New Jersey Register of Historic Places. The greater South Brunswick area boasts thirty-two open spaces, parks, and trails systems, including Woodlot Park, Davidson's Mill Pond Park, and Pigeon Swamp, over 1000 acres of hardwood forests, wetlands, and hunting area.
Monmouth Junction is highly educated, diverse, and centrally located. The average value of a Monmouth Junction home, according to Zillow, is $476,906.
Beckett
If you are looking for a classic suburban lifestyle, then Beckett is the place for you. This peaceful suburb is located in Logan Township, also known as Swedesboro. According to Niche.com, Beckett is the number one best place to live in Gloucester County, the second-best suburb, and the fourth best place to buy a house in New Jersey.
It is also one of the suburbs with the lowest cost of living in the state. Beckett Park and the Beckett Park Trail are sources of natural beauty in the area, as well as Raccoon Creek, a tributary of the Delaware River, which borders the suburb.
The greater Swedesboro-Logan Township is home to farmland, residential areas, retail stores, and the largest business park settings in the United States. The typical value for a home in Beckett, according to Zillow, is $335,097.
New Jersey real estate brokers to follow on Instagram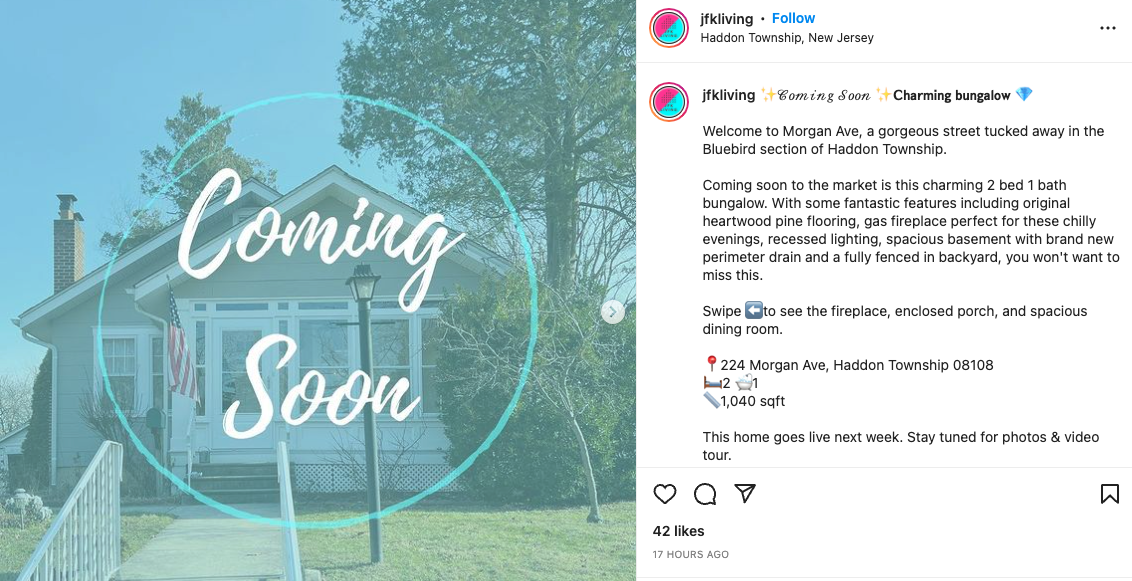 JFK Living's motto is "Real estate, but make it awesome." This team of realtors serves South Jersey, including Haddonfield, Medford, Haddon Township, Cherry Hill, as well as Pennsylvania. JFK Living was rated as being in the top 1% of all Zillow agents in the entire country! jfkliving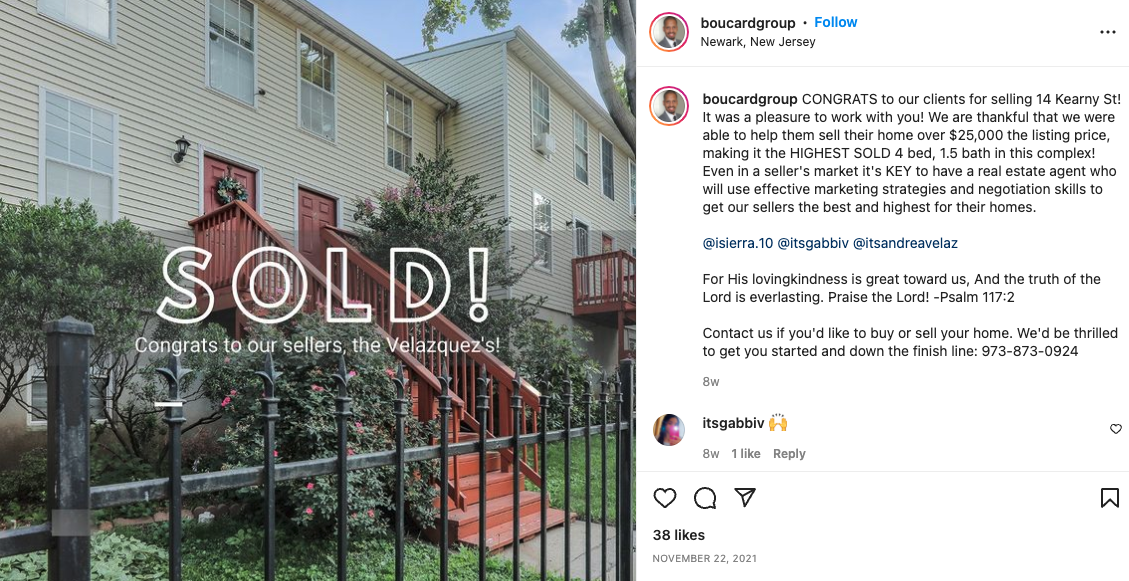 A man of faith and family man, John Boucard is a New Jersey real estate agent and blogger. He has helped sellers receive the highest value for their homes in Union, Newark, and Clifton. His listings include homes in Bloomfield, Little Falls, and Linden. Check out his blog! boucardgroup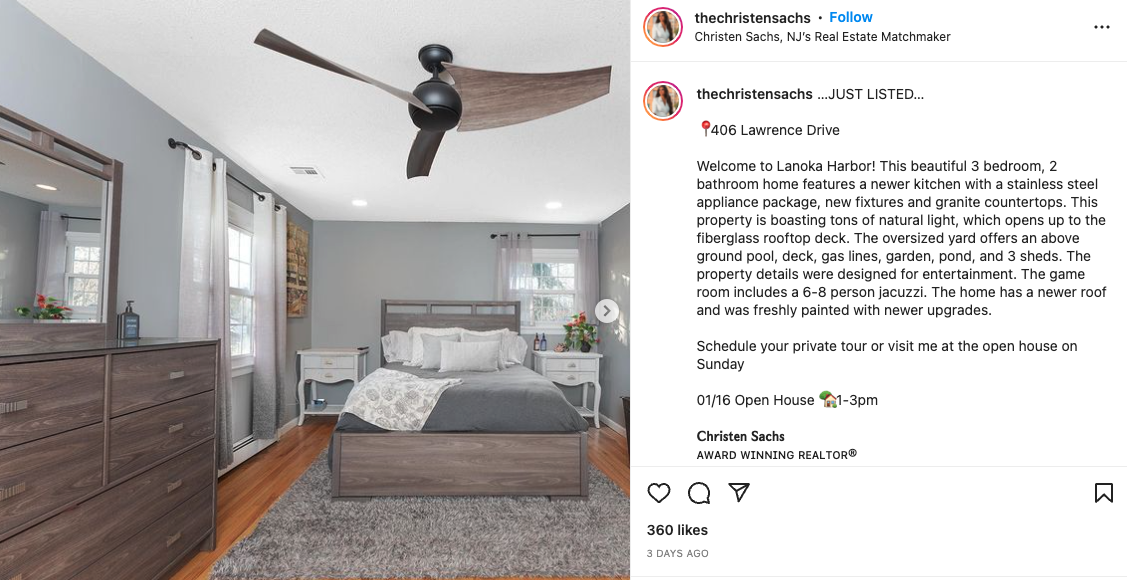 The New Jersey real estate matchmaker, Christen Sachs, is an award-winning realtor and "mompreneur" serving the Monmouth and Ocean County areas. As part of Curran Group Real Estate Services, she helps clients find their dream homes in record time and wins bidding wars! thechristensachs
Random facts that make New Jersey Great
Out of this world
In Grover's Mill, New Jersey, in 1938, a fictional Halloween broadcast detailed an alien landing. Based on The War of the Worlds by H.G. Wells, the broadcast was taken as fact, and panic ensued. People even drove into the town to fight the Martian invasion. The funny thing is, on the 50th anniversary of the "landing", a Martian landing site monument was erected, sculpted by artist Thomas Jay Warren, dedicated to the occasion that never really happened. The anniversary is still celebrated every year – far out!
Fine dining
Do you have a special place in your heart for the classic Americana of diners? Or do you just love a delicious, cheap meal any time of the day or night? Well, New Jersey has over 600 of them, the most diners of any state in the country! The Diner Capital of the World earned its title by filling a need for travelers between Philadelphia and New York during the rise of the automobile. Diners also catered to the diverse working-class population of the state. Just thinking about it, I bet now you're craving a creamy milkshake, hearty home fries, or hot cakes in the afternoon.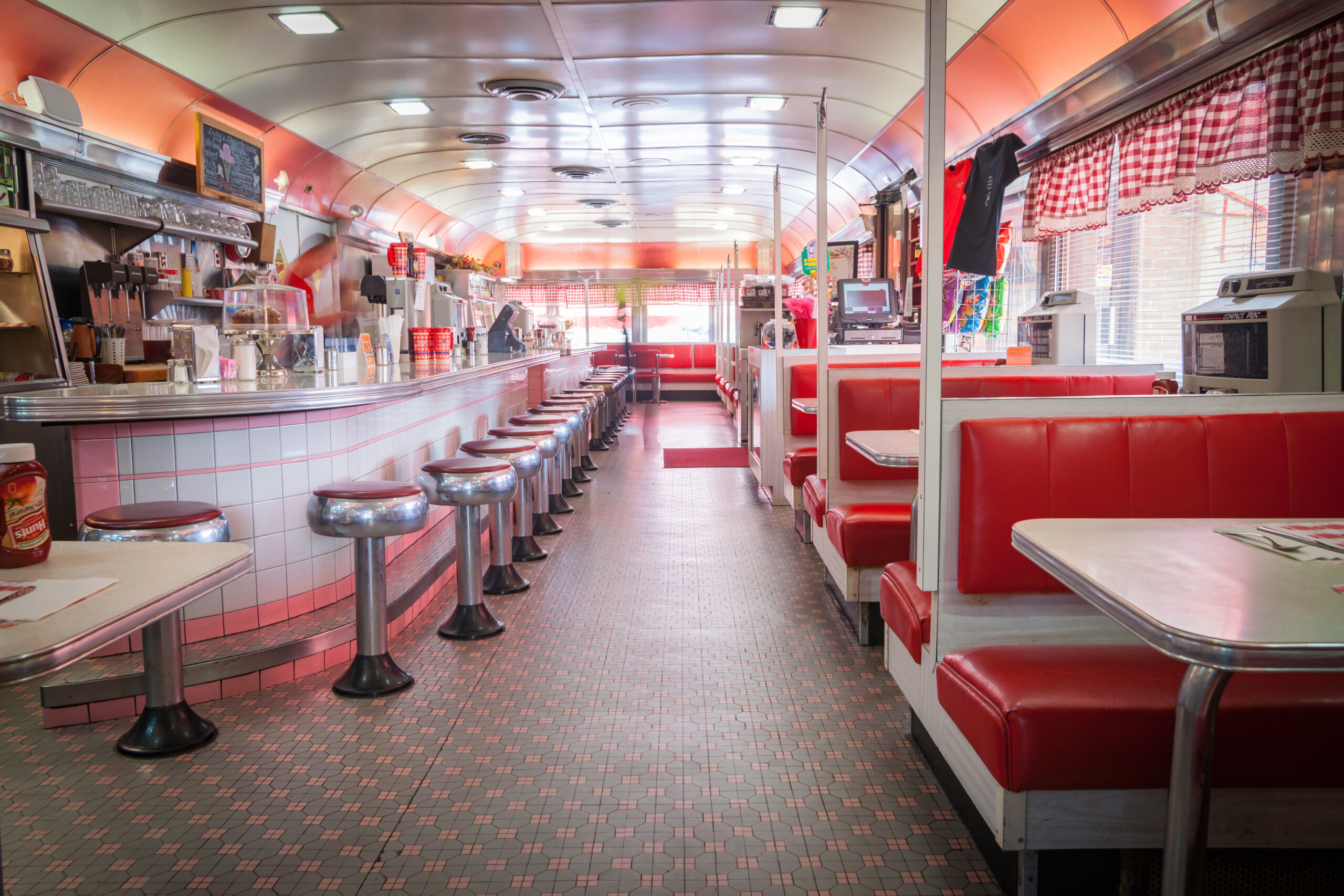 The garden of Jersey
New Jersey's nickname is the Garden State, and for a good reason. It has been said that Abraham Browning dubbed the state in 1876 by saying, "our Garden State is an immense barrel, filled with good things to eat and open at both ends, with Pennsylvanians grabbing from one end and New Yorkers from the other." Benjamin Franklin has also been credited for comparing the state to a "barrel tapped at both ends." Home to 9,900 farms, New Jersey, lives up to its name as the leading producer of fruit and vegetable crops, including asparagus, blueberries, bell peppers, cucumbers, cranberries, eggplant, sweet corn, squash, spinach, tomatoes, and peaches.
High density
As a testimony to being a great place to live, New Jersey has the highest population density in the United States. The state boasts 1,211.3 residents per square mile. It is also the most ethnically diverse state in the nation. The plentiful job opportunities in the state most likely contribute to its dense population. The state is home to a large part of the pharmaceutical industry jobs. Also, with its proximity to New York City, New Jersey is a haven for commuters who want to enjoy more employment opportunities with a lower cost of living.