Philadelphia Homeowners Insurance Guide
Cover your home in the City of Brotherly Love.
Philadelphia is an amazing place to live, offering affordable housing, lots of job opportunities, excellent educational institutions, and a vibrant arts and culture scene.
Philadelphia was founded by Quaker leader William Penn in 1682 in the spirit of religious tolerance. An important part of America's history, Philadelphia was where America's founding fathers met to plan the American Revolution, and where the Declaration of Independence was signed, earning it the nickname "The Birthplace of America." The Liberty Bell, with its famous crack, is a Philadelphia icon.
In Philadelphia, homeowners insurance would cover you financially if something were to happen to you, your property, or your stuff.
Let's say someone breaks into your home while you're on a weekend hike at Wissahickon Valley Park, or your friend twists their ankle after getting too excited while watching the Eagles in your living room. The right homeowners insurance policy could offer you financial protection if something terrible (or just plain inconvenient) were to happen.
Here's what we'll cover:
What does Philadelphia home insurance coverage cover?
Philadelphia is the quintessential American city. Quality education, friendly people, a low cost of living, great beer, fantastic food, and exciting street fairs all make it clear why the City of Brotherly Love is a great place to be. Philly boasts awe-inspiring natural wonders such as gorgeous state parks, terrific trails, wonderful wetlands, glorious gardens, and rivers and creeks to explore.
However, there are also some natural risks that come along with Philadelphia's natural beauty. In Philadelphia, floods, thunderstorms, blizzards, power outages, and snowstorms are all unfortunate possibilities.
It's worth noting that while no insurance policy can cover you and your valuables from every single potential mishap, the right homeowners policy can keep you financially afloat through a myriad of typical situations.
You probably know that a home insurance policy is a good (and necessary) idea, but you might not have a grasp on all the moving parts when it comes to insurance services. We've got a very extensive, plain English guide here, so feel free to dive deep into the specifics—but for now, we'll break down the basics of the different coverage options for you here, so you can get a handle on what a policy covers in general.
Dwelling
'Dwelling coverage' helps pay for damages to the structure of your home. So, if your pipes burst next winter and damage your walls, or a windstorm blows over a tree and damages your home, you're covered.
Other Structures
If one of the dangers mentioned above causes damage to your driveway, fence shed, or other structures on your property, your homeowners insurance has you covered.
Loss of Use
If you can't live in your home due to covered damages, your loss of use coverage can help pay for a temporary place to stay and basic living expenses such as food, laundry, parking, etc.
Personal Property
Personal property coverage protects your stuff both inside and outside your home. So, if your couch is ruined due to a burst pipe or your laptop is swiped at a coffee shop, homeowners insurance has your back. With Lemonade, if your insurance claim is approved, you'll receive the replacement cost of your personal belongings back in your pocket.
Liability coverage
If your neighbor slips and falls on an ice sheet on your driveway, you could be held liable. If someone is injured on your property or anyone on your policy causes damage to someone else's property or stuff, your insurance company should have you covered.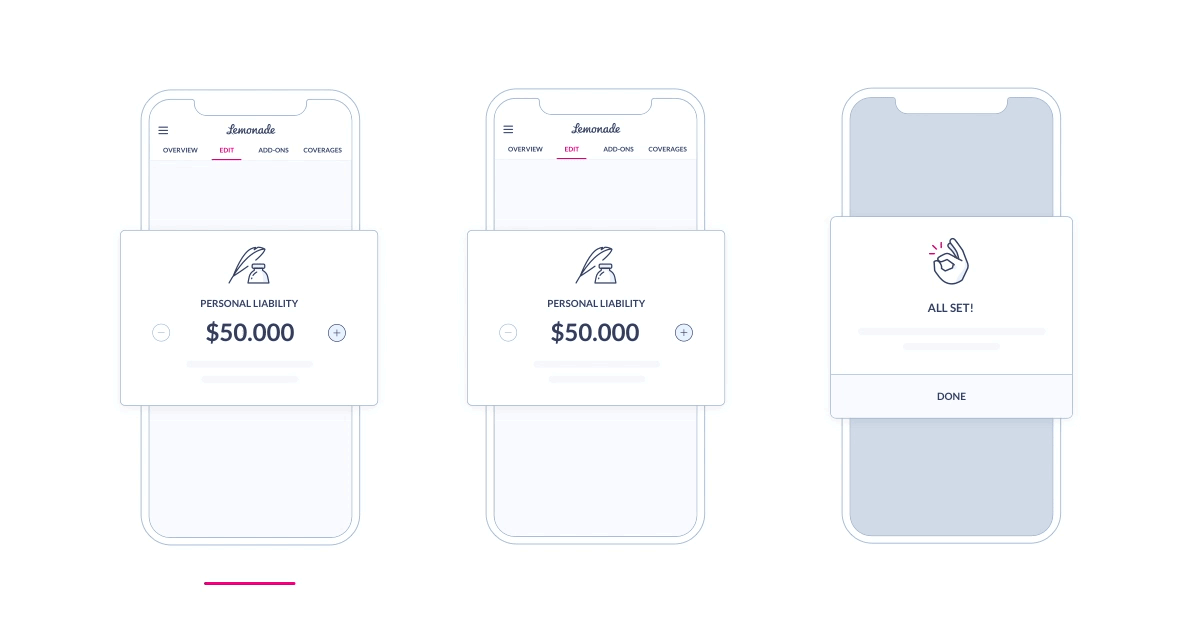 Medical Protection
If your neighbor needs to go to the hospital because of that slip and fall, your coverage will kick in to cover the medical expenses. Home insurance covers you if a guest gets injured at your place or if you accidentally cause injury to someone outside your home.
How much are home insurance rates in Philadelphia?
There isn't a standard policy price for homeowner's insurance for residents of Philadelphia. Of course, the owner of a Society Hill mansion will pay a different monthly insurance premium than a college student who owns a two-bedroom home in East Falls.
According to Bankrate, Pennsylvania homeowners can get a pretty good deal when it comes to homeowners insurance rates compared to the nationwide average. In Pennsylvania, the average cost of homeowners insurance is around $730 per year, depending on your insurance needs. In comparison, the national average for homeowners insurance is $1,383.
How much your homeowners insurance costs depends on your coverage limits, your insurer, your property, your credit score, and your deductible. Your insurance provider will be able to give you a home insurance quote so you can make a good decision.
What are the different types of homeowners insurance?
Lemonade offers two types of homeowners insurance policies: one for single-family homes (called HO3 in insurance-speak) and one for condo insurance (HO6). There are minor differences between the two, and your insurance agent will help you choose the best home insurance policy for your needs, depending on the type of home you're looking to insure.
A key difference is that homeowners own and are responsible for everything on their property (home, garage, fence, etc.). Condo owners who are HO6 policyholders are only responsible for the outermost walls of their unit, inward.
The best neighborhoods to be a homeowner in Philadelphia
Philadelphia is called the City of Neighborhoods, and each part of the city has its own distinct character. Discover some of our favorite Philadelphia neighborhoods.
Chestnut Hill
Located in Northwest Philadelphia, Chestnut Hill was once a place where powerful figures from the Revolutionary War went to get a break from Center City. Historic mansions and old Victorian townhomes line the streets of Chestnut Hill, which straddles 2,000-acre Wissahickon Valley Park. According to Redfin.com, the average price of a home in Chestnut Hill is $651,000.
While the neighborhood's signature chestnut trees are nearly gone, the area is known for its lush greenery and quaint cobblestone streets. Historic Main Street on Germantown Avenue features historic landmarks, coffee shops, and eateries, plus shopping galore. The University of Pennsylvania's Morris Arboretum in Chestnut Hill has beautiful gardens and sculptures to explore. Families flock to Chestnut Hill for its great private and public school options and come together to enjoy community events like the Annual Straw Maze, Petapalooza, Witches and Wizards Festival, and Chestnut Hill on Ice.
Rittenhouse Square (Center City)
This iconic downtown Philadelphia neighborhood gets its name from one of five public squares originally laid out by William Penn. Eye-catching Victorian townhomes, upscale apartments, and high-rise condos can be found in Rittenhouse Square, where the average cost of housing is $569,000, according to Redfin.com.
Centrally located, most Rittenhouse Square residents can easily walk or use public transportation to get around. Rittenhouse Square is full of quaint cafes, artsy galleries, and the Rosenbach Museum & Library where you can see Lewis Carroll's original copy of "Alice in Wonderland." Philadelphia's Magic Gardens is an amazing indoor-outdoor art gallery with the works of famed mosaic mural artist Isiah Zagar. Saturdays mean a visit to the Rittenhouse Farmers' Market, where you can get fresh produce and specialty foods of all kinds.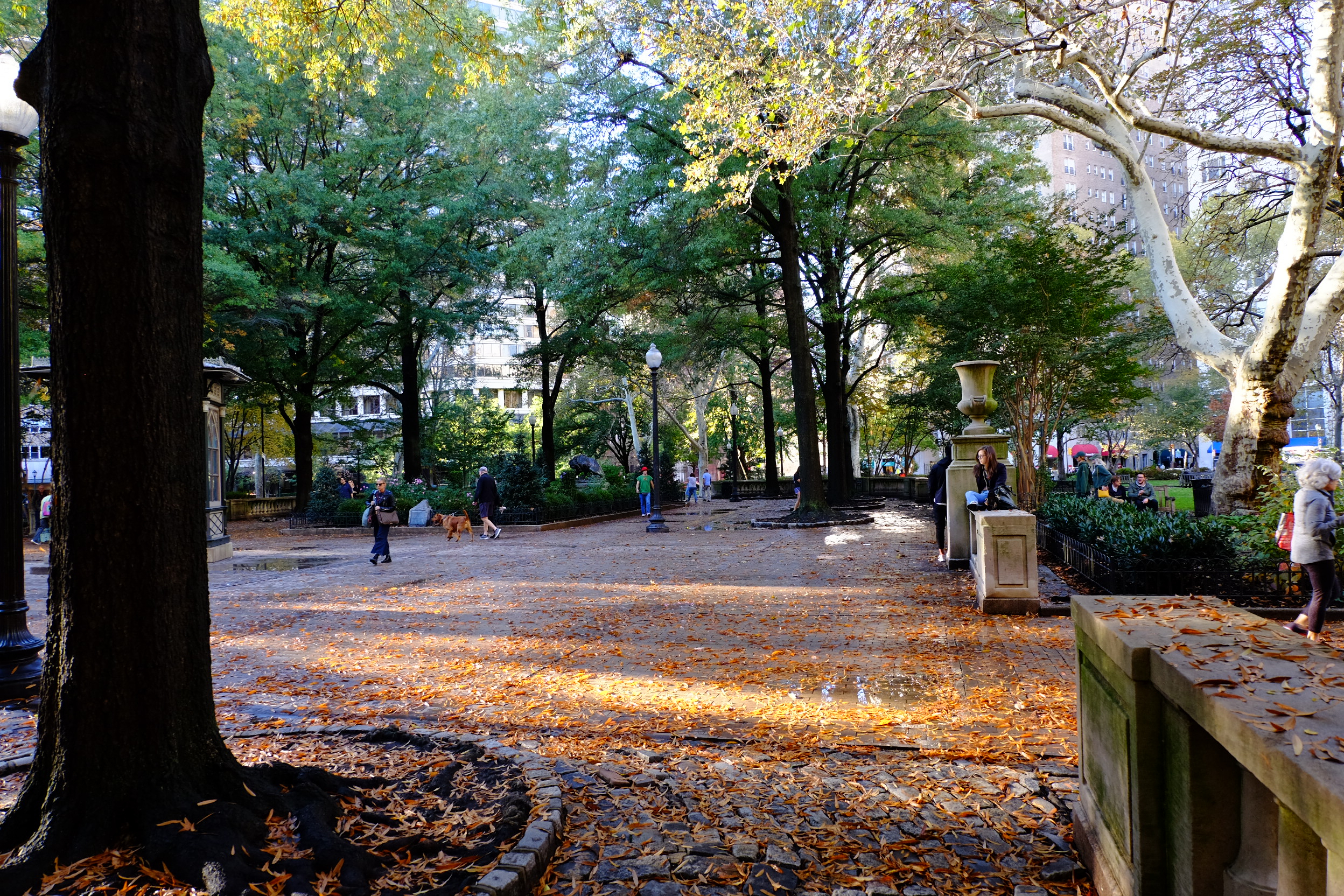 Bala Cynwyd
Located just eight miles northwest of downtown Philadelphia in Lower Merion Township, Bala Cynwyd derives its name from two areas in Wales. This affluent suburb is very popular among families for its award-winning schools and high standard of living. Tudors, Colonials, and brand new homes line the neighborhood's spacious streets. The average price of a home in Bala Cynwyd is $612,000, according to Realtor.com.
Bala Cynwyd Park is a 13-acre park with athletic courts, sports fields, and playgrounds. The Bala Golf Club is a popular place where members like to tee off. Hikers will enjoy the Cynwyd Heritage Trail, which connects the community to nature and recreation.
Old City
Philadelphia's famed historic district is where America began. You'll find some of the most significant landmarks from the Revolutionary era in Old City, including Independence Hall, Benjamin Franklin's original home, the Betsy Ross House, the National Constitution Center, and, of course, the Liberty Bell. Cobblestone streets, small pockets of greenery and parks, and a vibrant art scene are just some of what makes Old City a wonderful neighborhood full of unmistakable character.
Townhouses, condos, and apartments are typical of Old City, where the average home price is $564,000, according to Redfin.com. People love Old City's boutique shops, bountiful variety of restaurants, and cultural spots like theaters and clubs. On the first Friday of each month, art walks in Old City attract crowds who go hopping from gallery to gallery, soaking in the lively scene. Family-friendly events take place year-round at the Delaware River waterfront, and Penn's Landing offers scenic views of the Benjamin Franklin Bridge.
These Philadelphia businesses will make your house a home
HOST helps customers create handcrafted custom home décor and upholstery that is as functional as it is beautiful. You'll find tables, rugs, lighting, art, and much more at HOST. When you visit their showroom, designers are at your service to provide informative, pressure-free suggestions.
Kellijane Textiles and Linens is a curated collection of beautiful fabrics to make your home's surfaces and finishings truly special. You'll find selections for bath, table, bedding, and accessories that are comfortable, luxurious, and help you create a sense of sanctuary in your Philadelphia home.
The Philadelphia Table Company sells handcrafted custom and semi-custom wood pieces you'll treasure for generations. Visit their showroom in Old City, Philadelphia where you can see samples and designs. An environmentally conscious company, the Philadelphia Table Company uses responsibly-sourced materials and quality craftsmanship.
Mode Moderne has been selling vintage, mid-century furniture pieces for over 40 years. Owners Michael Glatfelter and Michael Wilson are knowledgeable and accommodating, and if they don't already have what you're looking for, they'll track it down for you.
Random facts that make Philadelphia great
A City of Firsts
Philadelphia is the home of America's first daily newspaper, first hospital, first medical school, first zoo, and first general-purpose computer.
The Children's Hospital of Philadelphia was the first kids-only hospital in the US and remains one of the most advanced children's hospitals in the country. Fox Chase Cancer Center is the first cancer hospital in the US.
The Liberty Bell
The Liberty Bell, formerly known as the Old State House Bell, was first rung on July 8, 1776 (and not on the 4th) to mark the reading of the Declaration of Independence. After cracking multiple times, it had to be recast twice before it was retired from use and put on display. The bible-inspired wording on the bell reads, "Proclaim LIBERTY Throughout all the Land unto all the Inhabitants Thereof."
Artistic Philly
There are more impressionist paintings in Philadelphia than in any other city outside of Paris, and the city also has the most sculptures outside of Paris. Philadelphia is the mural capital of America, with over 2,000 outdoor murals.
Making a Mint
The Philadelphia Mint is the largest coin-manufacturing facility in the world, producing 32 million coins each day! You can take a free tour of the Mint and get a look at how it's done.
Strange and Fascinating
The Mütter Museum in Philadelphia displays unique scientific and medical discoveries, including a display of Einstein's brain slides, skulls, and anatomical specimens of all kinds. This creepy museum is popular among the city's medical school students. Considering that one in every six US doctors gets medical training in Philly, that's a lot of visitors!