How to Shop for Homeowners Insurance
Everything you need to know about shopping for homeowners insurance.
After months of searching, you've finally found your dream home. It has those hardwood floors you wanted, and plenty of space for a washer and dryer (finally!).
Along with the excitement comes headaches ahead, like making an offer with your real estate agent, paying property taxes, the long list of fees you'll be expected to pay, and oh yeah, getting a homeowners insurance policy. 
Whether this is your first time buying homeowners insurance or you've decided to switch to a new carrier for your new abode, you're going to want to buy a policy that fits your own individual needs, with a price tag you can afford.
So, you know you need a policy, but might be a little confused about how to actually purchase one. Let's be real, searching for homeowners insurance online can be super overwhelming – you might have a million questions, like which company to choose, and how much coverage you need.
We're here to clear up the confusion and answer every question you should ask yourself before you purchase a policy.
1. What is a homeowners insurance policy?
2. How much coverage do I need?
3. How to shop for homeowners insurance
4. How to compare quotes and select a policy
5. How can I lower the cost of my homeowners insurance?
6. Finalize and purchase a policy
What is a homeowners insurance policy?
A homeowners insurance policy, also known as HO3, is a contract between you and your insurance company that covers you in a bunch of different situations. Homeowners insurance coverage protects you and your home if a sudden and accidental event damages your home or stuff, like if a fire burns down your home, or you get your personal property stolen in a break-in.
Your policy is broken up into 6 coverage types. Here's a closer look at what's covered by your basic HO3 (homeowners) policy:
1. Your house, or in insurance lingo, Dwelling
Referred to as "Dwelling Coverage," this protects you from damages to your place (your home and everything attached to it, such as a garage, chimney, in-ground pool, etc.)
2. Other structures on your property
Things like your driveway, fences, sheds, and other structures that live on your property are also covered by homeowners insurance.
3. Your personal property
Generally speaking, personal property refers to the stuff you own. Fun fact: Your household insurance has your back whether your stuff is at home, or anywhere else. So say your computer gets stolen from your car, or your shed burns down with a bunch of power tools inside – you'll be covered. Take note: there may be sub-limits on certain valuable things like jewelry and artwork: make sure to schedule personal property like this when buying your policy.
4. Additional living expenses
Say one of those pesky perils happens and your place becomes uninhabitable due to one of the situations we described above. What then? Well, this situation is covered under something called "loss of use," and your insurance company may help pay for a temporary place to stay and basic living expenses such as food, laundry, parking, etc.
5. Personal liability
Liability refers to things you're responsible for. In the insurance arena, this means if for some reason you're someone getting injured on your property and it's your fault, or you/anyone named on your policy causes damage to someone else's property or stuff, your insurance company should have you covered. A small note on this one: homeowners insurance only covers bodily injury and property damage to others, not yourself or others covered under your policy.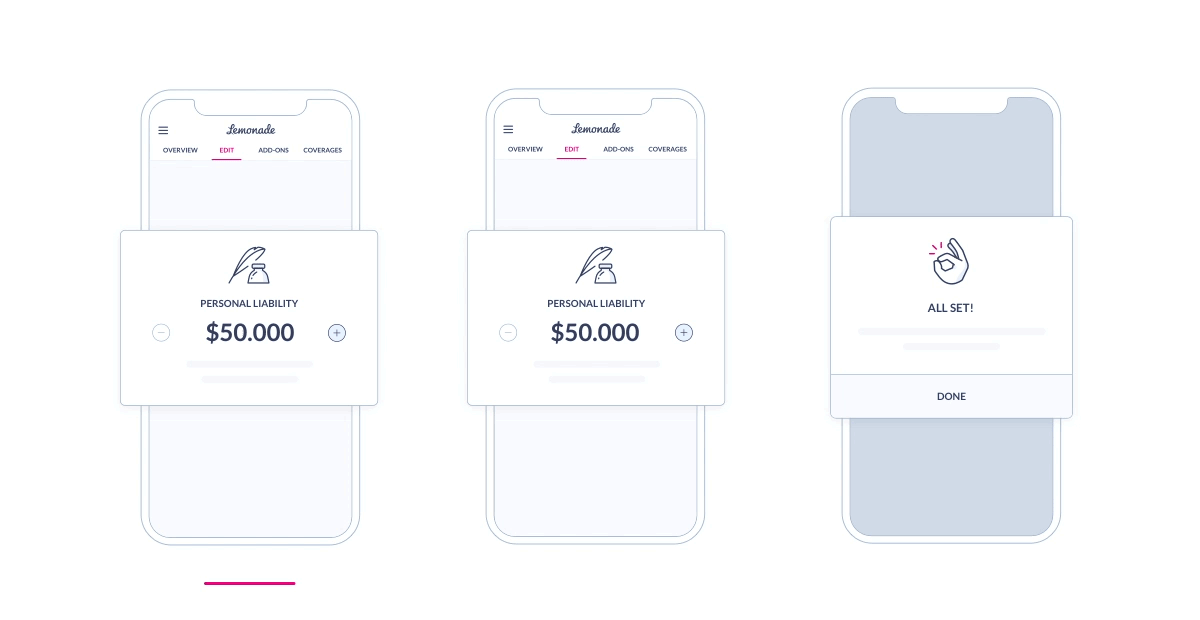 6. Medical payments to others coverage
Let's say a guest sprains her wrist after tripping on a rug in your living room – she has hospital bills to pay. This is where your medical expenses coverage may kick in.
How much coverage do I need?
Before you shop around for homeowners insurance, you'll need to figure out how much coverage you'll actually need.
Here's a breakdown of each coverage type on your homeowners policy, to help you figure out how much coverage you'll need for each category:
1. Dwelling coverage
When it comes to setting a dwelling coverage amount for your home, you don't want to choose the purchase price or current market value. This should be the amount that it'd take to rebuild your home (as it was before it needed to be rebuilt – no upgrades!), known as "reconstruction costs." This is, after all, what your insurance company will be reimbursing you in the worst-case scenario that you have to rebuild. The higher the dwelling coverage, the more expensive your premium.
FYI — If you the amount you picked isn't at least 80% of the house's total replacement value, your insurance company might not cover the full cost of the damage to your home. This is commonly referred to as the '80% rule.'
2. Personal property coverage
To price out your personal property, most experts will say you should choose a limit between 50% – 75% of your dwelling coverage amount. If you think this isn't enough to cover all of your stuff – say you have fine art, lots of expensive jewelry, a collection, or other valuable items – look into the Extra Coverage option with your insurer. Extra Coverage is exactly what it sounds like. It's a bit of 'extra' insurance coverage for your special items! Because let's face it: Some of your most prized possessions need a little extra TLC.
What are the perks of Extra Coverage? Here are the basics:
Coverage against accidental loss (aka, mysterious disappearance)

Coverage against any accidental physical damage
Extra Coverage also provides additional coverage in general, so it'd definitely be something to look into. Although increasing your personal property coverage won't be as impactful on your premium as your dwelling coverage, it will still bump it up a little.
3. Loss of use coverage
Similar to personal property, loss of use is also based off of dwelling coverage. Most advise to choose an amount that's around 30% of your dwelling coverage.
Also, take your lifestyle into consideration, as this covers what you'd usually spend on stuff like food, temporary storage of property, moving costs, etc. So let's say you eat takeout every day, you'll most likely want to select an amount that's more than someone who buys groceries and prepares their meals.
4. Personal liability coverage
Your personal liability coverage is meant for situations where you're found liable for Bodily Injury or Property Damage to a third party. However, it wouldn't apply for a liability related to your business (i.e. a therapist who sees clients in their home)
You can up your personal liability coverage to 1M in most states except California which has a $500,000 maximum. Upping your personal liability coverage will also impact your premium rate.
5. Medical payments to others coverage
Let's say a guest sprains her wrist after tripping on a rug in your living room – she has hospital bills to pay. This is where your medical expenses coverage may kick in. Generally, between $1,000 – $5,000, this really depends on you. Try looking at how often you host and the safety of your home. You cannot really go wrong here.
How to shop for homeowners insurance
Now that you've read up on your coverage needs, it's time to actually purchase a policy. Shopping for homeowners insurance can go one of two ways. You can either go through a broker or shop on your own. If you do choose to go it alone, pick a company where sign up, quotes, and claims are made easy.
Lemonade, for instance, is powered by tech, so you can get a policy on the Lemonade app in less than 5 mins—zero paperwork, zero hassle. If you do ever need to file a claim, Lemonade can process them instantly, handling 30% in a mere 3 seconds. Another perk of Lemonade is there are no brokers, making each policy cheaper than competitors. Don't be afraid to compare as many companies as you can. More on comparing quotes later.
FYI—apart from the policy itself, you'll also want to look into the company's background. Be sure they're financially stable, read customer reviews and check their ratings with consumer insights companies like Consumers Advocate, Consumer Affairs and Clearsurance.
If you're not crazy about technology and prefer to have an agent at the end of the line, a broker might be the right choice for you. However prices are usually a little higher, and traditional insurance agencies might try hard not to pay out claims. Lemonade takes a flat fee from your premium, uses the rest to pay claims, and give back what's left to causes you care about. We gain nothing by delaying or denying claims, so we handle them quickly and fairly.
How to compare quotes and select a policy?
Check policy details

When comparing homeowners insurance quotes and rates, make sure you're comparing policy details before making a decision, including deductibles, add-ons, and policy limits. Sure, price is important, but there's no point in purchasing a policy that doesn't offer you the full range of protection you need.
Look into company claims handling
It's great to have a homeowners insurance system in place, but when the worst actually happens, how will your insurance company handle your claim? When comparing quotes, make sure you dig into the company's claims process.
Don't forget add-ons
When comparing homeowner quotes, keep your add-ons top of mind. FYI, with Lemonade, your family is covered by your policy automatically. In fact, if you're wondering who your insurance policy covers, all residents of your household who are related to you by blood, marriage, or adoption are covered.
How can I lower the cost of your homeowners insurance?
There are a few things that can lower your homeowners insurance premium.
Bundling different Lemonade policies together can unlock savings and discounts—for instance, you could combine homeowners and car insurance, or homeowners and pet health insurance.

If you have a burglar alarm system, smoke detectors, fire extinguishers, sprinklers, deadbolts, wind protection, water or temperature alerts, or central station reporting alarm, these can help lower the price of your policy.

Lemonade has its own 'Get Discounts Now' feature where you can help lower your premium price by answering a series of questions about your home's characteristics and safety measures like home renovations, or whether you live in a gated community.

Another method to lower your cost is to increase your deductible or decrease your coverages. But it's important to have an adequate amount of coverage, so you won't ever have to pay out-of-pocket if the absolute worst happens to your home or stuff.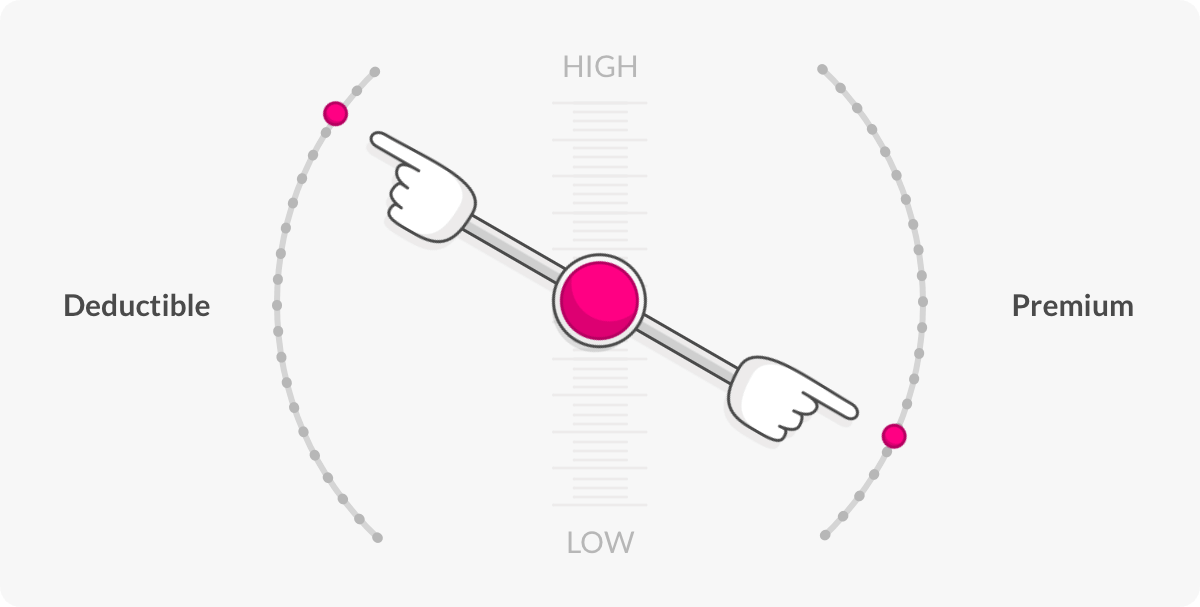 Finalize and purchase policy
Well done for getting this far! You've figured out how much coverage you need, and compared companies and quotes. If you're in the process of buying a home, you'll now need to close up a few other details. For instance, your lender might ask you to pay one years worth of premiums in full ahead of closing. You'll also need to set your effective dates, like the closing date, and whether you want your policy to be automatically renewed after the closing date.
Congrats on your homeowners insurance policy! Homeowners insurance is the best financial defense against bad things that may happen in life, giving you much-needed peace of mind.