Portland Renters Insurance Guide
Cover your stuff in the City of Roses.
Portland, Oregon is an awesome place to live. The river city features a rugged, natural beauty and is brimming with an eccentric, culture-rich vibe. With the ocean a short hour's drive west and the mountains to the east, Portland offers residents the best of everything. The Willamette and Columbia Rivers are an important part of the Portland landscape. The many bridges that cross the rivers lend Portland the nickname the City of Bridges.
Tech companies and countless startups are a big part of Portland's work scene, and the city has affectionately been dubbed the "Silicon Forest" (not to mention one of the best cities for young professionals in the US). It's easy to get around by bike or public transportation. Portland's affordable cost of living makes it one of the best places to live in the Pacific Northwest.
Whether you're in Portland to study, work, play, or anything in between, you might want to cover your stuff with renters insurance. We'll take you through the basics of renters insurance coverage, and also go through some of the coolest neighborhoods and hidden gems to explore in and around Portland.
Here's what we'll cover:
What does renters insurance cover in Oregon?
Okay, so you get that a renters insurance policy is a great idea in theory… but obviously you're curious about what renters coverage can actually do for you. Let's break down the components of what your policy covers and your coverage options.
Personal Property
'Personal property' coverage makes sure your personal belongings are protected, whether you're relaxing at your apartment or traipsing across Europe. So if your living room furniture is ruined due to water damage from that burst pipe, or your phone is stolen while you're taking a trip to Berlin, your renters insurance policy has your back to help with the replacement cost.
Loss of Use
What about if disaster strikes? If you can't stay at your home because of covered losses (like a fire or windstorm), your 'loss of use' coverage provides reimbursements for temporary housing and additional living expenses such as food, laundry, hotel parking, and more.
Liability coverage
If someone is injured in your apartment, or anyone on your policy causes damage to someone else's property or stuff, your insurance company should have things like legal fees and property damage covered.
Medical Protection
Your insurer covers medical expenses if your guests get injured at your place, or if you accidentally hurt people outside of your home as well. Note that your renters insurance policy does not cover medical payments if you or someone residing with you are injured—only non-residents and guests.
Is renters insurance required in Oregon?
While there's no law requiring that you purchase renters insurance in Oregon, your landlord might specifically require it. And if your lease specifies that you need renters insurance, well… that's that.
The good news is that it's easy to sign up for a renters insurance policy with Lemonade. When you get renters insurance, you'll thank yourself later if your stuff gets stolen or damaged! When signing up, your landlord might request they be added as an 'interested party' on your policy.
This just means they'll be kept in the loop when you make any policy changes—or if you cancel your policy. It's super easy to add them using the Lemonade app.
What's the right amount of coverage to get?
There's no easy answer to that question, and it depends on how much stuff you have to cover, and what it's worth. As we discussed above, your policy has a few main categories: Contents (your stuff); Loss of Use (temporary living expenses); and then personal liability and medical bills.
You're able to set the coverage limits for these categories when you sign up for a Lemonade policy. Lower coverage limits might save you a few bucks on your monthly premiums—but they might also leave you with insufficient coverage when you have to make a claim. You'll also need to figure out your deductible. It's a balancing act, and one that requires you to think about your property and lifestyle. Take a few minutes to apply to see your renters insurance quote to get a sense of your insurance options.
Also, if you've got valuables that are especially pricey or important—things like engagement rings, fancy cameras, musical instruments, or artwork—you can add 'scheduled personal property coverage' for those items. At Lemonade, we simply call it 'Extra Coverage'—here's a bunch more info about that.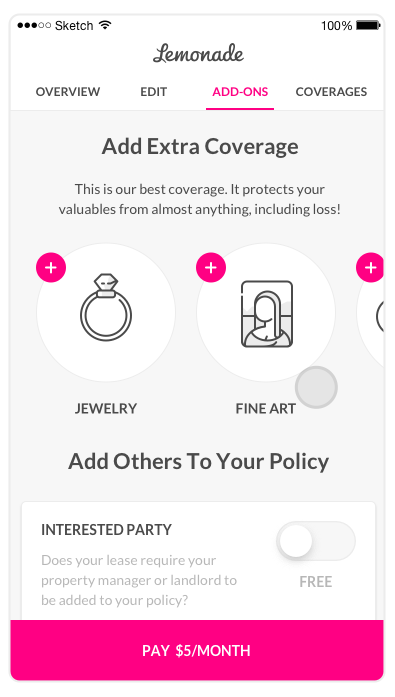 The best neighborhoods for renters in Portland
The Pearl District
The Pearl District is centrally located and has a trendy, cool vibe. Its industrial condos have mostly been renovated, transforming the area into a great place to live for renters. Residents love the neighborhood because it's easy to walk everywhere and it offers lots to do. The average cost of rent in the Pearl District is $1,969, according to RentCafe.
The Pearl District has lots of arts and culture going for it. Portlanders love First Thursday, the first Thursday evening of the month when art galleries stay open late and free exhibits and refreshments can be enjoyed by all. World-famous Powell's Books is in the Pearl District, as is the Gerding Theater at the Armory and Portland Center Stage.
Head to Deschutes Brewery and Public House in the Pearl District, where they have 18 beers on tap, including organic and gluten-free options. Andina is a neighborhood favorite for delicious food. The restaurant serves authentic Peruvian dishes like stuffed piquillo peppers, alongside live music every night.
Northwest
Young, upscale professionals looking for a great place to rent in Portland often head to the Northwest District. It's a sophisticated neighborhood with unique stores and cafes that give it a European feel. The average price of rent in the Northwest District is $1,922, according to RentCafe.
Northwest has everything residents need, including a movie theater, restaurants galore, grocery stores, a hospital, a library, and more. NW 23rd Avenue is the jewel of the neighborhood, where many of the cafes and stores can be found. You'll find Washington Park in the Northwest District, which contains the oldest rose garden in the country. The Northwest is also near Portland's Japanese Garden.
It's hard to narrow down the best places to eat in the Northwest District, but we'd be remiss not to mention the original location of Salt & Straw Ice Cream, with new flavors released on the first of each month. Huber's Café is a historic eatery founded in 1879. Must-tries include their Spanish Coffee and traditional roast turkey.
Hawthorne
The Hawthorne District is quintessential Portland. It spans 43 blocks and feels at once bohemian, quirky, and unassuming. Hawthorne and neighboring Hosford-Abernathy are packed with hidden-gem thrift stores, cool cafes, and cozy bookstores. The average cost of rent in Hawthorne is $1,817, according to Apartmentguide.com.
Hawthorne residents enjoy relaxing at Mt. Tabor Park, the site of an extinct volcano. It offers beautiful panoramic views of downtown and lots of winding, forested trails to explore. Other neighborhood favorites are the Portland Adult Soapbox Derby, where dozens of teams build cars they use to race down the volcano while onlookers cheer them on.
Check out the 23 food carts in Hawthorne's Asylum Food Pod (we love the bulgogi at Korean Twist and the chicken pelmeni at Pelmeni), or grab a slice at Apizza Scholls, considered the best artisan pizza in the country. For flavorful Mexican tacos made sustainably, try ¿Por Qué No? where you can dine al fresco and enjoy some great music.
Central Eastside
The Central Eastside is a lively, fun neighborhood best known for its coffee culture. Formerly a warehouse district, the Central Eastside is on the east bank of the Willamette River. The neighborhood features great entertainment by day and night. Check out the Vera Katz Eastbank Esplanade for riverfront biking and walking paths and swimming docks, or visit the Oregon Rail Heritage Center to learn the history of the area's railroads. According to RentCafe, the average price of rent in the Central Eastside is $1,680.
The Oregon Museum of Science and Industry is beloved by Portlanders of all ages. It has numerous creative exhibits and a four-story movie theater. For other entertainment options, check out Pips & Bounce where you'll find wall-to-wall ping pong tables, local beers, cocktails, and affordable pub eats. The Central Eastside also boasts the 830-seat Revolution Hall theater and the Helium Comedy Club.
Clarklewis Restaurant in the Central Eastside serves upscale, locally-sourced Pacific Northwest specialties like smoked trout, Oregon Bay scallops, and oysters on the half shell. For great drink options, the Central Eastside is home to Portland's Distillery Row with independent, small-batch distillers, or the Central Eastside Brewery Tour.
These Portland businesses will make your house a home
Biltwell Furniture is a Portland-based, family-owned business using sustainable alder wood and locally sourced, recycled materials to create sofas, couches, chairs, and custom seating. Their custom pieces will be treasured by your family for years to come.
The Joinery has been creating handcrafted furniture since 1982. They use traditional joinery techniques to create both custom pieces and furniture from a standard product line. Located on the banks of the Willamette River, all pieces are designed and built on premises by dedicated craftsmen.
Globe Lighting has been brightening up Portland since 1978. Family-owned and operated, they sell chandeliers, lamps, fixtures, hardware, recessed lighting, and more in a broad range of styles. The Globe Lighting team's personalized service will guide you towards the perfect lighting products for your home.
For all of your fabric needs, head to Cool Cottons. Located in a cozy old Victorian house-turned-store, the fabric selection is a feast for the eyes and the staff is knowledgeable and helpful. Whether you're a sewing novice or an expert tailor, you're sure to find what you're looking for.
Random facts that make Portland great
Parks, both large and small
Portland has nearly 300 parks, but the city's Mill Ends Park is the smallest city park in the world. The downtown Portland "park" is actually a 24-inch circle of green that was recognized by the city in 1976. Conversely, Portland's Forest Park is one of the largest urban forests in the country, with miles of wooded trails to explore.
Urban volcano
Mount Tabor, in southeast Portland, is another one of the city's popular parks. Mount Tabor is an extinct volcano, and the park's curving road and sloped staircases are made of ancient volcanic lava.
Flip a coin
We can't imagine Portland being called anything else, but apparently, the city's name was chosen in a coin-toss between the city's founders. The runner-up? Boston, believe it or not. The Portland Penny used in the famous toss-up is on display at the Oregon Historical Society.
Biking paradise
Portland has over 350 miles of bike lanes, and it's widely considered the most bike-friendly city in America. Biking is so popular that the number of Portland residents who commute to work by bike is over 10x the national average!
A real page-turner
Powell's Books, located in downtown Portland, is the largest independent bookstore in the world. It houses around one million books and is made up of four floors. For the chance to see the bookstore's rarest, most expensive volumes, visit the Gold Room where you'll find an 1814 copy of the Lewis and Clark journal, and more!