Houston Renters Insurance Guide
Cover your stuff in Space City.
Houston, Texas is an amazing place to live. The Bayou City has experienced major growth over the past decade, becoming America's fourth largest city by population. With its sunny year-round weather, rich culture, affordable cost of living, and thriving job market, it's easy to understand why Houston is such a popular city.
In Houston, you'll enjoy the amenities of big city living with the unique heritage and traditions of Texas. The city has lots of different neighborhoods, each with its own unique character.
Whether you rent a home in a trendy urban area or choose to live in a leafy suburb, you're likely to get a lot of bang for your buck. Houston is cheaper than Austin or Dallas, with comfortably-sized homes and apartments that can meet anyone's needs.
Whether you're in Houston to study, work, play, or anything in between, you'll want to cover your stuff with renters insurance. We'll take you through the basics of renters insurance coverage, and also cover some of the coolest neighborhoods and hidden gems to explore in and around Houston.
Here's what we'll cover:
What does renters insurance cover in Houston?
Okay, so you get that a renters insurance policy is a great idea in theory… but you're probably curious about what renters coverage can actually do for you. Let's break down the components of what your policy covers and your coverage options.
Personal Property
'Personal property' coverage makes sure your personal belongings are protected, whether you're relaxing at your apartment or off traipsing across Europe. So if your living room furniture is ruined due to water damage from that burst pipe, or your phone is stolen while you're taking a trip to Berlin, your renters insurance policy has your back to assist you with the replacement cost.
Loss of Use
What about if disaster strikes? If you can't stay at your home because of covered losses (like a fire or windstorm), your 'loss of use' coverage provides reimbursements for temporary housing and additional living expenses such as food, laundry, hotel parking, and more.
Liability coverage
If someone is injured in your apartment, or anyone on your policy causes damage to someone else's property or stuff, your insurance company should have things like legal fees and property damage covered.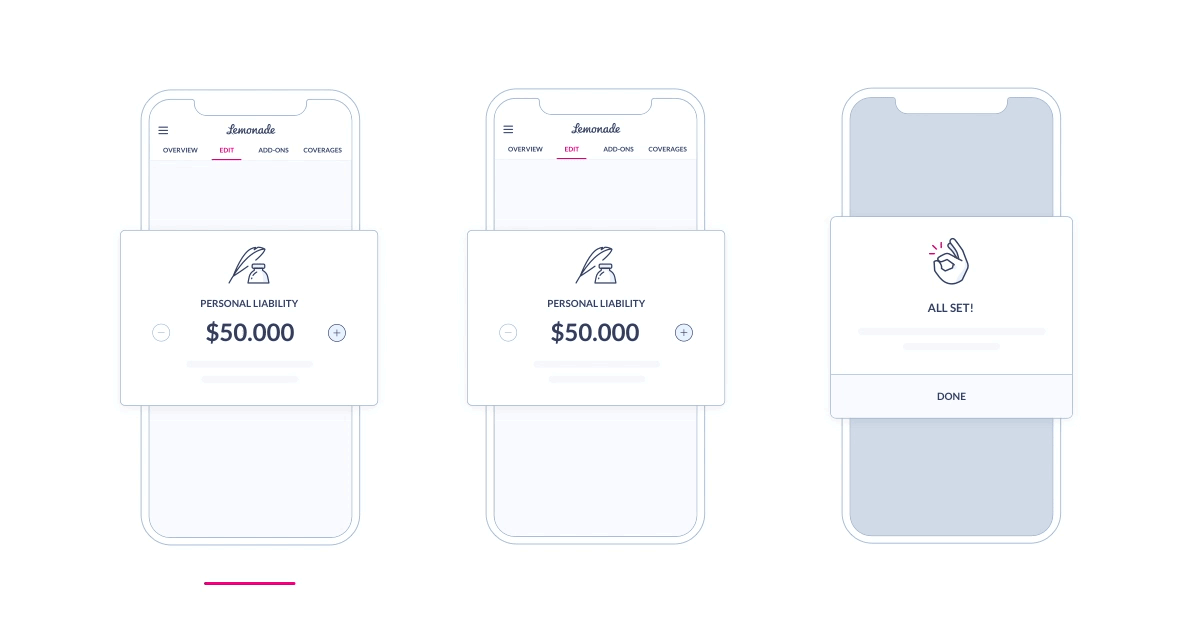 Medical Protection
Your insurance provider covers medical expenses if your guests get injured at your place, or if you accidentally hurt people outside of your home as well. Note that your renters insurance policy does not cover medical payments if you or your roommates are injured—only non-residents and guests.
Is renters insurance required in Houston?
While there's no law requiring that you purchase renters insurance in Texas, your landlord might specifically require it. And if your lease specifies that you need renters insurance, well… that's that.
The good news is that it's easy to sign up for a renters insurance policy with Lemonade. When you get renters insurance, you'll thank yourself later if your stuff gets stolen or damaged! When signing up, your landlord might request they be added as an 'interested party' on your policy.
This just means they'll be kept in the loop when you make any policy changes—or if you cancel your policy. It's super easy to add them using the Lemonade app.
What's the right amount of renters insurance coverage to get?
There's no easy answer to that question, and it depends on how much stuff you have to cover and what it's worth. As mentioned above, your policy has a few main categories: Contents (your stuff); Loss of Use (temporary living expenses); and then personal liability and medical bills.
You're able to set the coverage limits for these categories when you sign up for a Lemonade policy. Lower coverage limits might save you a few bucks on your monthly premiums—but they might also leave you with insufficient coverage when you have to make a claim. You'll also need to figure out your deductible. It's a balancing act, and one that requires you to think about your property and lifestyle. Take a few minutes to apply to see your renters insurance quote to get a sense of your insurance options.
Also, if you've got valuables that are especially pricey or important—things like engagement rings, fancy cameras, musical instruments, or artwork—you can add 'scheduled personal property coverage' for those items. At Lemonade, we simply call it 'Extra Coverage'—here's a bunch more info about that.
The best neighborhoods for renters in Houston
Midtown
Situated just five minutes from Downtown, Midtown Houston is one of the most popular neighborhoods for renters, especially young professionals. Its convenient location means you don't have to own a car, which is rare for Houston. Just ride the METRORail, Houston's convenient light rail transportation system to get to most places you want to go. Midtown features single-family homes, condos, and townhouses. The average cost of rent in Midtown is $2,015, according to RentCafe.
Midtown is known for its vibrant nightlife scene, but there's lots to do during daylight hours, too. Cultural centers such as theaters and museums can be found in Midtown, as can the newly built Midtown Park, home to frequent social and community events. Saturday farmer's markets are where you'll find fellow Midtowners, where you can snag some fresh, local produce along with delectable baked goods and prepared foods.
Speaking of food, the options abound in Midtown. Brennan's of Houston has been a local favorite for over 40 years. You'll want to get the Shrimp Chippewa to watch it be lit on fire tableside (it's delicious as well as exciting), and don't forget to order a steaming bowl of turtle soup. For authentic, heartwarming Vietnamese food, head to Mai's Restaurant, beloved by the late Anthony Bourdain and decades of satisfied diners.
Downtown
At the heart of all things Houston is the lively Downtown neighborhood. Thanks to the city's Downtown Living Initiative, the neighborhood's population is set to double over the next few years.
While most Downtown dwellers are young professionals, the neighborhood is also a favorite among retirees and small families. Lofts, high-rise apartments, and penthouses are some common types of homes you'll find for rent Downtown. RentCafe reports that the average cost of rent Downtown is $2,071.
Downtown Houston offers residents a wealth of parks, fitness clubs, medical centers, restaurants, theaters, and shopping options. You can easily catch a game downtown, as the city's baseball, basketball, soccer, and even roller derby leagues play right in the neighborhood. Most of Houston's ceremonies, parades, and festivals take place downtown, too. Renting a home in Downtown Houston means you're always just a short walk away from the best the city has to offer.
Some of the neighborhood's hot spots for dining include Xochi, an upscale Mexican restaurant featuring the culinary specialties of Oaxaca. Enjoy house-made masa, grasshoppers (yes!), huge roasted tortillas with toppings called tlayadas, and many more authentic dishes you won't find anywhere else in Houston. If incredible steaks are more your style, don't miss Vic & Anthony's Steakhouse, voted Houston's best and conveniently located across the street from Minute Maid Park, home of the Houston Astros.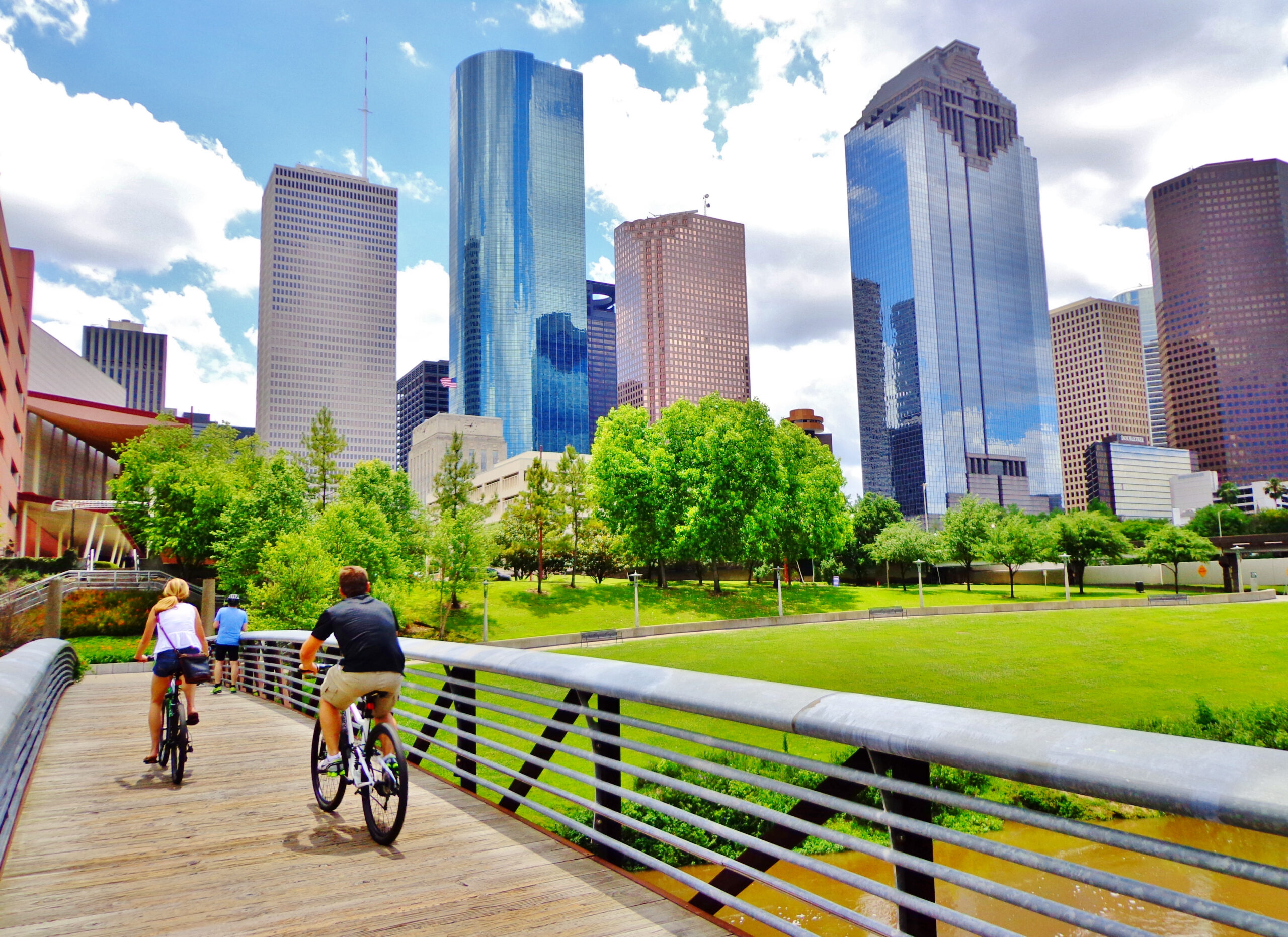 The Woodlands
28 miles north of Downtown Houston, you'll find The Woodlands, one of the country's best-planned communities. It consists of ten villages, each with its own shopping area, miles of hiking and bike trails, and green spaces. The picturesque Woodlands Waterway runs through it all. Over 44,000 homes make up The Woodlands, and the average rent for an apartment there is $1,722, according to RentCafe.
Top corporations and medical centers are based in The Woodlands, including Shell, Anadarko Petroleum, Deloitte, ExxonMobil, Texas Children's Hospital, and CHI St. Luke's Health, bringing employment opportunities and excellent healthcare to the area.
True to its name, The Woodlands is best recognized by the many parks and nature preserves that dot its landscape. Shopping centers and business hubs are seamlessly designed around these oases of green, lending a sense of tranquility to even the busier parts of the area.
Families love the top-rated public and private schools in The Woodlands, providing an excellent education for all ages. The Woodlands is close enough to Houston that you'll be able to commute to the city for anything, while offering everything you need so you don't have to leave often.
Lucky enough to rent a home in The Woodlands? You can catch a weekend concert at The Cynthia Woods Mitchell Pavilion or go shopping at The Woodlands Mall or Market Street. Visit one of the many parks or pools or attend a community event.
Memorial
Memorial often comes up as one of the top neighborhoods in Houston, and it's easy to understand why. This leafy suburb is full of great parks and comfortable homes. Memorial features restaurants, shops, and easy access to Houston's Energy Corridor, making it a popular home base for those working in the energy industry.
Excellent public and private schools can be found in Memorial. Terry Hershey Park, named for the local conservationist who fought to protect the bayou from development, is a popular destination for residents who enjoy running, biking, and relaxing. Nottingham Park is another leisure spot, with a splash pad beloved by the neighborhood's kids.
A variety of home types, including townhouses, ranch-style homes, and larger estates, can all be found in Memorial. The average rent in Memorial is $1,453, according to RentCafe.
Our favorite spots for a great meal in Memorial are White Elm Brasserie, which serves breakfast, lunch, and dinner, as well as a delicious weekend brunch. Share the charcuterie board with friends, or choose comfort food like the soulful Chicken Succotash. Healthy food never tasted better than at Ember & Greens Restaurant and Bar. Run by a mother-son duo, the restaurant serves dishes to please vegetarian and gluten-free diners, as well as meat favorites like juicy burgers. Dine on their beautiful patio if it's available.
These Houston businesses will make your rental a home
Helmwood Urban Lumber
Specializing in custom pieces built with live edge slabs and unique lumber, Helmwood Urban Lumber is your go-to local maker of dining tables, countertops, benches, kitchen islands, and more. Owner Jason Fricke and his team will work with you to design exactly what you're looking for and go on to produce a high-quality result.
Lighting Inc.
Lighting Inc. sells beautiful lighting for ceilings and walls, as well as fans, outdoor lighting, and unique home décor. Its locations in Houston proper include a lighting showroom and a plumbing/hardware store or visit them in The Woodlands. Experienced lighting specialists can help you light up your Houston home with a huge collection of pieces from different brands and manufacturers.
Hibiscus Linens
For fine, handmade linens, you'll want to shop at Hibiscus Linens. They sell luxury pieces for your dining and living spaces, alongside fashion pieces and DIY stitching kits. You can also learn the art of hand monogramming and more in one of their classes. The owners are known for their friendliness and detailed craftsmanship.
Mid in Mod
Furnish your Houston rental in style! If you're looking for mid-century modern furniture in Houston or nearby Katy, Texas, check out Mid in Mod. Shop for sofas, sectionals, and leather living room furniture, along with bedroom and dining room furniture. Helpful, knowledgeable salespeople and free furniture assembly sweeten the deal on this local furniture favorite.
Random facts that make Houston great
Underground Houston
The Houston tunnel system is a series of underground pedestrian walkways situated 20 feet below the streets of Downtown Houston! Originally built in the 1930s and expanded in the 50s and 60s, the tunnel system spans 95 city blocks and is six miles long. The tunnels are climate-controlled and help residents get around downtown while keeping cool underground.
Medical Mecca
We mentioned the Texas Medical Center earlier as the largest medical center in the world. It contains 54 medical institutions and gets over 7 million visits annually. More heart surgeries are performed at the Texas Medical Center than anywhere else in the world. The world's largest children's hospital and the world's largest cancer hospital are located at TMC, and a baby is born in the maternity hospital every 20 minutes.
Multicultural Houston
Over 145 languages are spoken in Houston. English and Spanish dominate the scene, but you can also hear Chinese, Hindi, Arabic, Tagalog, Vietnamese, and German, among many others. Houstonians are proud of their diverse city that celebrates different cultures and faiths. In fact, the first Hindu temple in the US, the BAPS Shri Swaminarayan Mandir, can be found in Houston.
Bigger in Texas
The Houston Galleria is the largest mall in Texas, spreading out over four floors with nearly 400 stores. Skyscrapers dot Houston's landscape, the most impressive of which is the J.P. Morgan Chase Tower, the tallest building in Texas and the world's tallest five-sided structure. We'd be remiss not to mention the sprawling 1,620-acre Johnson Space Center, home of NASA's Mission Control. Things are definitely bigger in Texas, but Houston is proof that they're also better.