Chicago Car Insurance Guide
Drive easy breezy in the Windy City.
Cruising the Magnificent Mile or Lake Shore Drive on the hunt for the best jibaritos or deep dish pizza spots in town? You can drive with confidence in Chicago knowing you're covered with car insurance, from Lemonade.
We'll take you through the basics of car insurance coverage in Chicago, and keep you on the edge of your seat with some insider tips and tricks for Chi-town drivers.
The requirements and limitations for car insurance in Chicago are determined by the state of Illinois. But don't sweat the details. When you apply for Lemonade Car, we'll automatically get you hooked up with the coverages you need, and offer extra coverages to help you feel protected behind the wheel.
Here's what we'll cover:
What car insurance coverage is required in Chicago?
Just a refresher: A "limit" in regard to your car insurance policy refers to the maximum amount your car insurance company would pay out under a certain type of coverage when you make a claim.
For example, for bodily injury liability coverage, Illinois bodily injury limits are: $25,000/$50,000. These numbers reflect that you carry $25,000 of bodily injury coverage per person, and $50,000 of bodily injury coverage in total (for all of the people injured in an accident.)
To drive in compliance with Illinois car insurance requirements, at a minimum, Chicago drivers need the following coverages and coverage amounts.
Keep in mind: Your level of coverage doesn't have to stop at the bare minimum. You can easily select higher amounts for each required coverage, and include optional add-on coverages, when you build your policy on the Lemonade app.
Additional coverages available to Chicago drivers
Chicago drivers who drive with Lemonade Car can (and probably should) add the following coverages to boost their protection behind the wheel.
| What add-on coverages does Lemonade Car offer? | What can it help pay for? |
| --- | --- |
| Collision coverage | To repair or replace your own car if it's damaged in an accident with another vehicle, or a stationary object (like a fence, highway divider, and so on). |
| Comprehensive coverage | To fix damage to your car, or possibly replace it entirely, if there are damages or losses from an incident that didn't involve a collision with another vehicle (like if you hit a deer, damage from a hailstorm, and so on). |
| Medical payments coverage (aka MedPay) | Medical expenses for you or a passenger in your car after a crash— like ambulance fees, hospital visits, and health insurance co-pays, or for funeral services (in a worst case scenario). Usually doesn't have a deductible. |
| Uninsured/underinsured motorist property damage coverage | To repair or replace your own car if you get into a car accident with an uninsured or underinsured driver. |
| Temporary transportation coverage | Transportation expenses like rideshares, public transportation, bike sharing, or a rental car for up to 30 days while your car is being repaired or appraised. |
In addition, if you get into an accident, all Lemonade drivers who drive with the Lemonade app get roadside assistance, on us. Just make sure that all the drivers covered on your policy have the app downloaded with location services and permissions enabled.
Want to dive into the nitty-gritty of what Illinois car insurance has to offer? Get the full scoop here.
How much does Lemonade Car insurance cost in Chicago?
Well, that depends.
Your car insurance premium price is based on a number of factors—including the car you drive, the coverages you include, and their limits and deductibles. But at Lemonade Car, the way you actually drive matters. So when you're building a quote, things like your driving record, your driving habits, and how many miles you drive help us determine the fairest price for your car policy.
But when you buy a Lemonade Car policy, you'll have the chance, over every six month term, to prove your safe driving habits. Those habits can boost your Lemonade Safety Score and possibly lower your car insurance rates (especially if you keep a clean driving record).
The right car insurance combines the coverage you need with a rate and deductibles you can afford. That's why Lemonade Car offers insurance you can easily customize. Because you deserve a policy that feels just right—and fits your budget. Learn more about the cost of insurance at Lemonade Car and how you could lower the cost of your rates.
The most straightforward way to get a sense of how we price Lemonade car insurance is by applying for coverage via our mobile app or website.
Click below to get your car insurance quote in Chicago.
Best day trips around greater Chicago
Looking to get out of the city for just an afternoon? Buckle up: These quick road trips might satisfy your wanderlust without getting too far from Chi-town.
Baha'i Temple
In need of an uplifting experience away from the hustle and bustle? The Baha'i House of Worship is just a 30-minute drive from the city center in Wilmette.
The temple itself is open to the public on a daily basis, or you can take in the beauty of the gardens that are in front of each of the temple's nine entrances.
Chicago Botanic Garden
Sometimes a dose of fresh air can be the best medicine. A 45-minute drive from the city center will get you to Chicago Botanic Garden in Glencoe.
There are so many ways to take it easy at the gardens—whether you want to check out what's in bloom, take a gardening class, or spot which birds are passing through.
Ravinia
When you need music to soothe your soul, a 40-minute drive (or 50-minute Metra ride) from the city center will land you at the iconic Ravinia in Highland Park.
The home of the oldest music festival in North America today brings local and world-renowned musicians to its 36-acre park all summer long for music lovers to enjoy. You can enjoy a picnic and jazz by the open-air pavilion, or cozy up for a symphony orchestra in one of the enclosed recital halls.
Six Flags Great America
Do you get a thrill from speeding over hills and the sensation of flying through the wind while screaming at the top of your lungs? There's an amazing place to do that near Chicago, but it's definitely not from the driver's seat of your car.
Just an hour north of Chicago's city center is Six Flags Great America in Gurnee, where you can get your adrenaline fix on your choice of 16 rollercoasters and loads of other attractions.
Northwestern Sailing Center
Water is the essence of life, and Chicago has a lot of it—with plenty of water sports to boot. A 40-minute drive or Metra ride can get you from the city center to Northwestern University's Sailing Center in Evanston.
The center offers sailing, windsurfing, and paddle boarding classes. Or if you're feeling spontaneous (and have proper experience), rent a Hobie catamaran, kayak, or stand-up paddleboard.
Other ways of getting around Chicago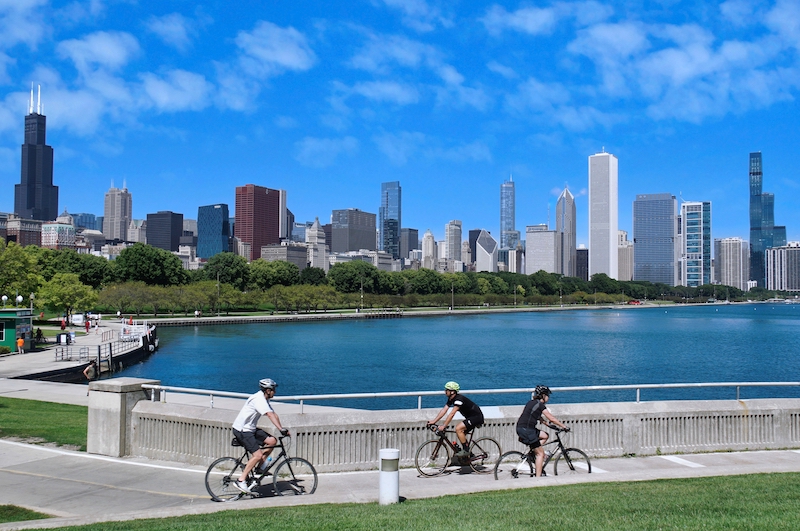 While cars can be a major convenience, sometimes it's just quicker and cheaper (not to mention better for the planet) to find an alternative.
At Lemonade Car, we reward low-mileage drivers with lower premiums. So, Chicago drivers who are behind the wheel fewer than 9,000 miles a year (around 22 miles daily) could be eligible for a low-mileage discount.
Because of that, we encourage you—when possible—to go out and about without your car. Luckily, Chicago is pedestrian-friendly, and also has ample public transportation. Let's explore some of the options.
On foot
Did you know that Chicago ranks as the fifth most walkable city in the US? The Windy
City's grid system makes it easy to get around on foot.
You can indulge in the best of boutique and big-name designer shopping, well-manicured green spaces, and bar- and restaurant-hopping that Chicago has to offer without needing to get behind the wheel. (That makes Happy Hour a whole lot safer)
By bike
It's no wonder Chicago is the eighth safest city for bike commuters in the US—sporting over 300-miles of on-street, protected, buffered, and shared bike lanes throughout the city (not to mention over 13,000 bike racks).
Don't have your own wheels? No problem! Thanks to Divvy, Chicago's bike-share program, you'll have access to over 580 stations and 5,800 bikes across the city. All of which are available for rent 24/7.
Looking to get some fresh air and your heart pumping? Green Bay Trails takes you for a 9-mile ride along the east side of the UP-N commuter rail between Highland Park and Wilmette.
By train and bus
Chicago is home to the second largest public transportation system in the US, the Chicago Transit Authority (CTA). So, if you prefer to keep your car in park to get around the city, you can easily do just that on one of the 8 'L' train lines, 129 bus routes, or the Metra (Chicago's commuter rail system).
Want to map out your journey across the city and pay for your public transit passes in one place on your smartphone? Ventra Chicago has an app for that. On the Ventra App, you'll have access to lots of helpful features for your next car-less trip around Chicago—including a trip planning tool, navigation, and mobile tickets for Metra.
In a taxi or rideshare
You can get a Chicago taxicab (CHICAB) and pay for it electronically on the ARRO or CURB apps, or get an on-demand rideshare with Lyft or Uber. There are also wheelchair accessible cabs available on the CURB app.
On a boat
Why get around Chicago just on land, when you can float from Point A to B?
To be fair, Chicago Water Taxis and Shoreline Water Taxis might be better for the Chicago sightseer than the daily commuter. But if you want to beat grid-lock traffic by literally cruising from Union Station to Navy Pier, then hop on board.
How accessible are hybrid and electric vehicles in Chicago?
As accessibility, efficiency, and upfront costs of hybrid and electric vehicles (EV) improve, the trends of drivers heading towards the future do too. In 2021, EVs (including plug-in hybrids) already made up 10% of new car sales in the US. And the market is expected to continue growing exponentially as new makes and models, legislation, and incentives become available.
Chicago is charging up by the advances and is powering ahead to increase accessibility to hybrids and EVs. As of 2020, 2.7% of all vehicle sales in Illinois were EVs, and there are plans to have 1 million all-electric vehicles on the roads by 2030. Keep in mind: Most EV growth has been sticking to major metropolitan areas—like Chicago.
The array of hybrid and EV opportunities in Chicago will continue to brighten as more initiatives are implemented—from community-driven public charging station projects, to state- and nation-wide legislation and funding programs.
At Lemonade Car, we support Chicago drivers who make environment-friendly choices. We offer awesome protection and perks for hybrids and EVs—like coverage for your home charging station or a portable charger, or getting you a tow to a charging station as part of our roadside assistance program.
A healthy dose of pop culture from Chicago
Films based in Chicago love a good car moment—from the epic car chase scenes in The Blues Brothers and The Dark Knight, to the Ferrari joy ride (and its ultimate demise) in Ferris Bueller's Day Off. Michael Mann's 1981 Thief also features some criminally cool cruising.
We'd just like to note: The driving behavior in these movies is definitely not the kind Lemonade Car condones for any Chicagoans (or for any driver, anywhere, ever). Viewer discretion is advised.
Before we drive off into the sunset…
Chicago drivers, we can't wait for you to take Lemonade Car for a spin! Fingers crossed you don't get stuck in rush hour traffic on North Lake Shore Drive…
Lemonade offers top-of-the-line coverage and trunkloads of discounts—plus opportunities to make the road (and the world around us) a better place. Applying for your free quote is easy, and coverage starts at just $30/month.
Our great coverage and super fast claims resolution don't stop at Lemonade Car though. Did you know we also offer renters, homeowners, and pet health insurance? Not only will you become eligible for our bundling discounts, but you can also manage each of your Lemonade policies through the same app you use for Lemonade Car.
Let's drive.
Please note: Lemonade articles and other editorial content are meant for educational purposes only, and should not be relied upon instead of professional legal, insurance or financial advice. The content of these educational articles does not alter the terms, conditions, exclusions, or limitations of policies issued by Lemonade, which differ according to your state of residence. While we regularly review previously published content to ensure it is accurate and up-to-date, there may be instances in which legal conditions or policy details have changed since publication. Any hypothetical examples used in Lemonade editorial content are purely expositional. Hypothetical examples do not alter or bind Lemonade to any application of your insurance policy to the particular facts and circumstances of any actual claim.
This post is general in nature. Any statement in this post does not alter the terms, conditions, exclusions, or limitations of policies issued by Lemonade, which differ according to your state of residence. The terms, conditions, exclusions, or limitations applicable to your policy depend upon your unique circumstances, and you are encouraged to discuss your specific circumstances with your own professional advisors. The purpose of this post is merely to provide you with information and insights you can use to make such discussions more productive. Naturally, all comments by, or references to, third parties represent their own views, and Lemonade assumes no responsibility for them.
Coverages and other features described may not be available in all states.