St. Louis Homeowners Insurance Guide 
Cover your home in the Gateway to the West.
Whether you live in bustling Downtown St. Louis, historic Lafayette Square, or the quieter neighborhoods of Shaw or Webster Groves, you deserve the best homeowners insurance in St. Louis, Missouri.
Homeowners insurance would cover you financially if something were to happen to you, your property, or your stuff. Let's say someone breaks into your home while you and the family are camping over the weekend at Pin Oak Creek, or your friend twists their ankle after getting too excited while watching the Cardinals on tv in your living room.
The right homeowner's insurance policy could offer you financial protection if something terrible (or just plain inconvenient) were to happen.
Here's what we'll cover:
What does St. Louis home insurance cover?
St. Louis offers the best mix of city convenience and family-friendly living. With iconic architecture, well-regarded museums, and the famous Gateway Arch, St. Louis is known as the "Gateway to the West,"
However, there are also some natural risks along with the city's natural beauty. In the St. Louis area, floods, tornadoes, thunderstorms with straight-line winds, wildfires, blizzards, and snowstorms are all unfortunate possibilities.
It's worth noting that while no insurance policy can cover you from every single potential mishap, the right homeowners policy can keep you financially afloat through a myriad of typical situations.
You likely know that a home insurance policy is a good (and necessary) idea, but you may not have a grasp on all the moving parts. We've got a very extensive, plain English guide here, so feel free to dive deep into the specifics—but for now, we'll break down the basics for you , so you can get a handle on what a policy covers in general.
Dwelling
Dwelling coverage helps pay for damages to the structure of your home. So if your pipes burst next winter and damage your walls, or a windstorm blows over a tree and damages your home, your home insurance company has you covered.
Other Structures
If one of the dangers mentioned above causes damage to your driveway, fence shed, or other structures on your property, your homeowners insurance has you covered.
Loss of Use
If you can't live in your home due to covered damages, your loss of use coverage can help pay for a temporary place to stay and basic living expenses such as food, laundry, parking, etc.
Personal Property
Personal property coverage protects your stuff both inside and outside your home. So, if your couch is ruined due to a burst pipe or your laptop is swiped at a coffee shop, homeowners insurance has your back. With Lemonade, if your insurance claim is approved, you'll receive the replacement cost of your personal belongings back in your pocket.
Liability coverage
If your neighbor slips and falls on an ice sheet on your driveway, you could be held liable. If someone is injured on your property or anyone on your policy causes damage to someone else's property or stuff, your insurance company should have you covered.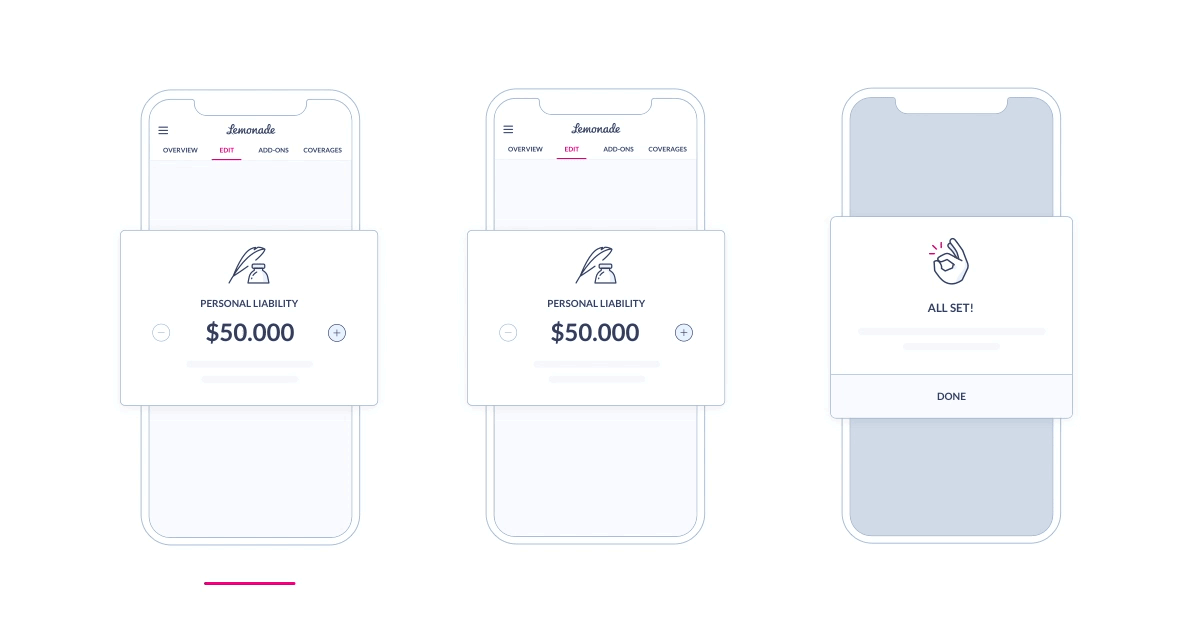 Medical Protection
If your neighbor needs to go to the hospital because of that slip and fall, your coverage will kick in to cover the medical expenses. Homeowners insurance covers you if a guest gets injured at your place or if you accidentally cause injury to someone outside your home.
How much is home insurance coverage in St. Louis?
There isn't a standard policy price for homeowner's insurance for residents of St. Louis. Of course, the owner of a Ladue mansion will pay a different monthly premium than the owner of a two-bedroom home in North Point.
According to Bankrate, St. Louis residents pay a bit above the national average when it comes to homeowners insurance rates. In St. Louis, the average cost of homeowners insurance is around $1,524 per year. In comparison, the national average for homeowners insurance is $1,393 per year.
How much your homeowner's insurance costs depend on your coverage limits, insurer, property, and deductible.
What are the different types of homeowners insurance?
Lemonade offers two types of homeowners insurance policies: one for single-family homes (called HO3 in insurance-speak) and one for condo insurance (HO6). There are minor differences between the two, and you'll choose the right policy depending on the type of home you're looking to insure.
A key difference is that homeowners own and are responsible for everything on their property (home, garage, fence, etc.). Condo owners with HO6 policies are only responsible for the outermost walls of their unit, inward.
The best neighborhoods to be a homeowner in St. Louis
Downtown St. Louis
If city convenience is your thing, Downtown St. Louis offers some of the city's best entertainment options alongside urban living. The neighborhood is home to many family-friendly attractions like The Gateway Arch, the world's tallest arch. Visitors of all ages enjoy attractions like the award-winning Saint Louis Zoo, the Contemporary Art Museum, the St. Louis Science Center, and the Anheuser-Busch Brewery, to name just a few. St. Louis has a vibrant nightlife scene, so you can get out on the town when the sun goes down.
If you enjoy the outdoors, St. Louis does not disappoint. With rivers flowing throughout the city, hundreds of parks, including the famous Forest Park, and miles of hiking and bike trails, St. Louis is a paradise for outdoor enthusiasts.
Catch a Cardinals game at New Busch Stadium, or watch the game broadcast from Jack Patrick's Bar & Grill in the Gateway Arch. Hungry for some delicious BBQ? Head to the Sugarfire Smoke House, where you'll be sure to have a great time. Broadway Oyster Bar is another great local pick for excellent seafood and live Cajun music.
Downtown homes include modern condos and sleek lofts. According to Redfin, the typical home value of homes in Downtown St. Louis is $176,750.
Richmond Heights
Situated in St. Louis county, Richmond Heights offers residents the suburban life with metropolitan St. Louis just minutes away. The neighborhood features a diverse population, excellent public and private schools, and high-quality city services. Homes in Richmond Heights include Tudors, Georgians, townhouses, and condos. The typical home value in Richmond Heights is $344,349, according to Zillow.com.
Richmond Heights offers the excellent Fleming's Prime Steakhouse and Wine Bar for delicious fine dining, or visit Maggiano's Little Italy for authentic Italian cuisine. In Richmond Heights, Fitz's is a must-visit, selling its flagship root beer alongside flavors like Cardinal Cream, Hip Hop Pop, Voodew, and Key Lime.
Lafayette Square
Lafayette Square is an elegant neighborhood in St. Louis featuring historic restored Victorian homes in eye-catching colors alongside 30-acre Lafayette Park, the oldest urban park west of the Mississippi. Townhouses and French mansards are also common home types in the area. According to Redfin, the average price of a home in Lafayette Square was $212,000.
If you're a fan of vintage baseball, you'll want to check out the historic athletic field in Lafayette Square, where the Cyclones play baseball according to the rules and customs of the 1860s. Fun, quirky establishments dot the area surrounding the park in this neighborhood that has its eye on preserving the past. Clementine's Naughty & Nice Creamery offers small-batch ice cream flavors with unique, alcohol-infused options. SqWires is another local favorite for smoked brisket, oysters, and live jazz.
Central West End
The American Planning Association called the Central West End one of America's top ten neighborhoods, and with good reason. The neighborhood is bordered by popular Forest Park and offers a lively mix of everything. Home to St. Louis Children's Hospital, the neighborhood is also the childhood home of playwright Tennessee Williams.
The Central West End offers beautiful historic homes, new constructions, and convenient condos alongside great shopping, exciting year-round festivals, world-class art galleries, and a well-developed business district. According to Redfin, the typical home value in Central West End is $350,000.
Hungry in the Central West End? Check out the Drunken Fish for delicious Japanese food and cocktails. The West End Grill and Pub serves weekend brunch, themed wine dinners, and classic American fare.
These St. Louis businesses will make your house a home
Provisions St. Louis carries some great unique furnishings, gifts, accessories, candles, and much more that will give your house that special touch. They offer curated lifestyle goods they refer to as "necessary luxuries." Stop by the store on N. Euclid Street or check out their website to find that perfect little something for yourself or someone you love.
Named the best gallery in town in 2020, Artisans in the Loop is a beloved art gallery selling handcrafted goods in St. Louis's Delmar Loop. They sell furniture, textiles, woodwork, paintings, sculpture, and more. You're sure to find something inspiring for your home at Artisans in the Loop.
Check out Bee Hygge for handmade quilts and accessories that are designed to bring a sense of warmth, well-being, and coziness into your home. Shop the extensive collection of quilts, pillows, wall hangings, and more, or commission Bee Hygge to create a custom quilt to your specifications.
For custom wood furniture, Mwanzi Co. offers beautiful and functional pieces. Furniture designer Jermain Todd handcrafts custom wood pieces focusing on sustainability and eco-consciousness. You'll probably know if you've seen Jermain's tables, benches, and stools around establishments in St. Louis. Their distinctive, sustainable look is undeniably Mwanzi.
Random facts that make St. Louis great
Waffle cornucopias filled with ice cream were first used by a vendor at the St. Louis World Fair in 1904. To this day, waffle cones for ice cream are among the city's most famous food exports.
Budweiser, the largest beer-producing plant in the U.S. is in St. Louis. You can tour the Budweiser Brewery Experience, taste some beer at the Biergarten, and even hold your wedding at the landmark facility.
St. Louis was once the largest shoe manufacturing center in the world.
St. Louis was the first U.S. city chosen to host the modern-day Olympic games.
Famous St. Louisans include Tina Turner, Joseph Pulitzer, Chuck Berry, T.S. Eliot, and Maya Angelou.