Oklahoma City Homeowners Insurance Guide
Cover your home in OKC.
Oklahoma City blends Southern hospitality with an authentic Western feel. Called OKC for short, Oklahoma City is also known as "The Big Friendly," and its warm, welcoming atmosphere makes it easy to understand why. One of the largest US cities by land area, Oklahoma City is a growing city with a thriving economy, top-rated schools, and many options for entertainment, events, and outdoor activities.
Oklahoma City is affordable and safe, offering its residents a high quality of life. This city has it all: art museums, theater performances, a fun state fair, and lively nightlife. Sports fans go wild over the NBA Oklahoma City Thunder, along with minor league baseball teams, soccer, and college sports that are popular in the area. The city is home to the Oklahoma National Stockyards, the world's largest cattle market that has served US ranchers and farmers for over a century.
Now for the fun part. Homeowners insurance would cover you financially if something were to happen to you, your property, or your stuff. Let's say someone breaks into your home while you're on a weekend hike at Lake Hefner, or your friend twists their ankle after getting too excited while watching the Thunder in your living room. The right homeowners insurance policy could offer you financial protection if something terrible (or just plain inconvenient) were to happen.
Here's what we'll cover:
What does Oklahoma City home insurance cover?
Oklahoma City has a lot going for it. Quality education, friendly people, some of the best produce in the country, a low cost of living, and fantastic food all make it clear why Oklahoma City is a great place to live. The city features awe-inspiring natural wonders including inspiring wildlife refuges, river parks, forested hiking trails, and placid creeks.
However, there are some natural disasters that come along with the city's natural beauty. In Oklahoma City, tornadoes, hailstorms, earthquakes, thunderstorms, wildfires, and snowstorms are all unfortunate possibilities.
It's worth noting that while no insurance policy can cover you from every single potential mishap, the right homeowners coverage can keep you financially afloat through a myriad of typical situations.
You might know that a home insurance policy is a good (and necessary) idea, but you might not have a grasp on all the moving parts. We've got a very extensive, plain English guide here, so feel free to dive deep into the specifics of the different coverage options available—but for now, we'll break down the basics for you here, so you can get a handle on what a policy covers in general. A reputable insurance agent can explain the different insurance options to you and help you get the best rates.
Dwelling
'Dwelling coverage' helps pay for damages to the structure of your home. So, if your pipes burst next winter and damage your walls, or a windstorm blows over a tree and damages your property, home insurance coverage will protect you.
Other Structures
If one of the dangers mentioned above causes damage to your driveway, fence shed, or other structures on your property, your homeowners insurance covers it.
Loss of Use
If you can't live in your home due to covered damages, your loss of use coverage can help pay for a temporary place to stay and basic living expenses such as food, laundry, parking, etc.
Personal Property
Personal property coverage protects your stuff both inside and outside your home. So if your couch is ruined due to a burst pipe or your laptop is swiped at a Capitol Hill coffee shop, homeowners insurance has your back. With Lemonade, if your insurance claim is approved, you'll receive the replacement cost of your personal belongings back in your pocket.
Flood Insurance
Flood insurance is an important type of additional coverage that Oklahoma home insurance policyholders may want to consider. The National Flood Insurance Program (NFIP) offers flood policies, as do some other home insurance companies. Keep in mind, that this coverage is not available through Lemonade, but can be purchased here.
Liability coverage
If your neighbor slips and falls on an ice sheet on your driveway, you could be held liable. If someone is injured on your property or anyone on your policy causes damage to someone else's property or stuff, your insurance company should have you covered.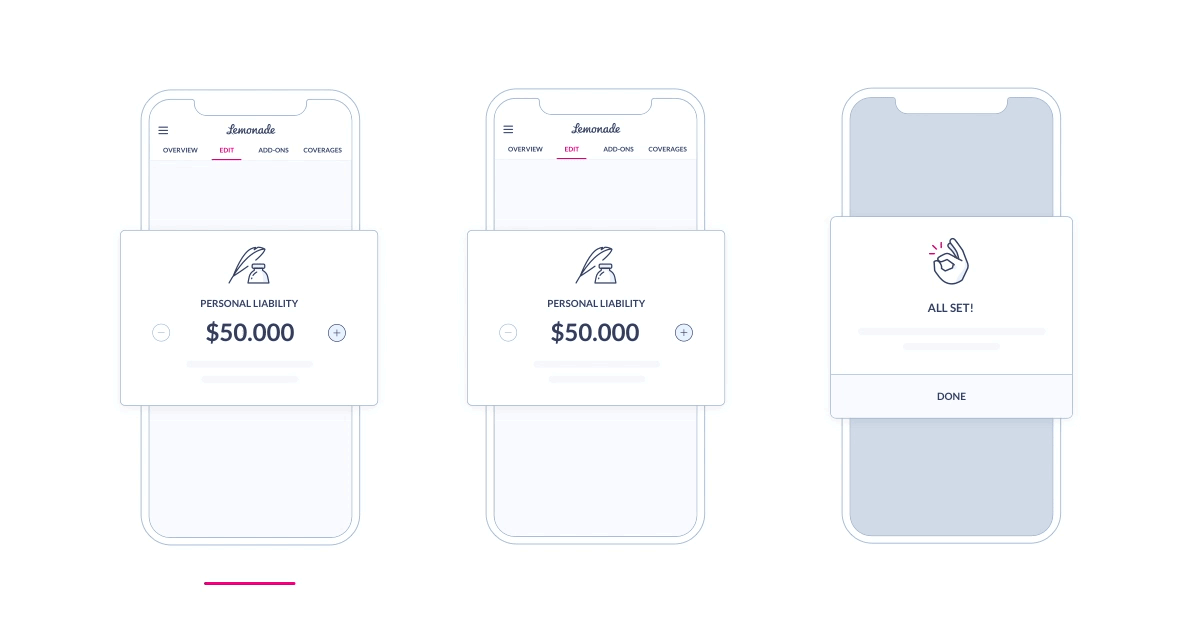 Medical Protection
If your neighbor needs to go to the hospital because of that slip and fall, your coverage will kick in to cover the medical expenses. Home insurance covers you if a guest gets injured at your place or if you accidentally cause injury to someone outside your home.
How much is Oklahoma Homeowners Insurance?
Home insurance rates can vary in Oklahoma. Of course, the owner of a Glenbrook mansion will pay different monthly insurance premiums than a college student who owns a two-bedroom home in Norman.
According to Bankrate, Oklahoma residents pay a higher average annual premium for homeowners insurance, due to the risk of home damage in the state. In Oklahoma, the average cost of home insurance is $3,519 per year. In comparison, the national average for homeowners insurance is $1,312.
How much your homeowners insurance rates are depends on your coverage limits, your insurer, your property, your claims history, and your deductible.
What are the different types of homeowners insurance?
Lemonade offers two types of homeowners insurance policies: one for single-family homes (called HO3 in insurance-speak) and one for condo insurance (HO6). There are minor differences between the two, and you'll choose the right policy depending on the type of home you're looking to insure.
A key difference is that homeowners own and are responsible for everything on their property (home, garage, fence, etc.). Condo owners with HO6 policies are only responsible for the outermost walls of their unit, inward.
Apply now to get a free homeowners insurance quote, it only takes a few minutes:
The best neighborhoods to be a homeowner in Oklahoma City
Edmond
Edmond is a picturesque suburb north of OKC with beautiful, green spaces and quality schools, making it a great choice for families. A varied range of home styles dots the quiet streets of Edmond, from Tudors and Craftsman homes, to ranches and cottages. The average price of a home in Edmond is $315,104, according to Zillow.
Edmond is a great place for those who appreciate the arts. You'll find public art along Main Street, with murals, steel sculptures, and stained glass on display. Armstrong Auditorium features live performances of ballet, jazz, and more. Edmond residents who want to get a dose of nature don't have to go further than Arcadia Lake for camping, fishing, and boating along its sparkling waters. Edmond is also home to the University of Central Oklahoma.
For good food in Edmond, make reservations at Signature Grill, where you'll enjoy steaks, seafood, and special-occasion splurges like the duck confit. For a more casual vibe, head to Hidalgo's Mexican Restaurant and Cantina. They serve outstanding queso, mouth-watering house-made tortillas, and flavorful burritos.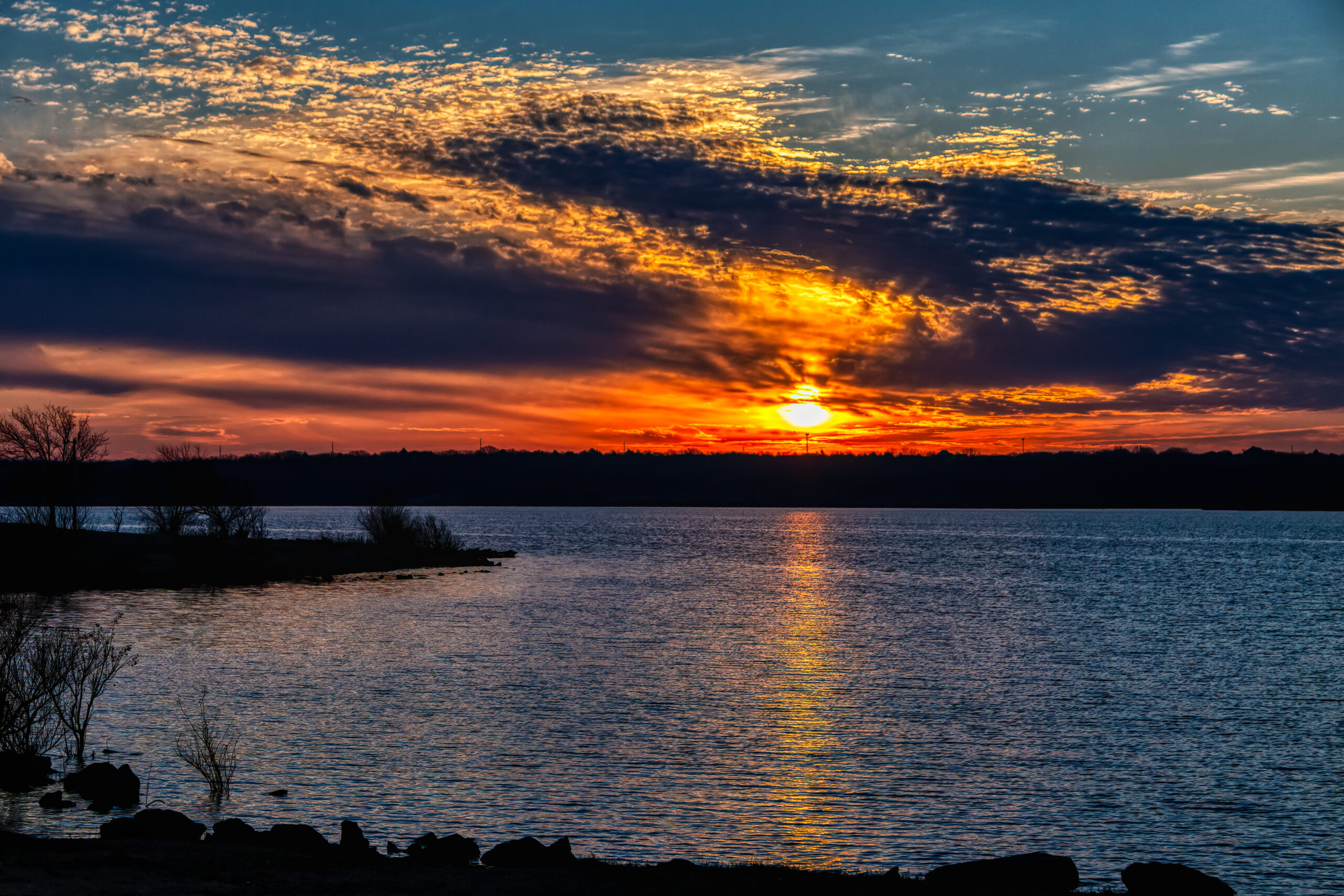 Bethany
Just 12 miles south of downtown Oklahoma City, Bethany is a charming small town that many homeowners have fallen in love with, in part perhaps because the historic Route 66 crosses through the Central Business District in Bethany. The neighborhood is home to two well-rated public school districts, as well as two universities. The average price of a home in Bethany is $168,399, according to Zillow. You'll find ranches, Capes, and Craftsman homes for sale.
You can feel the community atmosphere in Bethany. The neighborhood hosts annual events like the Christmas Tree Lighting, Cinco de Mayo, Bethany 66, and 4th of July. Residents enjoy going antiquing in the unique vintage and heirloom stores you'll find throughout Bethany.
Great food is easy to find in Bethany. Head to the Stray Dog Café for plentiful breakfast and lunch dishes like: grilled cheese, eggs, sandwiches, burgers, and their amazing omelets. You may still be in Bethany, Oklahoma, but your taste buds will take a trip to the islands when you eat at Caribbean Fusion Trini Style. Friendly staff serve Caribbean favorites like jerk chicken, superb oxtail with rice, and mouth-watering curries.
Plaza District
There's plenty to do in the Plaza District, the Oklahoma City neighborhood that's full of restaurants, colorful retail shops, art galleries, and live music venues. The Plaza District has undergone recent redevelopment, making it an even more pleasant place to live. Charming Colonials, ranches, and Capes can be found throughout this cozy, centrally-located neighborhood. The average price of a home in the Plaza District is $265,000 according to Realtor.com.
Great nightlife and excellent schools make the Plaza District appeal to professionals, singles, and families alike. Every other Friday, residents and visitors enjoy Live! on the Plaza, featuring live music performances, local artists, vendors, and street food.
Speaking of food, some of the best-loved dining spots in the Plaza District are The Press, a trendy spot serving American comfort food with a twist, like shrimp and grits or BBQ chicken mac and cheese. Be sure to check out their creative cocktails. For something different, check out Oozie Mediterranean Restaurant for authentic Lebanese dishes like kibbeh, fattoush salad, hummus, tabbouleh, and Oozie's iconic shawarma.
Yukon
Yukon is a suburb that lies to the west of Oklahoma City in Canadian County. Yukon is one of the fastest-growing cities in Oklahoma, yet it retains its small-town charm and boasts low crime rates. Families who buy a home in Yukon enjoy award-winning public and private schools. Capes, Craftsman homes, and ranches can be found in Yukon, with spacious properties surrounding them. The average price of a home in Yukon is $232,687, according to Zillow.
On weekends in Yukon, residents can enjoy a hike in scenic Castlewood Trails or Chisholm Trail, or take in a special event, like the Oklahoma Czech Festival and parade. The Canadian Valley Regional Hospital is in Yukon, bringing healthcare and employment to the area. The town also boasts several museums, including the Yukon Best Railroad Museum, where you can see vintage train cars, and the Farm Museum.
You'll find plenty of tasty eats in Yukon at places like Louie's Grill and Bar, serving up burger options you won't find anywhere else, chicken quesadillas, and salmon tacos. At The Local Yukon, Oklahoma specialties really shine. Oklahoma's official dish is chicken fried steak. Check out their comforting mashed potatoes, bison burgers, and deep-fried deviled eggs, and wash it all down with a pitcher of sweet tea.
These Oklahoma City businesses will make your house a home
Random facts that make Oklahoma City great
Oklahoma's state capitol building is the only one in the world that has an oil well under it!
Between 1890-1900, 10,000 homesteaders settled the area known as Oklahoma City, doubling its population in a decade. The current population is just under 650,000 residents.
Oklahoma City was a major stop on Route 66 in the early part of the 20th century, and is mentioned in the classic song, "(Get Your Kicks on) Route 66".
There are more man-made lakes in Oklahoma than in any other state in America (over 200!).
The Oklahoma governor's mansion has a swimming pool that's made in the shape of the state of Oklahoma.
The first radio station to transmit west of the Mississippi River was WKY 930 AM, and was based in Oklahoma City.