Dallas Homeowners Insurance Guide
Get your home covered in D-town.
Built along the Trinity River, Dallas offers Texas residents a variety of reasons to be proud to call this city home. The cosmopolitan hub offers rich culture, a diverse population, and of course, a love of football. Whether you're enjoying a view of the striking skyline or strolling down Elm Street, Dallas is a vibrant, lively city with endless attractions.
If you own your own home, homeowners insurance is a must to protect you financially if something were to happen to you or your property. Let's say someone breaks into your home while you're on a weekend hike at Piedmont Ridge, or your friend twists their ankle after getting too excited while watching a Cowboys game in your living room. The right homeowners insurance policy offers financial protection if something terrible (or just plain inconvenient) were to happen.
What does Dallas home insurance cover?
Dallas has a lot going for it. It's got an amazing restaurant scene, arts and culture, museums, and not to mention it's home to some of the most exciting tech companies in the world. You may not know that the city and its surrounding areas also offer an abundance of natural attractions, such as the Arbor Hills Nature Preserve and the Fort Worth Nature Center.
However, there are also some natural disasters and weather risks that come along with living in the Lonestar State. Hurricanes, flooding, tornados, sinkholes, windstorms, and hail storms are all unfortunate possibilities.
It's worth noting that while no insurance policy can cover you from every single potential mishap, the right homeowners insurance policy can keep you financially afloat through a myriad of situations.
You might know that a home insurance policy is a good (and necessary) idea, but you might not have a grasp on all the moving parts. We've got a very extensive, plain English guide here that outlines all our home insurance policies, so feel free to take a dive deep into the specifics—but for now, we'll break down the basics for you here, so you can get a handle on what an insurance policy covers, and if you'll need to purchase additional coverage or not.
Dwelling
'Dwelling coverage' helps pay for damages to the structure of your home. So, if your pipes burst next winter and damage your walls, or a windstorm blows over a tree and damages your home, you can take comfort in the fact that you're covered.
Other Structures
If one of the dangers mentioned above causes damage to your driveway, fence shed, or other structures on your property, your homeowners insurance has you covered.
Loss of Use
If you can't live in your home due to covered damages such as hail damage and vandalism, your loss of use coverage can help pay for a temporary place to stay and basic living expenses such as food, laundry, parking, etc.
Personal Property
Personal property coverage protects your stuff both inside and outside your home. So, if your couch is ruined due to a burst pipe or your laptop is swiped at a coffee shop, homeowners insurance has your back and you don't have to worry about personal liability. With a home insurance company like Lemonade, if your insurance claim is approved, you'll receive the replacement cost of your personal belongings back in your pocket.
Liability coverage
If your neighbor slips and falls on an ice sheet on your driveway, you could be held liable. If someone is injured on your property or anyone on your policy causes damage to someone else's property or stuff, your insurance company.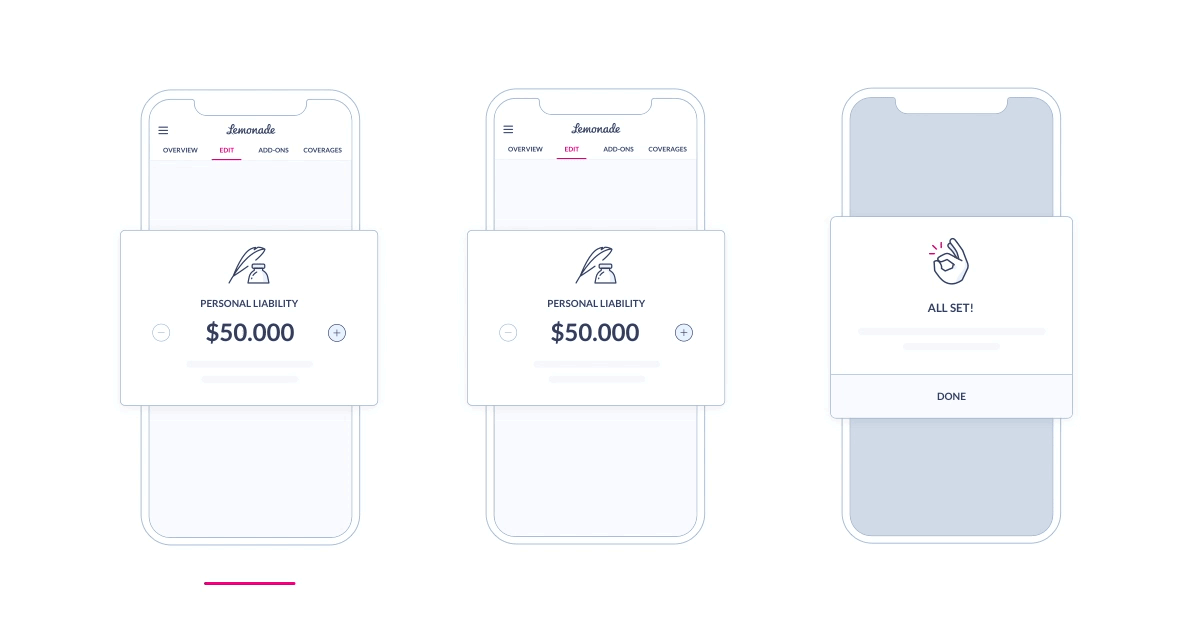 Medical Protection
If your neighbor needs to go to the hospital because of that slip and fall, your insurance coverage will kick in to cover the medical expenses. A home insurance policy covers you if a guest gets injured at your place or if you accidentally cause injury to someone outside your home.
What are the different types of homeowners insurance?
Lemonade offers two types of homeowners insurance policies: one for single-family homes (called HO3 in insurance-speak) and one for condo insurance (HO6). There are minor differences between the two, and you'll choose the right coverage option depending on the type of home you're looking to insure. A key difference is that homeowners own and are responsible for everything on their property (home, garage, fence, etc.). Condo owners with HO6 policies are only responsible for home insurance costs including the outermost walls of their unit, inward.
How much are home insurance policies in Dallas?
There isn't a standard policy price for homeowners insurance for residents of Dallas. Of course, the owners of a Forest Court mansion will pay a different monthly premium than someone who owns a two-bedroom home in Vickery Meadow.
According to Bankrate, Dallas residents pay more than most Americans when it comes to homeowners insurance rates, at around $3,939 per year. How much your homeowners insurance costs depends on your coverage limits, your insurer, your property, and your deductible. But it's easy enough to get a home insurance quote with Lemonade.
The best neighborhoods to be a homeowner in Dallas
Uptown
Uptown offers residents a diverse, urban vibe while still maintaining a neighborhood feel. Located in the center of the city, this part of town is a great area for young people to call home. It's full of energy and features an abundance of restaurants, bars, coffee shops, and parks so there's always something to do. Its prime location makes this a highly desirable place to live, with a population of 29,958 and average home value of $559,064.
If you find yourself hungry, there is no shortage of restaurants in this Dallas neighborhood. Whether you're in the mood for classic Southern barbecue, sushi, or Thai, Uptown has it all. And for a night out on the town, check out The Rustic for local beer or Parliament if you're looking for great cocktails.
Lakewood
Located in the Northeast part of Dallas, Lakewood is perfect for both singles and families alike. With a modest population of 18,187, this neighborhood has an abundance of open space. It is also in close proximity to great shopping and restaurants, making this one of the best Dallas neighborhoods for homeowners. Lakewood homes range in architectural style, from Tudor to cottages and prairie-style homes, with an average cost of $183,362.
One of Lakewood's primary attractions is the Dallas Arboretum and Botanical Garden, where visitors can stroll through floral gardens, listen to live music, or have a picnic. Take a walk at White Rock Lake, enjoy classic Tex Mex at Matt's Rancho Martinez or stroll through this quaint neighborhood's collection of boutique shops, such as Debutantes and Cowboys Boutique.
M Streets/Vickery Place
Located north of downtown Dallas, M Streets/Vickery Place is perfect for those who want to be close enough to the city to enjoy it but far enough away that they're removed from the hustle and bustle. Due to its desirable location, homes are bought quickly, which sell on average for $246,297. In addition, it's located very close to Baylor University Medical Center, making it a prime location for those in the medical field.
Another reason people love this neighborhood is because it's only a ten minute drive to Deep Ellum, known as the music capital of North Texas. You can find a low show for everyone in this neighborhood, whether you prefer live country music at Adair's Saloon to DJ performances at the Dallas House of Blues. The options are truly endless.
Oak Cliff
This Southern Dallas neighborhood is just minutes from downtown. It's a great option for those commuting to Fort Worth because of the quick access it has to I-30. The average cost of a home is estimated at $177,324, and the neighborhood provides residents with shopping, restaurants, and farmers markets. It also is home to the trendy Bishop Arts District known for its independent boutiques and art galleries.
Cinema lovers will enjoy catching a movie at the historic Texas Theatre and checking out it's annual film festival at the end of the summer. The Dallas Zoo is another Oak Cliff highlight, an activity that both kids and adults can enjoy. Plan a day trip with the family for some animal watching, then head over to Lockhart Smokehouse for some classic Texas barbque or Bishop Cider for a house-made craft cider.
Farmers Market District
This family-friendly neighborhood is located in the southeastern part of downtown Dallas. The average cost to buy a property here is $655,402.
The neighborhood is named after the well-known Dallas Farmers Market, located right in the middle of the area. Residents will find the farmers market to be a real highlight, selling an abundance of locally-sourced fruit, vegetables, and other delicious foods. Open seven days a week, the market also hosts events and has many restaurants and craft boutiques. Not only does the Dallas Farmers Market District offer unique and specialty vendors, but it is also home to many historic buildings, townhomes, and apartments.
Dallas businesses that will make your house a home
If you're looking for hand-made items such as drapes, decorative pillows, and even headboards, head over to Eva's Draperies and Home Decor. Owner Eva Banilla worked as a master seamstress for over 20 years and opened her own business in 2015. Her store is a one-stop-shop for all your home decor needs, including furniture reupholstering.
Ceylon et Cie is the fabulous showroom of interior designer Michelle Nussbaumer. Located in the Design District, her pieces represent her experiences traveling the world. Turkish pillows, African decor, and antique French armoires make up her incredible, eclectic collection.
Owned by five interior designers, Blue Print carries contemporary art, hand-crafted jewelry, and a variety of home decor and furnishings. Open since 2010, this boutique furniture shop carries items inspired by each designers' own tastes and their travels abroad, housing a diverse collection unlike anything else in the area.
Looking for homemade cabinets to revamp your kitchen? Or how about a new entertainment center for your living room? Check out Castellano's Custom Cabinets. This professional and experienced company will take her home to the next level!
Random facts that make Dallas great
The term 'Super Bowl' was coined in Dallas by Lamar Hunt.
While most people think German chocolate cake originated in Germany, it was actually invented by Samuel German in the late 1800s, and the recipe was first published in the Dallas Morning News in 1952.
The Lonestar State is known for its Tex Mex cuisine. But did you know that the frozen margarita machine was invented in Dallas by Mariano Martinez in 1971? Cheers!
Dallas is the only major metropolitan area in the United States that isn't near a major body of water.