Pittsburgh Homeowners Insurance Guide
Cover your home in the Steel City.
Pittsburgh, in southwestern Pennsylvania, was once the steel mill capital of America. Known for a strong sense of community, lots of parks and green spaces, and growing job opportunities, the Steel City is a great place to live. Pittsburgh is often considered one of the best big cities in the area, thanks to a reasonable cost of living, great weather, and a beautiful waterfront. Three rivers run through Pittsburgh: the Allegheny, the Monongahela, and the Ohio River where the other two meet. As a result, Pittsburgh's skyline is dotted by an impressive 446 bridges!
Homeowners insurance would cover you in Pittsburgh if something were to happen to you, your property, or your stuff. Let's say someone breaks into your home while you're on a weekend hike at Frick Park, or your friend twists their ankle after getting too excited while watching the Steelers in your living room. The right homeowners' insurance policy could offer you financial protection if something terrible (or just plain inconvenient) were to happen.
Here's what we'll cover:
What does Pittsburgh home insurance coverage include?
Pittsburgh has a lot going for it. Quality education, a thriving job market, friendly people, a low cost of living, great beer, and fantastic food all make it clear why the boasts awe-inspiring natural wonders such as gorgeous state parks, terrific trails, wonderful wetlands, glorious gardens, and impressive rivers and creeks to explore.
However, some natural disaster risks come along with Pittsburgh's natural beauty. In Pittsburgh, floods, tornadoes, landslides, thunderstorms, wildfires, blizzards, power outages, and snowstorms are all unfortunate possibilities.
It's worth noting that while no insurance policy can cover you and your valuables from every single potential mishap, the right homeowners' policy can keep you financially afloat through a myriad of typical situations.
You probably know that a home insurance policy is a good (and necessary) idea, but you might not have a grasp on all the moving parts when it comes to what homeowners insurance covers. We've got a very extensive, plain English guide here, so feel free to dive deep into the specifics—but for now, we'll break down the basics of the different coverage options for you here, so you can get a handle on what a policy covers in general.
Dwelling
Dwelling coverage helps pay for damages to the structure of your home. So, if your pipes burst next winter and cause water damage to your walls, or a windstorm blows over a tree and damages your home, you're covered.
Other Structures
If one of the dangers mentioned above causes damage to your driveway, fence shed, or other structures on your property, your homeowners' insurance has you covered.
Loss of Use
If you can't live in your home due to covered damages, your loss of use coverage can help pay for a temporary place to stay and basic living expenses such as food, laundry, parking, etc.
Personal Property
Personal property coverage protects your stuff both inside and outside your home. So, if your couch is ruined due to a burst pipe or your laptop is swiped at a coffee shop, homeowners insurance has your back. With Lemonade, if your insurance claim is approved, you'll receive the replacement cost of your personal belongings back in your pocket.
Liability coverage
If your neighbor slips and falls on an ice sheet on your driveway, you could be held liable. If someone is injured on your property or anyone on your policy causes damage to someone else's property or stuff, your insurance company should have you covered.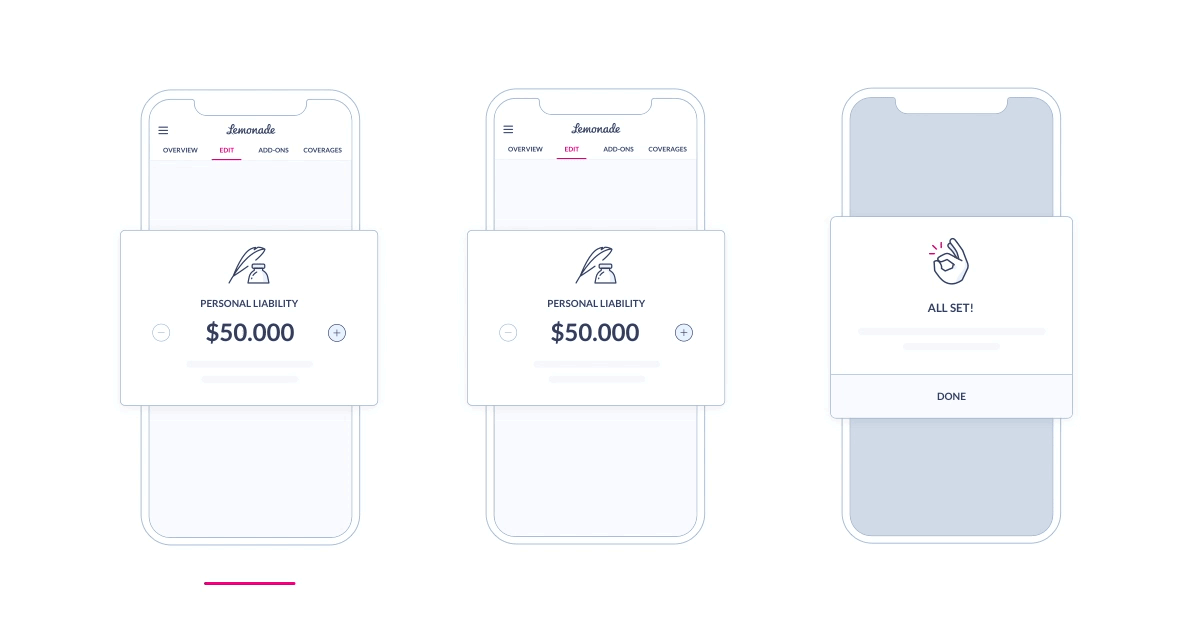 Medical Protection
If your neighbor needs to go to the hospital because of that slip and fall, your coverage will kick in to cover the medical expenses. Home insurance covers you if a guest gets injured at your place or if you accidentally cause injury to someone outside your home.
What are home insurance rates in Pittsburgh?
There isn't a standard policy price for homeowner's insurance for residents of Pittsburgh. Of course, the owner of an Edgeworth mansion will pay a different monthly insurance premium than a college student who owns a two-bedroom home in Oakland.
According to Bankrate, Pennsylvania homeowners can get a pretty good deal when it comes to homeowners insurance rates compared to the nationwide average. In Pennsylvania, the average cost of homeowners insurance is around $730 per year, depending on your insurance needs. In comparison, the national average for homeowners insurance is $1,383.
How much your homeowners' insurance costs depends on your coverage limits, your insurer, your property, your credit score, additional coverage options you choose, and your deductible. Your insurance provider will be able to give you a home insurance quote so you can make a good decision.
What are the different types of Pennsylvania homeowners insurance?
Lemonade offers two types of homeowners insurance policies: one for single-family homes (called HO3 in insurance-speak) and one for condo insurance (HO6). There are minor differences between the two, and your insurance agent will help you choose the best home insurance policy for your needs depending on the type of home you're looking to insure.
A key difference is that homeowners own and are responsible for everything on their property (home, garage, fence, etc.). Condo owners who are HO6 policyholders are only responsible for the outermost walls of their unit, inward.
The best neighborhoods to be a homeowner in Pittsburgh
Mount Lebanon
The suburb of Mount Lebanon is one of the most attractive Pittsburgh neighborhoods for families. Located in the South Hills, it offers a range of educational options and is just five miles from Downtown. Residents of Mount Lebanon often ride the convenient light rail system into the city.
You'll see kids riding their bikes or walking to school and strolling with their families on the weekends in Mount Lebanon. This compact neighborhood has everything you could want within a several-mile radius. Two business districts, Uptown and the Beverly Shops are great for shopping, dining or just being out and about. Mt. Lebanon Ice Center offers skating lessons and a hockey league. You'll also find a public pool, tennis courts, and a nine-hole golf course that's a National Historic Landmark.
Housing options in Mount Lebanon range from cozy bungalows to sprawling colonials and English Tudors, making it suitable for a range of budgets. The average price of a home in Mount Lebanon is $389,900, according to Realtor.com.
Edgeworth
Edgeworth is a large, upscale neighborhood that features a high standard of living and flat, tree-lined streets with large homes. The award-winning Quaker Valley School District in Edgeworth serves the area's children, as do private schools. Edgeworth is a warm, friendly place to live.
Sewickley Village is nearby, and the area is 14 miles from downtown Pittsburgh. Edgeworth also offers convenient access to Pittsburgh International Airport. Homes in Edgeworth are spread out and range from Victorians to Tudors and Queen Annes. The average price of a home in Edgeworth is $878,258, according to Zillow.
Edgeworth received Gold Certification from the Sustainable Pennsylvania Certification Program for responsible energy use, recycling, and community improvement. Edgeworth Club is a beautiful Viennese mansion that houses a social and recreational country club enjoyed by members of the community. Clubgoers enjoy swimming lessons, tennis, squash, duckpin bowling, and fitness classes, and special occasions are celebrated there.
Squirrel Hill
This East End Pittsburgh neighborhood lies along the Monongahela River. It technically consists of Squirrel Hill North and Squirrel Hill South but is typically considered one single neighborhood. Squirrel Hill is home to Carnegie Mellon University as well as Chatham College. Libraries, museums, and parks make Squirrel Hill a great place to live.
Squirrel Hill lies between two beautiful parks. Frick Park has 644 acres of hiking trails, playgrounds, and athletic fields as well as an environmental center, and Schenley Park boasts 465 acres of trails and playgrounds that overlook picturesque Phipps Conservatory and Botanical Gardens.
Fred Rogers of Mister Rogers' Neighborhood lived in Squirrel Hill, which gives a good indication of the warm, friendly atmosphere in the area. The Manor Theatre is a neighborhood theatre in Squirrel Hill, and The Waterfront is an open-air shopping mall nearby.
Homes in Squirrel Hill include townhouses, ranches, and English Tudors. The average price of a home in Squirrel Hill is $395,000 according to Redfin.com.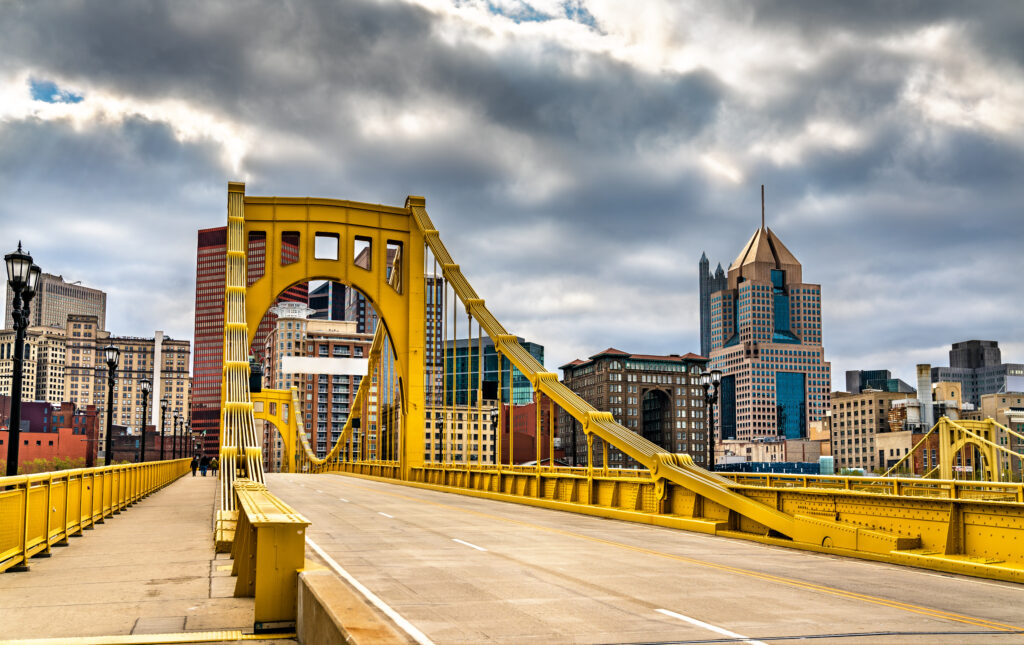 Highland Park
Highland Park is a northeastern neighborhood of Pittsburgh that includes the park with the same name. Considered one of the more affordable gems in Pittsburgh, it offers residents a suburban feel that's close to all of the city's best conveniences.
Highland Park manages to combine rich diversity with neighborhood unity. People in the neighborhood enjoy coming together on weekends at the park, playgrounds, hiking trails, and the reservoir.
Families love living in Highland Park. It offers top-rated schools, great libraries, and walking tours of historically and architecturally significant homes. Colonials, Victorians, and Tudors can be found in the neighborhood, and the average price of a home in the neighborhood is $480,000 according to Realtor.com.
Sprawling Highland Park is at the center of the neighborhood. It includes the Pittsburgh Zoo and PPG Aquarium. One of only six zoo/aquarium combinations in the US, it is home to over 400 different species, 22 of which are threatened or endangered. Its most recently installed section, Water's Edge, has two large underwater viewing tunnels where visitors can get a close look at sea creatures built around two large reservoirs.
These Pittsburgh businesses will make your house a home
Room Concepts has been making custom-made furniture in Pittsburgh for over 65 years and is family owned and operated at two Pittsburgh metro locations. Whether you're looking to furnish a new home or just purchase some pieces to treasure, Room Concepts sells furniture for your living room, dining room, kitchen, bedroom, and more. If you thought American-made solid wood furniture was prohibitively expensive, Room Concepts will be happy to change your mind.
Brighten up your Pittsburgh property at Cardello Lighting and Electric Supply. Since 1947, this local and independent retailer has been serving the Pittsburgh area, selling interior, exterior, and decorative lighting, as well as fans, furniture, and home accent pieces. Cardello is known for exceptional and friendly service, making it a favorite for Pittsburgh residents looking to add on some sparkle to their homes.
Furnish your Pittsburgh home the sustainable way with reclaimed wood furniture from Pittsburgh Urban Tree. Started in 2010 by craftsman Jason Boone, Urban Tree rescues older local trees that have to be removed and are unusable by sawmills. Oak, cherry, sycamore, ash, and walnut trees are turned into one-of-a-kind desks, tables, chairs, cabinets, and benches at Urban Tree.
Feathers is Pittsburgh's premier shop for fine linens and down. Beautify your bed, table, and bath with their beautiful fabrics, and select some quality mattresses, down comforters, and even sleepwear while you're there. The staff is knowledgeable and the merchandise is high quality. Be sure to ask about Feathers' monogram service for bath towels to lend your home that extra personal touch.
Random facts that make Pittsburgh great
Climbing to new heights
Pittsburgh has the most public staircases of any city in the US! The Steps of Pittsburgh are nearly 800 city-owned steps that make the hilly city navigable. The steps connect the city's various communities and they can be found in 66 of Pittsburgh's 90 neighborhoods. An Inspector of Steps maintains their condition.
Slanted
Beechview in Pittsburgh is where you'll find Canton Avenue, the steepest street in America. It has a 37% incline and is 630 feet long. What's more, at Gravity Hill, at the intersection of McKinney Road and Kummer Road in North Park, cars seem to roll slightly downhill when they're in neutral gear!
Hockey all day
On May 4, 2000, the longest modern-day hockey game took place at the Mellon Arena in Pittsburgh. The Eastern Conference Semifinals game took over seven hours. Unfortunately for Pittsburgh fans, the Philadelphia Flyers beat the Pittsburgh Penguins 2-1 in the game after 92 minutes of overtime.
That's Burgh with an H
Between 1891 and 1911, Pittsburgh was actually spelled without the letter H at the end. It all happened as a result of a decision by the US Board of Geographic Names to standardize the spelling of cities and towns across the US, making "burg" the official spelling. Local officials and historians rallied, bringing proof that Pittsburgh had been spelled with an H all along until the decision was finally reversed 20 years later.
Fabulous Firsts
Pittsburgh brought the world some pretty great things:
the Ferris Wheel
the Klondike Bar
the first public television station (WQED)
the Big Mac
the game of Bingo
the first stadium with a retractable roof
the first heart, kidney, and liver transplant
the first modern art museum
the polio vaccine