Virginia Beach Homeowners Insurance Guide
Cover your home in Neptune City.
Virginia Beach is a wonderful place to live, and if you ask the over 450,000 people who call it home, they'll likely agree. Virginia Beach is an ideal city for beach lovers. Sandy beaches and an iconic boardwalk are what most people associate with Virginia Beach, and the oceanfront is beloved by locals and tourists alike. This resort city is also nicknamed Neptune City, a nod to the giant statue of King Neptune, ruler of the sea, that can be found on the Virginia Beach Boardwalk.
Home insurance coverage in Virginia Beach would cover you financially if something were to happen to you, your property, or your stuff. Let's say someone breaks into your home while you're on a weekend hike at Back Bay National Wildlife Refuge, or your friend twists their ankle after getting too excited while watching the Nationals in your living room. The right homeowner's insurance policy could offer you financial protection if something terrible (or just plain inconvenient) were to happen.
Here's what we'll cover:
What does Virginia Beach homeowner's insurance cover?
Virginia Beach has a lot going for it. Quality education, a comfortable climate year-round, friendly people, delicious seafood, a low crime rate, and beachside living all make it clear why Neptune City is a great place to be. The state is full of awe-inspiring natural wonders including sandy beaches, delightful dunes, woodland forests, majestic marshes, scenic creeks, lush riverfront parks, and misty wetlands.
However, there are also some risks of natural disasters that come along with Virginia Beach's natural beauty. In Virginia Beach, severe storms, tropical storms, floods, hurricanes, wildfires, and snowstorms are all unfortunate possibilities.
It's worth noting that while no insurance policy can cover you from every single potential mishap, the best homeowner's insurance policy can keep you financially afloat through a myriad of typical situations.
You might know that a home insurance policy is a good (and necessary) idea, but you might not have a grasp on all the moving parts when it comes to coverage options and insurance products. We've got a very extensive, plain English guide here, so feel free to dive deep into the specifics of homeowners insurance coverage — but for now, we'll break down the basics for you here, so you can get a handle on what a policy covers in general.
Dwelling
'Dwelling coverage' helps pay for damages to the structure of your home. So, if your pipes burst next winter and damage your walls, or a windstorm blows over a tree and damages your home, you're covered.
Other Structures
If one of the dangers mentioned above causes damage to your driveway, fence shed, or other structures on your property, your homeowner's insurance coverage will take care of it.
Loss of Use
If you can't live in your home due to covered damages, your loss of use coverage can help pay for a temporary place to stay and basic living expenses such as food, laundry, parking, etc.
Personal Property
Personal property coverage protects your stuff both inside and outside your home. So, if your couch is ruined due to a burst pipe or your laptop is swiped at a coffee shop, homeowners insurance has your back. With Lemonade, if your insurance claim is approved, you'll receive the replacement cost of your personal belongings back in your pocket.
Liability coverage
If your neighbor slips and falls on an ice sheet on your driveway, you could be held liable. If someone is injured on your property or anyone on your policy causes damage to someone else's property or stuff, your insurance company should have you covered.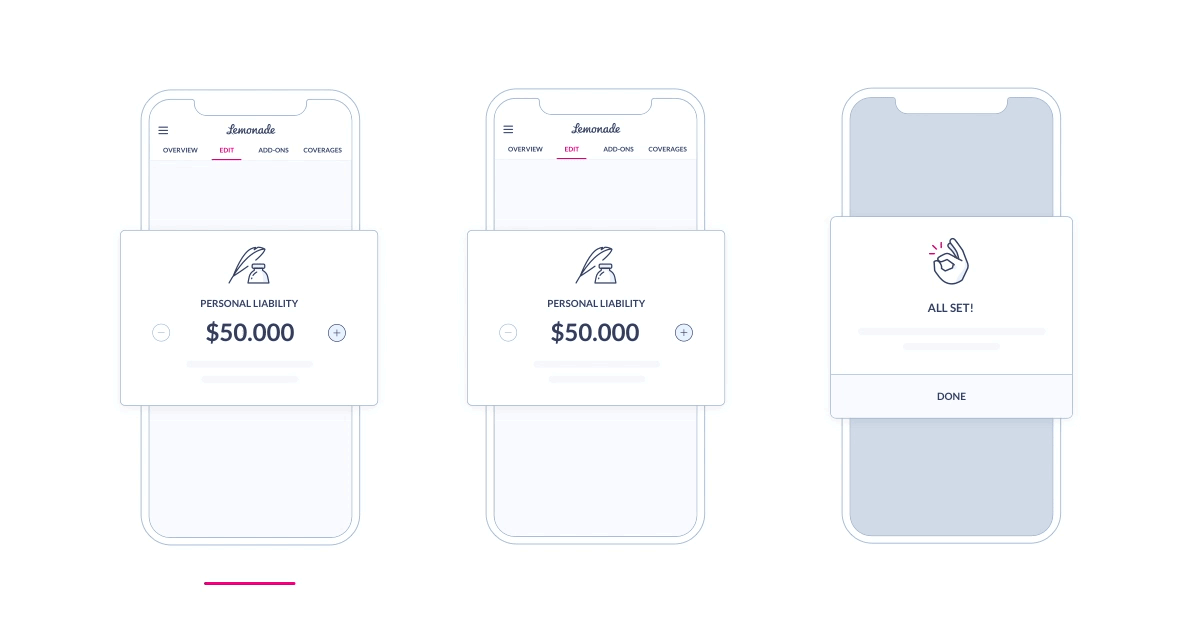 Medical Protection
If your neighbor needs to go to the hospital because of that slip and fall, your coverage will kick in to cover the medical expenses. Home insurance covers you if a guest gets injured at your place or if you accidentally cause injury to someone outside your home.
Home insurance costs in Virginia Beach
There isn't a standard policy price for homeowner's insurance coverage for residents of Virginia Beach. Of course, the owner of a Linkhorn Park mansion will pay a different monthly premium than a college student who owns a two-bedroom home in Dam Neck.
Virginia Beach residents pay more than average when it comes to homeowners insurance rates.
In Virginia Beach, the average cost of homeowners insurance is around $1,700 per year. In comparison, the national average for homeowners insurance is $1,383. Your exact home insurance rates depend on your coverage limits, your insurer, your property, and your deductible.
Virginia Beach residents pay more on homeowners insurance on average because of high property values and inclement weather.
What are the different types of homeowners insurance?
Lemonade offers two types of homeowners insurance policies: one for single-family homes (called HO3 in insurance-speak) and one for condo insurance (HO6). There are minor differences between the two, and you'll choose the right policy depending on the type of home you're looking to insure.
A key difference is that homeowners own and are responsible for everything on their property (home, garage, fence, etc.). Condo owners with HO6 policies are only responsible for the outermost walls of their unit, inward.
The best neighborhoods to be a homeowner in Virginia Beach
Alanton
Alanton is a popular, upscale neighborhood for families that offers residents the perfect balance of residential living with proximity to the amenities of the city. Alanton's school system is top-rated and it's close to many convenient shopping centers. Homes in Alanton include Colonials, ranches, and townhouses. The average price of a home in Alanton is $715,000, according to Realtor.com.
Recreation options abound in Alanton. The pool at the Alanton-Baycliff Recreation Center and proximity to both the Chesapeake Bay and the Oceanfront mean that Alanton residents can often be found in the water. The neighborhood is stable, safe, and friendly, with easy walkability to most places. Local events like the spring Easter egg hunt and the 4th of July parade bring the people of Alanton together throughout the year.
If you're hungry for some great seafood and much more in Alanton, head to Hot Tuna. This neighborhood favorite is a beach town sports bar that serves up fresh fish, gourmet burgers, and specialty cocktails. For fine dining, try Cobalt Grille, where you'll enjoy European bistro sophistication using local, farm-fresh ingredients.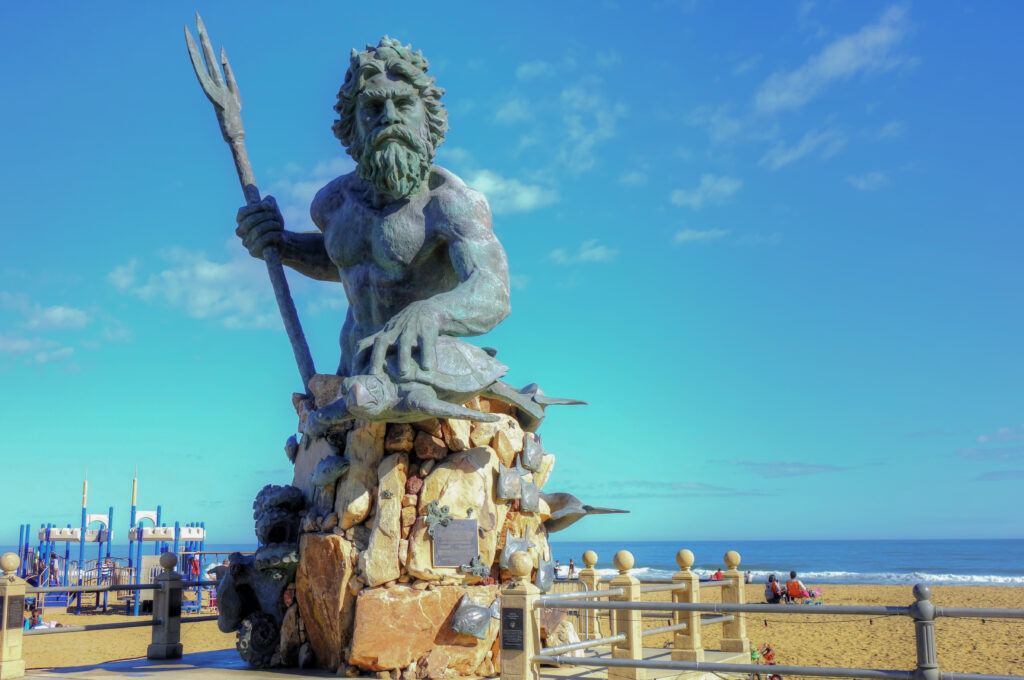 Ashville Park
Ashville Park is one of southern Virginia Beach's picturesque newer neighborhoods, and it boasts planned, modern homes with open floor plans. Ashville Park is just minutes from Sandbridge Beach and the many shopping options at Landstown Common Shopping Center. The neighborhood also contains the Virginia Aquarium and Marine Science Center. Homes in Ashville Park include Classics and Colonials on spacious lots. According to Realtor.com, the average price of a home in Ashville Park is $749,000.
You'll find 15 lakes and 30 acres of tree preservation in Ashville Park's nature-inspired landscape. The jewel of the neighborhood is The Lake House, the clubhouse that's exclusive to Ashville Park residents, containing an events space, a fitness center, and a salt-water pool. The neighborhood also features a kids' adventure park, open common spaces, walking paths, and athletic fields.
For a tasty meal in Ashville Park, visit Whiskey Kitchen, a rustic gastropub that serves locally-sourced comfort food favorites like fried crawfish, fish and chips, and outstanding burgers. Check out the drinks menu that offers local beers and whiskey cocktails. If leisurely brunches are your thing, try The Bee and the Biscuit for stuffed French toast, stacks of pancakes, breakfast burritos, and locally-sourced specialties like the Bay Crab Benedict.
Hilltop
Hilltop, located on the eastern side of Virginia Beach, is just a few minutes from the ocean and twenty minutes from Norfolk. Lots of shopping centers are available in Hilltop, making it easy to get all of your errands done close to home. The public and private schools in Hilltop are considered some of the finest in Virginia Beach.
Many young families and professionals call Hilltop home. It's got a vibrant nightlife and is walking distance to loads of entertainment options. Neighborhood festivals in Hilltop bring the community together several times a year. Hilltop is close to the water and has well-maintained, beautiful homes, including single-family homes and townhouses. The average price of a home in Hilltop is $580,000, according to Redfin.com.
All of Hilltop's shopping centers mean that restaurants are never far away. Check out Baker's Crust at Hilltop North, where you'll enjoy farm-to-table dishes like wood-fired pizzas, artisan sandwiches, and traditional hearty breakfasts. For something different, head to Nawab Indian Cuisine, where you'll dine on authentic Indian dishes like tandoori, biryanis, pakoras, and kababs.
Chic's Beach
Chic's Beach is a nickname for Chesapeake Beach. A favorite among locals, this neighborhood surrounds the Chesapeake Bay Bridge Tunnel. Every block in Chic's Beach offers public access to the beach, giving the neighborhood a cozy, ocean vibe where locals get to watch the sunset over the water daily. Homes in Chic's Beach range from older beach bungalows to newer condos, townhouses, and single-family ranch homes. According to Realtor.com, the average price of a home in Chic's Beach is $525,000.
Chic's Beach is a small neighborhood that has lots to offer. The beach is calmer and has a more intimate feel to it, without crowds of tourists. While there are some small strip malls in Chic's Beach, most shopping takes residents to other parts of Virginia Beach. Bayville Farms Park has athletic fields and a large playground, and the Bayville Golf Course is right across the road. First Landing State Park is in the area, offering miles of tranquil trails and the beautiful beaches of Shore Drive.
Zia Marie serves Italian favorites in a cozy, intimate space with a fireplace. Try the penne alla vodka and spinach lasagna, and don't miss the roasted garlic and goat cheese appetizer. Buoy 44 Seafood Grill has great ambience and gorgeous ocean views. The nachos, 44 Burger with added crab cake, and irresistible homemade chips are our picks for this delicious waterside spot.
These Virginia Beach businesses will make your house a home
Random facts that make Virginia Beach great