Virginia Homeowners Insurance Guide
Virginia is for lovers (and great coverage).
Whether you live a quick drive outside of Washington DC, or you have the Appalachian Trail right in your backyard, you deserve the best homeowners insurance coverage in Virginia.
Homeowners insurance covers you financially if something were to happen to you, your property, or your stuff. Let's say someone breaks into your home while you're on a weekend hike at Old Rag Mountain, or your friend twists their ankle after getting too excited while watching a NASCAR photo finish in your living room. The right homeowners insurance policy can offer you financial protection if something terrible (or just plain inconvenient) were to happen.
Here's what we'll be covering:
What does Virginia home insurance cover?
Virginia is a natural wonder. Because of the state's cozy placement in the mid-Atlantic, many Virginia residents enjoy scenic mountains, rolling rivers, and sunny beaches. Along with the state's natural beauty, there are also some natural risks, like hurricanes, wildfires, and brutal winter storms. It's worth nothing that while no insurance policy can cover you from every possible thing in the universe, the right homeowners policy can keep you financially afloat through a host of common situations.
You might know that a home insurance policy is a good (and necessary) idea, but you might not have a handle on all the moving parts. We've got a very extensive, plain English guide here, so feel free to take a deep dive into the specifics—but for now, we'll break down the basics for you here, so you can get a grasp on the general things a policy covers.
Dwelling
'Dwelling coverage' helps pay for damages to the structure of your home. So, if your pipes burst next winter and damage your walls, or a windstorm blows over a tree and damages your home, you're covered.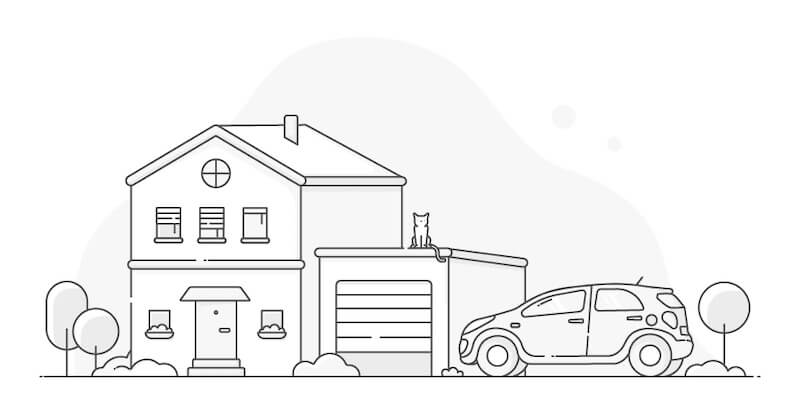 Other Structures
If one of the dangers mentioned above causes damage to your driveway, fence, shed, or other structures on your property, your homeowners insurance has you covered.
Loss of Use
If you can't live in your home due to covered damages—like a hurricane that batters eastern Virginia—your 'loss of use' coverage can help pay for a temporary place to stay and basic living expenses such as food, laundry, parking, etc.
Personal Property
Personal property coverage protects your stuff both inside and outside your home. So, if your couch is ruined due to a burst pipe or your iPhone is pickpocketed while you're shopping at the Crystal City Mall, homeowners insurance has your back. With Lemonade, if your insurance claim is approved, you'll receive the replacement cost of your personal belongings back in your pocket.
Liability coverage
If your neighbor slips and falls on an ice sheet on your driveway after a winter Nor'easter, you could be held liable. If someone is injured on your property, or anyone on your policy causes damage to someone else's property or stuff, your insurance company should have you covered.
Medical Protection
If your neighbor needs to go to the hospital because of that slip and fall, your coverage will kick in to cover the medical expenses. Home insurance covers you if a guest gets injured at your place, or if you accidentally cause injury to someone outside your home.
How much is home insurance in Virginia?
| City | Average cost of homeowners insurance |
| --- | --- |
| Virginia Beach | $1,969 |
| Chesapeake | $1,224 |
| Arlington | $860 |
| Norfolk | $1,981 |
| Richmond | $1,160 |
There's no standard policy price when it comes to homeowners insurance for residents of Virginia. A 60-year-old in a Richmond mansion will pay a different monthly premium than a college student who owns a two-bedroom home in Charlottesville, of course.
According to Bankrate, Virginia residents can get a pretty good deal when it comes to homeowners insurance rates. The average cost of homeowners insurance in Virginia is around $1,031 a year. To put it in perspective, the national average for homeowners insurance is $1,477. The amount you pay on homeowners insurance depends on your property, your insurer, your coverage limits, and your deductible.
What are the different types of homeowners insurance?
Lemonade offers two types of homeowners insurance policies: one for single-family homes, (called HO3 in insurance-speak), and one for condo insurance (HO6). There are minor differences between the two, and you'll choose the right policy depending on the type of home you're looking to insure. A key difference is that homeowners own and are responsible for everything on their property, (home, garage, fence, etc.), condo owners with HO6 policies are only responsible for the outermost walls of their unit, inward.
Where are some great places to buy a home in Virginia?
Charlottesville & Albemarle County
The city of Charlottesville is home to the University of Virginia. It has everything you might expect from a college town in a small, historical city: lots and lots of charm, but with plenty of adventure at your fingertips. In downtown Charlottesville there are tons of places to listen to live music, enjoy craft beer, sample local and international cuisines, take in those gorgeous mountain views, and explore the historical sites (C'ville was home to former presidents Thomas Jefferson and James Monroe). On Zillow, the average price of a home in the metropolitan Charlottesville area is around $375,000.
Outside of the city limits, the rest of Albemarle County features sprawling bucolic scenery with classic, colonial estates along with charming (and more affordable) townhouses. According to Zillow, the average purchase price of a home in Albemarle county is around $393,000.
Fairfax County
People who work in Washington, D.C. might choose to settle down in family-friendly Fairfax county in Northern Virginia. Major cities in Fairfax county include Alexandria, Centreville, and Annandale. Fairfax county boasts one of the country's lowest unemployment and crime rates along with a top public and magnet school system. Fairfax also offers a surplus of natural beauty, from the Potomac River to multiple national parks.
The federal government and the U.S. military are the top employers from Fairfax County residents, but is also a hub to some large tech and Fortune 500 companies. There are easily accessible buses and trains that travel directly into D.C., making the commute somewhat of a breeze. Do be warned if you decide to travel by car, though–the traffic between Fairfax county and D.C. can be brutal.
The quality of life in Fairfax County is high, no doubt about it. So, it makes sense that purchasing a home there would reflect the demand and appeal of this D.C. suburb. According to Zillow, the average cost of buying a home in Fairfax County is around $645,000, which is over 50% higher than the national average.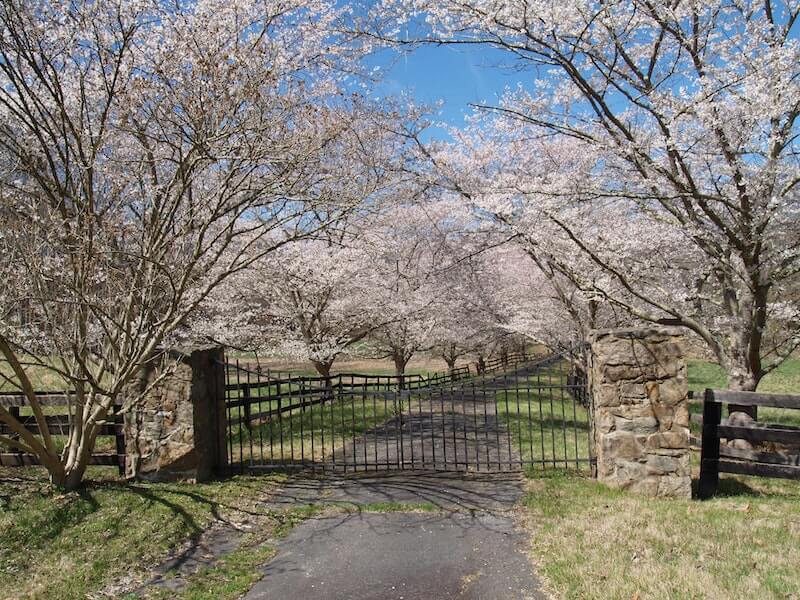 Norfolk & Virginia Beach
These two southeastern twin beach cities sit on the Chesapeake Bay and the Atlantic, respectively. They've become a magnet for foodies, beachgoers, and adventure-seekers.
Young professionals, families, and retirees have found these two beach towns to be a comfortable place to settle down. That's probably because this patch of the U.S. enjoys what some like to call "Goldilocks weather"—not too hot, not too cold, pleasant summers, and mild winters… the weather here is "just right".
There's also ample opportunities for outdoor fun; Norfolk and Virginia Beach have 182 miles of beaches and 270 miles of bike trails between them. Other attractions include the Norfolk Naval Station (the largest Naval station in the world), over 20 craft breweries, the Virginia Zoo, and the Virginia Aquarium. The average cost of a home in Virginia Beach is $319,000, with Norfolk averaging at a comfortable $232,000.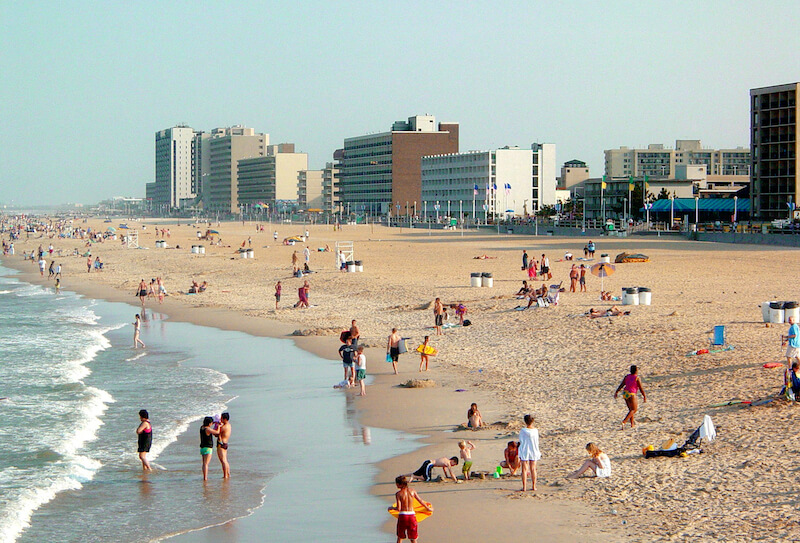 Richmond
Two hours to the nation's capitol, two hours to the mountains, and two hours to the beach. Welcome to Richmond! It's a tranquil, diverse, and historical town with a great arts scene and a community feel. Depending on which neighborhood you choose, you can lean into Richmond's more downtown city vibes, or slow down with its small town, Southern charm. The Fan and Museum district, for example, features homes with dreamy wrap-around porches, or you can go for the Downtown Richmond area, which features plenty of urban highrises, putting you smack dab in the center of city life.
Richmond is mostly bikeable and walkable, with public transit to neighboring cities widely available. Transplants from other East Coast cities have started calling Richmond home thanks to lower cost of living and plentiful employment opportunities. The top industries in Richmond are advanced manufacturing, bioscience, finance, and food & beverage. The average cost of buying a home in Richmond is right around $274,000.
Virginia real estate brokers to follow on Instagram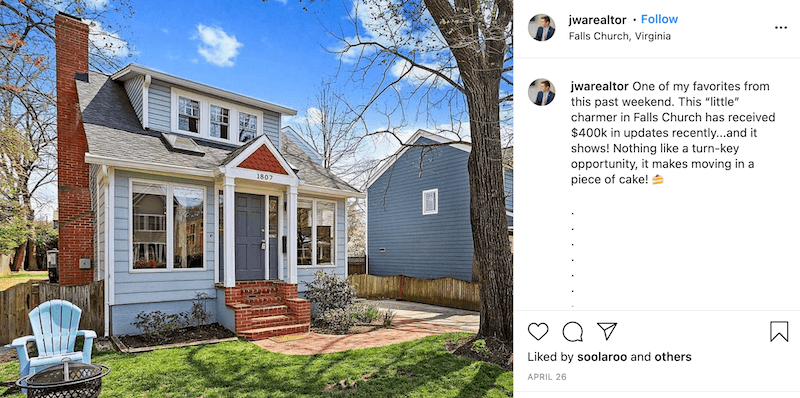 Jason Walder specializes in properties in the D.C area. His listings include everything from old school colonial charm to modern new builds. Jwarealtor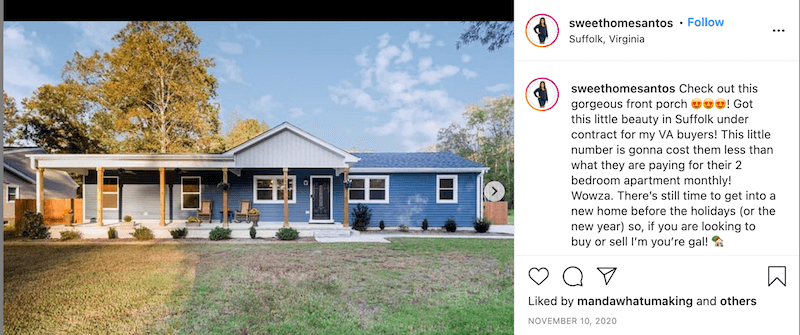 If you're hoping to buy an affordable beachside property in VA, Imani Santos holds the key. Sweethomesantos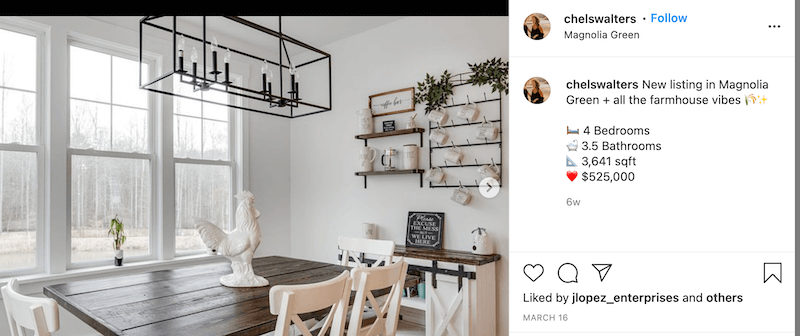 Chelsea Walters is a Richmond-based real estate agent with a flair for interior design. Chelseawalters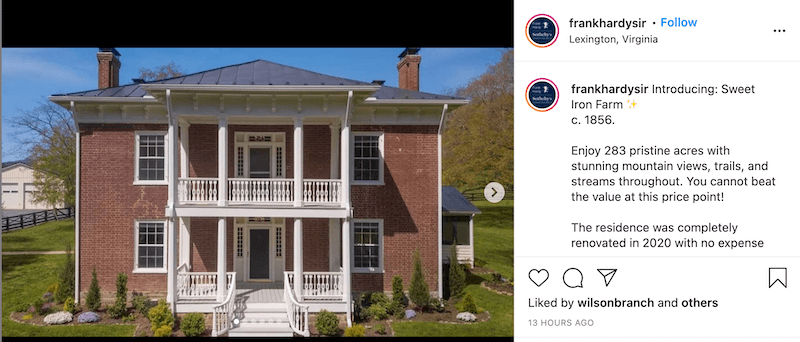 Frank Hardy is a luxury real estate broker working out of Charlottesville. His multi-acre historical estates have a whole lot more than simple "curb appeal" going for them.
Random facts that make Virginia great
Virginia went green before it was cool
Earth Day was established at Airlie's Resort in Northern Virginia. The 300-acre estate was bought by Dr. Murdoch Head in 1956 and was converted into an eco-centric conference center. In the 20th century, the resort hosted Civil Rights leaders, LGBTQ+ activists, and many thought leaders of the moment.
Airlie's Resort practiced recycling and composting long before it was considered the norm, and visitors were inspired by the estate's cutting-edge environmentally conscious approach. In 1969, the idea was pitched for Earth Day to a group of medical and law students gathered at Airlie's Resort, and the rest is history.
An accent unlike any other
Residents of Tangier Island, located off the Chesapeake Bay, have one of the most unique accents in the country. Because of their relative isolation since the British settled there in the 1680s, their speech pattern is like an auditory time capsule, revealing how colonial settlers probably spoke over 300 years ago. Listen for yourself.
Location, location, location
When it comes to U.S. demographics, Richmond is pretty centrally located. How central, you may ask? Well, around half the population of the United States lives within a 500 mile radius of Richmond. So, no matter where you're from originally, chances are you'll never be too far from good friends or family if you settle down in VA.
Wild, wild ponies
Chincoteague is a quiet island in Virginia's Eastern Shore region, where wild ponies run free. If this sounds like a place you'd like to call home (because honestly, same), homes in Chincoteague average at around $232,000, according to Zillow.