Houston Homeowners Insurance Guide
Cover your home in the Space City.
One of Texas' major metropolitan cities, Houston is located in Southeast Texas near Galveston Bay and the Gulf of Mexico. It's the largest city in the United States by area, and is the most diverse in Texas, offering residents rich culture including tons of museums, theatres, and restaurants. In fact, Houston attracts on average 22 million tourists every year! People drive from Austin and Dallas to check out this happening city, making Houston a highly desirable place to live.
Homeowners insurance covers you financially if something were to happen to you, your property, or your stuff. Let's say someone breaks into your home while you're on a weekend hike at Buffalo Bayou Park, or your friend twists their ankle after getting too excited while watching a Texans game in your living room. The right homeowners insurance policy could offer you financial protection if something terrible (or just plain inconvenient) were to happen.
What does Houston home insurance cover?
Houston has a lot going for it. It has a large, international community, quality education and medical centers, and endless places to eat. The city and its surrounding areas are full of outdoor activities including swimming in naturally-formed lakes, and hiking through nature trails and gorgeous state parks.
However, there are also some natural risks that come along with the state's natural beauty. In Houston, natural disasters including extreme heat, tornados, wildfires, severe thunderstorms, and hurricanes are all unfortunate possibilities. Houston also falls in a flood zone, prompting many residents to invest in flood insurance to protect themselves from water damage.
It's worth noting that while no insurance policy can cover you from every single potential mishap, the right homeowners policy and liability protection can keep you financially afloat through a myriad of typical situations.
You might know that a home insurance policy is a good (and necessary) idea, but you might not have a grasp on all the moving parts. We've got a very extensive, plain English guide here, so feel free to dive deep into the specifics—but for now, we'll break down the basics for you here, so you can get a handle on what a policy covers in general.
Dwelling
'Dwelling coverage' helps pay for damages to the structure of your home. So, if your pipes burst next winter and damage your walls, or a windstorm blows over a tree and damages your home, you're covered.
Other Structures
If one of the dangers mentioned above causes damage to your driveway, fence shed, or other structures on your property, your homeowners insurance has you covered.
Loss of Use
If you can't live in your home due to covered damages, your' loss of use coverage can help pay for a temporary place to stay and basic living expenses such as food, laundry, parking, etc.
Personal Property
Personal property coverage protects your stuff both inside and outside your home. So, if your couch is ruined due to a burst pipe or your laptop is swiped at a coffee shop, Houston homeowners insurance has your back. With Lemonade, if your insurance claim is approved, you'll receive the replacement cost of your personal belongings back in your pocket.
Liability coverage
If your neighbor slips and falls on an ice sheet on your driveway, you could be held liable. If someone is injured on your property or anyone on your homeowners policy causes damage to someone else's property or stuff, your insurance company should have you covered.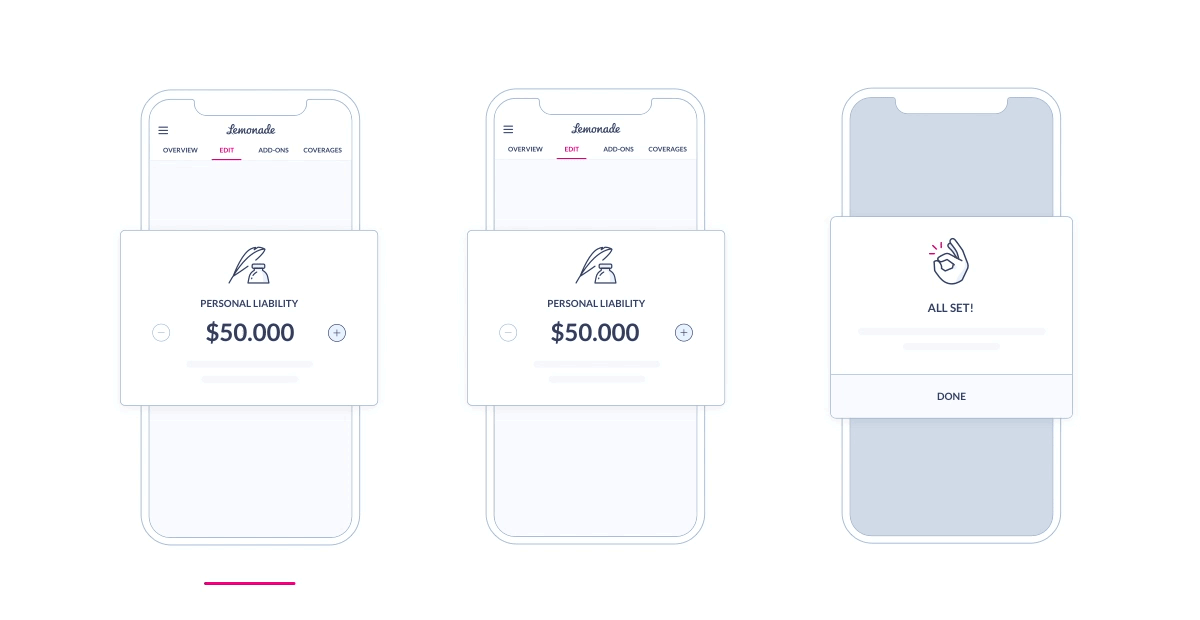 Medical Protection
If your neighbor needs to go to the hospital because of that slip and fall and has medical payments, your homeowners insurance policy will kick in to cover the medical expenses. Insurance coverage covers you if a guest gets injured at your place or if you accidentally cause injury to someone outside your home.
How much is home insurance in Houston?
There isn't a standard price for Houston homeowners insurance. Of course, the owner of a Hyde Park mansion will pay a different monthly premium than a college student who owns a two-bedroom home in Midtown.
According to Value Penguin, Houston residents can get a pretty good deal when it comes to homeowners insurance rates. In Houston, the average cost of homeowners insurance is around $1,030 per year. In comparison, the national average home insurance rates are $1,477.
How much your homeowners insurance costs depends on your coverage limits, your insurer, your property, and your deductible.
What are the different types of homeowners insurance?
Lemonade offers two types of homeowners insurance policies: one for single-family homes (called HO3 in insurance-speak) and one for condo insurance (HO6). There are minor differences between the two home insurance policies, and you'll choose the right one depending on the type of home you're looking to insure.
A key difference is that homeowners own and are responsible for everything on their property (home, garage, fence, etc.). Condo owners with HO6 home insurance policies are only responsible for the outermost walls of their unit, inward.
Apply with Lemonade to get your free homeowners insurance quote.
The best neighborhoods to be a homeowner in Houston
East End
Lying just east of downtown Houston, East End is a historic neighborhood with homes still standing from the 1800s. This area is perfect for single people and families alike, with the average home costing $102,414.
Culinary aficionados will love checking out the eclectic restaurant and brewery scene, including Acadian Coast for American Creole and Equal Parts Brewing Company both offering up local beer on tap. The Telento Bilingue de Houston is the largest cultural arts center in Houston, is also located in East End, offering residents a variety of Latino music, art exhibits, and plays.
Greater Heights
Greater Heights is a neighborhood with old Southern charm as well as modern, trendy vibes. This neighborhood offers residents a great deal of open green space with a variety of architectural styles to choose from, including classic Victorians, smaller, charming bungalows as well as modern condos. There is something for everyone with an average purchase price of $362,028.
This neighborhood is known for its excellent public school system and an abundance of nature trails and parks, like the White Oak Bayou. Here, residents can walk along the bayou or enjoy the many hiking and biking trails the park has to offer. If you get hungry, there is no shortage of great restaurants to choose from. Head over to Rainbow Lodge for wild game and seafood or La Lucha for some classic Tex-Mex.
Midtown
This central Houston Neighborhood is just five minutes from Downtown, and is one of the hottest areas to live in right now. Residents can take advantage of its walkability and the fact that it's truly easy to get anywhere in the city on the Metro. The average home purchase price averages at around $230,000, making this neighborhood an affordable yet happening place to be.
Known for its nightlife and restaurant scene, residents enjoy checking out local eateries like Taste Bar and Kitchen for Southern comfort food, or Mai's Restaurant for scrumptious Vietnamese cuisine. There's also no shortage of bars and clubs to choose from, attracting some of the most popular DJs in the world.
Montrose
Montrose is known for its liberal, hipster, eclectic vibes. Known as the city's most gay-friendly neighborhood, this is a great place to buy a home if you want to be within walking distance of beautiful art galleries and quaint restaurants. Charming townhouses and small cottages line Montrose, with an average cost of $378,377.
Take a stroll down Westheimer Road if you want to discover hidden treasures in the many thrift stores on the street, or settle in at Blacksmith Coffee for the best Cortado in town. Montrose is also a great area for kids, with many playgrounds and parks as well as excellent local schools.
Spring Branch
Spring Branch is a great neighborhood for families who are seeking a quieter neighborhood. Here, residents can enjoy exploring wildlife at Bear Creek Pioneers Park or having a picnic in Cherryhurst Park. You can find modern, newer style homes that average $215,498 in price.
There are also lots of fun non-nature related activities in this part of town, too. check out the abundance of restaurants like Bori for Korean BBQ or Ember & Greens for upscale, American cuisine. In addition, those who enjoy physical activity like rock climbing and bouldering have the opportunity to do so at Texas Rock Gym, where there is also a state of the art fitness center.
These Houston businesses will make your house a home
For an excellent personalized shopping experience, head over to Floor and Decor Design Studio. This store offers shoppers many options for hard-surface flooring and wall design, including stone, wood, and marble. Employees provide exceptional service, helping customers bring their home vision to life.
When you're ready to decorate your windows with beautiful drapes or reupholster a sofa, check out Sophie's Upholstery. Available by appointment only, you can select your own custom fabric and create customized pieces to make your home its own unique sanctuary.
A house is not complete with furniture, and Montana's Home Furniture has it all. From bedroom sets, to dining room tables to ottomans, have one of their professional staff help you select the right pieces for your new home.
FOUND offers home decor and accessory pieces for all tastes and styles. A mix of 18th-20th century inspired pieces and vintage upholstery makes this store one of the most unique furniture stores in the city.
Random facts that make Houston great