Austin Homeowners Insurance Guide 
Cover your home in Bat City.
Austin is the capital of Texas and the most populous city in the state. This fabulous city is known for its laid back hipster vibe, live music scene, abundance of lakes and outdoor activities as well as its outstanding food scene.
Located in the southeastern part of Texas, homeowners have many reasons to be excited to call this unique city home. In fact, according to U.S. News, Austin has been ranked the #1 city in America to live in, three years running.
As a homeowner, homeowners insurance is an absolute necessity to cover you financially if something were to happen to you, your property, or your stuff. Let's say someone breaks into your home while you're on a weekend hike at Mayfield Nature Preserve, or your friend twists their ankle after getting too excited while watching a Longhorns game in your living room.
The right homeowners insurance policy could offer you financial protection if something terrible (or just plain inconvenient) were to happen.
Here's what we'll cover:
What does Austin home insurance cover?
Austin has a lot going for it. A fantastic live music scene, access to lakes and rivers, a booming economy, and low cost of living. The city and its surrounding areas are full of awe-inspiring natural wonders including the Colorado River, Lady Bird Lake, and Lake Travis.
However, there are also some natural risks along with the state's natural beauty. In Austin, flooding, tornadoes, thunderstorms, and hail are all possibilities in the Austin area.
It's worth noting that while no insurance policy can cover you from every single potential mishap, the right homeowners insurance policy and your coverage level can keep you financially afloat through a myriad of typical situations.
You might know that a home insurance policy is a good (and necessary) idea, but you might not have a grasp on all the moving parts. We've got a very extensive, plain English guide here, so feel free to dive deep into the specifics—but for now, we'll break down the basics for you here, so you can get a handle on what insurance coverage offers.
Dwelling
'Dwelling coverage' helps pay for damages to the structure of your home. So, if your pipes burst next winter and damage your walls, or a windstorm blows over a tree and damages your home, you're covered.
Other Structures
If one of the dangers mentioned above causes damage to your driveway, fence shed, or other structures on your property, your homeowners insurance has you covered.
Loss of Use
If you can't live in your home due to covered damages, your loss of use insurance coverage can help pay for a temporary place to stay and basic living expenses such as food, laundry, parking, etc.
Personal Property
Personal property insurance coverage protects your stuff both inside and outside your home. So, if your couch is ruined due to a burst pipe or your laptop is swiped at a coffee shop, homeowners insurance has your back. With Lemonade, if your insurance claim is approved, you'll receive the replacement cost of your personal belongings back in your pocket.
Liability coverage
If your neighbor slips and falls in your driveway, you could be held liable. If someone is injured on your property or anyone on your home insurance policy causes damage to someone else's property or stuff, your insurance company should have you covered.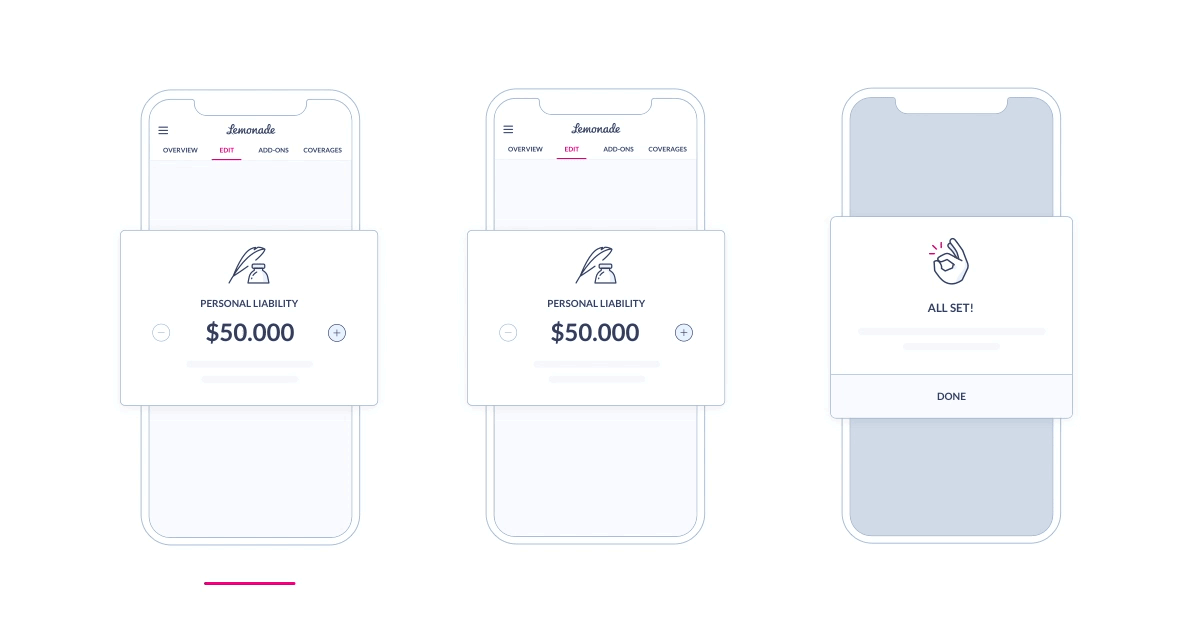 Medical Protection
If your neighbor needs to go to the hospital because of that slip and fall, your Austin homeowners insurance will kick in to cover the medical payments. Homeowners insurance covers you if a guest gets injured at your place or if you accidentally cause injury to someone outside your home.
How much is home insurance in Austin?
There isn't a standard home insurance rate or coverage option for residents of Austin. Of course, a Rosedale mansion will pay a different monthly premium than a college student who owns a two-bedroom home in North University.
According to Bankrate, Austin residents have to pay a pretty penny when it comes to homeowners insurance rates. In Austin, the average cost of homeowners insurance is around $1,824 per year. In comparison, the national average for homeowners insurance is $1,477. How much your homeowners insurance costs depends on your coverage limits, your insurer, your property, and your deductible.
What are the different types of homeowners insurance?
Lemonade offers two types of homeowners insurance policies: one for single-family homes (called HO3 in insurance-speak) and one for condo insurance (HO6). There are minor differences between the two home insurance policies, and you'll choose the right one depending on the type of home you're looking to insure.
A key difference is that homeowners own and are responsible for everything on their property (home, garage, fence, etc.). Condo owners with HO6 home insurance policies are only responsible for the outermost walls of their unit, inward. Homeowners insurance companies or your general insurance agency should offer a free quote to give you a better idea of the cost.
The best neighborhoods to be a homeowner in Austin
South Menchaca
This low-key Austin neighborhood is attractive for those who want to live further away from the hustle and bustle of downtown Austin. Homes in South Menchacha include small, single-family and ranch homes, as well as apartment complexes. The prices are substantially lower than homes closer to downtown, with an average price of $358,383, according to Zillow.
Shops, bars, and restaurants have been popping up in South Menchaca as more people move into the neighborhood. Antique shops like Uncommon Objects and record stores like End of an Ear are attracting a younger crowd to the area. And if you're looking for classic Texas barbecue, Moreno Barbecue is the spot for you.
Pro tip: order the brisket sandwich – it will change your life.
Cherrywood
Located in East Austin, this neighborhood has large, shady trees that give Cherrywood a classic, Southern feel. Stucco homes, bungalows, and wood-frame homes are just some of the styles Texas homeowners find here, with an average price of $452,500. Families, singles, professors and students attending University of Texas enjoy Cherrywood's quiet, laid back vibe.
Cherrywood offers homeowners walkable access to restaurants and coffee houses, such as Cherrywood Coffeehouse, a local favorite, and Haymaker for a burger and local beer. Residents can enjoy Patterson Park for picnics or walks outside and Mueller Lake Park for hiking and boating.
Crestview
Located in north-central Austin, Crestview offers residents small to medium 1950s Ranch-style homes in addition to newer, contemporary houses. The median price of a home in this neighborhood is higher than some other Austin neighborhoods, averaging at $745,447. Crestview is close to a MetroRail red line stop on North Lamar Boulevard, making it easy for commuters to get in and out of town.
This part of Austin is ideal for those who crave an urban feel but also enjoy a low-key atmosphere. The close-knit community is perfect for those who want to really get to know their neighbors and local businesses. Some of its primary hotspots include Little Deli and Pizzeria, and the famous vintage hamburger joint, Top Notch Hamburgers.
Windsor Park
The median price of a home in this up-and-coming, family-friendly Austin neighborhood is $385,000, offering residents an affordable cost of living. The neighborhood is close to major highways and public transportation, making it quick and easy to get to downtown or to the University of Texas campus.
Bartholomew District Park and Dottie Jordan Park are two of the most popular parks in the neighborhood, providing residents with public grills, playgrounds, walking space, and picnic grounds. Families can enjoy these outdoor spaces in addition to the many restaurants and coffee shops, including Flightpath Coffee and the Taqueria Mi Trailita taco truck.
North University
Despite its name, North University doesn't only attract students and professors from the University of Texas. People move into this neighborhood for its pastoral and quiet atmosphere, as well as for its trendy vibe and reliable local businesses. This part of town is incredibly walkable and easy to access. Homes in this area cost an average of $409,000.
Wheatsville Food Co-op, one of the city's primary co-ops, is located in North University , as does the city's famous Japanese arcade, Arcade UFO. The neighborhood's charm, walkability, family-friendly atmosphere, and selection of local businesses makes this a highly desirable place to call home.
These Austin businesses will make your house a home
Vintage Fresh offers refurbished mid century furniture as well as new and vintage home decor, including rugs, pillows, kitchen items, and planters. This chic local boutique was founded in 2015 and has become a favorite among Austinites for its versatile selection of goods.
For those looking to bring a vintage touch to their homes, look no further than Modern Redux. They offer all types of furniture, wall decor, and unique one-of-a-kind works for art.
Check out Alexander Merchant's showroom if you're looking for a professional revamp of your home. This Austin design collection sells all types of hardware for your home, including door knobs and drawer handles, as well as original pieces by chic, local Austin designers and architects.
Homeowners who prefer custom pieces for their homes can head over to Austin Joinery. Together with customers, these craftspeople create furniture customized to your home and your vision. Their award-winning commitment to excellence guarantees the pieces they create will help make your house a home.