Maryland Homeowners Insurance Guide
Get covered in the Old Line State.
Whether you live a quick drive outside of Washington D.C. or have a view of the Chesapeake Bay right in your backyard, you deserve the best homeowners insurance coverage in Maryland.
Homeowners insurance covers you financially if something were to happen to you, your property, or your stuff. Let's say someone breaks into your home while you're on a weekend hike at Annapolis Rock, or your friend twists their ankle after getting too excited while watching the Ravens in your living room. The right homeowners insurance policy could offer you financial protection if something terrible (or just plain inconvenient) were to happen.
Here's what we'll be covering:

What does Maryland homeowners insurance cover?
How much does homeowners insurance cost in Maryland?
Where to buy a home in Maryland
Maryland real estate brokers to follow on Instagram
Fun Maryland facts
What does Maryland home insurance cover?
Maryland is an ideal state. Because of the state's convenient placement in the Mid-Atlantic east coast, many Maryland residents can enjoy the flourishing city life and abundant coastlines and waterways simultaneously, including beaches, harbors, rivers, and lakes.
However, along with the state's natural beauty, there are also some risk for natural disasters, like floods, earthquakes, severe storms, winter storms, tornadoes, wildfires, landslides, and extreme heat, and even hurricanes though they are rarer.
It's worth noting that while no insurance policy can cover you from every possible thing in the universe, the right homeowners policy can keep you financially afloat through a host of common situations.
You might know that a home insurance policy is a good (and necessary) idea, but you might not have a handle on all the moving parts and coverage options. We've got a very extensive, plain English guide here, so feel free to take a deep dive into the specifics—but for now, we'll break down the basics for you here, so you can get a grasp on the general things a policy covers. Some exclusions may apply
Dwelling
'Dwelling coverage' helps pay for damages to the structure of your home. So, if your pipes burst next winter and cause water damage to your walls, or a windstorm blows over a tree and damages your home, you're covered.
Other Structures
If one of the dangers mentioned above causes damage to your driveway, fence shed, or other structures on your property, your homeowners insurance has you covered.
Loss of Use
If you can't live in your home due to covered damages, your' loss of use coverage can help pay for a temporary place to stay and basic living expenses such as food, laundry, parking, etc.
Personal Property
Personal property coverage protects your stuff both inside and outside your home. So, if your couch is ruined due to a burst pipe or your laptop is swiped at a coffee shop, homeowners insurance has your back. With Lemonade, if your insurance claim is approved, you'll receive the replacement cost of your personal belongings back in your pocket.
Liability coverage
If your neighbor slips and falls on an ice sheet on your driveway, you could be held liable. If someone is injured on your property or anyone on your policy causes damage to someone else's property or stuff, your insurance company should have you covered.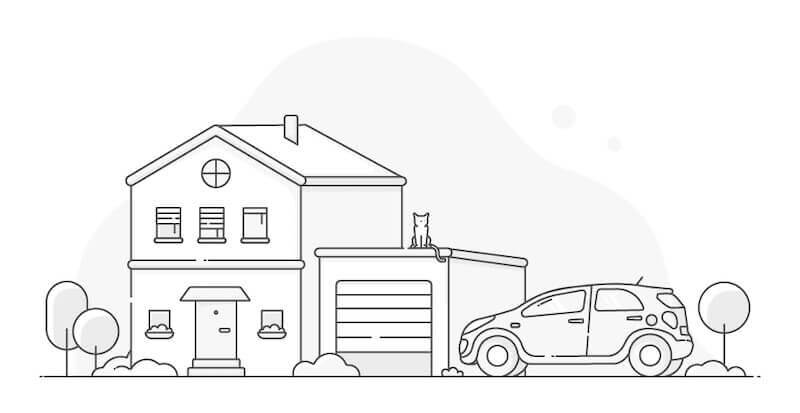 Medical Protection
If your neighbor needs to go to the hospital because of that slip and fall, your coverage will kick in to cover the medical expenses. Home insurance coverage kicks in if a guest gets injured at your place or if you accidentally cause injury to someone outside your home.
How much is home insurance in Maryland?
Homeowner's insurance does not have a standard policy price for residents of Maryland. Of course, a 60-year-old in a Potomac mansion will pay a different monthly premium than a college student who owns a two-bedroom home in College Park.
According to Bankrate, Maryland residents can get a pretty good deal when it comes to homeowners insurance rates. The average cost of homeowners insurance in Maryland is around $1,140 per year. The national average for homeowners insurance is $1,477 in comparison. How much you pay on homeowners insurance depends on your coverage limits, your insurer, your claims history, your property, and your deductible.
What are the different types of homeowners insurance?
Lemonade offers two types of homeowners insurance policies: one for single-family homes (called HO3 in insurance-speak) and one for condo insurance (HO6). There are minor differences between the two, and you'll choose the right policy depending on the type of home you're looking to insure. A key difference is that homeowners own and are responsible for everything on their property (home, garage, fence, etc.). Condo owners with HO6 policies are only responsible for the outermost walls of their unit, inward.
A few of the best places to buy a home in Maryland
Columbia
Columbia has hit many lists ranking as one of the best cities for many reasons, not only in Maryland but in all of America. According to WalletHub, Columbia was ranked in the top 10 best cities to find a job in the United States, made Money Magazine's list of best places to live in 2016, and has ranked high with Niche.com, as the number two best place to live in Baltimore. Niche.com also ranked Columbia as one of the best places in the country to raise a family. As if that weren't enough, it is also one of the wealthiest cities in America and one of the safest. Perhaps part of Columbia's success is due to it being a planned community. The serene Lake Kittamaqundi offers trails and paths and is a popular location for summer festivals. It is not far from the Mall in Columbia and the Merriweather Post Pavilion, an outdoor concert venue voted second best amphitheater in the United States.
This beautiful town is a magnet for families looking for good schools and businesses in search of educated professionals. There are plenty of job opportunities, plus the commute to Baltimore is not too long for even more employment options. Yet, prices remain low in Columbia with the median home value between $365,500-$429,864.
Bethesda and North Bethesda
Both Bethesda and North Bethesda have made it to the top ten places to live in Maryland, according to Niche.com. Bethesda is an affluent city north of Washington D.C., with an average income of $144,772 per household. The public schools are of such high quality there that Forbes named the city the most educated small town in America. Bethesda also has the highest percentage of residents with advanced degrees in the country. It's a dynamic city with low crime, and is home to cultural institutions like the Strathmore, and bike trails like the Capital Crescent Trail, along with a beautiful downtown area.
North Bethesda, a suburb of Washington D.C. in Montgomery County, is less expensive than Bethesda and higher than Bethesda on Niche.com's list. Perhaps because you can get the best of urban and suburban life without the costs. According to Zillow, the typical value of a home in Bethesda is $1,080,731, while in North Bethesda, the average value is $598,974.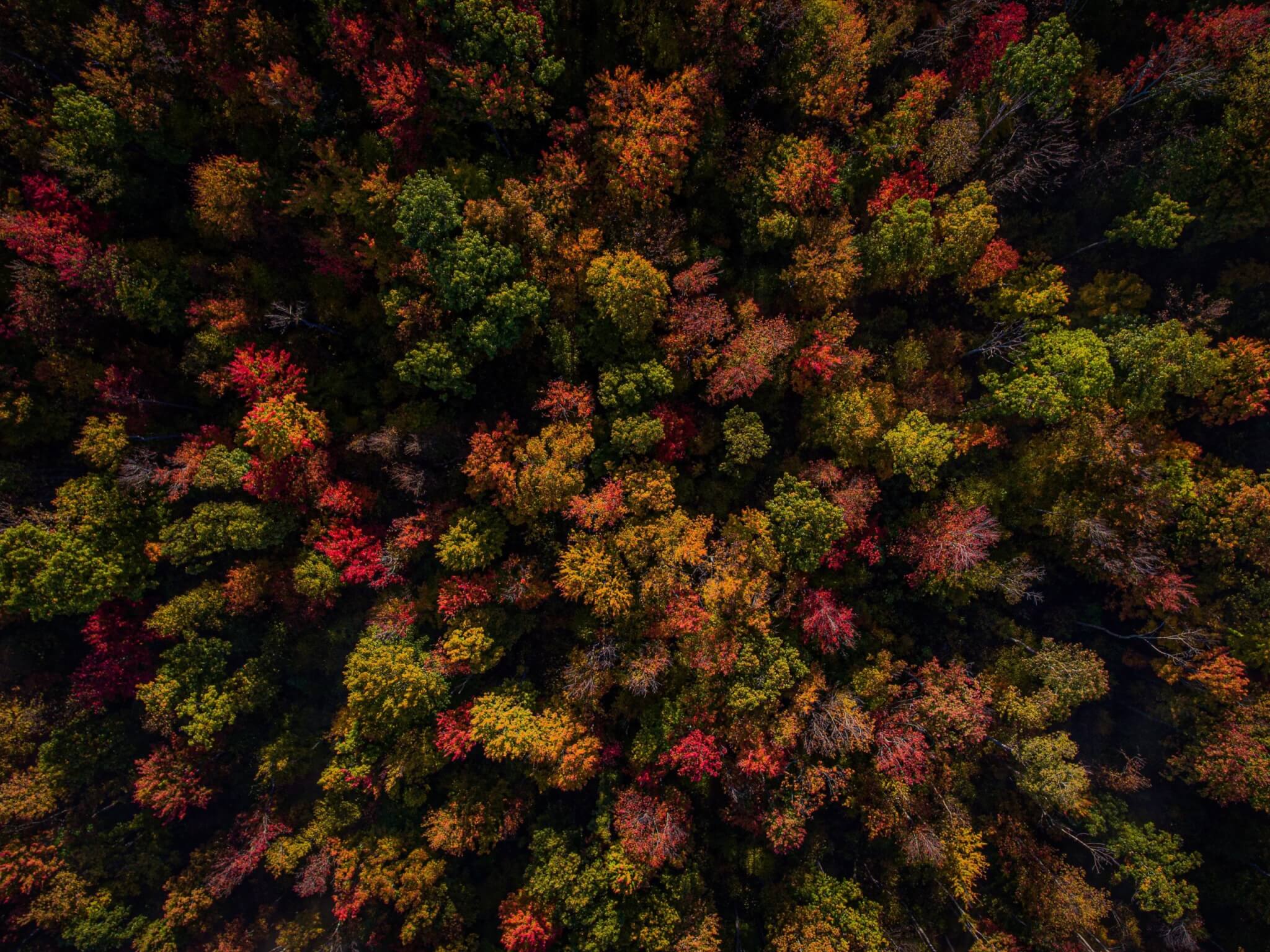 Rockville
Only fifteen miles from Bethesda is Rockville, a town that ranks highly in its own respect. It has low crime, some of the best schools in the state, and a thriving nightlife, making it one of the best suburbs for millennials to call home. Money Magazine also called out its safety and high-quality education. You can enjoy historic walking tours, concerts, and special events at Glenview Mansion and amenities such as the Town Square shopping center. Rockville was also ranked as one of the most diverse cities in America. The MetroRail eases the commute, making it one of the best places to live near D.C.
Many software companies and government agencies are residing in Rockville, which makes it an excellent home for young professionals. According to Zillow, the typical value of a home in Rockville is $593,686.
North Potomac
The scenic suburban town wins as number one on Niche.com for best place to live, the best place to raise a family, and the best suburb to live in Maryland. North Potomac has top-notch schools, a flourishing job market, and low crime. There are great nature spots such as the Muddy Branch Greenway Trail, where you can enjoy biking, hiking, horseback riding, and the Aberdeen Local Park. With its proximity to Washington D.C., North Potomac attracts professionals and families looking to experience the benefits of both worlds.
Residents of North Potomac are high earners, with a median income of $161,553. The typical value for a home in North Potomac according to Zillow is $791,440.
Maryland real estate brokers to follow on Instagram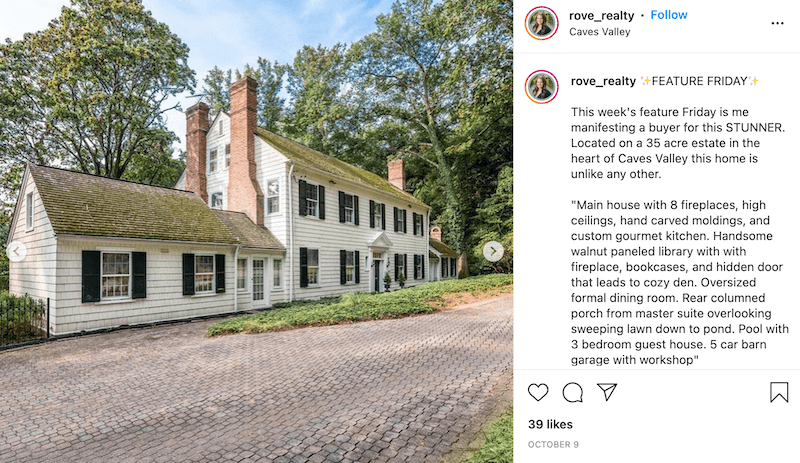 This Maryland realtor is powered by Red Cedar Real Estate buys, sells, and rents in Baltimore and other areas in Maryland. You can find stunning estates from Caves Valley, a historic dream home in Federal Hill, or a charming townhome in Nottington, Maryland, from Molly Reed, a dream home matchmaker. goodgollymissy_molly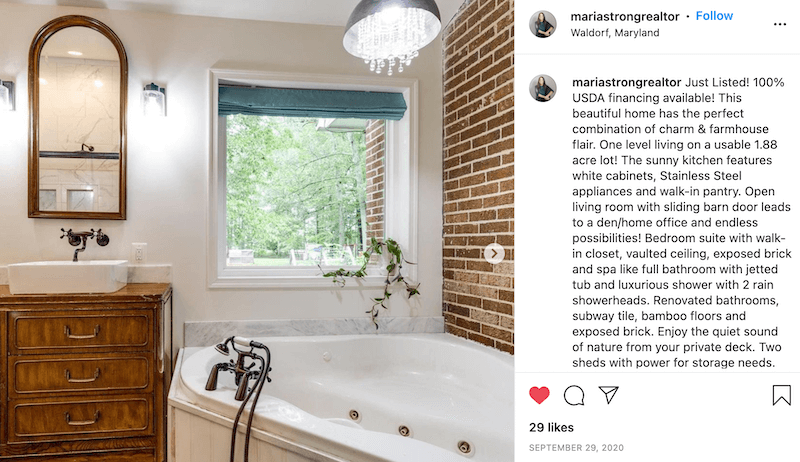 Maria Strong is a top-five Maryland realtor. Her listings include meticulously maintained homes in Waldorf, Upper Marlboro, and Brandywine, Maryland. Mariastrongrealtor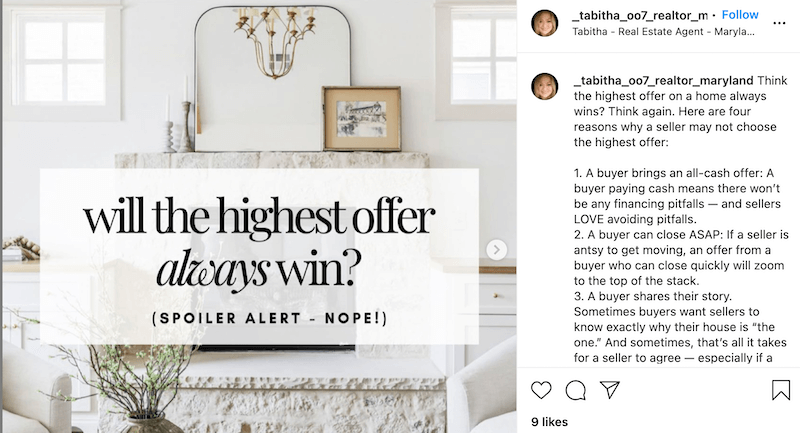 In Baltimore City or the surrounding counties, you can make your first purchase or find luxury homes with Tabitha Weinstein. She has listings in Rockville, Glyndon, Oakmont Green, Maryland, and offers advice on real estate investments. _tabitha_oo7_realtor_maryland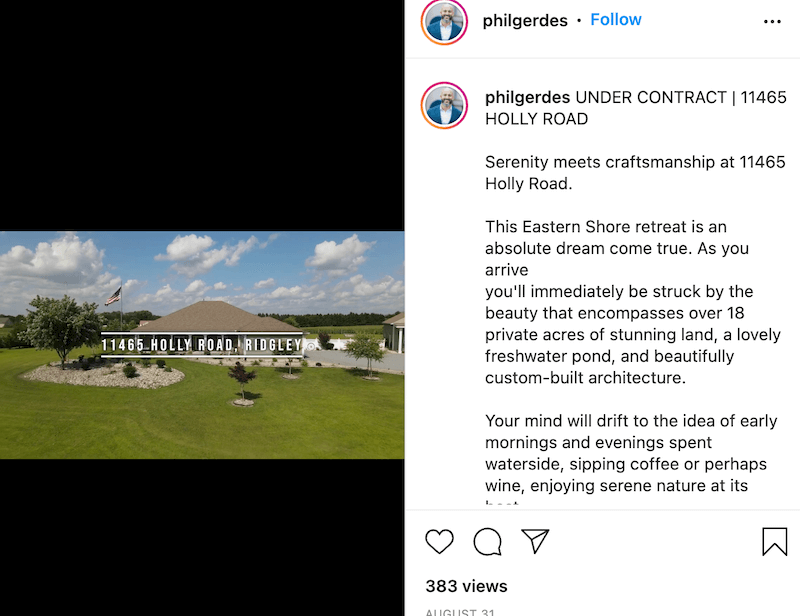 Phil Gerdes, who is also a vlogger giving tips on how to sell your home or choose where to live, is part of The Gerdes Team, a dynamic realtor duo. They offer rare listings in the Chesapeake Bay area, from incredibly spacious homes at Fells Point in Baltimore City to luxury mansions in Churchton. philgerdes / thegerdesteam
Random facts that make Maryland great
Home of the American anthem
The "Star-Spangled Banner" was originally a poem about Fort McHenry, called "The Defence of Fort McHenry." It was a tribute to the U.S. flag waving over the fort after British invasions in the War of 1812, written by Maryland-based Francis Scott Key. The Fort McHenry National Monument and Historic Shrine in Baltimore is worth a visit.
"Little America"
So you might have known that Maryland has two nicknames, "Old Line State" and "Free State," but did you know that the state is also known as "Little America"? Why? Because you can find any terrain that you'd like contained within Maryland: forests and farmland, beaches and waterways, dunes and mountains.
Where heroes were born
Two of America's most iconic abolitionists and civil rights activists, Frederick Douglass and Harriet Tubman were born in Maryland. Douglass was an activist, public speaker, and author, who escaped from slavery and became a leader of the abolitionist movement, was born in Talbot County, Maryland. Tubman, who participated in secret missions via the Underground Railroad, returned to Maryland many times to lead slaves to freedom. Visit the Harriet Tubman Underground Railroad State Park in Church Creek or the Frederick Douglass Museum and Cultural Center in Highland Beach to learn more about each of these pivotal historical figures.
Good morning, Baltimore!
What do the Ouija board and Old Bay Seasoning have in common? You guessed it! They were invented in Baltimore. The spooky Ouija board was invented there in the 1880s. Old Bay Seasoning, which was originally created in Baltimore, was named after the Chesapeake Bay. This blend of spices is as common as salt and pepper in many Maryland homes. Try a sprinkle of it on Maryland's favorite food, crab cakes.