San Antonio Homeowners Insurance Guide
Get your home covered in The Alamo City.
This south-central Texas city is booming with rich cultural history and lively entertainment and attractions. San Antonio offers residents seasonal festivals, unforgettable restaurants, shopping, and outdoor green spaces.
Perhaps the two most well-known landmarks are the River Walk and the Alamo. Located along the San Antonio River, the River Walk promenade provides beautiful views of the city and is lined with cafes to enjoy. The site of the Alamo is a national memorial and museum to those who fought for Texas' freedom in 1836.
Homeowners love living in San Antonio for its invigorating spirit and family-friendly neighborhoods. When you buy a home in San Antonio, homeowners insurance covers you financially if something were to happen to you, your property, or your stuff. Let's say someone breaks into your home while you're on a weekend hike at Hillview Nature Trail Loop, or your friend twists their ankle after getting too excited while watching a Spurs game in your living room.
The right homeowners insurance policy could offer you financial protection if something terrible (or just plain inconvenient) were to happen.
Here's what we'll cover:
What does San Antonio home insurance cover?
San Antonio has a lot going for it. Rich history, educational museums, excellent food and amazing weather make this city a great place to live. The city and its surrounding areas are full of awe-inspiring natural wonders including natural trails, lakes and rivers, canyons, and local wildlife.
However, there are also some natural disaster risks that come along with the city's natural beauty. In San Antonio, floods, tornadoes, fires, windstorms, and earthquakes are all possibilities.
It's worth noting that while no insurance policy can cover you from every single potential mishap, the right homeowners policy can keep you financially afloat through a myriad of typical situations.
You might know that a home insurance policy is a good (and necessary) idea, but you might not have a grasp on all the moving parts. We've got a very extensive, plain English guide here, so feel free to dive deep into the specifics—but for now, we'll break down the basics for you here, so you can get a handle on your coverage options and coverage amounts.
Dwelling
'Dwelling coverage' helps pay for damages to the structure of your home. So, if your pipes burst next winter and damage your walls, or a windstorm blows over a tree and damages your home, you're covered.
Other Structures
If one of the dangers mentioned above causes damage to your driveway, fence shed, or other structures on your property, your homeowners insurance has you covered.
Loss of Use
If you can't live in your home due to damages covered by homeowners insurance policy, your' loss of use homeowners insurance can help pay for a temporary place to stay and basic living expenses such as food, laundry, parking, etc.
Personal Property
Personal property coverage protects your stuff both inside and outside your home. So, if your couch is ruined due to a burst pipe or your laptop is swiped at a coffee shop, homeowners insurance has your back. With Lemonade, if your insurance claim is approved, you'll receive the replacement cost of your personal belongings back in your pocket.
Liability coverage
If your neighbor slips and falls in your driveway, you could be held liable. If someone is injured on your property or anyone on your homeowners insurance policy causes damage to someone else's property or stuff, your insurance company should have you covered.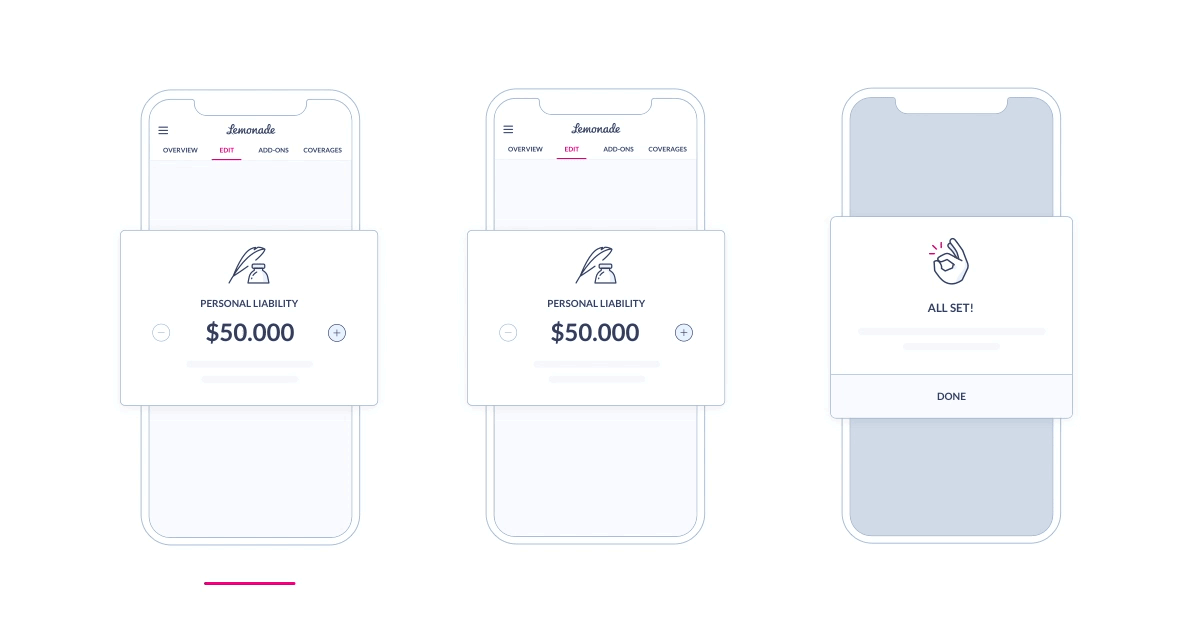 Medical Protection
If your neighbor needs to go to the hospital because of that slip and fall, your Texas homeowners insurance coverage will kick in to cover the medical expenses. Homeowners insurance covers you if a guest gets injured at your place or if you accidentally cause injury to someone outside your home.
How much is San Antonio home insurance?
There isn't a standard policy price for homeowner's insurance for residents of San Antonio. Of course, the owner of a Cordillera Ranch mansion will pay a different monthly premium than a student who owns a two-bedroom home in Leon Valley. However, the best homeowners insurance covers everyone.
According to Bankrate, San Antonio residents pay a pretty penny when it comes to homeowners insurance rates. In San Antonio, the average cost of homeowners insurance is around $1,944 per year. In comparison, the national average for homeowners insurance is $1,477.
How much your homeowners insurance costs depends on your coverage limits, your insurer, your home insurance rates, your property, and your deductible.
What are the different types of homeowners insurance?
Lemonade offers two types of homeowners insurance policies nationwide: one for single-family homes (called HO3 in insurance-speak) and one for condo insurance (HO6).
There are minor differences between the two coverage options, and you'll choose the right homeowners policy depending on the type of home you're looking to insure. A key difference is that homeowners own and are responsible for everything on their property (home, garage, fence, etc.). Condo owners with HO6 home insurance policies are only responsible for the outermost walls of their unit, inward.
The best neighborhoods to be a homeowner in San Antonio
Alamo Heights
Located just five 5 minutes from downtown, this San Antonio neighborhood offers a family-friendly atmosphere that's walkable to lots of restaurants and local attractions. This charming, older neighborhood boasts homes in a variety of styles, including Renaissance Revival and Art Deco, with an average price of $513,900.
Highlights of this great neighborhood include the The McNay Art Museum, where visitors can admire an impressive collection of modern art, and the outdoor shopping center, Alamo Quarry Market. Alamo Heights also offers residents excellent restaurants, like the Smoke Shack for classic Texas BBQ and Max's Wine Dive for a killer happy hour.
Oakland Estates
This San Antonio neighborhood is one of the most desirable places to live for young families. The homes are also relatively affordable, with an average cost of $474,969.
Locals love the amount of green space in Oakland Estates, making it a great neighborhood for kids. Bamberger Nature Park, Arden Park, and Hamilton Wolfe Trail are just a few options to cut loose with your human and canine children. There are many local eateries in the neighborhood too, like the family-owned ice cream shop Brindles Awesome Ice Creams. They make their own ice cream and cones in house and offer coffee and espresso, too.
Wolf Creek
Homes in this San Antonio neighborhood range in price between $138,000 to $283,00, making it one of the most affordable neighborhoods on our list, and a great place to settle down for first time homeowners. Homes in this neighborhood can have up to six bedrooms and be up to 4,000 square feet, so you can really get your money's worth.
Wolf Creek offers residents a lovely neighborhood feel that's in close proximity to Lackland Air Force Base, making this a perfect place to live for those with military careers.
Northwest Crossing
This part of the city offers residents beautiful, modern homes at an average cost of $127,582. This is a great neighborhood for those looking to buy their forever home on account of its close-knit, family feel, and its close proximity to Loop 1604, making it easy for commuters to get where they need to go.
Coffee Me Crazy is a busy, local cafe that is a great laid-back weekend spot residents can enjoy. You can also get authentic Mexican cuisine at El Buen Gusto Mexican Cafe when the kids are craving delicious burritos or nachos. Take the family to see a movie, go bowling, or pay laser tag at the Casa Blanca Theatre, a perfect place to spend a fun evening with loved ones.
Monte Vista
Monte Vista offers residents a taste of city life while still maintaining its quieter, family-oriented feel. This historical neighborhood offers distinguished architecture from the early 20th century, including Tudor homes and Classic Revival with an average cost of $659,000.
Monte Vista became an official local historic district in 1975, ensuring the city maintains its unique heritage and historical significance. Therefore, there aren't too many restaurants or shops in this neighborhood, but there are a few. Residents can enjoy a night out at Mixtli, a contemporary Mexican restaurant that serves one table a night in a converted railway car, or FOLC, which offers contemporary and affordable American cuisine.
These San Antonio businesses will make your house a home
Need to give your home a refresh? Check out Domestic Provisions, where you can find European antique furniture for any room of your house. Everything is hand selected by owners Skip and Deanne Dampier, who make sure all their pieces are truly one of a kind.
Joyeau Home Decor offers homeowners a bit of everything, from modern home decor and furniture to more antique and vintage styles. Everything they offer has a chic, high-class feel so you can be sure you are getting quality products.
If you are looking to revamp your entire space, head over to Statewide Remodeling, the leading home remodeler for both indoor and outdoor spaces. With six locations in the region, this company knows how to turn your home into your sanctuary.
For those who want custom-built furniture, Wanderlust Ironworks makes luxury pieces for any room in the house. Owners Autumn and Simon Saleh use their artistic vision and skills to create beautiful furniture you are sure to love.
Random facts that make San Antonio great
The San Antonio Zoo is the third largest zoo in the US.
The Alamo attracts more tourists than any other site in Texas.
El Mercado's shopping district is the largest Mexican market in the US!
This city is the state of Texas' oldest municipality.
The first Church's Chicken restaurant was opened in San Antonio.