Nevada Homeowners Insurance Guide
Cover your home in the Silver State.
Whether you live not far from Reno or have a view of Lake Mead from your window, you deserve the best homeowners insurance coverage in Nevada.
Homeowners insurance would cover you financially if something happened to you, your property, or your stuff. Let's say someone breaks into your home while you're camping out for the weekend at the Black Rock Desert, or your friend twists their ankle after getting too excited while watching the Raiders in your den. The right homeowners insurance policy could offer you financial protection if something unfortunate (or just plain inconvenient) were to happen.
What does Nevada home insurance cover?
Nevada has a lot going for it. No state income tax, a reasonable cost of living, plenty of housing, good job opportunities, and year-round sun make it an attractive place to be. The state is known for its magnificent deserts and rugged canyons. Still, there is so much more: secret caves, "sky islands" mountains, naturally growing bonsai trees, unique wildlife, glowing red sandstone formations, and even Mark Twain waxed poetic over Nevada's rivers, lakes, and the splendid colors of its scenery.
However, there are also some natural risks along with the state's natural beauty. Earthquakes, floods, wildfires, and drought are all common in Nevada due to its geography.
It's worth noting that while no insurance policy can cover you from every single potential mishap, the right homeowners policy can keep you financially afloat through a myriad of typical situations.
You might know that a home insurance policy is a good (and necessary) idea, but you might not have a grasp on all the moving parts. We've got a very extensive, plain English guide here, so feel free to dive deep into the specifics—but for now, we'll break down the basics for you here, so you can get a handle on what a policy covers in general.
Dwelling
'Dwelling coverage' helps pay for damages to the structure of your home. So, if your pipes burst next winter and damage your walls, or a windstorm blows over a tree and damages your home, you're covered.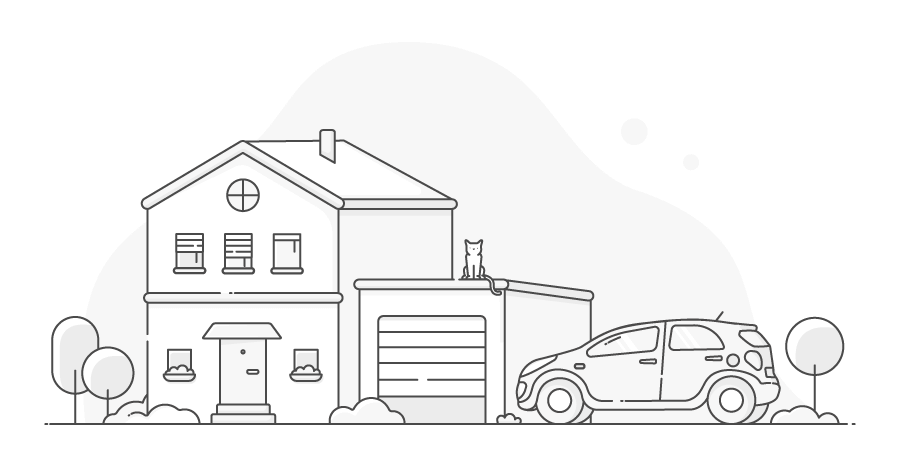 Other Structures
If one of the dangers mentioned above causes damage to your driveway, fence shed, or other structures on your property, your homeowners insurance has you covered.
Loss of Use
If you can't live in your home due to covered damages, your' loss of use coverage can help pay for a temporary place to stay and basic living expenses such as food, laundry, parking, etc.
Personal Property
Personal property coverage protects your stuff both inside and outside your home. So, if your couch is ruined due to a burst pipe or your laptop is swiped at a coffee shop, homeowners insurance has your back. With Lemonade, if your insurance claim is approved, you'll receive the replacement cost of your personal belongings back in your pocket.
Liability coverage
If your neighbor slips and falls on an ice sheet on your driveway, you could be held liable. If someone is injured on your property or anyone on your policy causes damage to someone else's property or stuff, your insurance company should have you covered.
Medical Protection
If your neighbor needs to go to the hospital because of that slip and fall, your coverage will kick in to cover the medical expenses. Home insurance covers you if a guest gets injured at your place or if you accidentally cause injury to someone outside your home.
How much is home insurance in Nevada?
There isn't a standard policy price for homeowner's insurance for residents of Nevada. Of course, a Las Vegas mansion will pay a different monthly premium than a college student who owns a two-bedroom home in Elko.
According to Bankrate, Nevada residents can get a pretty good deal when it comes to homeowners insurance rates. In Nevada, the average cost of homeowners insurance is around $822 per year. In comparison, the national average for homeowners insurance is $1,477. How much your homeowners insurance costs depends on your coverage limits, your insurer, your property, and your deductible.
What are the different types of homeowners insurance?
Lemonade offers two types of homeowners insurance policies: one for single-family homes (called HO3 in insurance-speak) and one for condo insurance (HO6). There are minor differences between the two, and you'll choose the right policy depending on the type of home you're looking to insure. A key difference is that homeowners own and are responsible for everything on their property (home, garage, fence, etc.). Condo owners with HO6 policies are only responsible for the outermost walls of their unit, inward.
Some of the best places to buy a home in Nevada
Battle Mountain
Located in Lander County, Battle Mountain is a popular area in Nevada. Battle Mountain is the number one place to purchase a home in Nevada, according to Niche.com. It also ranks number two for the lowest cost of living in the state. According to Areavibes, the cost of living in this town is 10% lower than the rest of Nevada, crime is 48% lower than the United States average, and the median income is 58% higher than the average in the country.
The primary industries in the town are ranching and mining. Battle Mountain hosts many events such as annual car shows, the Basque Festival, historic events, Chukar Tournament, and the World Human Powered Speed Challenge.
The entire town is a historic landmark, rich in mountainous areas, vast open lands, and history. The average value of a house in Battle Mountain, according to Zillow, is $236,116.
Spring Creek
This Nevada town is nestled between Elko Hills and the Ruby Mountains. Spring Creek is the number two place to purchase a home in Nevada, according to Niche.com. The town has an affordable cost of living, a low poverty rate, and a low crime rate. Based on Areavibes' ranking, Spring Creek has 29% lower crime and a median household income 68% higher than the United States average.
The town boasts beautiful sites, including the Lamoille Canyon Scenic Byway, South Fork State Recreation Area, Spring Creek Marina.
A short drive outside of Spring Creek uncovers other natural treasures such as Zunino Reservoir Dam, Castle Lake, Seitz Lake, North Furlong Lake, and Ruby Dome. The average value of a house, according to Zillow, in Spring Creek is $344,099.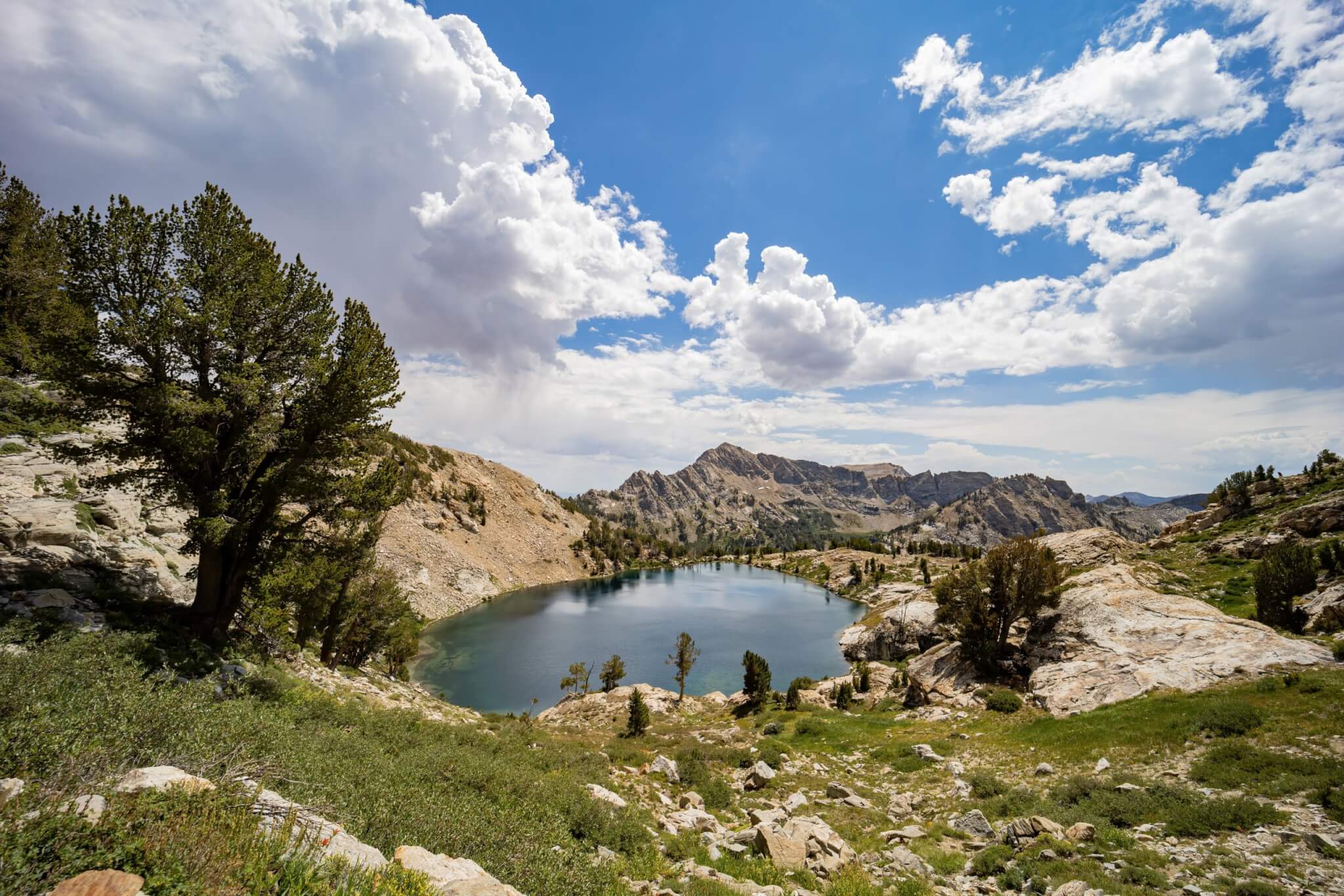 Mogul
East of the California border, you'll find this suburb of Reno. Mogul is the number one suburb and the number three place to buy a home in Nevada, according to Niche.com. It is also the third-best place to raise a family in the state. According to Areavibes, Mogul gets an A+ for low crime as the crime rate is 86% lower than the United States average. The median household income is 76% higher than the nation's average.
A short drive outside of Mogul, there are attractions such as Mayberry Park and Dorostkar Park.
Mogul is just a short eight-minute drive to Reno, making it perfect for commuters. Residents get to enjoy the benefits of living near the big city, without the noise. The average value of a Mogul home, according to Zillow, is $545,447.
Sun Valley
Another suburb of Reno, Sun Valley, is located in Washoe County. The suburb is the second-best suburb and the fourth best place to buy a home in Nevada, according to Niche.com. In addition, it ranks in the top ten for the most diverse suburbs in the state. Its proximity to Reno also makes it an ideal location for commuters. Attractions in Sun Valley include Hobey's Casino, Red Hill Park, Sun Valley Park, and Lizard Peak Disc Golf Course. Beautiful trails such as Sun Valley Regional Park Outer Loop are ideal for hiking, mountain biking, running, and horseback riding.
There is Sugarloaf Peak and West Side Swan Lake Trail a short distance outside Sun Valley. The typical value for a home in Sun Valley, according to Zillow, is $1,018,368.
Nevada Real estate brokers to follow on Instagram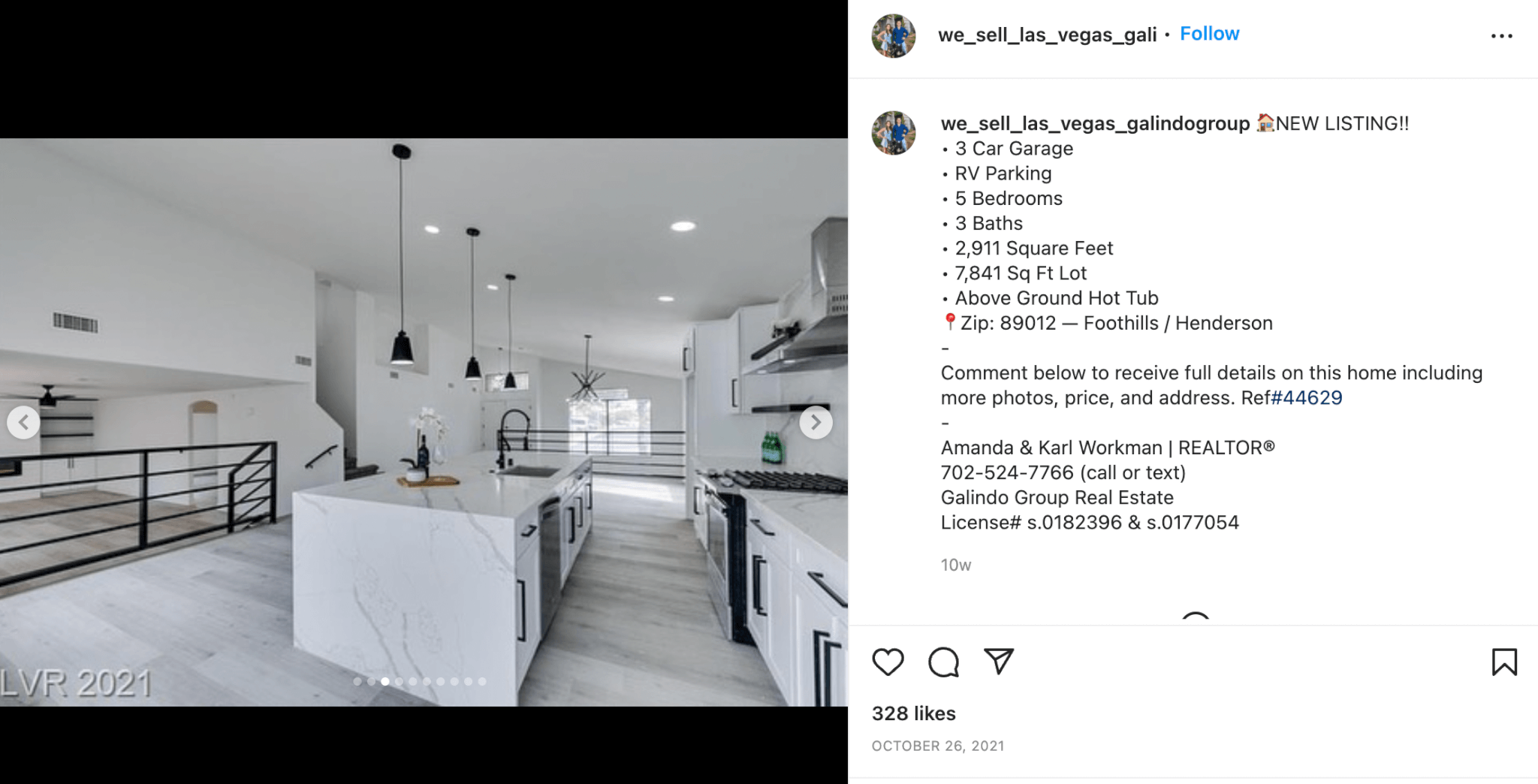 Amanda and Karl Workman make up The Workman Team at Galindo Group Real Estate. They have beautiful, spacious listings in Las Vegas, helping homeowners sell their homes and home seekers find their dream digs. we_sell_las_vegas_galindogroup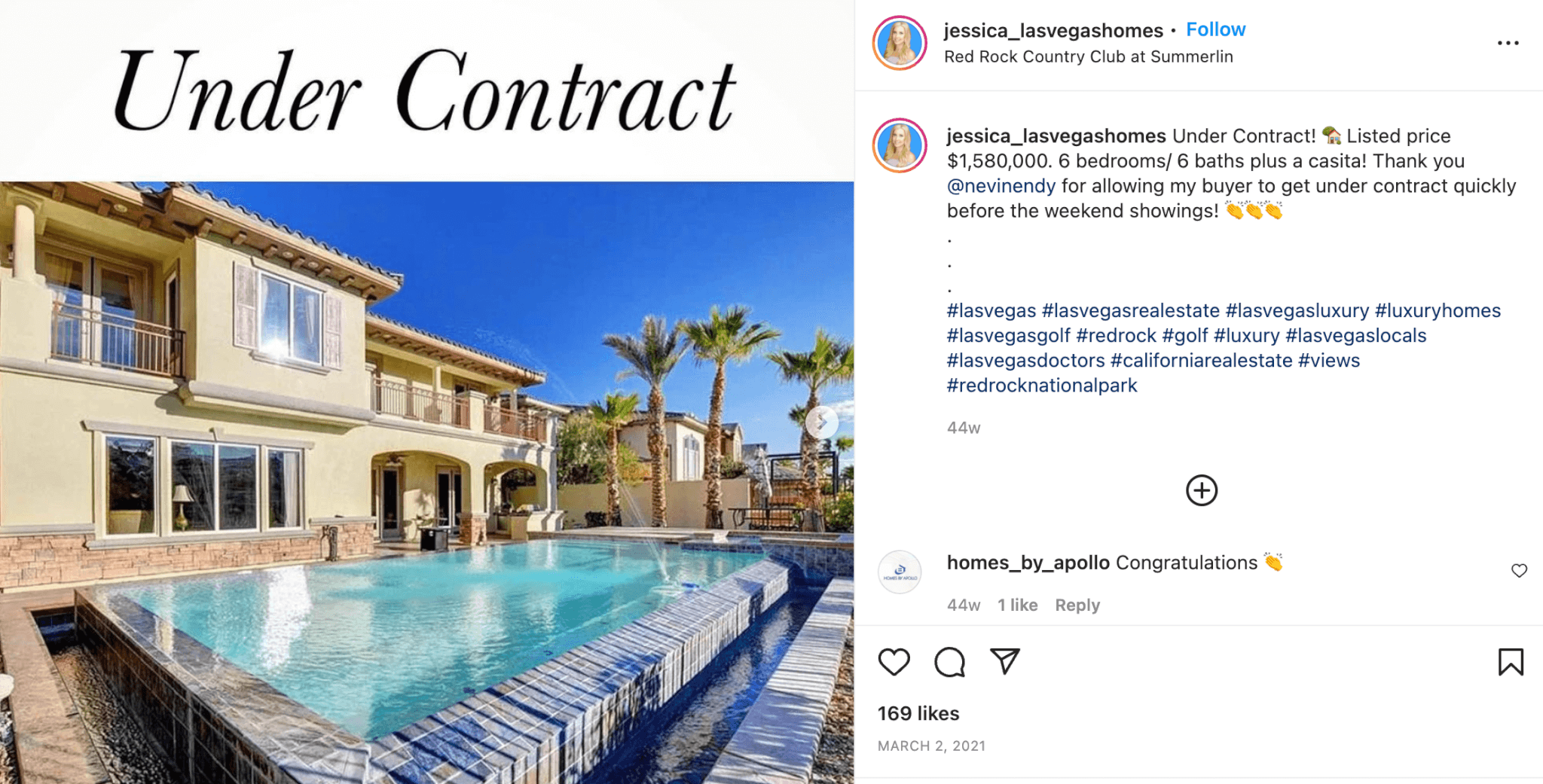 Jessica Las Vegas Realtor is the number one team at Berkshire Hathaway Home Services. She offers relocation, investment, and new home specialist services. Her listings include luxury homes in Las Vegas, the Anthem Country Club, Summerlin, Henderson, and Downtown Las Vegas. jessica_lasvegashomes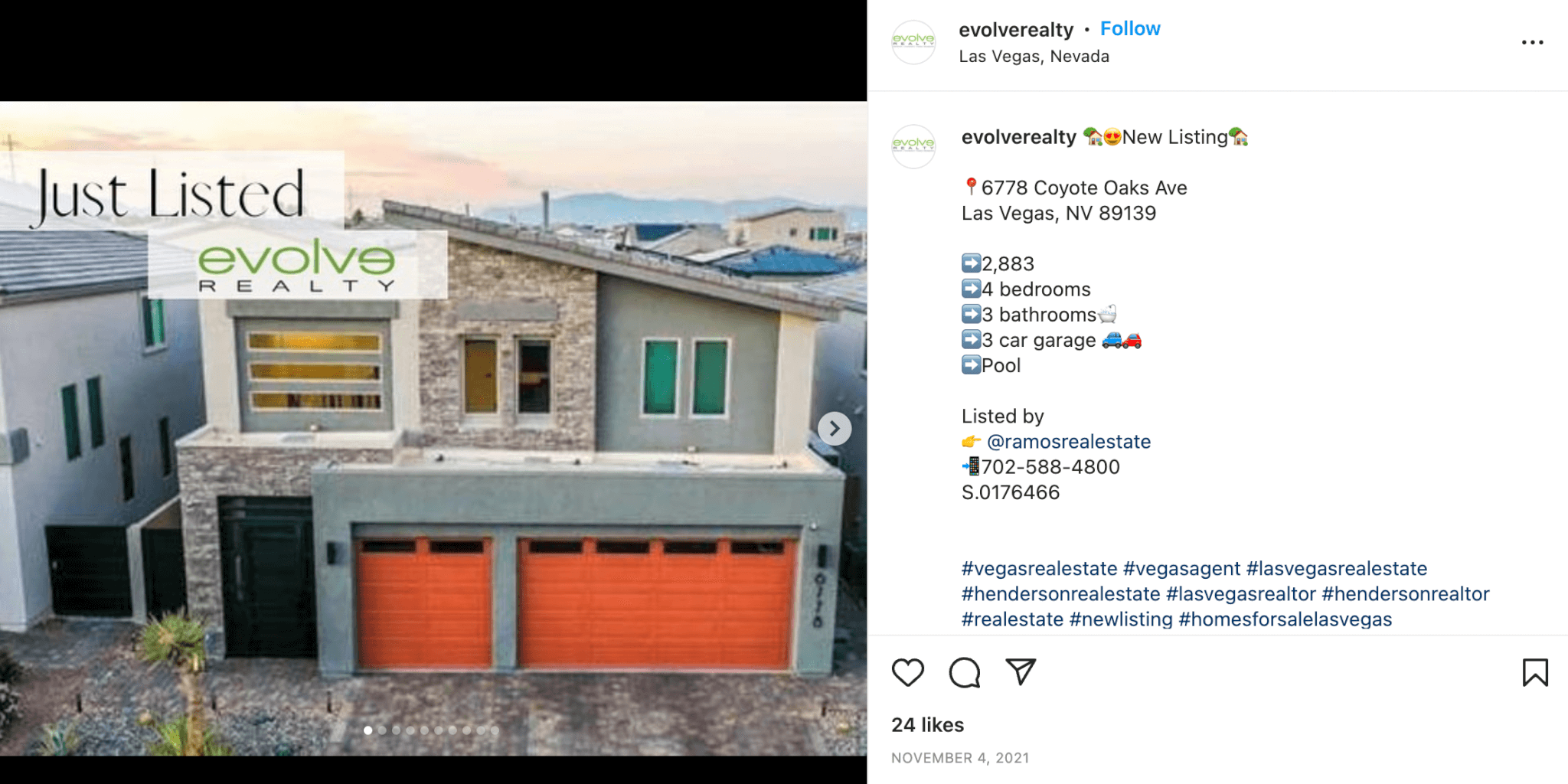 Spacious townhouses, gated communities, and stunning homes with a pool and spa are some of the offerings you'll find in Evolve Realty's listings. Based in Las Vegas, they also serve Henderson and Summerlin areas. evolverealty
Random facts that make Nevada Great
Living Life Like It's Golden
You might have known that Nevada's nickname is "The Silver State." This is based on the discovery of Comstock Lode, the richest silver deposit in the country. Strangely enough, however, gold mining is the primary industry in the state, and Nevada is actually the largest producer of gold in the country, and is the fourth largest gold producer globally. The industry employs around 85,000 Nevada residents.
Let it Snow
When you think of Nevada, one of the first things that come to mind are the large expanses of desert and sun-kissed sand dunes. Yet, the state's name means "snow-capped" or "snow-covered mountain range." The name comes from the Spanish word nieve, referring to the Sierra Nevada mountain range. Most of the mountain range is in California, but the Carson Range spur is primarily in Nevada.
Always Room to Stay
In Las Vegas, you should always have a place to stay. The city has more hotel rooms than anywhere else in the country. The city boasts more than 150,000 hotel rooms spread across around 355 hotels to support the large number of tourists.
Road Trip Capital
Perhaps the unofficial moniker for Nevada should be "The Road Trip Capital of the United States." From counterculture to cowboys, ghost towns to wildlife, hot springs to hidden treasures, Nevada is what road trip dreams are made of. From Lake Tahoe to Las Vegas, the best scenic drives are found on Nevada highways. Here's to open roads and open hearts.