If you're looking to level up from your rental but aren't ready to move out to the 'burbs, a condo might be your solution.
Condos aren't a new concept in the real estate world, but are fast becoming an ideal solution for tons of millennials – this generation is 52% more likely to buy a condo compared to their parents or grandparents, according to a study by Clever Real Estate.
What's so great about condos? TL;DR, they're just like apartment blocks, but are managed by a condo association and are cheaper than buying a house, according to the National Association of Realtors (NAR). But there are some downsides to buying a condo, too.
Whether you're already in the market for a condo or are just playing around with the idea, we know you've got questions. So with the help of our Lemonade community, we're bringing you all the answers you need as you debate: to condo, or not to condo?
What is a condo, anyway?
A condominium, or condo, is pretty similar to a regular apartment unit. The difference is that all the shared areas, like your backyard or patio, are owned and managed by an organization, usually called a Homeowners Association (HOA).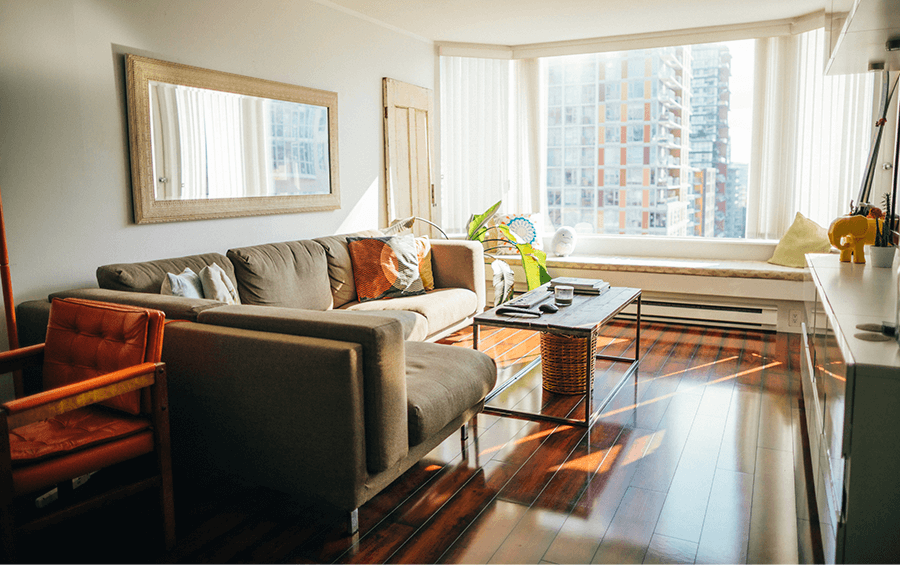 So as a condo owner, you pay management to maintain the shared spaces in your building, but you're in charge of your home.
6 things to consider when buying a condo
1. Management
We've heard stories about great HOA's, but we've heard some nightmares, too. After buying a condo in NYC, Lemonader Cody W. told us that investigating his HOA was a must:
"Since there are buildings with structural issues and roof leaks that can be hard to uncover, my wife and I asked if there was current litigation on the building, and requested to see the condo board meeting notes. We also tried to figure out whether there are annoying characteristics like noise from an elevator, or the gym windows where the public can see in, or spaces that are not usable, etc."
The best way to find out if a condo is run by a reliable HOA is to talk to both residents and the management themselves. Here's some questions you'll want to ask:
1. How much does the HOA have in reserve funds, in case of an emergency?
2. How does the HOA handle building renovations?
3. How do they settle disputes between residents?
And as per Cody's advice, you might also want to sit in on a board meeting, or ask for minutes from past meetings, just to get an idea of how things are managed.
2. Rules & Restrictions
Your condo management will likely have some restrictions. Some of them may be obvious, like keeping the music down, but if your potential neighbors start using your shared space for storage, you're going to want to ask a few questions.
On the up side, rules mean you never have to confront your neighbor about his weekly drumming sessions.
Lemonader Matt N., a condo owner from New York, had to review the rules and sign off on them as part of the buying process. But for Matt, there was nothing too alarming on his contract:
"My contract mostly just enforced quiet night hours during the week, and ensured we don't put stuff in the hallway that could block people."

3. Price
Condos are slightly cheaper than houses. A lower price for a condo means you'll pay less money upfront, as well as a smaller monthly payment than you would for a housing mortgage, or in some cases for rent. Recent data from the National Association of Realtors shows a median sales price of $240,900 for single-family homes in the U.S versus $225,100 for condos.

For Matt N., the price of his dream condo majorly contributed to  his decision:
"I had to do the math a few times over to make sure I could afford the condo. Once I knew I could, I was more confident in making that big decision. Now my mortgage is only a little bit higher than what I was paying in rent every month."
4. Community
The nature of condos mean they're usually made up of large apartment blocks with individual units set up next to each other. But not everyone loves being close to their neighbors, especially when sound travels through walls. There are those however, who love the idea of living in a supportive community that can offer social opportunities.
A community condo is safer, too – some condo complexes even have some pretty sophisticated security systems installed, or 24-hour security guards. This can provide an additional level of home safety and peace of mind for residents.
5. Amenities
One great perk of living in a condo is access to amenities. You might not be able to afford a house with a pool, but a condo might offer luxurious amenities like ourdoor space, tennis courts, a large pool, or spa. Some condos even employ on-site services – like a concierge or housekeeping.
Sid, a Lemonader from San Francisco, was attracted to the large open spaces available in his condo:
"There's lots of open spaces with trees and benches, which is super rare to find within a private community in SF. Sometimes, when I want to enjoy the fresh air late at night, I know that it's perfectly safe since it requires key access." 

Before you get excited about certain amenities, decide which ones work for your lifestyle. For instance, if you're not a tennis player, why be excited about a tennis court?
6. Condo fees
Depending on the location of the condo, monthly HOA fees can range between $250 to $600, which will go towards maintenance and repairs in the community spaces, as well as the physical structure of the building. Condo fees can be pricey, but they mean you never have to worry about replacing windows, gardening, or shoveling snow. 
When we asked Sid about condo fees, he said:
"Sometimes new condo units are attractively priced, and the $1500/month HOA fees are hidden in the fine print. Make sure you understand how much you're going to be paying, what that fee covers, and whether the amount is justified for the value you're getting."

Bottom line 
No matter how excited you are about buying a condo, do your research first. Make sure to weigh the pros and cons of owning a condo to make sure it's right for you before signing the dotted line. 
And if you do decide to buy that condo, make sure to get some Lemonade condo insurance to protect your walls and the stuff you own.