No matter where you are in the home buying journey, we bet you're at least a little familiar with home insurance. Buying a house is no picnic, and getting homeowners insurance is a must — for peace of mind as a homebuyer, but also for meeting your mortgage lenders' requirements.
You might also be wondering how much homeowners insurance actually costs. It's a great question, especially if you only have experience renting.
Homeowners insurance is different from renters insurance. Think of it this way: you now own your own walls, so naturally, a home insurance policy will cost more than a renters.
But don't get too worked up about the cost of your insurance just yet. The final price of your premium will depend on a whole host of factors.
Here's how to figure out how much you should be paying for your homeowners insurance.
Here's what we'll be covering:
How much does homeowners insurance cost?
What impacts your homeowners insurance rates?
What does homeowners insurance cover?
How can you save on homeowners insurance?
What is the average homeowners insurance cost?
You'll pay an average of $1,083 annually, or approximately $90 a month for homeowners insurance, according to Value Penguin.
What factors impact your homeowners insurance rates?
The price of your insurance can vary significantly, depending on factors like your home's condition, location, deductible, and the amount of coverage you need. Let's dig a bit deeper into this.
Here are 5 factors that can determine the cost of your homeowners insurance policy:
1. Your state
Homeowners insurance differs from state to state. States with a higher chance of natural disasters generally have higher premiums than states that don't. For example, Louisiana, Texas, Florida, Oklahoma, Kansas, Mississippi, and Rhode Island have the highest premium for homeowners insurance. It's no coincidence that Florida, Texas, and Louisiana are coastal states and can encounter some pretty crazy storms, and Oklahoma and Kansas are bang in the middle of Tornado Alley.

The states with the cheapest insurance rates are, (with the exception of Wisconsin) in the west, where natural disasters like hurricanes, windstorms, tornadoes, and hail are generally less frequent. Hawaii, Vermont, Utah, New Hampshire, and Nevada have some of the lowest home insurance rates.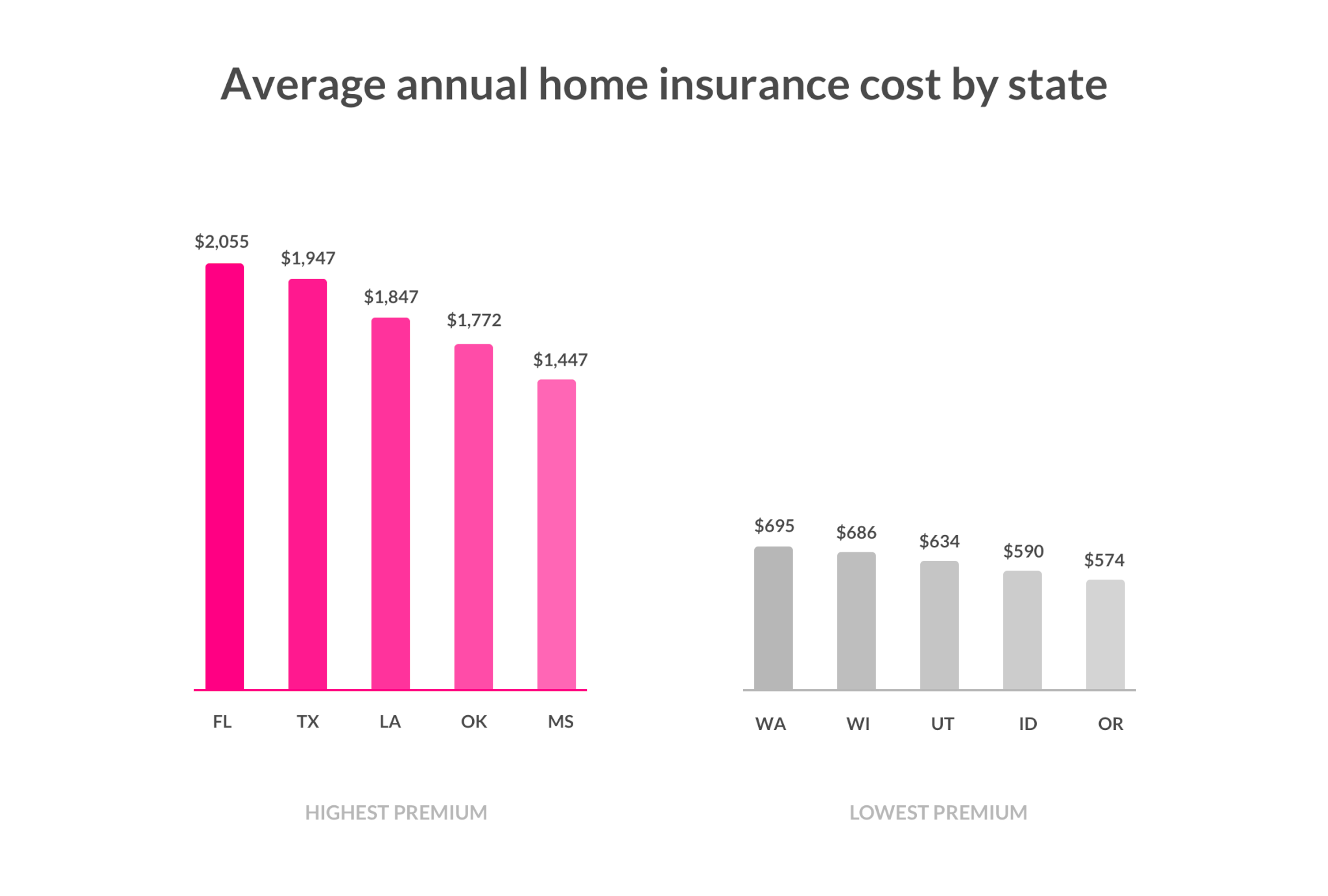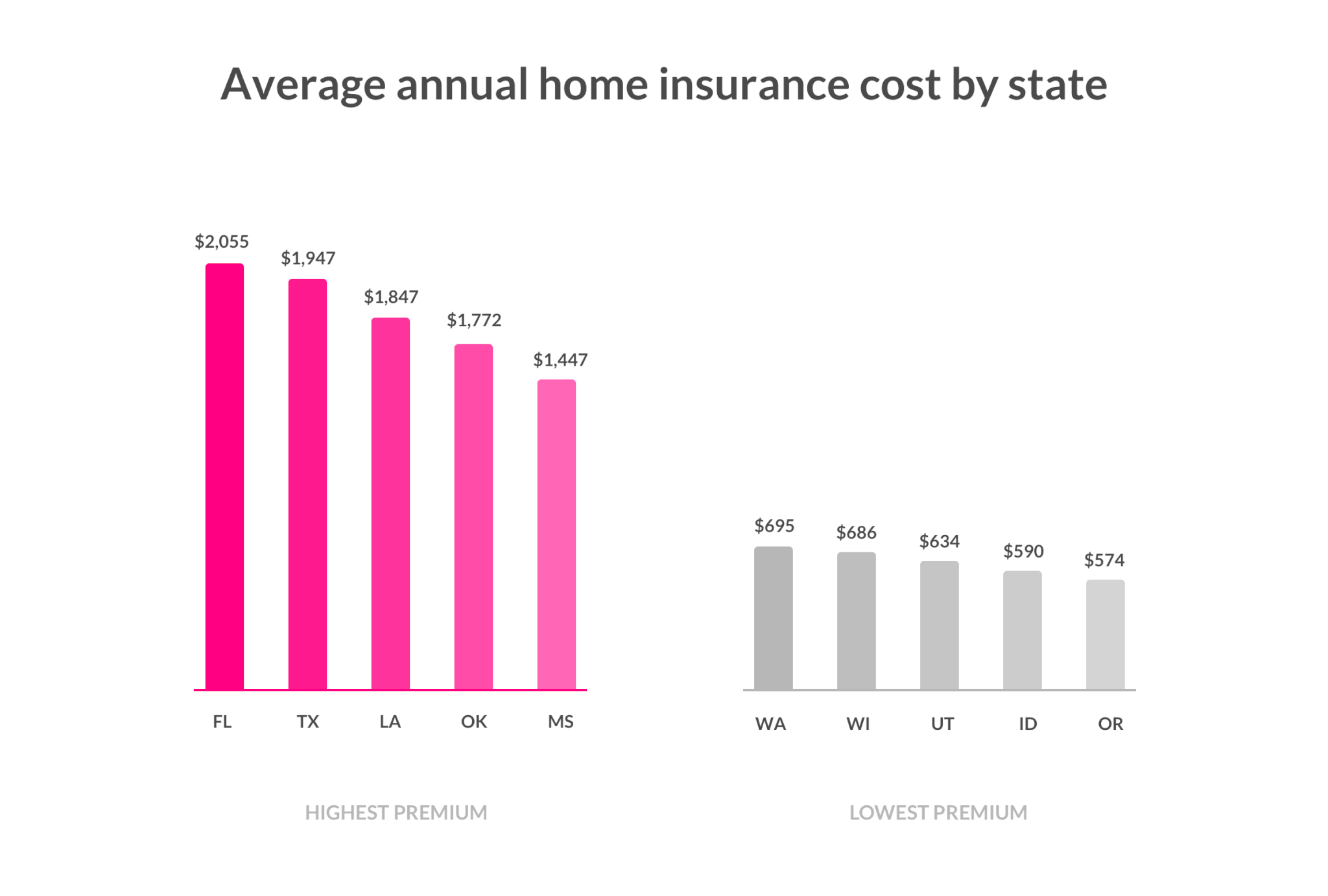 2. Condition of your home
The condition of your home will impact your homeowners insurance premium. For instance, how old is the house you live in? When was the last time the roof was replaced? What kind of renovations has it been through? Those pre-war hardwood floors may be your favorite thing about your home, but are the pipes as old as the carpentry? The older your house is, the more prone it is to damage. So older homes = higher premiums.
3. Your deductible
An insurance deductible is the amount of money you choose when purchasing a home insurance policy that will be subtracted from any future claims payouts. So if a fire destroyed a part of the structure of your home costing $30,000 and your deductible was $1,000, your insurance company would pay you $29,000. Think of a deductible as your participation in the damage or loss. You're saying, "I commit X dollars to any claim, and my insurance company will cover the rest."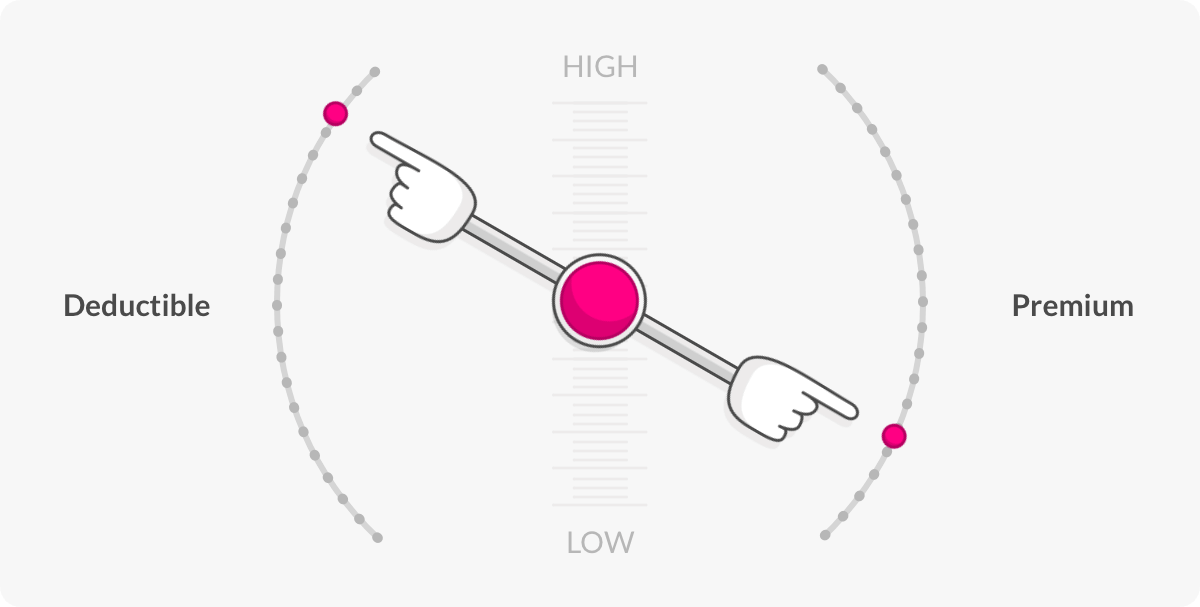 The higher your deductible is, the lower your premium could be but keep in mind that a high deductible also means you'll pay a lot more out of pocket in the event of a claim. Different people have different preferences – you'll have to decide what's right for you at the end of the day.
4. Your zip code
Not only will your state come into play when it comes to your insurance premium, but also your address. For instance, if your home is close to a Class 1 fire department, or you live in a gated community, you'll pay a lower premium. On the other hand, if your home is in an area that has a higher crime rate, your premium will go up.
5. The amount of coverage you choose
The amount of coverage you choose in each category has an impact on the final price of your premium. To find out how much insurance coverage you need, let's break down your homeowners insurance into categories.
Now for the million-dollar question (maybe literally!). How much coverage do you need for your home? And is it just your home, or more? Hint: it's much more.
What does homeowners insurance cover?
Dwelling Coverage
When it comes to setting a Dwelling coverage amount for your home, you don't want to choose the purchase price or current market value. This should be the amount that it'd take to rebuild your home (as it was before it needed to be rebuilt – no upgrades!), known as "reconstruction costs." This is, after all, what your insurance company will be reimbursing you in the worst-case scenario that you have to rebuild. The higher the Dwelling coverage, the more expensive your premium.

FYI — If you the amount you picked isn't at least 80% of the house's total replacement cost, your insurance company might not cover the full cost of the damage to your home. This is commonly referred to as the '80% rule.'
Personal property coverage
To price out your Personal Property, most experts will say you should choose a limit between 50% – 75% of your dwelling coverage amount. If you think this isn't enough to cover all of your stuff – say you have fine art, lots of expensive jewelry, a collection, or other valuable items – look into the Extra Coverage option with your insurance company.
Extra Coverage also provides additional coverage in general, so it'd definitely be something to look into. Although increasing your personal property coverage won't be as impactful on your premium as your dwelling coverage, it will still bump it up a little.
Loss of Use coverage
Similar to personal property, Loss of Use is also based off of Dwelling coverage. Most advise to choose an amount that's around 30% of your dwelling coverage.
Also, take your lifestyle into consideration, as this covers what you'd usually spend on stuff like food, temporary storage of property, moving costs, etc. So let's say you eat takeout every day, you'll most likely want to select an amount that's more than someone who buys groceries and prepares their meals.
Personal Liability coverage
Your Personal Liability coverage is meant for situations where you're found liable for Bodily Injury or Property Damage to a third party. However, it wouldn't apply for a liability related to your business (i.e. a therapist who sees clients in their home)
You can up your Personal Liability coverage to 1M in most states except California which has a $500,000 maximum coverage limit. Upping your personal liability coverage will also impact your premium rate.
Medical Payments to Others Coverage
Let's say a guest sprains her wrist after tripping on a rug in your living room – she has hospital bills to pay. This is where your medical expenses coverage may kick in. Coverage can range between $1,000 – $5,000, but this really depends on you. Try looking at how often you host and the safety of your home. You cannot really go wrong here.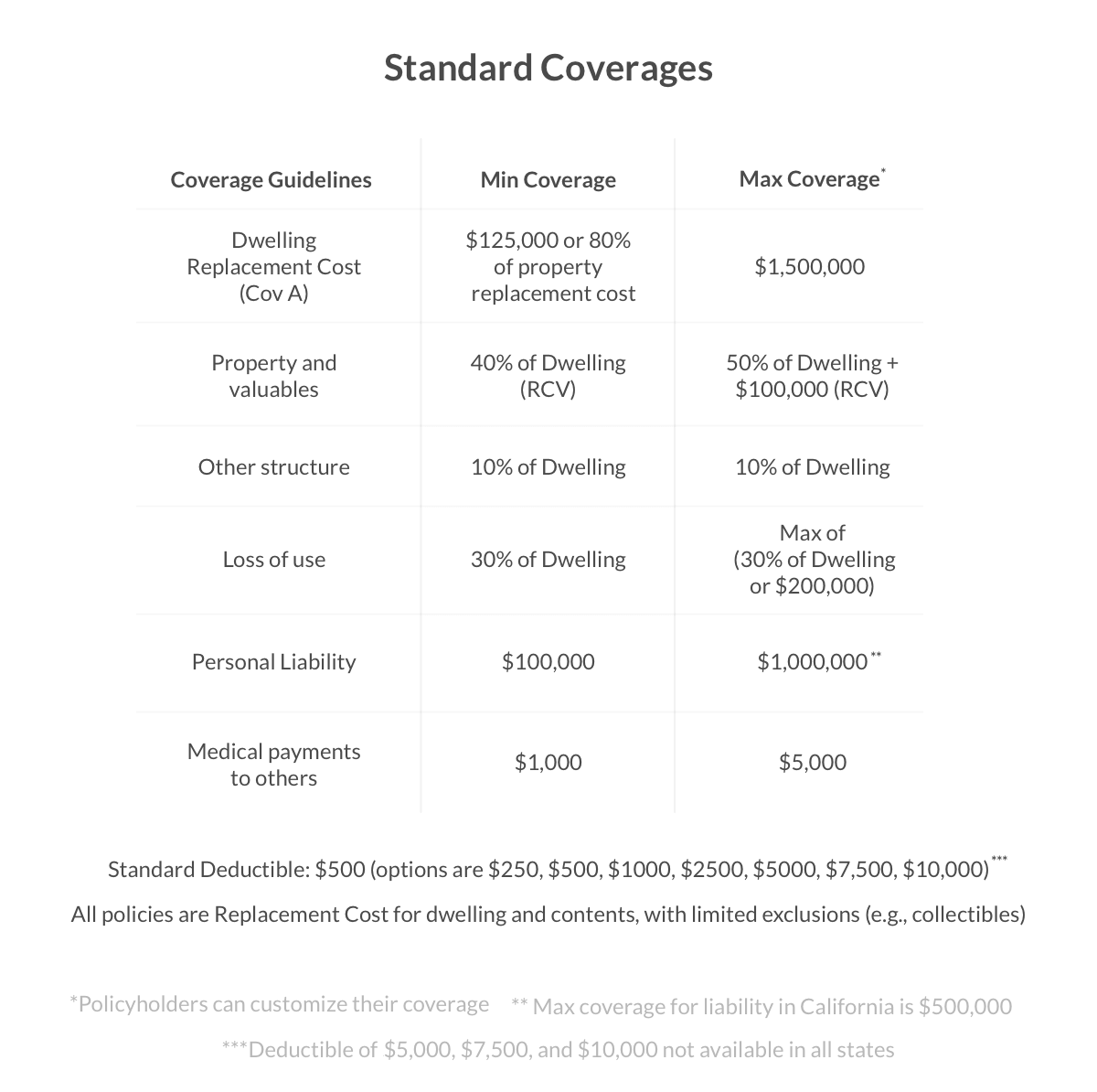 How to save on homeowners insurance
If this is your first time buying a home, you might not have factored in the price of homeowners insurance into your monthly payments. In which case, you might be looking for ways to bring your premium down slightly.
Your home doesn't need to be 'smart' in order to install some devices that will help to lower your insurance premium. Start with a standard fire alarm and burglar alarm, and you've already lowered your risks. And lowered risks equals lowered premiums.
If where you live is closer to potential bad weather, check with your insurance company what sort of reinforcements you can add to make your home more weather-proof. For instance, you may be able to save money on your premiums by adding storm shutters or adding laminated glass windows. You could also replace your heating, plumbing, and electrical systems to cut down the risk of fire and water damage.
Lemonade has its own 'Get Discounts Now' feature where you can help lower your premium price by answering a series of questions about your home's characteristics and safety measures like home renovations, or whether you live in a gated community.
Lastly, if you want your premium to go down, you can increase your deductible. The higher you'll pay on your deductible the lower you'll pay on your premium and vice versa.
Find peace of mind
Poring over a homeowners policy can be a headache, but working with a tech-savvy insurance company like Lemonade can make things simple and straightforward. Using AI and chatbots, Lemonade has made buying policies and paying insurance claims a walk in the park. The seamless experience also includes sending your home insurance quote to your lender, so you don't have to worry yourself with the never-ending back and forth.
The @Lemonade_Inc product team should win every award out there. Just got my homeowners insurance in < 5min. Easiest part of buying a new home by far.

— Michael Wieder 👶 (@mwieder) January 14, 2020
Purchasing a new home will be one of the most expensive and important decisions of your life, and making sure you have the right amount of coverage will give you the peace of mind you need to get on with your life—worry-free.