It's the question on everyone's lips: What is renters insurance? And what exactly does renters insurance cover?

You're at a wild house party and suddenly the guy next to you starts raving excitedly about the intricacies of his renters insurance policy. Everyone goes quiet, the music shuts down, and the entire room listens as he geeks out over his coverage amounts and personal liability protections…
Okay, we know: This is not a scenario that has ever occurred in the history of the universe. Renters insurance isn't all that sexy, at face value.
It doesn't help that the name itself can be confusing; it's often not clear that renters insurance also covers your valuables—computer, iPhone, bicycle, diamond ring, etc—even when you're not at home. The entire renters insurance thing could use a rethink and a reboot, which is kinda our whole deal here at Lemonade.
A lot of people think—wrongly, we'd suggest!—that renters insurance just isn't worth it. Maybe they cross their fingers and hope that bad things won't happen to their apartment, or their stuff, in which case they'll be glad they didn't "waste" a few bucks a month on coverage.
And sure, that's true if you never have your phone stolen, or if a burst pipe in your apartment doesn't destroy your expensive couch. But if bad luck does strike, you'll probably end up pretty damn happy that you decided to make the small splurge on a renters insurance policy.
What we'll do in this article is unpack the basics of renters insurance, all without any technical jargon. We like to keep it simple. While you might not end up gossiping about renters insurance at the next party—at least you'll have a handle on how these policies can help make your life a little easier. (And hey, not to change the subject, but… did we mention that Lemonade now offers life insurance?)
Here's a quick preview of what we'll be discussing: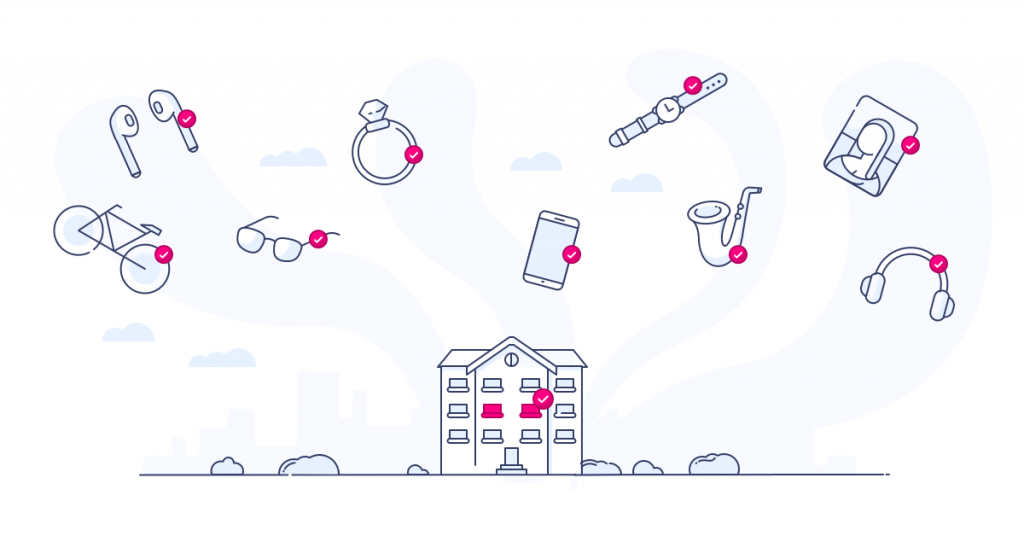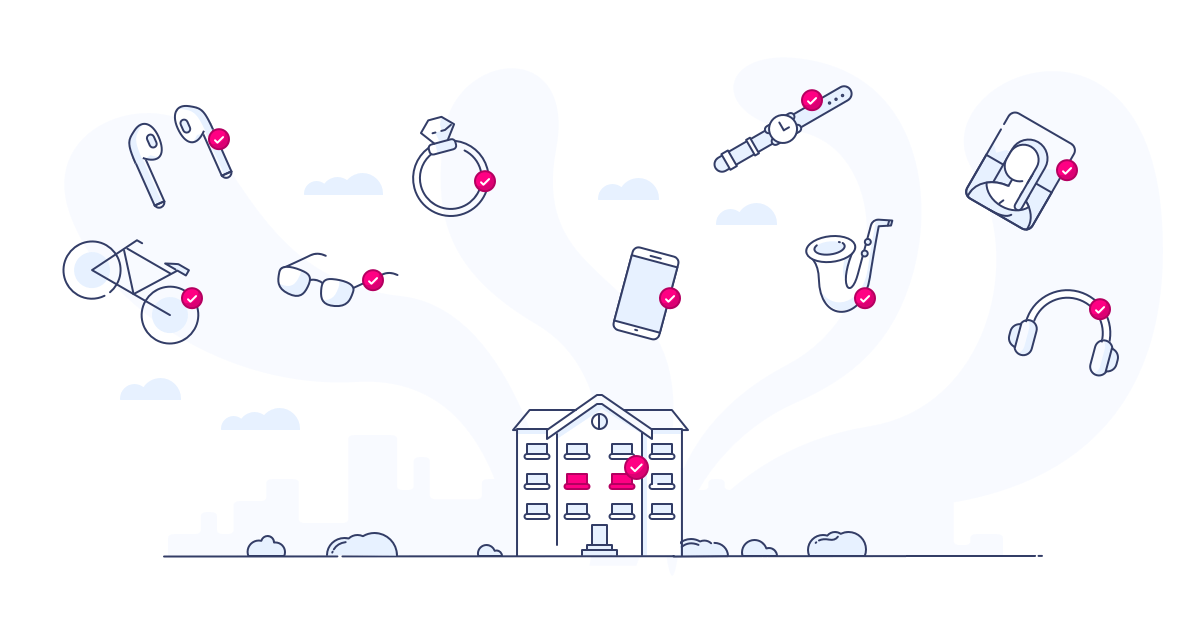 What is renters insurance?
In plain English, renters insurance offers you financial help if bad things happen to you or your stuff. In exchange, you pay monthly payments (known as your 'premium') to your insurance company. Consider renters insurance as a safety net. It'll kick in and help if there's loss and damage from designated "perils," which include theft, fire, vandalism, certain types of water damage, and many other inconvenient things.
We say that an insurance policy "covers" you from unfortunate incidents, like fires, or bites from an out-of-control dog. But that's just an expression, since the insurance company itself isn't preventing those things from happening… instead, it's providing financial support if they do happen.

If your entire apartment is damaged to the point where you're unable to stay there, renters insurance can compensate you for the nights you might need to spend at that Holiday Inn. And if you're injured at someone else's place, or if someone else is injured at your place, it'll even help with possible medical or legal fees.

We're guessing you probably didn't know that all that helpful stuff was bundled under the deceptive name of "renters insurance"…
What does renters insurance cover?
So now you know what renters insurance is and you've finally decided that it's right for you. (Smart move.) Next we'll learn what your monthly payments actually get you. It's fair to say that renters insurance policies probably have way more benefits than you probably thought.

But what does renters insurance actually cover? A typical renters insurance policy has three main coverage categories:

What does all that mean, exactly?
Personal property
This type of coverage helps you recover the cost of lost or damaged valuables if various unpleasant or unexpected things happen.

Standard policies cover named perils: very not-fun occurrences like kitchen fires, lightning, windstorm, hail, smoke, vandalism, theft, freezing, damage from aircraft or vehicles, and riots, to name a few.
At Lemonade our claims pros are often asked, 'does renters insurance cover theft outside the home?' and, 'does renters insurance cover fire?' The good news if this bad news strikes: You're covered.
So if a fire in your kitchen decimates your belongings, or a bitter ex-boyfriend breaks into your house and steals your vinyl record collection, you're covered. Just keep in mind that if the stuff in your apartment belongs to your landlord, it isn't covered under your policy. That would mean any furnishings that came with the place, as well as certain appliances.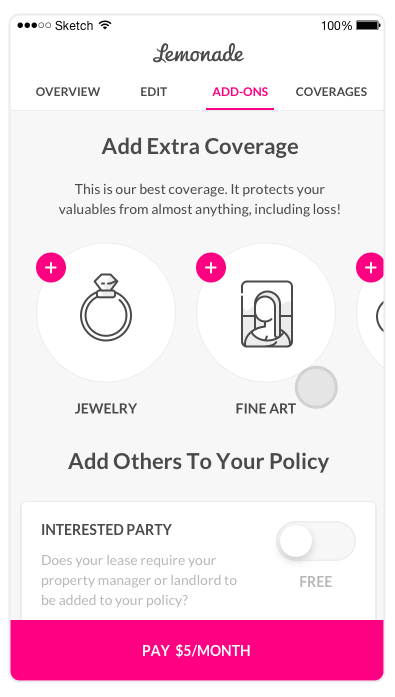 So now you've got a pretty good idea of what renters insurance covers. But what if you want to increase the amount of coverage you have for certain specific items that are especially valuable? In insurance terms, that's known as adding scheduled personal property coverage.
Because that's a real mouthful, at Lemonade we simply refer to it as 'Extra Coverage.' You can apply to add Extra Coverage to paintings, sculptures, and some other artworks; watches; musical instruments; and jewelry, among other things. A lot of these items might enjoy a certain amount of coverage on your base policy, but Extra Coverage comes with extra perks: deductible-free claims, for instance, as well as protection against stuff like accidental damage and 'mysterious loss.'
While these things may need appraisals or other proof of purchase—more on all that here—you can often add valuables to your policy for an additional cost. From the Lemonade app, it's super easy.
Your basic renters policy protects your electronics and appliances against certain "perils," but not against every type of damage. For instance, if your washing machine has an electrical failure your base policy wouldn't help. But if you want to add on those extra protections, you can purchase Equipment Breakdown Coverage (EBC). Also known as Appliance Coverage, this is an endorsement to complement and enhance your renters insurance and provide coverage for many other types of damage.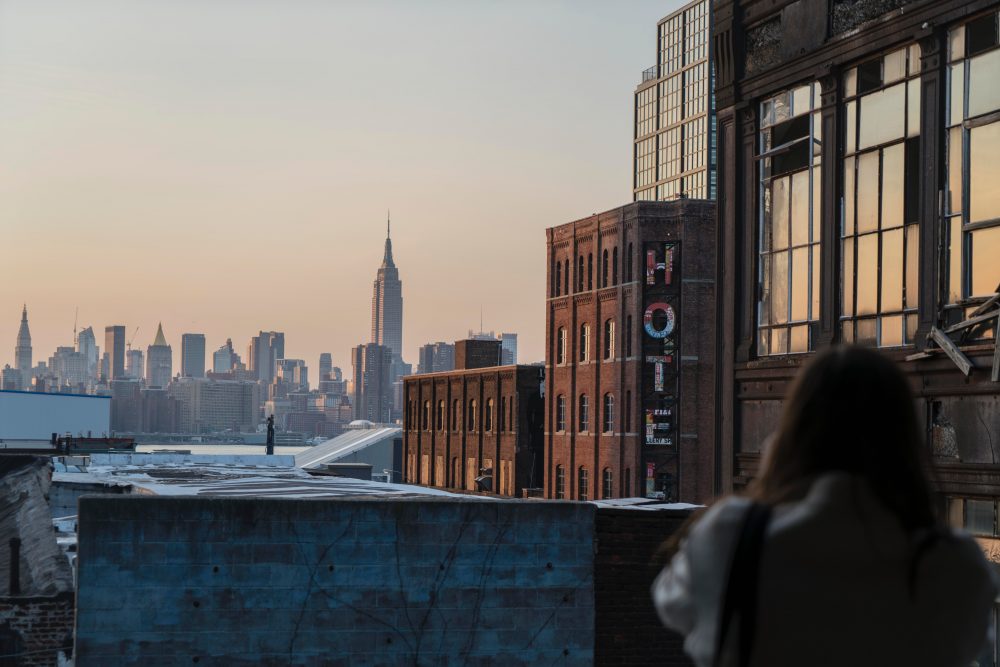 Temporary living expenses
If covered perils cause your place to become unlivable, you might need to hole up in a hotel for a while. The good news is that most renters insurance policies will cover these and other expenses, possibly including cash you need to spend on food and laundry.
Personal liability & medical bills
Renters insurance coverage extends to instances in which someone gets hurt at your place in an accident—whether that means hospital bills or legal fees from a lawsuit. It also extends to certain damages that you may cause when you're away from your home.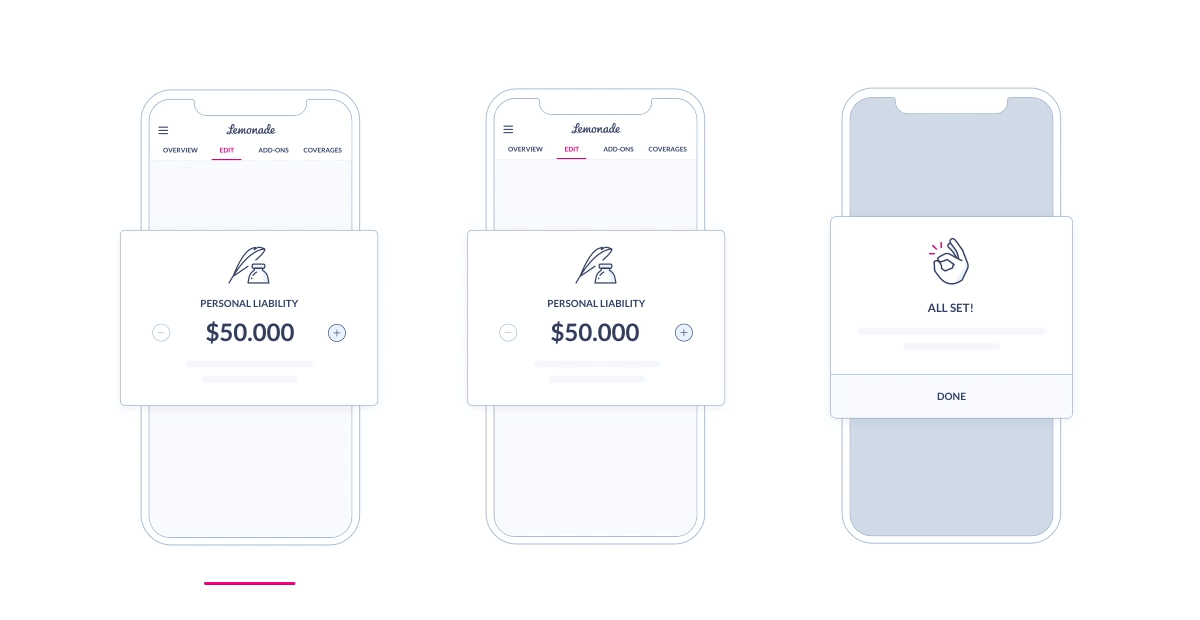 What isn't covered by renters insurance?
Renters insurance is pretty awesome, but it's not a cloak of invincibility. It won't protect you against every crappy thing that can happen on a daily basis, so it's good to know what's not covered by your policy.
Natural disasters like floods or earthquakes
Is your apartment in a place where flooding, sinkholes, or earthquakes strike on the regular? Basic renters insurance generally won't cover damage from such natural disasters. But there's no need to move out of San Francisco, or South Beach, or whatever beautiful-but -disaster-prone area you call home. You can purchase an additional flood insurance policy, and Lemonade also offers standalone earthquake coverage in California and Arkansas.
Note that certain natural disasters—like volcanic eruption, wildfire, or tornados—will indeed be covered by a renters insurance policy. But damages and expenses from certain occurrences—like widespread power outages—won't be.
Car-related theft
You park your Volvo at the corner and leave your phone on the passenger seat. If someone pulls an old-fashioned smash-and-grab to get your iPhone X, renters insurance has your back for the device. But renters insurance won't cover damage to the car itself (that broken window). The same applies if some drunken prankster decides to rip off your rearview mirror for fun. In fact, renters insurance doesn't cover 'motor vehicles' in general—and that applies to things like electric bikes or electric scooters, too…sorry e-bike fans.
Undocumented items
While we trust you and know you'd never lie or falsify anything, ever, an insurance company does require some amount of proof that an item you're filing a claim for actually existed, and was in your possession. Keep receipts, if you think of it, or try to take pics of your valuables on your phone (save them in the cloud, too, in case it's your phone itself that's stolen).
Valuables that you want to add Extra Coverage to will require special documentation in many cases, but Lemonade makes it easy-breezy—promise. Here's more info on what kind of paperwork you'd need to provide to add additional coverage to an engagement ring, digital camera, fancy guitar, and so on.
Your roommate's belongings
You're super responsible, and you have a Lemonade renters insurance policy. But you live with three other guys who don't. If their stuff gets damaged or stolen, your policy can't come to their rescue (unless any of them are a blood relative, your spouse, or an adopted child). If your roommates aren't up to speed on why renters insurance is an awesome idea, well… you can school them yourself after finishing this article, right?

Damage from pests
Sorry, renters insurance won't kick in for damage related to mice, rats, or insects. If rodents devour all your food, or termites destroy your dresser, your policy won't help. Extermination costs also won't be covered—that's generally your landlords responsibility. And what about that scourge of all scourges, the one whose name we're almost reluctant to utter… bed bugs? Treatment can be really expensive and time-consuming, and renters insurance won't cover the costs for that. But here's a bunch of info on how to keep bed bugs out of your home and out of your life (we promise that it doesn't include any graphic, gross photos of insects themselves).
Property damage to your physical home
Renters insurance doesn't cover the physical building that holds your stuff. That's what your landlord's insurance is for. So, if your building has roof leaks, it's your right as a renter to demand your landlord provides a dry roof over your head. Before you sign a lease, it's worth asking about your landlord's insurance, as well as what their protocol is if something happens to the apartment's actual structure.

Some common misconceptions about renters insurance
Let's take a spin through what a lot of people get wrong about renters insurance.
You might think that, since your landlord has insurance, that covers damage to your stuff. Not so. Your landlord's policy covers the physical structure of their building and any furnishings/appliances the landlord may own inside, like the fridge or stove… but it doesn't cover you or any damages that occur to your MacBook, digital camera, or single-speed bike.
Maybe it's your first time living on your own, and your parents have homeowners insurance. Well, it's time to start adulting…Your folks' policy will not cover you and your stuff in your new apartment.
Maybe you think you don't have many valuables—you don't own any expensive art or jewelry, for instance—so why bother with renters insurance? But once you add up common items, you'll find that you actually do own quite a lot of stuff, and it'd be expensive if bad things happened to it (think: insurance for your phone, laptop, bike, and so on…)
Isn't renters insurance too expensive? Nice try… renters insurance policies with Lemonade can run as low as $5/month, so that's not a very good excuse to pass up coverage.
Perhaps you're one of those people who only head to their apartment to crash after a long day of work (or a long night of fun). Why get renters insurance if you're basically never at the apartment you're renting? The reason is that your policy has your back whether you're at home or at a bar, coffee shop, airport, party boat, park, mall, subway car, outdoor rave, therapist's office… you get the idea.
One of the prevailing misconceptions about renters insurance is that it's difficult to sign up, or that doing so will be a huge, time-consuming slog. With Lemonade, at least, that's not the case. In fact, you probably could have applied on our app in the same time it took you to scroll through this list…
Can you update coverage once you've already purchased a policy?
Of course! With companies other than Lemonade, you might have to call your broker or a customer support team, tell them what's going on, and then have your updated policy documents sent off to you in the mail. Obviously if you're changing your coverage amounts your monthly premium might likely go up or down, depending.
Because we like to make life a little simpler, though, Lemonade's Live Policy lets you update your own coverage, anytime, on the Lemonade app. No agents, no waiting on hold, no stress.
So do you actually need renters insurance coverage for your apartment?
If you've made it this far, we're going to assume that you're starting to realize the answer is: YES. Maybe you still have some doubts, but we're hoping you see that the benefits likely outweigh any costs or disadvantages.
We've talked a lot about worst-case, nightmare-style scenarios, but only in order to prove that renters insurance actually has your back in more instances than you probably guessed.
Fingers crossed that this bad stuff will never befall you, and that you will pass your days blissfully free of random theft, electrical fires, exploding water pipes, or other annoyances and minor tragedies.
But as we know pretty well by 2021, life is full of the unexpected, and it can change in an instant. Renters insurance can't stop awful things from occurring, but it can make life a little easier if and when they do occur.
But hey, this is one relationship that you can put on pause without any dramatic break-up conversations. With most insurers, you can stop and start your coverage whenever you'd like. But once you're covered, you'll probably want to stay that way… especially if you're getting peace of mind for the same amount of $ as a few fancy cups of coffee each month.
Getting your renters insurance quote
The price you're offered for renters insurance—known as your quote—depends on a whole constellation of factors. For instance, your premiums could be affected by where you live, the condition of the building, your own personal history, and the coverage amounts you set for yourself.
Renters insurance rates for a spotless new loft in Brooklyn will be different than they are for a spacious studio apartment in Dayton, Ohio, in a building that hails from 1932.
Of course, the coverage specifics of your policy can also make it cheaper, or more expensive. If you want more coverage, it's going to…cost more. (Shocking!) Let's say you want to protect $10,000 worth of your valuables. Maybe in this scenario your monthly premium is $13. And maybe increasing your personal property limit to $40,000 would bump that premium up to $15/month.
The coverage amounts you choose also affect price. If you decide to insure just $10,000 of your stuff, your insurance policy could cost $13 a month. But, insuring $40,000 worth of stuff may cost around $15. So if you're wondering 'how much is renters insurance?', first figure out how much renters insurance coverage you'll need.
Adding Extra Coverage for certain valuables will also incur extra costs,but you'll probably be grateful that you chose to do so if your engagement ring or vintage guitar gets stolen or damaged.
Lemonade is at the forefront of the insurance industry when it comes to using tech to improve the customer experience and lower costs. Instead of brokers, we've got bots, artificial intelligence, and machine learning. This helps us keep premiums at a bargain, starting at just $5/month, a lot lower than industry averages.
And we honestly think the Lemonade sign-up experience is a delight. Our charming AI bot Maya will walk you through all the specifics and get you a quote in minutes. You might even enjoy the process… and who knows, maybe you'll actually find yourself talking about how awesome renters insurance is at your next party.
Is Lemonade renters insurance available where I live?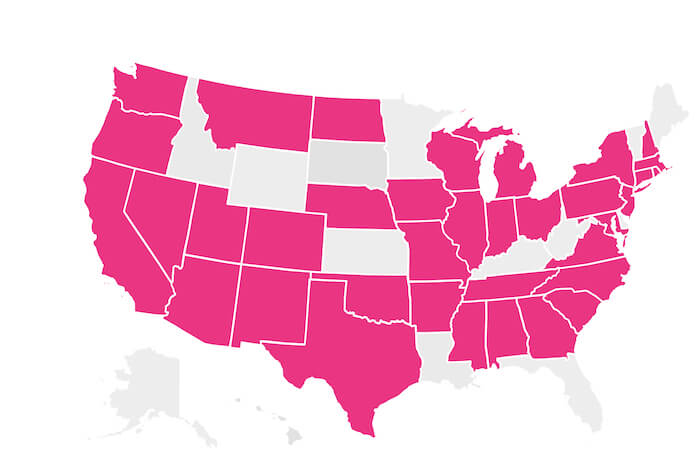 These are the States we currently offer renters insurance in:
Arizona, Arkansas, California, Colorado, Connecticut, Georgia, Illinois, Indiana, Iowa, Maryland, Massachusetts, Michigan, Missouri, Nevada, New Jersey, New Mexico, New York, Ohio, Oklahoma, Oregon, Pennsylvania, Rhode Island, Tennessee, Texas, Virginia, Washington, Washington, D.C. (not a state… yet), and Wisconsin.
Still not sure what amount of coverage is right for you? Check out our easy guide to how much renters insurance I need?