Once you find your new home, you must start thinking about homeowners insurance – mandatory for taking out a mortgage and highly advisable considering your home is likely one of the biggest financial investments you'll make in your lifetime.
Thing is, few homeowners do extensive research about the differences between homeowners insurance policies, let alone take the time to read the fine print.
In fact, a mouth-dropping 52% of policyholders don't have a full grasp on insurance coverage. We're talking things like what's covered (and what's not) and how much homeowners insurance they really need.
That's why we're here to pull back the curtain and explain in plain, transparent language the ins and outs of homeowners insurance.

Here's a breakdown of what we'll be discussing:
– What is homeowners insurance
– Is homeowners insurance required by law?
– What's covered by homeowners insurance
– What isn't covered by home insurance
– How much homeowners insurance costs
– How much home insurance you need
What is homeowners insurance?
A homeowners insurance policy is a contract between you and your insurance company that covers you in a bunch of different situations. Homeowners insurance coverage protects you and your home if bad luck leaves you recovering or repairing the damage. Still not sure you got it? This homeowners explanation will make things crystal clear.
Why do you need it?
There are an endless reasons you need homeowners insurance, but the most basic reason is because houses are damn expensive and when disaster strikes you'll want to make sure you have the money to rebuild or repair your expensive asset.  
 Is homeowners insurance required by law (and what are the benefits)?
All of this sounds like a lot, right? We don't blame you if you're asking "do you even have to have homeowners insurance?" Well, while your state may not require homeowners insurance by law, if you take out a mortgage to buy a home, your lender will almost always require coverage.
Upsides? There are more than a few. Beyond protecting one of the biggest investments most people make in a lifetime, consider scenarios where you owe money on your mortgage and your home is destroyed, or someone is seriously injured on your property –  even if you're smacked with a personal injury lawsuit and ordered to pay a large sum of money to a third party, your insurer will most likely be able to help you out. So if you've ever wondered do I actually need homeowners insurance? Yes. Yes you do!
 What's covered by homeowners insurance?
Here's a closer look at what's covered by your basic HO3 (homeowners) policy:
1. Your house, or in insurance lingo, Dwelling
Referred to as "Dwelling Coverage," this protects you from damages to your place (your home and everything attached to it, such as a garage, chimney, in-ground pool, etc.)
2. Other structures on your property
Things like your driveway, fences, sheds, and other structures that live on your property are also covered by homeowners insurance.
3. Your personal property
Generally speaking, personal property refers to the stuff you own. Fun fact: Your household insurance has your back whether your stuff is at home, or anywhere else. So say your computer gets stolen from your car, or your shed burns down with a bunch of power tools inside – you'll be covered. Take note: there may be sub limits on certain valuable things like jewelry and artwork: make sure to schedule personal property like this when buying your policy.
4. Additional living expenses
Say one of those pesky perils happens and your place becomes uninhabitable due to one of the situations we described above. What then? Well, this situation is covered under something called "loss of use," and your insurance company may help pay for a temporary place to stay and basic living expenses such as food, laundry, parking, etc.
5. Personal liability
Liability refers to things you're responsible for. In the insurance arena, this means if for some reason you're someone getting injured on your property and it's your fault, or you/anyone named on your policy causes damage to someone else's property or stuff, your insurance company should have you covered. Just to be 100% clear: we're only talking about unintentional situations.
A small note on this one: homeowners insurance only covers personal injury to others, not yourself or others covered under your policy.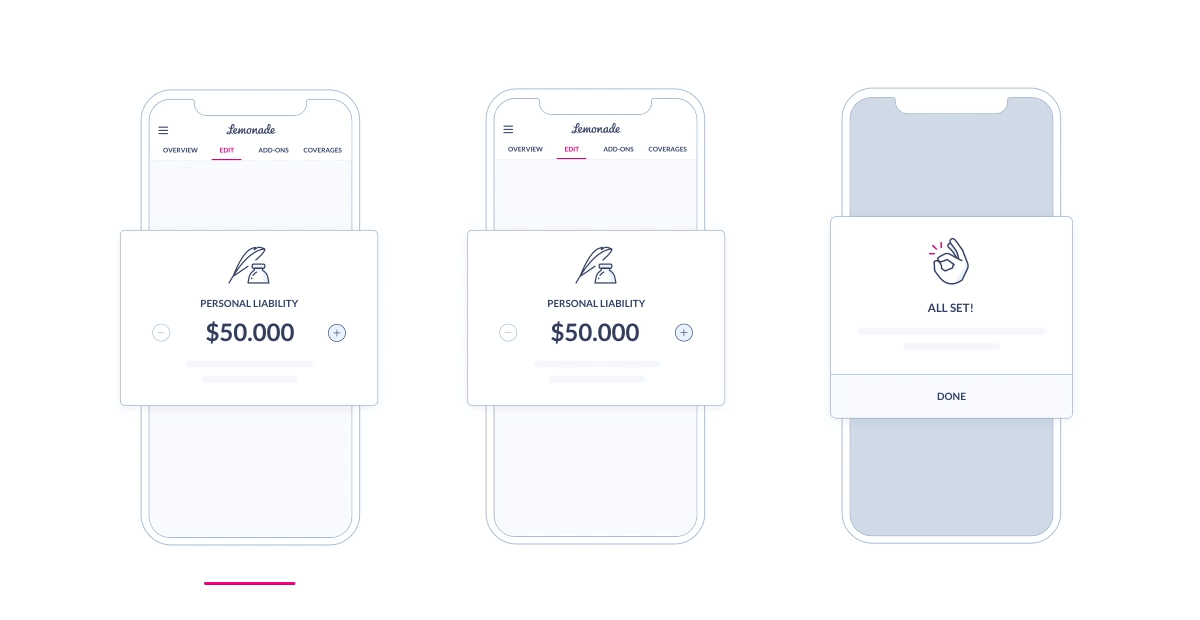 6. Medical fees
While personal liability kicks in when you get sued, medical payments kick in without being sued – they are a quick way to settle small injuries. No, home insurance doesn't cover your own medical bills (that's what health insurance is for!), but it does help out with covering injuries sustained by guests who may have gotten injured at your place, or people you may have accidentally hurt outside of your home as well.
What does homeowners insurance not cover?
There appears to be some gaps in our knowledge of homeowners insurance coverage.
55% of homeowners think they're covered when there's a sewer backup
43% of homeowners believe damage from heavy rain flooding is covered under their standard insurance policy
29% of homeowners think they're covered when the earth moves (i.e. in the event of an earthquake, landslide, etc.)
Let's get this straight: earthquakes and flooding aren't covered under your standard homeowners insurance policy.
In fact, they are separate policies all together that homeowners are encouraged to purchase along with their home policy.
Other things your policy most likely doesn't cover include: mold, sewer backups, infestations, pool accidents, wind damage in hurricane-prone states, wear and tear, construction work damage, jewelry and fine art above a certain amount (look into additional coverage for this), dangerous/aggressive dogs, stolen cash, nuclear hazards, and government action.
How much does homeowners insurance cost?
The cost of homeowners insurance will vary by state and depends on a lot of factors including house age, cost to rebuild, fire protection rating of your city, and building materials, among other things.
According to the National Association of Insurance Commissioners (NAIC), real estate values and construction costs tend to be higher in areas of greater population density. Therefore, as the amount of homeowners insurance needed is based on the value of your home, premiums are often higher in more heavily populated places.
A general rule of thumb is, as a homeowner, you can expect to pay around $35 per month for every $100,000 that your home is worth (i.e. if your home is valued at $500,000, you can expect to pay about $175 per month), though it really depends on your city, state, and all of the factors mentioned above.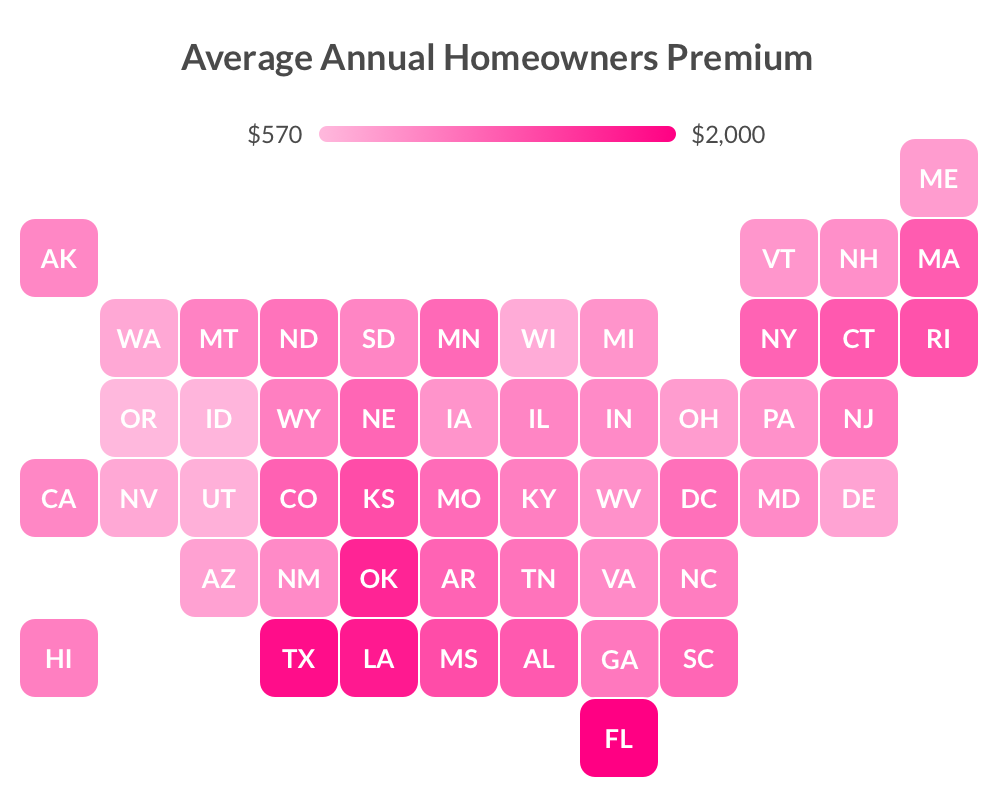 According to the Value Penguin, the countrywide average homeowners insurance premium was $1,083 in 2018. Florida had the highest average homeowners insurance premium in 2019 ($2,055) and Oregon had the lowest ($574).
How to lower the costs
There are a bunch of things that can lower your homeowners insurance premium: burglar alarm systems, smoke detectors, fire extinguishers, sprinkler systems, deadbolt locks, wind protection, water or temperature alerts, central station reporting alarm, and more.
Here at Lemonade, we even have an automated feature, "Lower Your Price" that takes into account the above, helping you to get a discount when building your quote. Another method to lower your homeowner costs is to raise your deductibles. An insurance deductible is an amount of money you choose when purchasing a policy that will be subtracted from any future claims payouts. Read on for the lowdown on all-things deductibles.
How much homeowners insurance do you need?
This is the million dollar question (maybe literally!). How much insurance do you need for your home? And is it just your home, or more? Hint: it's much more.
Dwelling coverage
When it comes to setting a dwelling coverage amount for your home, you don't want to choose the purchase price or current market value. This amount should be the amount that it'd take to rebuild your home (as it was before it needed to be rebuilt – no upgrades!), known as "reconstruction costs." This is, after all, what your insurance company will be reimbursing you in the worst case scenario that you have to rebuild. But that's just your home. There are also all of the other coverages we previously mentioned to take into account as well.
Personal property coverage
To price out your personal property, most experts will say you should choose a limit between 50% – 75% of your dwelling coverage amount. If you think this isn't enough to cover all of your stuff – say you have fine art, lots of expensive jewelry, a collection, or other valuable items – look into the Extra Coverage option with your insurer. Extra Coverage also provides additional coverage in general, so it'd definitely be something to look into.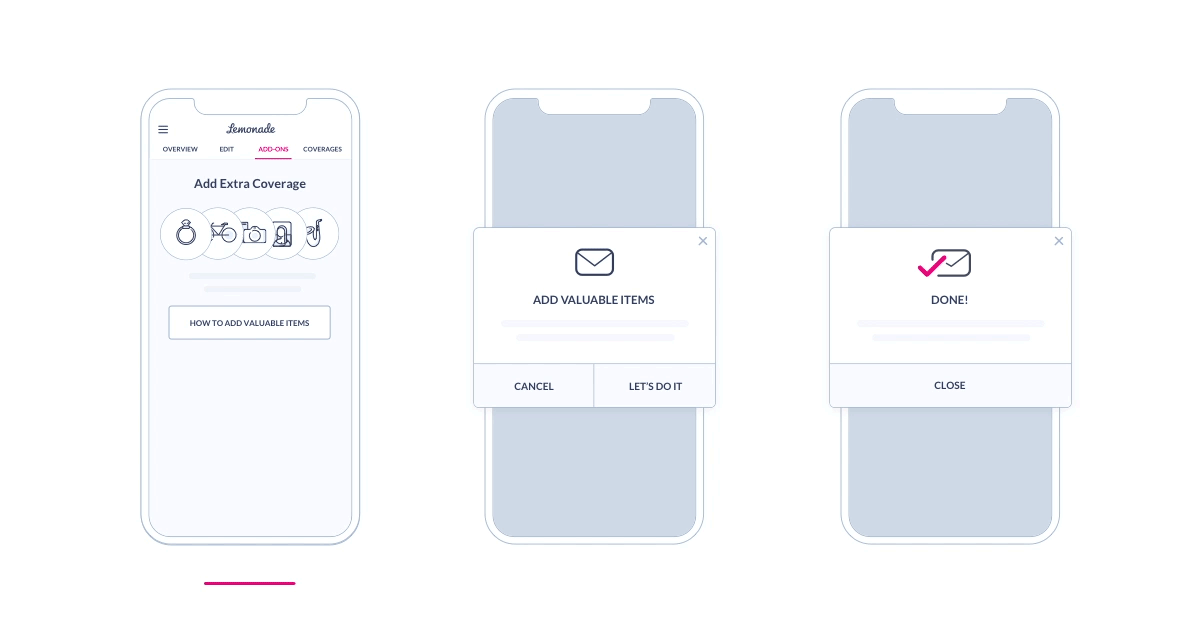 Loss of use coverage
Similarly to personal property, additional expenses, or loss of use, is also based off of dwelling coverage. Most advise to choose an amount that's around 20-30% of your dwelling coverage. Also, take your lifestyle into consideration, as this covers what you'd usually spend on stuff like food, temporary storage of property, moving costs, etc. So let's say you eat takeout everyday – breakfast, lunch, and dinner, you'll most likely want to select an amount that's more than someone who buys groceries and prepares their meals.
Personal liability coverage
When you think personal liability, you may only think of the things we discussed above (injury to others, legal fees, etc.), but you should also take into account the total dollar amount of your financial assets, like your home, retirement accounts, investments, and anything else worth money. Your insurer's liability protection is also working to cover these things as well. If you don't think $500K is enough, you can purchase something called an umbrella policy which'll add another $1M or more in coverage.
Medical payments to others coverage
Let's say a guest sprains her wrist after tripping on a rug in your living room – she has hospital bills to pay. This is where your medical expenses coverage may kick in. Generally between $1,000 – $5,000, this really depends on you. Try looking at how often you host and the safety of your home. You cannot really go wrong here.
Here's a breakdown of some of the most common coverage amounts: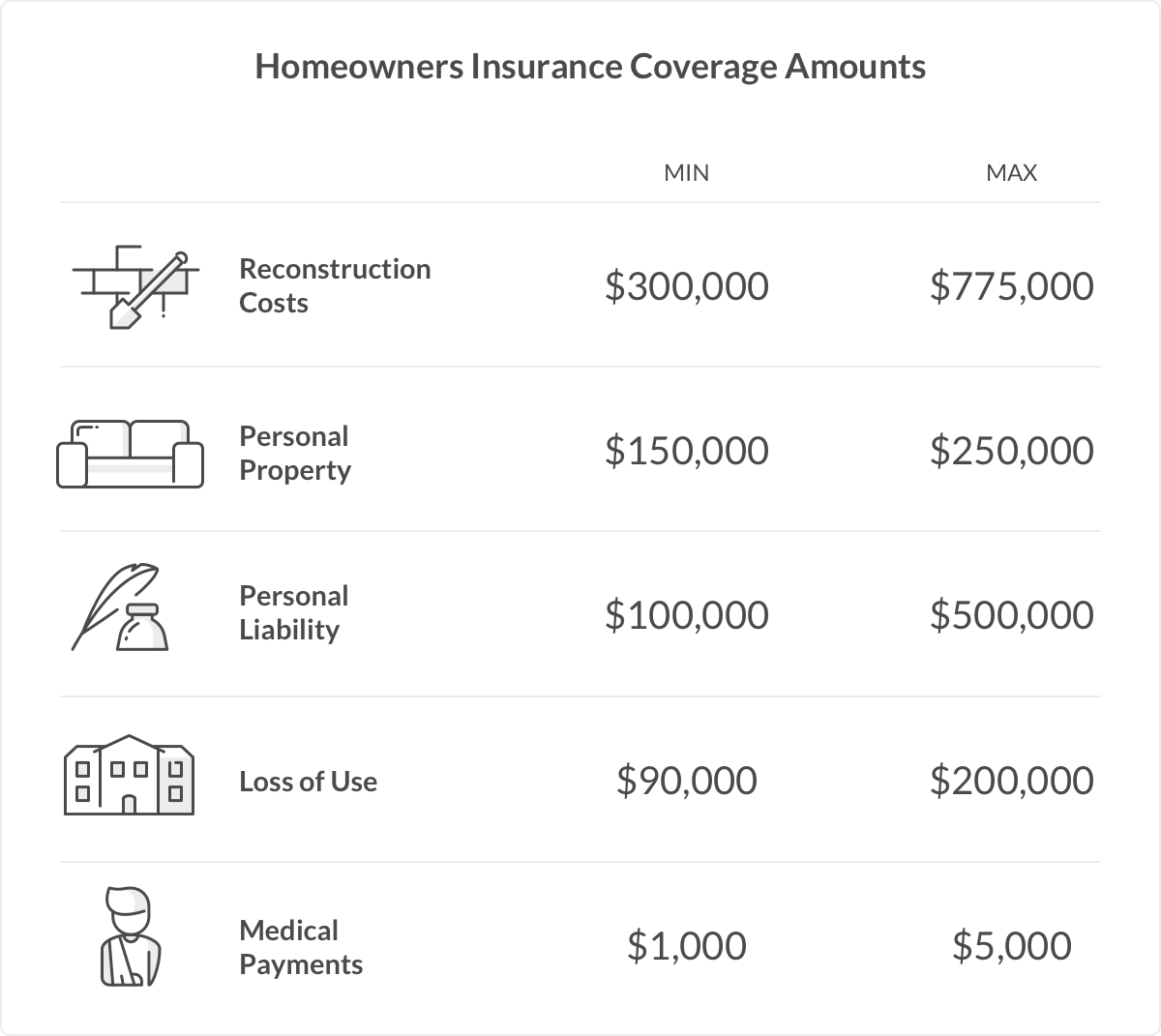 *We mentioned earlier that insurance premiums vary state-to-state and the same goes for limits, so insurers may offer $1M in personal liability, for example, in some states but not others.
Aside from these amounts, when deciding how much homeowners insurance to buy, you'll need to choose a few more things that'll influence the price of your monthly premium such as the size of your homeowners insurance deductible (typically $250 – $2,500), replacement cost or actual cash value for covered perils, and if you'd like any optional coverages to protect against things like water backup, identity theft, and lost, stolen, or damaged valuable items.
Go forth and get insured
Poring over a homeowners policy can be a laborious task, but working with a tech-savvy insurance company like Lemonade can make things simple and straightforward. Using AI and chatbots, Lemonade has made buying policies and paying claims a walk in the park. The seamless experience also includes sending your quote to your lender, so you don't have to worry yourself with the neverending back and forth.
Homeowners insurance is financial defense against bad things that may happen in life, giving you much-needed peace of mind.
Pro tip: Review your coverage each year and check to see that your coverage amounts are still relevant in respect to your lifestyle and needs.
Now go forth and get insured. 🙌