Once you find your new home (congrats!), it's time to start thinking about homeowners insurance. It's mandatory to get homeowners insurance to take out a mortgage, and highly advisable considering your home is likely one of the biggest financial investments you'll make in your lifetime.
But few homeowners understand the differences between the various types of homeowners insurance policies, or take the time to read the fine print.
In fact, a jaw-dropping 52 percent of policyholders don't have a full grasp on insurance coverage. We're talking things like what's covered (and what's not) and how much homeowners insurance they really need. That's understandable – homeowners policies can be confusing.
That's why we're here to pull back the curtain and explain the ins and outs of homeowners insurance in plain, transparent language.

Here's a breakdown of what we'll be covering:

Here's a quick breakdown of what we'll be discussing:
What is homeowners insurance?
A homeowners insurance policy is a contract between you and your insurance company that covers you in a bunch of different situations. It protects you and your home if bad luck leaves you recovering or repairing the damage. Standard HO3 policies cover named perils – bad things that may happen to your stuff – including fire, lightning, windstorm, hail, smoke, vandalism, theft, freezing, damage from aircraft or vehicles, and riots, to name a few.
Still not sure you got it?
In this article, we'll dig deeper into find the specifics on what's covered and what's not in your policy. And if you want to take a look at your policy yourself, a good place to start is your declarations page, which is a TL;DR of everything you need to know.
If you're new to homeowners insurance, not to worry, we'll break down everything you need to know about your coverage in the following sections.

Why should I get homeowners insurance?
First off, homeowners insurance is usually required if you have a bank loan or mortgage in order to protect you from defaulting on the money you took out. Short of being required, insurance for what's probably one of the biggest investments you'll make in a lifetime is pretty much a no-brainer.
It can also cover you in the event of several, smaller, all-too-common-situations, like your phone getting stolen at a coffee shop, your pipes bursting in the winter, or your stuff catching fire due to faulty wiring.
But, even if you don't make a claim, homeowners insurance can also alleviate any worry or anxiety that anything might happen. It allows you to rest easy, knowing you're protected even in the event of a worst-case scenario.

What's covered by homeowners insurance?
Here's a closer look at what's covered by your basic HO3 (homeowners) policy:
Your home
Dwelling Coverage (aka coverage for your actual house) is one of the cornerstones of homeowners insurance providing financial assistance if your home is damaged or destroyed. Also known as Coverage A, it protects your place from a wide range of bad situations, unless explicitly excluded in your policy.
Some common things that your place wouldn't be covered for is damage due to flooding, anything that you had reasonable time to fix (such as mold and rot), and any time the earth moves (earthquakes, mudslides, etc.) among other things.
It covers stuff on your property
Referred to as 'Other Structures' coverage or Coverage B, this part of your policy works to protect things like your driveway, fence, shed, tree house etc. – basically anything not created by mother nature living in your yard, but not attached to your house.
It covers the stuff you own
Home insurance covers the stuff you own (i.e. your personal property) when you're at home, or anywhere else. In insurance lingo, this is called Coverage C.
So if your bike is stolen outside of work (even though you locked it), your homeowners insurance has you covered.
It covers situations where your place becomes uninhabitable
If something makes your home unlivable, your out-of-pocket expenses will be covered under something called "Loss of Use."
Under this type of coverage (Coverage D), your insurance company will help pay for things like a temporary place to stay, and basic living expenses above and beyond what you'd normally pay because you've been put out (takeout, laundry, parking, etc.).
It covers you (and others on your policy) when you're in a legal bind
If you're sued because 1) someone gets injured on your property and it's your fault or 2) you or anyone on your policy damages someone else's property or stuff… your homeowners insurance policy has you covered! This type of coverage is called Personal Liability – it's a mainstay on all homeowners (and renters) policies.
Your policy can also help cover legal fees for accidents when you (or anyone listed on your policy) are the one responsible.
Take note: this only covers injury to others, not yourself, or people listed on your policy… take a look at the Coverage E section of your policy for more info.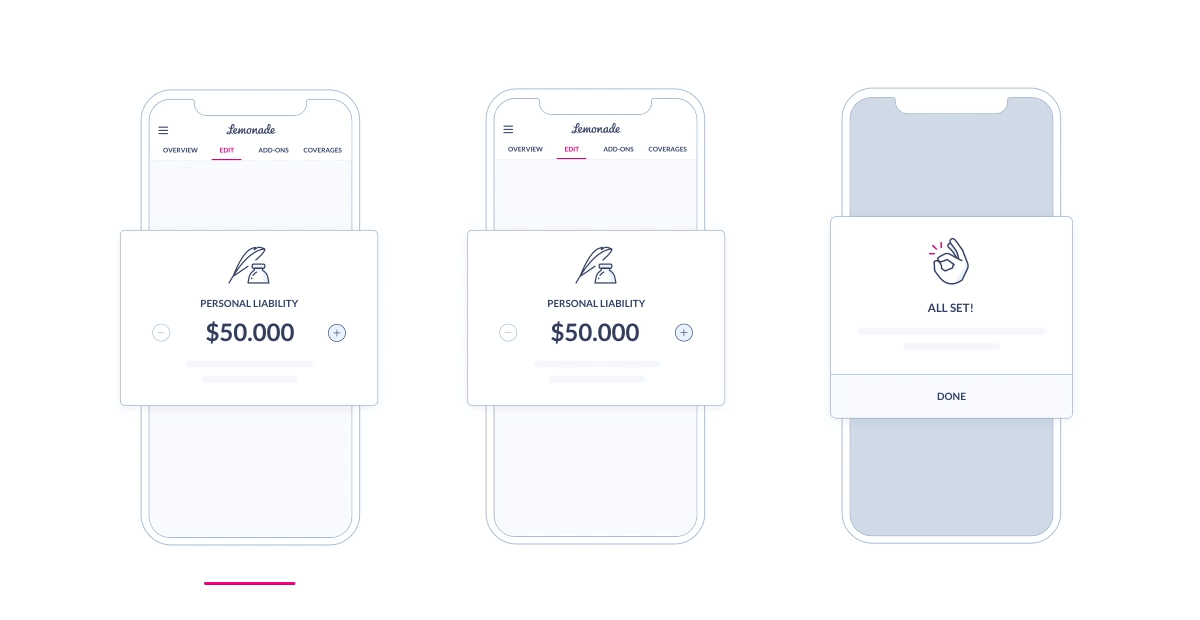 It covers you (and others on your policy) when someone else gets hurt and you're at fault
Back to the scenarios above – if someone is injured on your property, or if you or someone on your policy injures another person and the medical bill comes out to less than $5K, your homeowners insurance will cover the medical bills. Coverage F is what's doing the heavy lifting in this situation.
Note: this type of coverage is meant for smaller fees that wouldn't fall under the personal liability coverage.

BTW, if you're looking for a more exhaustive breakdown of homeowners insurance coverage, click here.
What isn't covered by homeowners insurance?
There are a few common misconceptions when it comes to homeowners insurance coverage:
55 percent of homeowners think they're covered when there's a sewer backup

43 percent of homeowners believe damage from heavy rain flooding is covered under their standard insurance policy

29 percent of homeowners think they're covered when the earth moves (i.e. in the event of an earthquake, landslide, etc.)
Let's get this straight: earthquakes and flooding aren't covered under your standard homeowners insurance policy. You'll need to take out a separate policy to get coverage for these scenarios, which is highly recommended for homeowners.
Other things your policy most likely doesn't cover include mold, sewer backups, infestations, pool accidents, wind damage in hurricane-prone states, wear and tear, construction work damage, jewelry and fine art above a certain amount (look into additional coverage for this), dangerous/aggressive dogs, stolen cash, nuclear hazards, and government action.

Who is covered by homeowners insurance?
Your household insurance policy covers losses suffered by everyone living in your home who is related to you by marriage, blood, or adoption. That means your children, husband, wife, partner, parents, etc.… you get it.
But homeowners insurance coverage isn't always straightforward, nor are your relations to everyone in your household. If you're not officially married, or in a legally-recognized civil union, your policy will not cover your significant other by default. But no worries – you can add them as an additional insured for an extra cost. To make sure you've covered everyone in your household, check out this full guide for who exactly your policy covers.

How much homeowners insurance do I need?
When it comes to home insurance, most people know they need it, but make the mistake of purchasing too little. Your home insurance comes with six broad areas of coverage, touching upon various scenarios having to do with damages and losses to your property/residence, yourself, and others. We'll break that down in the sections to come, and how much coverage you need in each category, so you're properly protected against every scenario.
Dwelling coverage
Dwelling Coverage protects you from damages to your place (your home and everything attached to it, such as a garage, chimney, in-ground pool, etc.) When it comes to setting a dwelling coverage amount for your home, you don't want to choose the purchase price or current market value. It should be the amount that it'd take to rebuild your home (as it was before the damage), known as "reconstruction costs." This is what your insurance company will be reimbursing you for in the worst-case scenario that you have to rebuild.
Personal property coverage
Personal Property is insurance lingo for "your stuff" (bikes, laptops, TVs, etc.) To determine how much personal property coverage you should get, choose a limit between 50 – 75 percent of your dwelling coverage amount. If you don't think this covers all your stuff (including your priciest purchases) look into the Extra Coverage option with your insurer. Extra Coverage, also known as scheduled personal property, this add-on covers everything listed on your base policy, plus additional types of accidental damage.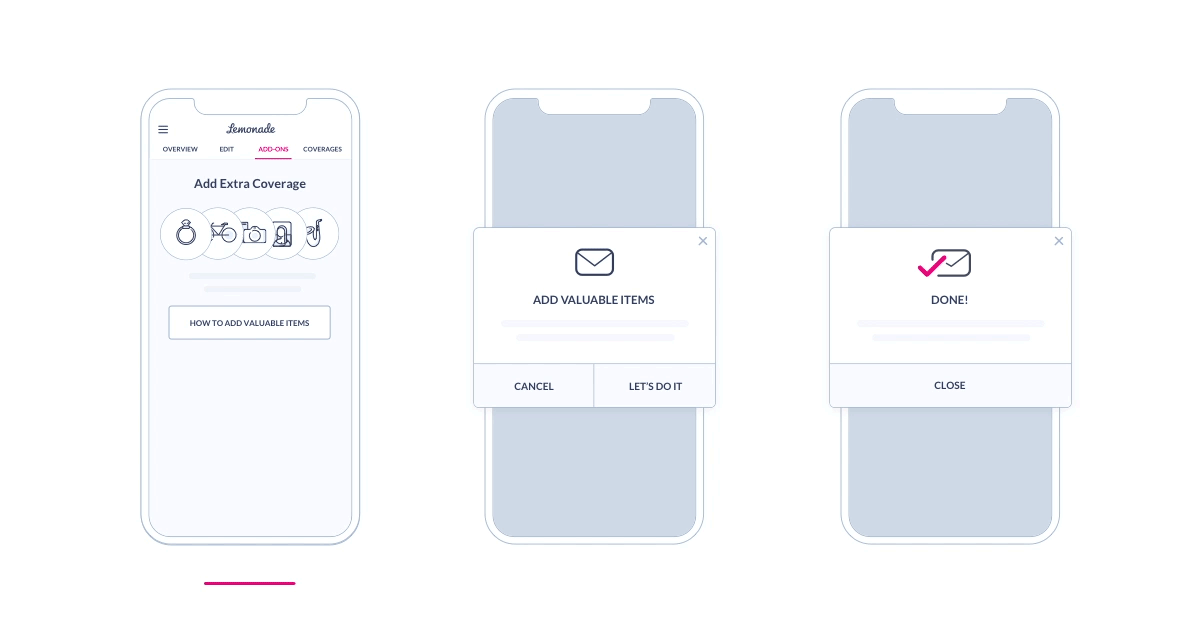 Loss of use coverage
Loss of Use helps with temporary living expenses if your place becomes unlivable due to a peril like a fire, mandatory evacuation, etc. Similar to personal property, additional expenses, or loss of use, is also based off of dwelling coverage. You should choose an amount that's around 20-30 percent of your dwelling coverage. Also, take your lifestyle into consideration, as this covers what you'd usually spend on stuff like food, temporary storage of property, moving costs, etc. So let's say you eat takeout everyday – breakfast, lunch, and dinner, you'll most likely want to select an amount that's more than someone who buys groceries and prepares their meals.
Personal liability coverage
Personal Liability refers to bodily injury or property damage to other people (or their stuff) as a result of your actions, at your home, and anywhere else. Personal liability, might just sound like legal fees, you may only think of the things we discussed above (injury to others, legal fees, etc.), but you should also take into account the total dollar amount of your financial assets, like your home, retirement accounts, investments, and anything else worth money. Your insurer's liability coverage is also working to cover these things as well. If you don't think $500K is enough, you can purchase something called an umbrella policy which will add another $1M or more in coverage.
Medical payments to others coverage
Let's say a guest sprains her wrist after tripping on a rug in your living room, and she has hospital bills to pay. This is where your medical expenses coverage may kick in. You should generally choose between $1,000 – $5,000 but really depends on you. Try looking at how often you host and the safety of your home.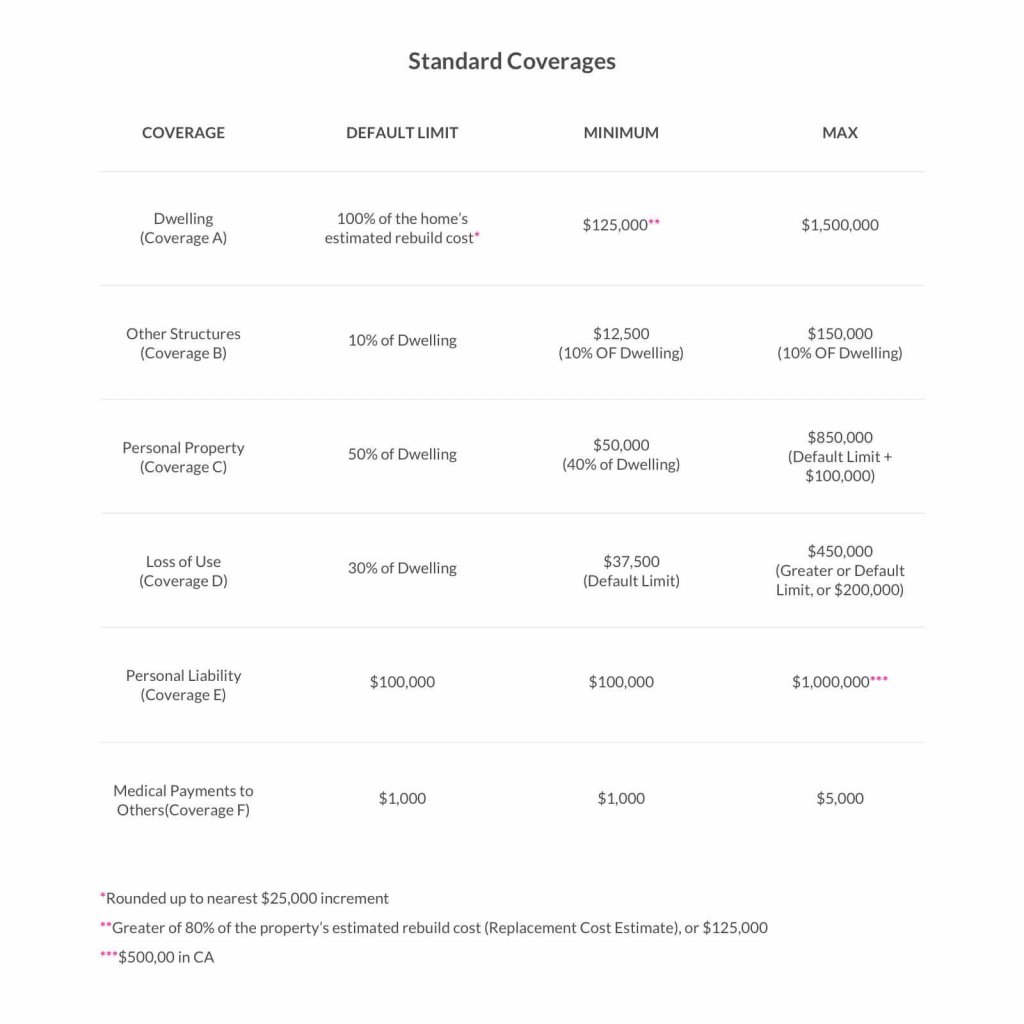 *Insurers may offer $1M in personal liability in some states but not others.
When deciding how much homeowners insurance to buy, you'll need to choose a few more things that will influence the price of your monthly premium, such as the size of your homeowners insurance deductible (typically $250 – $2,500), whether you want to receive replacement cost or actual cash value for covered perils, and if you'd like any additional coverage for like water backup, identity theft, and lost, stolen, or damaged valuable items.
Can I update my coverage after I purchase a policy?
Of course! With most companies, you can contact your broker or insurance provider's customer support team, explain your issue, and you'll get a new policy sent to you in the mail. Just keep in mind that your monthly premium may change accordingly.
Lemonade's Live Policy allows customers to update their own coverage, whenever and wherever, on the Lemonade app. You can update your policy to reflect your needs instantly, with no brokers or paperwork involved.
How to shop for homeowners insurance?

Now that you're well versed in your coverage needs, it's time to actually purchase a policy. When shopping for homeowners insurance, you can either use a broker or shop on your own. If you choose the latter, you can save time by going with an insurer with easy, fast quotes and claims.

If you're into tech and happy getting a policy without talking on the phone, try the Lemonade app – zero paperwork, zero hassle. If you ever need to file a claim, Lemonade can process them instantly, handling 30 percent in a mere 3 seconds! There are no brokers with Lemonade, which helps make policies cheaper.
Don't be afraid to compare as many quotes as you can.
FYI — Apart from the policy itself, you'll also want to look into the company's background. Be sure they're financially stable, read customer reviews, and check their ratings with consumer insights companies like Consumers Advocate, Consumer Affairs and Clearsurance.
If you'd prefer to have an agent at the other end of the line, a broker might be the right choice for you. However, prices are usually a little higher, and traditional insurance agencies might try hard not to pay out claims. Lemonade takes a flat fee from your premium, uses the rest to pay claims, and give back what's left to causes you care about.
Which factors impact the price of homeowners insurance?
The price of your homeowners policy can vary significantly, depending on factors like your home's condition, location, deductible, and the amount of coverage you need. Here are 5 factors that can determine how much your homeowners insurance premiums will cost:
1. Your state
Homeowners insurance premiums differ from state to state. States with a higher chance of natural disasters generally have higher premiums than states that don't. It's no surprise that coastal states such as Florida, Texas, and Louisiana have some of the highest premiums for homeowners, since they often encounter some pretty crazy storms. Same goes for Oklahoma and Kansas, who are bang in the middle of Tornado Alley.
The states with the cheapest insurance rates are in the west (with the exception of Wisconsin), where natural disasters like hurricanes, tornadoes, and hail are generally less frequent.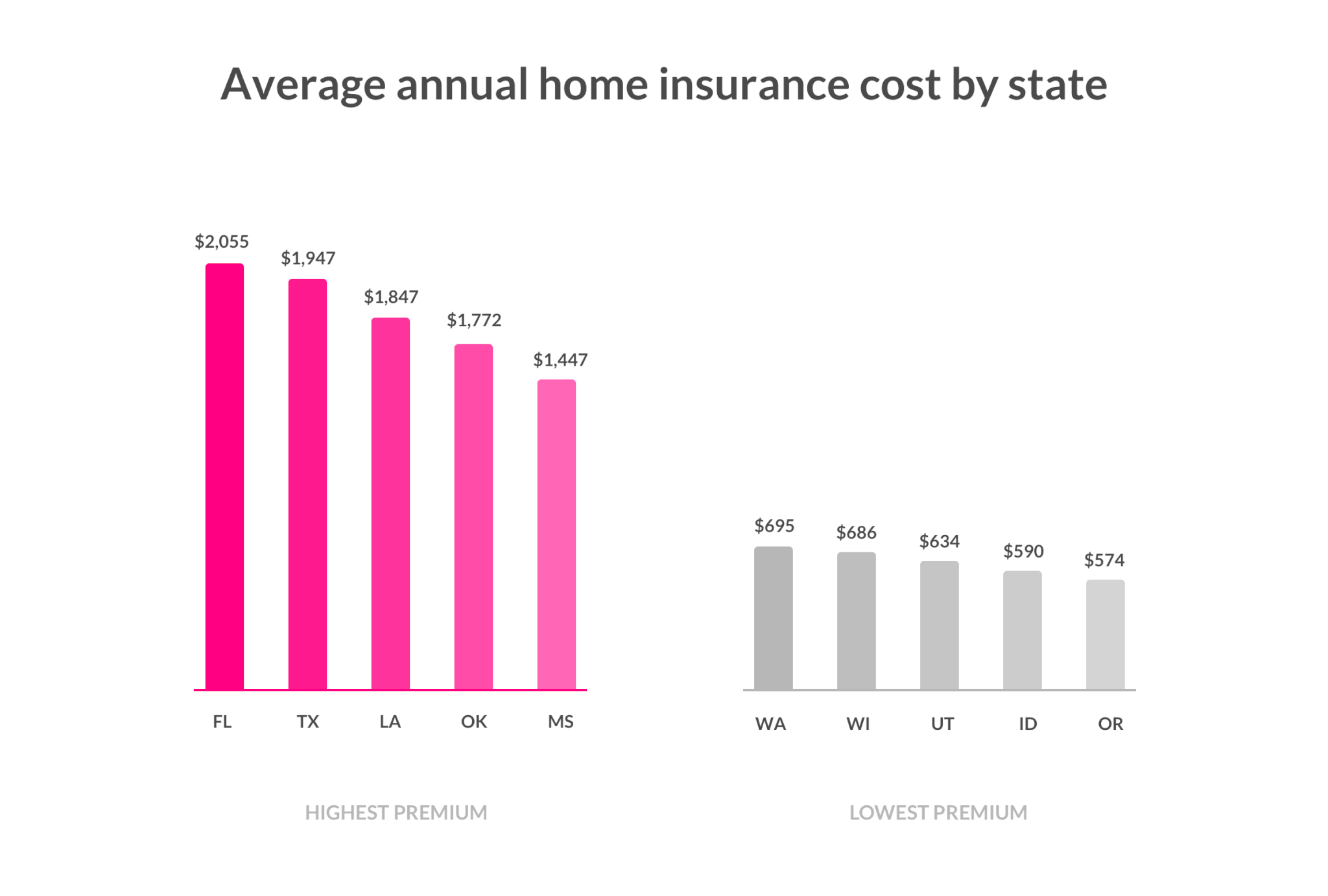 2. Your zip code
Not only will your state impact come into play when it comes to your insurance premium, but also your address will, too. For instance, if your home is close to a Class 1 fire department, or you live in a gated community, you'll pay a lower premium. On the other hand, if your home is in an area that has a higher crime rate, or distance to coast your premium will go up.
3. Condition of your home
The condition of your home will impact your homeowners insurance premium. Ask yourself these questions.

1. How old is the house you live in?
2. Have you replaced the roof recently?
3. What kind of renovations has it been through?

Those pre-war hardwood floors may be your favorite thing about your home, but are the pipes as old as the carpentry? The older your house is, the more prone it is to damage. So older homes = higher premiums.
4. Your deductible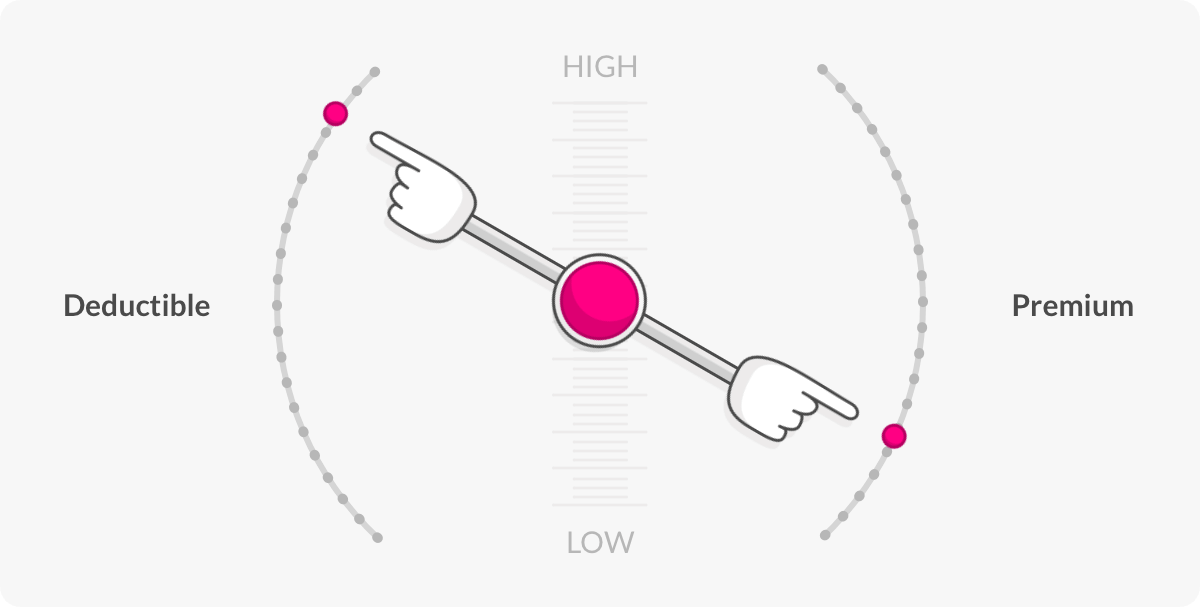 An insurance deductible is the amount of money you choose when purchasing a policy that will be subtracted from any future claims payouts. So if a fire destroyed a part of the structure of your home costing $30,000, and your deductible was $1,000, your insurance company would pay you $29,000. Think of a deductible as your participation in the damage or loss. You're saying, "I commit X dollars to any claim, and my insurance company will cover the rest."

The higher your deductible is, the lower your premium could be. But keep in mind that a high deductible also means you'll pay a lot more out-of-pocket in the event of a claim. Different people have different preferences – you'll have to decide what's right for you at the end of the day.
5. The amount of coverage you choose
We already discussed how much coverage you need for each category, but the amount you pick has an impact on the final price of your premium, for instance. the higher the dwelling coverage, the more expensive your premium.
Do I even need homeowners insurance by law?
While your state may not require homeowners insurance by law, if you take out a mortgage to buy a home, your lender will almost always require coverage.
Upsides? There are more than a few. Beyond protecting one of the biggest investments most people make in a lifetime, consider scenarios, where you owe money on your mortgage and your home, is destroyed, or someone is seriously injured on your property – your homeowners insurance policy can have your back. Even if you're smacked with a personal injury lawsuit and ordered to pay a large sum of money to a third party, your insurer will most likely be able to help you out. So if you've ever wondered, do I actually need homeowners insurance? Yes, yes you do!
Go forth and get insured
Poring over a homeowners policy can be a laborious task, but working with a tech-savvy insurance company like Lemonade can make things simple and straightforward. Using AI and chatbots, Lemonade has made buying policies and paying claims a walk in the park. The seamless experience also includes sending your quote to your lender, so you don't have to worry yourself with the neverending back and forth.
Homeowners insurance is financial defense against bad things that may happen in life, giving you much-needed peace of mind. Pro tip: Review your coverage each year and check to see that your coverage amounts are still relevant in respect to your lifestyle and needs. Now go forth and get insured.