Wait, you're not in love with your homeowners insurance policy? Well you should be!
Your home is one thing that is definitely worth protecting. Once you've found your dream digs, it's time to start thinking about homeowners insurance. If you're taking out a mortgage (and let's be honest, most of us need a home loan order to become homeowners), you'll be required to have at least some form of homeowners coverage.
This requirement makes sense if you think about it, because homeowners insurance protects your, and your mortgage lender's big investment. But even though homeowners insurance is often required, not many homeowners understand the nuances of their policies.
In fact, a staggering 52 percent of policyholders don't have a full grasp on insurance coverage. This means that over half of people don't understand what's covered (and what's not) or how much coverage they really need. And we don't blame them—these policies can be a little confusing.
But not to fear. You can just sit back, read our plain-English guide, and walk away feeling a whole lot more confident in your knowledge on homeowners insurance.

Here's what we'll be covering:
What is homeowners insurance?
Why should I get homeowners insurance?
What's covered by my policy?
What isn't covered?
How much coverage do I need?
Can I update my coverage after I purchase my policy?
How do I shop for homeowners insurance?
What impacts the price of a policy?
Is homeowners insurance required by law?
What is homeowners insurance?
Basically, a home insurance policy is an agreement between you and your insurance company. You pay a monthly premium, and in exchange, the insurer offers you financial protection in the event that something bad happens.
A standard policy (also called HO3 coverage) can cover the costs of repairing damage from events like fire, lightning, windstorm, hail, smoke, theft, vandalism—the list goes on.
If you want to try to school yourself on the finer points of your policy, a good place to start is your declarations page, which is a TL;DR of everything you need to know about your coverage.
Why should I get homeowners insurance?
The main reason to get homeowners insurance is well, because you probably have to.
When you take out a mortgage, a lender or a bank lend you a large amount of money to cover the price of a home, with the expectation that you, the homeowner, pay back this loan with interest. If your home was damaged and you didn't have insurance (or the funds for the repairs), you might default on your loan, the property would go down in value, and the lender would take a big loss on their investment. Yikes.
But beyond being required, a homeowners insurance policy is just common sense. The right coverage can protect your wallet if you run into a bit of bad luck, like if a tree falls on your roof, or if someone slips on your patio and breaks their ankle and ends up in the ER.
What's covered by homeowners insurance?
Here's a closer look at what's covered by your standard homeowners insurance policy:
It covers your home
Dwelling Coverage (aka coverage for your actual house) also known as Coverage A, is the star of the show when it comes to your homeowners insurance coverage. If your physical home is damaged or destroyed, dwelling coverage could help cover the costs.
Naturally, there will also be some exclusions to what's covered by your dwelling coverage, which you'll see listed in your policy. For example, it's common for things like damage caused from flooding, mold, and earthquakes to not be covered by your policy.
It covers your extended property
Referred to as 'Other Structures' coverage, or Coverage B, this part of your policy covers assets on your property that aren't connected to your home or built into your property's foundation.
This coverage includes your driveway, fence, or toolshed. Basically, if it's not attached to your home, didn't sprout from the ground, and is a part of your property, this is where it's covered.
It covers the stuff you own
If you're familiar with renters insurance, you probably know a thing or two about this type of coverage.
Personal property coverage (also called Coverage C) covers stuff you own. This includes things like your laptop, your record collection, or your Peloton.
This coverage can also protect your stuff if it's out in the wild. If your bike is stolen (even though you locked it) in front of a coffee shop, that's covered too.
It covers situations in which your place becomes uninhabitable
If you suddenly can't live in your home because of unexpected damages covered by your policy, your Loss of Use coverage comes into effect to cover the additional costs connected to temporarily living outside of your home.
This type of coverage (Coverage D), will help foot with additional expenses related to hotel lodging, takeout, laundry, and parking—above and beyond what you'd normally pay.
It covers you (and others on your policy) when you're in a legal bind
We hope you never have to use your Personal Liability coverage, but if you're ever in a legal pickle, your coverage is there to soften the financial blow.
This coverage comes into play if:
You're sued because someone got injured on your property
You or someone else on your policy is sued for damaging someone else's property or stuff
There are legal fees for accidents for which you (or someone else on your policy) are at fault. Take note: this only covers injury to others—not yourself, and not people listed on your policy… take a look at the Coverage E section of your policy for more info.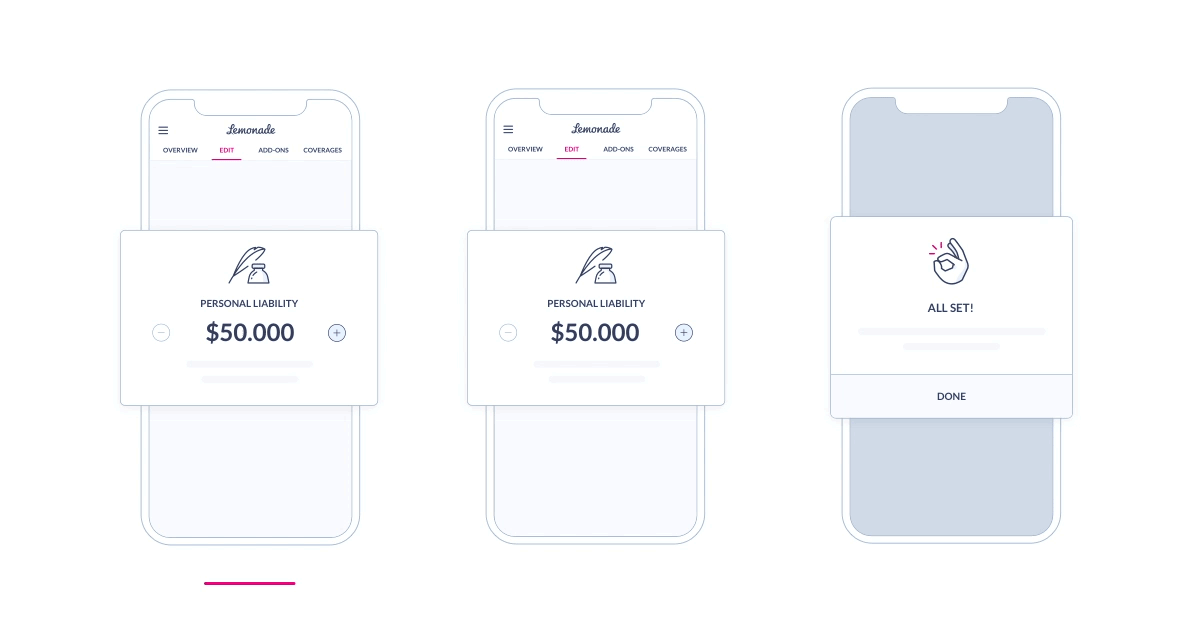 It can covers you (and others on your policy) when someone else gets hurt on your property
Ok, so let's say after one too many glasses of natural wine, a guest slips, falls, and breaks their ankle on your patio. The medical bill comes out to $2,000 for an X-ray and a cast. In this case, your Medical Payments Coverage (also known as Coverage F) will help foot the bill (no pun intended).
This part of your policy will cover medical bills if or someone gets injured on your property (whether or not you're liable).
Please note that this coverage only covers medical bills up to $5,000—damages higher than that might be covered by your personal liability coverage.
What isn't covered by homeowners insurance?
Earthquakes and flooding won't be covered in a standard home insurance policy. If you still want coverage for these types of disasters (good idea), you can take out additional coverage through your insurance provider.
Chances are, your policy also won't cover: damages from mold, sewer backups, infestations (including bed bugs), pool accidents, wind damage in hurricane-prone states, wear and tear, construction work damage, dangerous/aggressive dogs, stolen cash, nuclear hazards, and government action.
While your standard policy will cover things like jewelry, fine art, and musical instruments to a certain extent, you might want to look into adding Extra Coverage if you have a lot of valuables in these categories.
Your basic homeowners policy protects your electronics and appliance against certain "perils," but not against every type of damage. For instance, if your washing machine has an electrical failure your base policy wouldn't help. But if you want to add on those extra protections, you can purchase Equipment Breakdown Coverage (EBC). Also known as Appliance Coverage, this is an endorsement to complement and enhance your homeowners insurance and provide coverage for many other types of damage.

Btw- If you want some added protection for your home, purchase Buried Utility (BU) coverage, an endorsement for homeowners insurance that covers underground utility lines. Underground utility lines are all those pipes, cables that help keep your home in working order. BU offers coverage up to $10,000 for damage from a leak, tear, break, or collapse caused by a mechanical breakdown , artificially generated electric current, Wear and tear, freezing, weight of people, animals, or equipment.
Who is covered by homeowners insurance?
Homeowners insurance is a family affair. If you take out a policy, everyone who lives under your roof who is related to you by blood, marriage, or adoption is covered. Your kids, your spouse, your parents, etc. will all be covered by your policy.
This might seem pretty clear, but take note that if you purchase a policy and you and your live-in partner are not officially married or in a state-recognized civil union, they won't be automatically covered.
In this case, you can easily add them as an additional insured for an additional cost. To make sure you've covered everyone in your household, check out this full guide for who is covered by your homeowners policy.
How much homeowners insurance do I need?
When purchasing a home insurance policy, many people just get coverage without thinking about it, opting for the lowest coverage options, and thereby leaving themselves with too little coverage.
Taking a little bit of time to really consider your coverage amounts beforehand could save you lots of time, money, and aggravation in the long run.
We're going to take a deep dive into how much coverage you might need in all six parts of your homeowners policy, so you can get the protection you need. Ready for a recap?
Dwelling coverage
Remember the star of the show? Dwelling Coverage covers damage to your physical home (your home and everything attached to it (Other Structures), such as a garage, chimney, etc.)
Your dwelling coverage should cover the costs of rebuilding your home from the ground up. This makes sense, because if the worst were to happen and your home were completely destroyed, you'd want your insurance company to cover the "reconstruction costs."
On the other hand, you don't want to simply use the current market value of your home for your dwelling coverage—this will probably end up being more coverage than you actually need.
Personal property coverage
Your personal property is a fancy way of saying "your stuff." Your speakers, TV, library of vintage detective novels, and karaoke machine, to name a few.
Your personal property coverage should be somewhere around 50 to 75 percent of your dwelling coverage amount. So, for example, if your dwelling coverage is $300,000, your personal property coverage should be somewhere between $150,000 and $250,000.
Keep in mind that you'll also have a deductible to pay (more on that later). So, if your deductible is $500, and your cellphone that's worth $400 is stolen, your claim would get denied, because the deductible exceeds the value of your item.
If you feel like this doesn't quite cover your most valuable valuables (like art, jewelry, and electronics), look into scheduled personal property coverage with your insurer, which we call extra coverage here at Lemonade.This add-on that covers all the perils listed on your base policy, plus additional types of accidental damage or loss.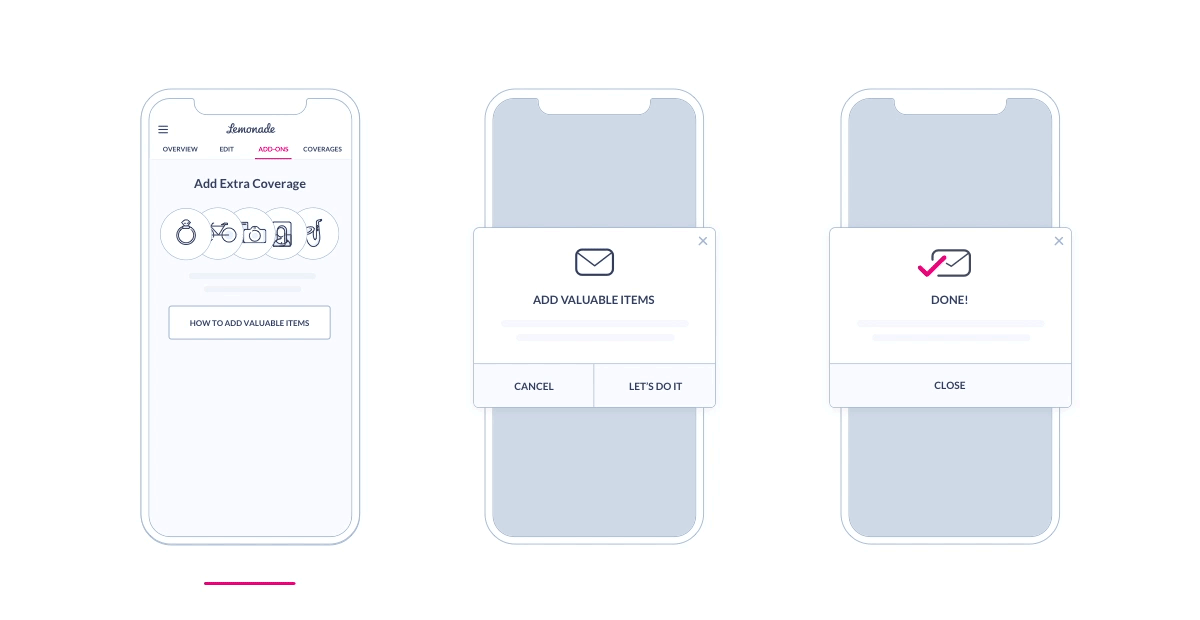 Loss of Use coverage
If your home becomes uninhabitable, or you have to evacuate because of an event you're covered for, your Loss of Use coverage comes into play.
Like your personal property coverage, you typically calculate your Loss of Use coverage based on your dwelling coverage—around 30 percent of it. So, if your dwelling coverage is $300,000, your loss of use coverage should be somewhere around $90,000 to 120,000.
Think about how much it would cost for you and your family to live outside of your home for an extended period of time. These additional living expenses might include takeout (for three meals a day), a hotel or Airbnb, a storage unit, parking, and moving costs—above and beyond your typical living expenses.
Personal Liability coverage
Your Personal Liability coverage kicks in if you cause bodily injury or property damage to someone else or their property. The incident could take place in your home or anywhere else.
The amount of personal liability protection should also take into account the value of your financial assets, which includes your home (and other properties you own), retirement accounts, and investments.
Besides legal fees, your insurer is covering your assets as a whole. The maximum amount of personal liability coverage offered by Lemonade is $500,000—if this doesn't cover it, you can add an umbrella policy to get up to an additional $1M in coverage*.
Medical payments to others coverage
Medical expense coverage covers costs related to injuries that take place on your property.
You can choose between $1,000 and $5,000 but the particular amount you choose really depends on what makes sense for you. If you have a treacherous spiral staircase or a super slippery tile floor, you might want to opt for more coverage. Also, if you host wild parties every weekend, there are more opportunities for injuries, so you might want to protect yourself (and your guests), by choosing a higher coverage amount.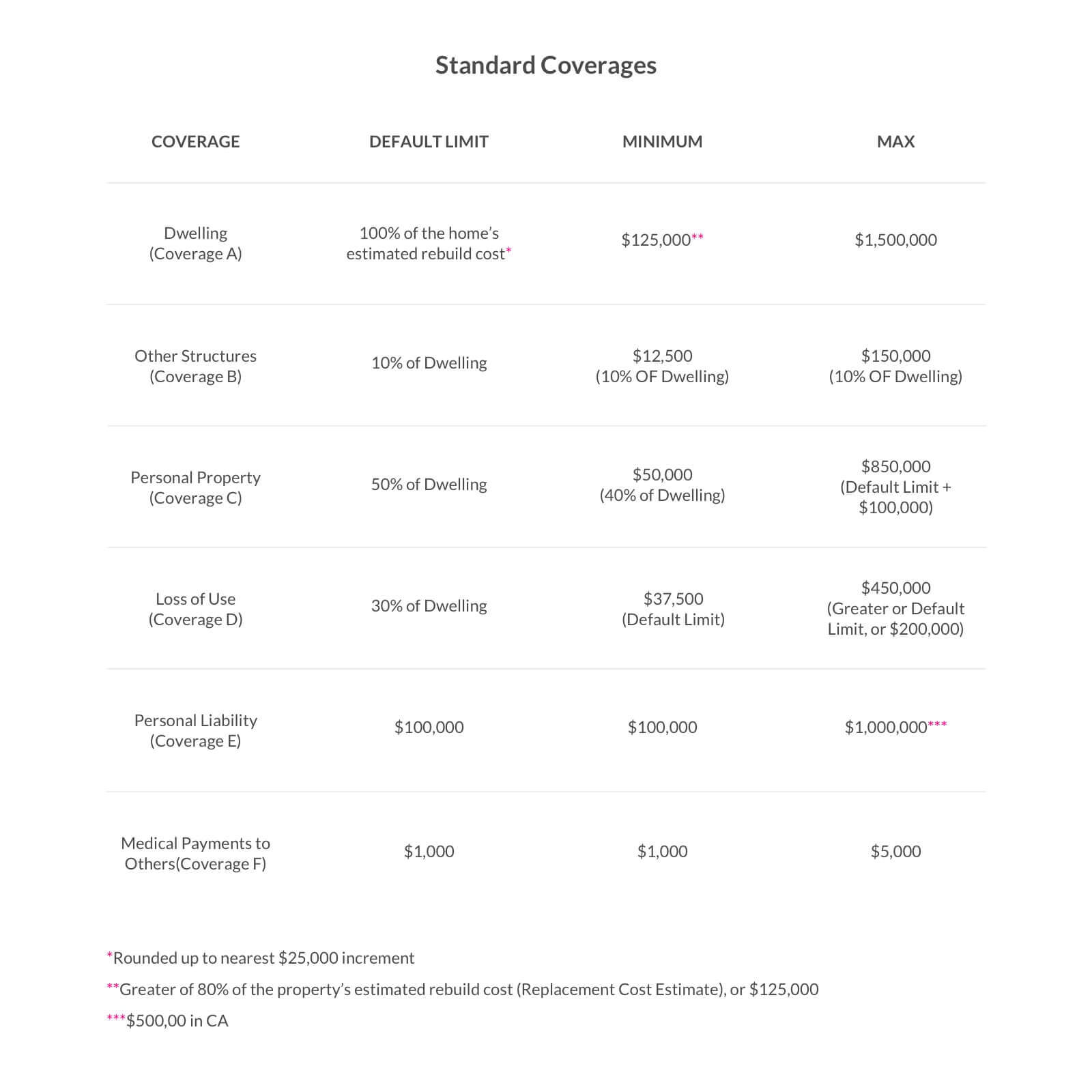 Besides your coverage amount, there are a few more decisions you'll have to make to determine how much you'll ultimately pay on your monthly premium. Some elements of your policy that might impact your premium include the size of your homeowners insurance deductible (typically $500 to $2,500) and any additional coverage for lost, stolen, or damaged valuables, as well as damages from water backup.
Can I update my coverage after I purchase a policy?
Sure! If you want to make a change to your coverage, get in touch with your insurance agent, broker, or contact the insurance company's customer support team.
Explain the changes you'd like to make, and they can usually draft a new policy for you without too much fuss. Of course, if you are changing your coverage amounts, adding extra coverage, or changing your deductible, your monthly premium will probably change accordingly.
Lemonade's Live Policy allows customers to update their own coverage, whenever and wherever, on the Lemonade app. You can update your policy to reflect your needs instantly, with no brokers or paperwork involved.
How to shop for homeowners insurance
Now that you're well versed in your coverage needs, it's time to actually purchase a policy. When shopping for coverage, you can either use a broker or shop on your own. If you choose to go out and find your own coverage, you can save time by applying with an insurer that delivers quotes, fast.
If you're into tech and happy getting a policy without talking on the phone, try the Lemonade app: zero paperwork, zero hassle. If you ever need to file a claim, Lemonade can often process them instantly, handling 30 percent of claims in just 3 seconds! There are no brokers with Lemonade, which helps keep costs low, which means major savings for policyholders.
With an insurance agent or broker, prices are usually a little higher, and traditional insurance agencies might not try as hard to pay out claims. Lemonade takes a flat fee from your premium, uses the rest to pay claims, and then gives back what's left to causes you care about.
Which factors impact the price of homeowners insurance?
Here are 5 factors that can determine how much your homeowners insurance premiums will cost:
1. Your state
Depending on what state you live in, you'll get served a different insurance premium. Coastal states like Florida, Texas, and Louisiana have some of the highest premiums in the country, because of the high frequency of natural disasters and extreme weather. States that sit on the path of Tornado Alley like Oklahoma and Kansas, also tend to have pricier premiums. If you've seen Twister or The Wizard of Oz, you can probably understand why.
The states with the cheapest insurance rates are mostly in the western United States, where natural disasters like hurricanes, tornadoes, and hail are generally less frequent.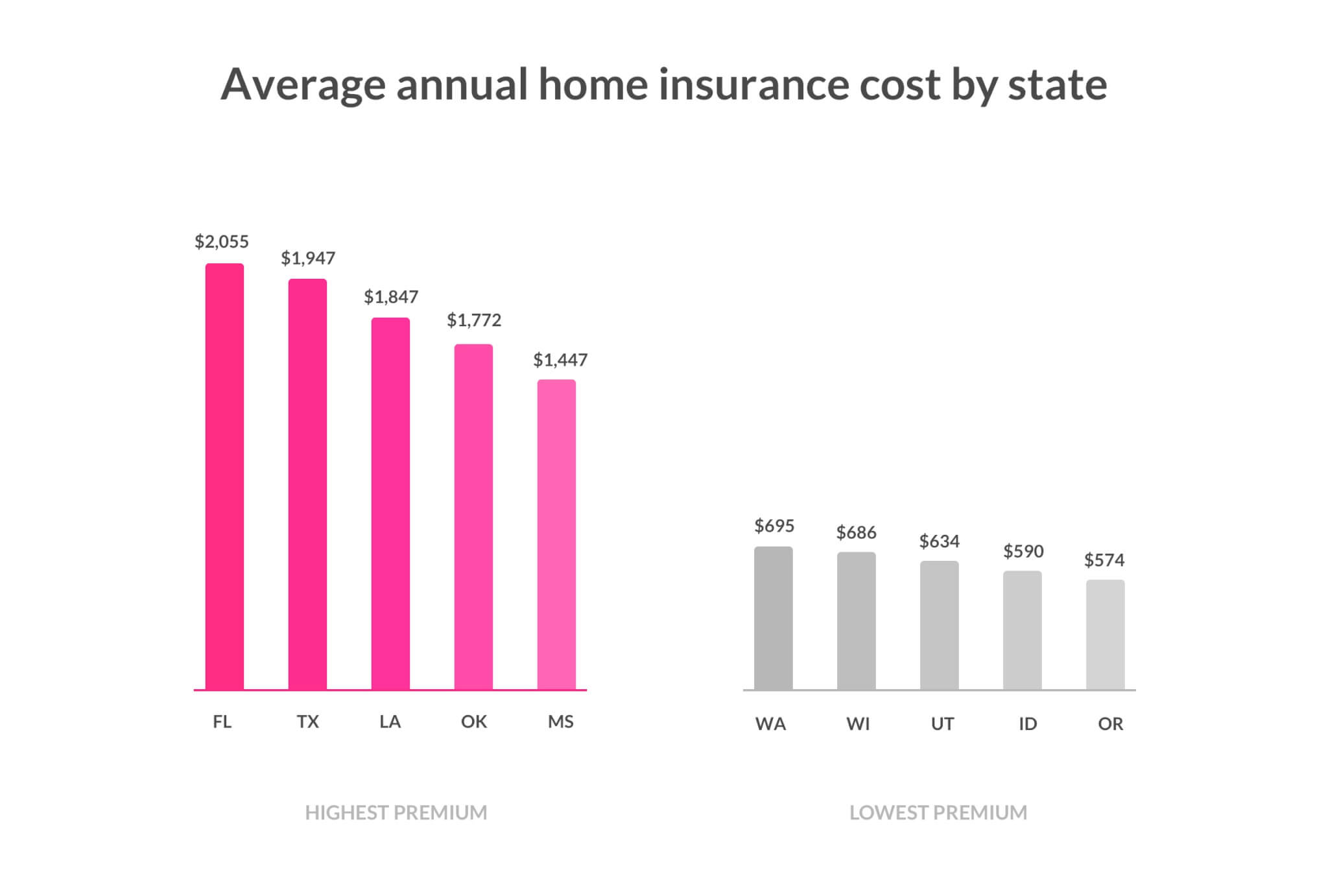 2. Your zip code
Not only will your state impact your insurance premium, but your exact address will, too. For instance, if your home is close to a Class 1 fire department, your premiums might be lower than if you live half an hour to the nearest fire station. Similarly, if you live in a place with a lower crime rate, premiums are likely to be lower than an area with more crime.
3. Condition of your home
The condition of your home will impact your home insurance premium.
Ask yourself these 3 questions:
How old is your home?
Have you replaced the roof recently?
What kind of renovations has your home been through?
That pre-war crown molding may be your favorite thing about your home, but are the pipes as old as the ceiling? That could be bad news come winter. Basically, the older your house is, the more prone it is to damage, which is why the older your home, the higher the premium.
4. Your deductible
An insurance deductible is the amount of money you choose when purchasing a policy that you're liable for in any future claims payouts. For example, if a tree fell on your roof and caused $20,000 in damage, and you chose a $1,200 deductible, you'd pay $1,200, and the insurance company would pay the remaining $18,800 (provided your claim was accepted).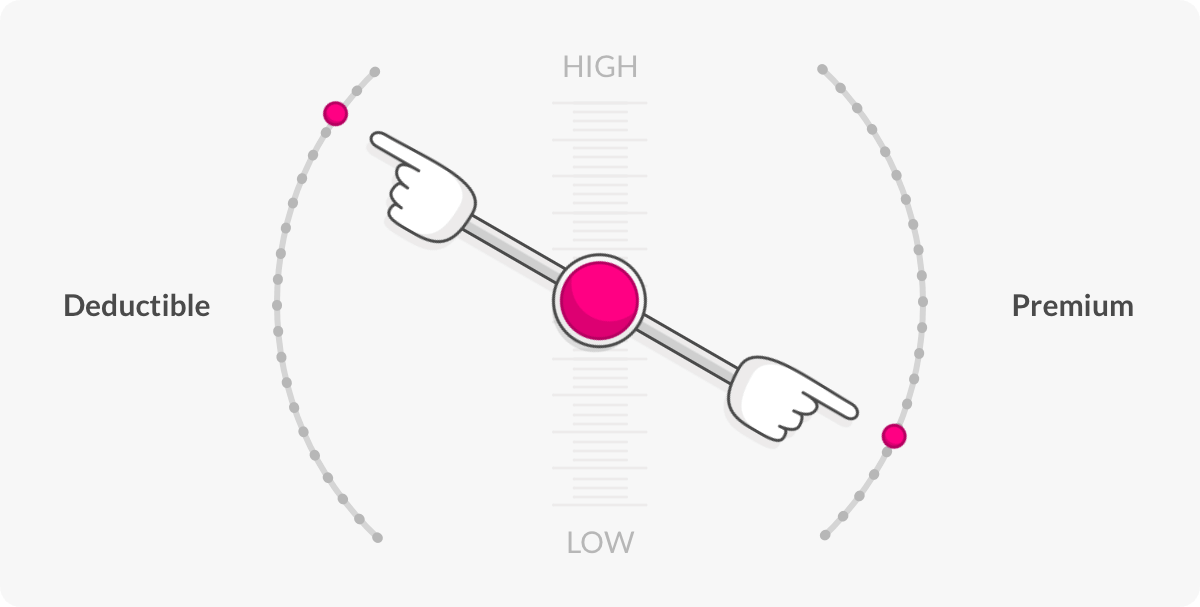 The higher your deductible is, the lower your premium could be. Keep in mind, however, that a high deductible also means you'll pay a lot more out-of-pocket in the event of a claim. Different people have different preferences. It's basically a decision of whether you'd rather pay more up front and potentially less down the line, or less month-to-month with a higher payment if you ever file a claim.
If you choose a high deductible and lower premium, and that tree doesn't fall on your house—well, you've come out ahead. But predicting the future is pretty tough.
There's no right or wrong answer—at the end of the day, choose what makes sense for you.
5. The amount of coverage you choose
We've already discussed how much coverage you need for each of the main six coverage categories, but it bears repeating: the amount of coverage you choose has a direct impact on how much you'll pay on your monthly premiums. For example, if your dwelling coverage is $300,000, your monthly premiums will probably be lower than if your dwelling coverage is $500,000, and so on.
Do I even need homeowners insurance by law?
Unlike car insurance, which is required by law if you drive, homeowners insurance is not required simply by virtue of the fact that you're a homeowner. However most mortgage lenders will require at least some basic form of homeowners insurance.
Think of it this way: your mortgage lender is kind of a joint homeowner with you. It's in their best interest to keep your home in tip-top shape—kind of like a very responsible business partner protecting their investment!
Your mortgage lender wants to make sure that if the worst happens to your home, you'll have the funds to take care of it. Because if you don't, you'd have little to no mortgage value, and you'd both lose your asset.
Go forth and get insured!
Home insurance is the first line of financial defense if something bad happens to you or your home. Getting yourself the right coverage means giving yourself the gift of peace of mind.
And one last thing before we go: Review your policy every year to confirm that your coverage amounts are still relevant based on your lifestyle and needs. A new addition in your family, or a new addition to your property are both great reasons to adjust your coverage. Now go forth and get insured.